I recently wrote about how I often dream of wiping everything off my desk and just placing the iPad in the middle of it. It would sit there alone, surrounded by my expansive desk as a symbol of both simplicity, and how far (technologically) we have come since the early days of computing.
Well, I came up with a reason to do that — well kind of that. I was heading out of town for the long weekend, down to Oregon, and I was to ride the train out of town. Because of the train ride, I was going into work only until 2:00pm, and then having a coworker drop me at the train station. Naturally, I didn't want to leave my laptop at the office over the long holiday, but I also didn't want to take it with me.
The solution was to leave it at home and spend the partial day working from just the iPad.
First of all, the setup looks killer. Minimal, awkward, and awesome. Just how I hoped.
As with most managers my days are spent writing things, usually in emails. I also make heavy use of OmniFocus, and web based services. All of this seemed ideal for this setup, and the addition of a long holiday meant that there wasn't a whole lot of stuff to do anyways.
I could have picked a smaller keyboard to go with the setup pictured (I have a few), but I enjoy typing on the CODE keyboard far too much, and I have the USB adapter to use it, so… It looks silly, but it feels amazing to type with.
So how does this all work?
Well, it actually works pretty well, and would likely work even better if I wasn't running a beta version of iOS (as somethings don't work in the beta). What I didn't expect was that I would be more focused.
When I have my Mac in front of me I am doing a lot of things, but not focusing on a lot of things. With the iPad only I felt that was reversed — I did a bit less, a bit slower, but what I did do was more focused and therefore carefully done.
There's both good and bad to this.
---
Note about the CODE
I ultimately had to switch to an Apple Wireless keyboard, in my Origami Workstation, because the CODE kept having too many problems. The iPad warned me it was not supported, but it worked (mostly). However, and I don't know if this is an iOS 8 bug or not, but the keyboard kept locking up the iPad to the point where I had to hard restart the device.
So I switched to the Apple Wireless as it works as expected. Oh well. I suspect there might be too great of a power draw on the CODE, not sure.
---
The Work
As I mentioned, I felt more focused, but I also felt like I was working slower. However, at the end of the day, I still got everything I needed to do done. Sure there were a couple of things that I couldn't do throughout the day, but each of those were bugs in the beta of iOS and not underlying issues with iOS itself. Some things I just passed off to others as I didn't want to take any time to figure out how to do them. (Benefit of being the boss, I suppose.))
I shouldn't be amazed by this, I'm a big believer in the iPad, after all it is my favorite device, but I'm still amazed at what I learned.
I learned that I have no need for anything more than an iPad on an average day.
That's not to say that I won't benefit from a laptop, or that an iPad is the best tool, but that the iPad did everything exceedingly well. I loved it. Not enough for everyday just yet, but when I know I have a busy day in meetings, I'm now going to leave the laptop behind.
I still need more than an iPad, but that gap is going to close tightly once apps start taking advantage of the new features in iOS 8. And I can hardly wait for that.
The only thing I do need is a bigger screen for the iPad. I've always wanted a larger iPad, but perhaps someone can figure out a way to make an iPad functional on a bigger screen (meaning the larger screen needs touch, or something of that ilk). Mostly I think a 12-13" iPad would make me drop a laptop completely, perhaps with just one family computer at home for those odd ball tasks.
The long and the short of it is that I found the iPad better at:
Reading anything: when you stand it can be annoying to stand still and read, so I loved picking up my iPad and reading things leaning against a wall, only to set my iPad back down and act on that text with no need to switch devices. It was wonderful and freeing.
Twitter: It's better in that I kept my eyes off of Twitter for most of the day, with more dedicated distractions into Twitter. So instead of looking at Twitter every 5 minutes, I looked every 60 minutes.
Tab-philia: I usually have tons of open tabs in Safari which denote things I want to read, and I see those tabs a lot during the day. On the iPad I have the same amount of tabs, but I don't see them as often (because in Safari on iOS the view of tabs collapses so you don't see them) and I found that less overwhelming as I worked.
What the iPad was worse for:
Email was rough. The iPhone has lots of email clients, but the iPad is sorely lacking in third party email clients, help here please. I had no way to quickly turn an email into an OmniFocus task, and found it hard to quickly move emails to different folders — all automated on my Mac with Keyboard Maestro.
Image work. Still better on the mac, even with the great image editors that have been popping up on the iPad.
Fixing code in a website is still a bit of a chore.
Overall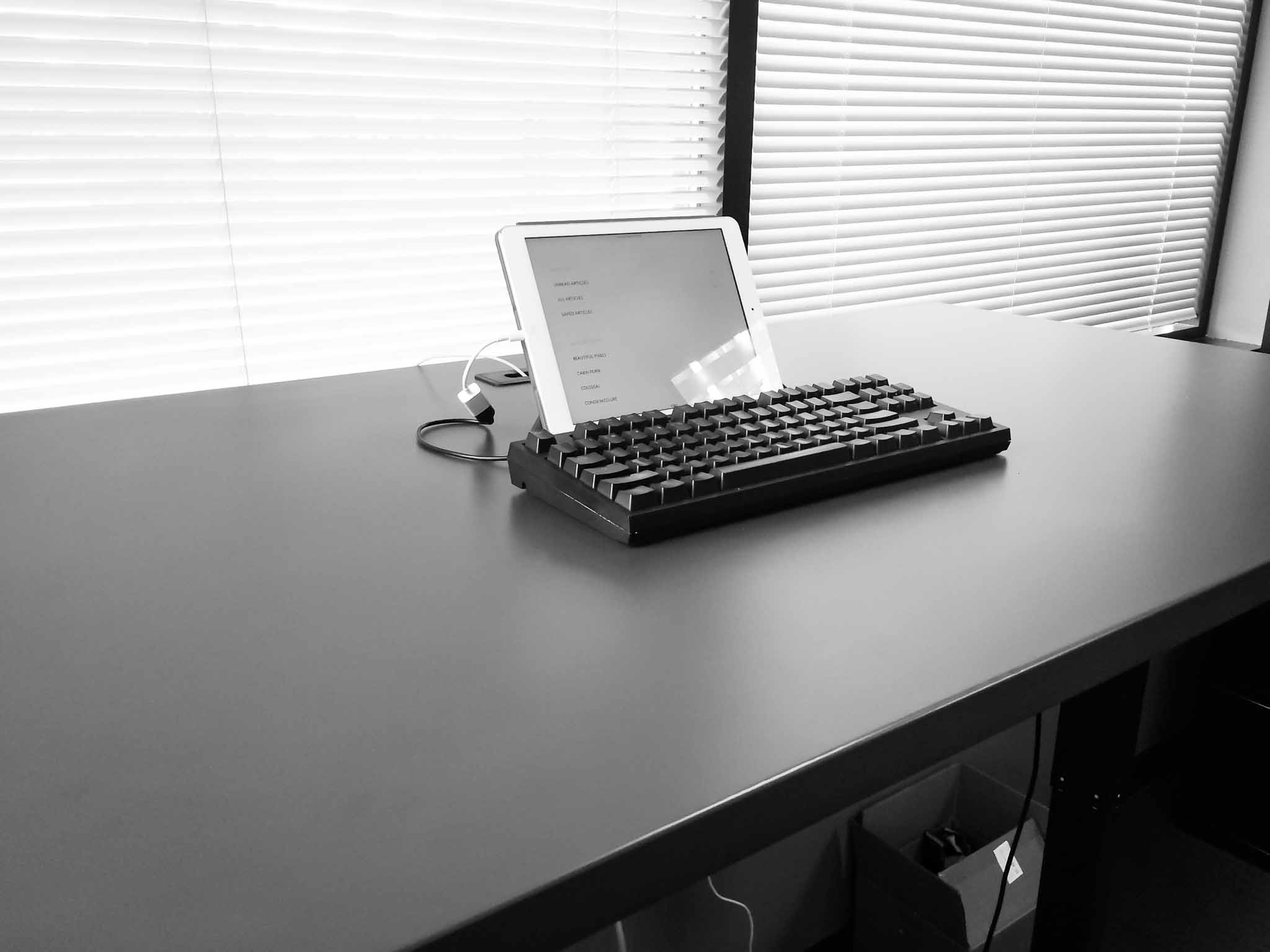 As I said, this is a setup I am likely to use more and more. With iOS 8 extensions coming I think the gap between what most people need to do on a Mac each day, and what the iPad can do well, is closing faster than many suspect. At this point it's not a person clamoring for better apps, that do more powerful things, it's just a matter of fine tuning what we already have.
I don't see that taking very long. In fact, this time next year I may be splitting my time between the Mac and iPad evenly.