"Droid Does"
Remember seeing that tag line everywhere? I do, I used to see it on the same billboard everyday on my way into work. It was the anti-iPhone, anti-Apple statement made by the biggest U.S. wireless carrier (you know the one that just got the iPhone). It wasn't about Android or Google — it was about Droid and Droid was and is Verizon.((Verizon licensed the term Droid from Lucas.)) It is a play on Star Wars — a term that all geeks know means business.
"Droid does apps."
"Rule the Air"
Verizon was in PR heaven with monthly rumors of when the iPhone would finally come to Verizon — hell they were made the best wireless network in the U.S. specifically because they didn't offer the iPhone. That is what you call a win for your company — when you don't sell the hottest phone on the market, yet your brand recognition and strength only improves — impressive. They kept rolling out tagline after tagline in a PR blitz.
Then…
The inevitable finally happened and Apple announced a Verizon iPhone in front of a limitedly excited crowd — after all it wasn't anything that new, just something we could all say "finally" about. February 10th was the day that Verizon stores around the country were preparing for lines like we have seen for previous iPhone launches. Many people predicted massive lines… then nothing. There were more tumbleweeds blowing by then people in line for the Verizon iPhone.
Don't get me wrong, the Verizon iPhone is certainly a hit and a welcomed addition to the family, but it didn't spark mass hysteria. Verizon now bombards us with commercials playing to the perceived strength of their network over rival AT&T's.
Which only leaves me to wonder if Droid still — well — 'does'.
The current Verizon homepage says it all, they lead with this iPhone 4 banner: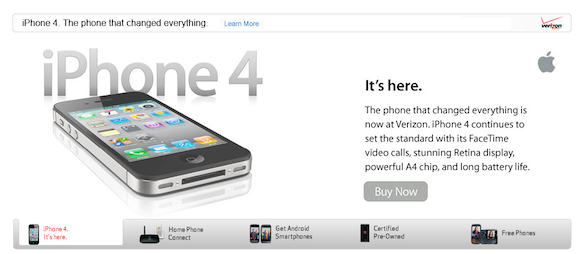 They follow with this one about some silly looking device from 1995:
Then they follow with this Android banner — that amazingly doesn't promote the Droid line: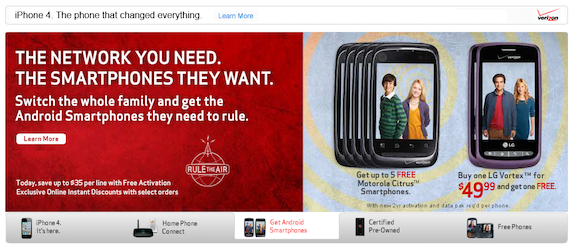 Finally they get to the Droid phones, but only showing them as pre-owned devices: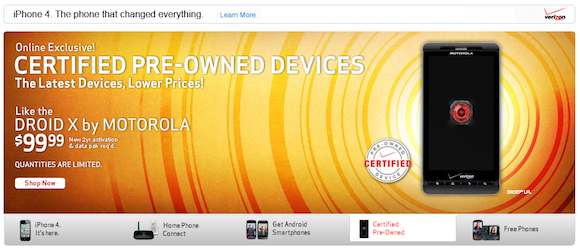 That is a telling tale: Droid's are the 4th item on the rotating banner and are seen only under the basement title of "pre-owned". It would seem that Droid has been sent to a beautiful farm land where it can run free…
"Droid is dead" — is basically what I am saying here.
I don't mean that Verizon won't ship or sell any more Droid phones, but they aren't interested in wasting anymore money advertising the brand. I think this is done for a very good and logical reason:
The iPhone is more desired and well known than the Droid brand — why waste money on a losing cause.
It's the iPhone versus the non-iPhones — consumers don't care if it is an HTC Whatever or Droid, they just want to know if it is a smartphone or an iPhone.
If you aren't an iPhone then you better be cheap — that's the message Verizon is sending in the above banners. You pay big bucks for the iPhone or you can buy lesser, iPhone clones, for a lower price.
Those are not meant to be knocks against Android, but it is what I glean to be the thought process of non-geek consumers. The same consumers that walk into a Verizon store not knowing what they want already. Verizon knows that the only phone these customers are likely to know about is the iPhone and that matters. That explains why the Droid is basically dead as a heavily promoted brand.
With that said, Droid, welcome to the category known as "not an iPhone".