A few follow-up points on the iPhone [weather app round-up](http://brooksreview.net/2011/04/weather/) that I did.
### The Weather ###
I left out that you can, in fact, create custom views in this app. The problem is still that those custom views still don't work right for me and just adds another tab that you have to switch between. If I was only using the app to view one set of data, then yes this would be ideal — however I only want to have one, full-featured, weather app on my phone. This is a very nice looking app and it will be optimal for many people, but not for what I need and want.
### [Gismeteo](http://itunes.apple.com/us/app/gismeteo-lite/id419371996?mt=8) ###
This was a reader recommendation that intrigued me. I really like the way the information is displayed, but the forecast views and advanced features are just lacking — you get the same data you would out of the standard Apple app. Not to mention the lack of U.S. centric measurements.
### [eWeather HD](http://itunes.apple.com/us/app/eweather-hd/id401533966?mt=8) ###
Another app emailed into me — it looked ugly in the screenshots sent to me, but the data displayed is robust, so I decided to spend the $1.99 so you don't have too. The first thing I noticed is that the app is indeed pretty ugly in the setup phases. Having said that the data display is pretty nice looking. It also has a bar graph to show the temperature trends, overall though I found the app to be buggy, case in point:
[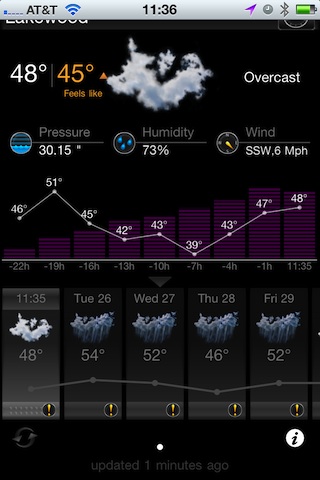 ](https://f3a98a5aca88d28ed629-2f664c0697d743fb9a738111ab4002bd.ssl.cf1.rackcdn.com/eweather.jpg)
That's not a scrolling thing, it just started cutting off the location bar. Odd. Relaunching the app solved the problem, but what it didn't solve is the fact that when "scrolling" through the forecasts along the bottom: there is no "home" or "now" buttons to shoot you back to current information — it is actually quite hard to get back to the current weather view. That reason alone is enough for me not to use it.
*Let me know if I missed anything else.*
* [Updated: 4.28.11 at 8:09 AM] *
A lot of you have written in to mention Weather Pro — it's a very solid offering and very popular among Europeans. I have tried it now, but it just has way too much blue in the interface for my tastes. Nice app, though I will stick with My-Cast.