Knocking off some chores on my 'Bugs Me' project in OmniFocus last night meant that I spent a lot of time playing in Keyboard Maestro.
First up is Twitter.app and how I like it to stay near the upper left corner of my screen. Sometimes I move it, whether by accident or for some odd reason. I like the window to sit just below the menu bar and just off the left edge so that I can use the app without bugging the Dock and so that it doesn't feel smashed against the side, like so: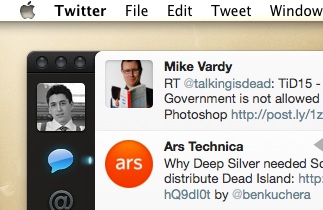 The thing is I want to be able to have Twitter snap back to that position at my command, but not automatically in case there is a reason I don't have it in that corner. Here's the Keyboard Maestro commands to do just that: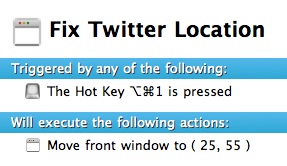 Please note that this macro is inside a group that only works on the Twitter app so that I don't get weird things occurring in other apps that use this same shortcut.
Next up is TextMate. When I write I like TextMate to be centered on the screen and I like nothing else to be shown behind it — basically I hide all my windows and start writing. This is a pain though when I am bouncing back and forth to Safari to grab links, or text. So I created this little magic in Keyboard Maestro: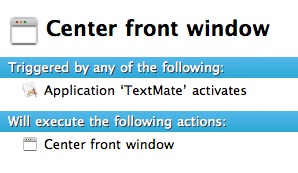 What we are doing here is centering the TextMate window on the screen — just how I like it. I keep this Macro in a group that only works in TextMate, for no real reason other than I made it a while back.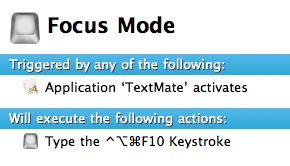 This little bit doesn't look like much, but that keyboard shortcut invokes Isolator [LU] so that the rest of the screen is almost completely out of my way.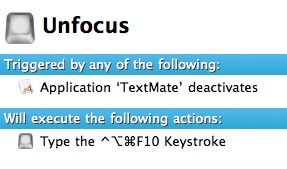 This undoes what I just did above and is really magical for me. Basically with this setup, whenever I open a TextMate document I get a very focused view, but CMD+Tabbing out of TextMate turns it all off without any effort on my part. Thus I have the best of a lot of different things all done automatically.
The end result looks like this: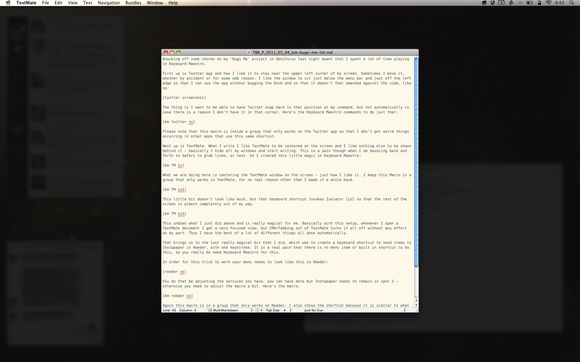 That brings us to the last really magical bit that I did, which was to create a keyboard shortcut to send items to Instapaper in Reeder, with one keystroke. It is a real pain that there is no menu item or built in shortcut to do this, so you really do need Keyboard Maestro for this.
In order for this trick to work your menu needs to look like this in Reeder: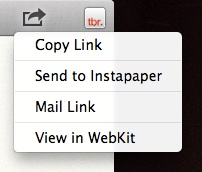 You do that be adjusting the services you have, you can have more but Instapaper needs to remain in spot 2 — otherwise you need to adjust the macro a bit. Here's the macro: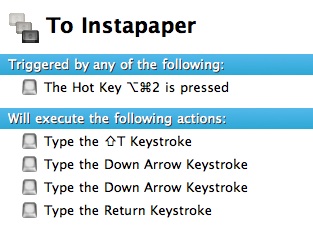 Again this macro is in a group that only works on Reeder. I also chose the shortcut because it is similar to what I use in Safari to send to Instapaper — making it easier to remember.
Just for Fun
A couple of others that I setup to help out with server stuff: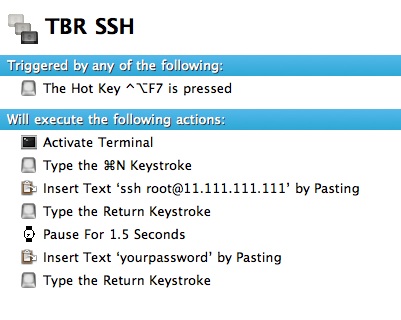 (Thanks to David Findlay for that.)

Note: This site makes use of affiliate links, which may earn the site money when you buy using those links.