When I wrote the [iPhone edition](http://brooksreview.net/2012/01/apps-stuck-iphone/) of this post I had planned on writing an iPad version as well. Except when I started to dive into what the iPad version would list and talk about, I quickly realized that it's not nearly as interesting to me — so I canned the post.
Since then I've gotten a bunch of requests for the iPad version, so I decided it was worth the time to look at the post once again. What I realized upon second consideration is that I have fundamentally changed the way that I use my iPad over the course of last year.
I believe I change my usage for the better.
Initially I used my iPad in a similar way as I used my iPhone: a tool to fill small bursts of time and to supplement my Mac. In other words my iPad was a part of my arsenal, but a part that could be eliminated with minimal pain.
At some point around September (the best that I can tell) my iPad shifted from being equivalent to my iPhone to becoming more equivalent to my Mac.
The practical difference between the two is that when I used to sit at my iPad it was for any length of time — now when I sit down at my iPad it is almost always going to be for an extended period of time. In that regard it is a lot like my MacBook Air.
That means that time filler apps (e.g. small games, Twitter) they have been back-burnered, whereas more time intensive apps ( e.g. [Instapaper](http://www.instapaper.com/), [iA Writer](http://www.iawriter.com/), [Reeder](http://reederapp.com/)) are now the most used.
Here's my iPad home screen at the start of my writing this post:
[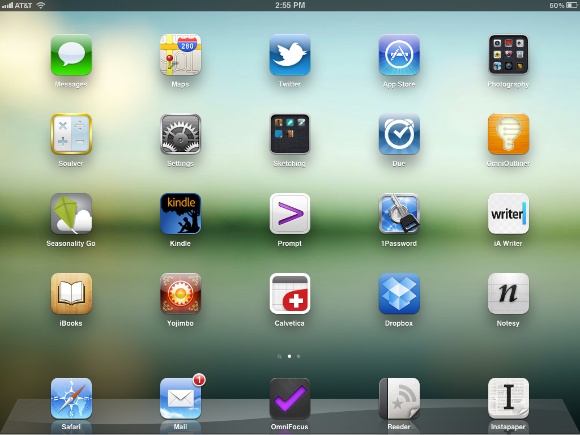 ](http://c276381.r81.cf1.rackcdn.com/iPad-hs-original-lg.jpg)
I took some time and went through all the apps to determine the ones that I actually use and rearranged the layout based on that. Here's what my home screen looks like now:
[
](http://c276381.r81.cf1.rackcdn.com/iPad-hs-new.jpg)
Most of these apps I am not in everyday, but they are still my most used. The change here is that I look at my iPad as an essential part of my workflow, instead of just an aid to that workflow.
There's only three apps that were actually "challenged" in 2011 on my iPad: [Calvetica](http://mysterioustrousers.com/calvetica), [Notesy](http://notesy-app.com/), and iA Writer.
### Calvetica
For the iPhone I strongly recommend Agenda, but on the iPad I much prefer Calvetica. I find that there are only two instances that I ever use the calendar on my iPad for: scheduling a meeting while in a meeting, and looking up "am I busy on day X" inquiries if I am already using my iPad.
For those two things Calvetica's split view works a lot better for me. Seeing the monthly calendar and weekly agenda is just nice. Contrasting that to [Agenda](http://getappsavvy.com/agenda/) on the iPad: I get a more chaotic feeling about my schedule with Agenda on the iPad.
This is a highly personal preference and honestly I use the calendar so infrequent on the iPad, that it probably doesn't even need to be on my home screen.
### Notesy
[Elements](http://www.secondgearsoftware.com/elements/) kept bumping heads with Notesy all year long and Notesy has mainly stuck because it is the app I prefer on my iPhone. That makes my life a bit easier and is all there really is to that decision.
### iA Writer
A dozen, maybe more? That's how many apps I "tested" that sought to replace Writer, or create a better writing environment than it. There's a lot of good options, from Elements to [Daedalus](http://www.the-soulmen.com/daedalus/) touch and [Writing Kit](http://getwritingkit.com/). There's a lot to like about all of them, but in the end the seamless integration with Writer on my Mac is unfathomably good.
iA Writer is as simple as it gets and at the end of the day that is exactly the tool that I prefer. The fact that Writer exactly mimics its desktop counterpart only enhances my ability to transition from my Mac to iPad in a seamless manner. Perfect.
### The Rest
Here's a quick rundown of the other apps you see, for those interested:
– Messages: I actually like using iMessage on the iPad — it feels more conversational.
– Maps: I use the crap out of this on my iPad. Best Google Map experience you can get.
– Settings: WiFi, Airplane mode, 3G, VPN.
– App Store: This is the only "time killer" on my home screen.
– Photography folder: Just apps for cropping and editing photos for TBR posts (not used often, but I like to play around in them).
– [Bamboo Paper](http://itunes.apple.com/us/app/bamboo-paper-notebook/id443131313?mt=8): I try to use this app anytime I feel the need to reach for paper.
– [Soulver](http://www.acqualia.com/soulver/): Best calculator, hands down.
– [1Password](https://agilebits.com/onepassword): Because I don't remember any passwords, but more importantly I often forget usernames.
– [Prompt](http://itunes.apple.com/us/app/prompt/id421507115?mt=8): Quick way to restart Apache.
– [OmniOutliner](http://www.omnigroup.com/products/omnioutliner-ipad/): I was big on outlining when this came out for the iPad, but it gets used less now. I do use it for meeting notes and ideas. Specifically if I have a post idea and want to write down a bunch of points about the idea, but don't have time to write out complete thoughts, this is the app I use.
– WordPress: This is how I post most articles to TBR when blogging on the iPad. More often though: this is how I fix typos.
– iBooks & Kindle: I try to read the occasional book — still hope to finish that Steve Jobs biography someday.
– Instacast HD: I like listening to podcasts at lunch and around the house. For the most part I do that listening on the iPad, always in Instacast.
– [OmniFocus](http://www.omnigroup.com/products/omnifocus-ipad/): My brain.
– [Yojimbo](http://www.barebones.com/products/mobile/yojimbo/): Every post on TBR, every show note for B&B, and a ton of other quotes and links live here. It's my memory.
– Rackspace: Uploading photos to be used in a TBR post. Works fantastically well.
– Dropbox: I drop leases in here for reference when I meet with tenants (day job).
– Reeder: My preferred app and device to read RSS feeds with.
– Mail: Necessary evil.
– Safari: Ditto.
– Instapaper: If I could only have one iPad app, this would be my choice.
### The Change
I have changed the way I not only use my iPad, but the way that I view my iPad. Right now my iPad is only slightly less capable than my MacBook Air. Most of this *is* actually limited by a lack of good apps in certainly niche categories that I need — not by speed and power of the device.
I am honestly not trying to be sensational when I say that. Nor am I saying I want to only work on my iPad, or that anybody else should, I am simply saying that with each passing month the iPad becomes exponentially more capable because of the app ecosystem that has developed for it.
Note: This site makes use of affiliate links, which may earn the site money when you buy using those links.