I am, without a doubt, a diehard Twitter for iPhone user because I really like that app. I do however admit that the latest updates to the official Twitter app, on the iPhone, made the app less — for the lack of a better word — powerful. To many this was the burying DMs, but for me what hurt was having to open a link in the browser before I can send it to Instapaper.
That, I felt, was a crap move. It put me in my own personal hell.
Still I stuck with the official app for one reason: I strongly feel that, in the not to distant future, the only app that will truly work with Twitter is their official app(s). I have no inside knowledge of this, it is just the feeling I get given their public moves with the company.
I apologize for not remembering, but one of my Twitter followers pointed me to [Twittelator Neue](http://stone.com/neue/) a while back. I played with it out of curiosity and dismissed it because it wasn't quite 'polished' enough for me. [Last week though, John Gruber reminded us all of the app](http://daringfireball.net/linked/2012/02/09/twittelator-neue), so I decided to give it another go.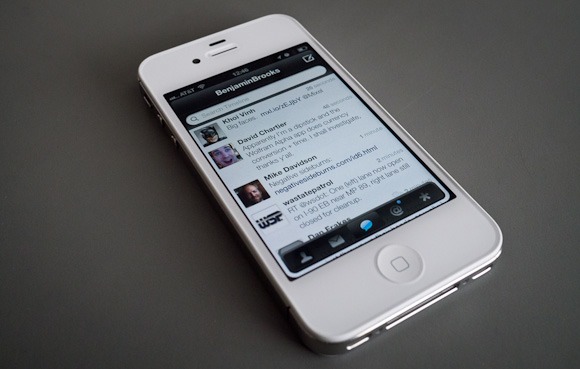 Since then I have been using it everyday as my main Twitter app on my iPhone.
So far I have found it to be one of the more interesting Twitter apps that I have tried and because of that I don't really know what to make of it. So here's my somewhat random thoughts on the app.
### Design
[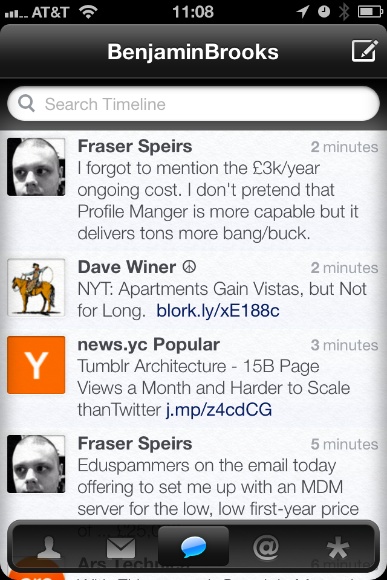 ](http://c276381.r81.cf1.rackcdn.com/twittelator-neue-5.jpg)
Let's just get this out of the way right now: the icon is hideous. It's ugly to the point where I almost don't want to use the app because of its icon.
Ok, now that I have said my piece on that issue we can get into the rest of the design.
I think the best way to describe the UI design is with the word: light. Both in the sense of the visual color/brightness and in the overall feel of the UI. The app feels like a bundle of plastic to me, from the gloss stylings to the way it "feels" when you move about in the app and that gives it a very light feeling.
I also think that Twittelator Neue spent some time paying attention to the look of text in the app because I find the text clean and easy to read.
[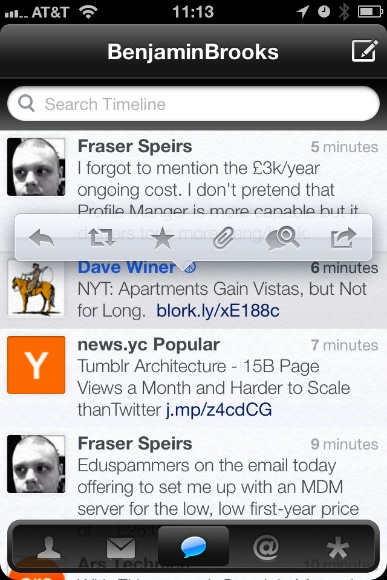 ](http://c276381.r81.cf1.rackcdn.com/twittelator-neue-2.jpg)
But the app is also pretty low contrast. The pop-over for adding links to Instapaper is very low contrast — in fact when you really look at the app most of the design is rather low contrast. That's not a deal breaker, but it can be difficult if you are trying to fly through the app.
For an app that is just about the most opposite of skeuomorphic that you can get, it has this little detail:
[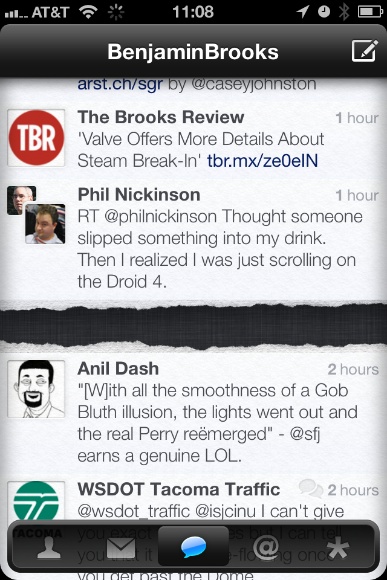 ](http://c276381.r81.cf1.rackcdn.com/twittelator-neue-8.jpg)
Wow, really? I don't so much object on the grounds of skeuomorphism, but on the grounds that this detail just doesn't fit with the rest of the app.
As I said above, I can't really decide if I like this app or not — the design doesn't *do anything* for me. I could take it or leave it.
There are areas where it is better than the Twitter app and areas where it is worse, overall I don't think the design of Twittelator Neue alone will sell you the app.
### Navigation
The navigation for Twittelator Neue will certainly set it apart from any other Twitter app. While it has the standard navigation tabs at the bottom, well truthfully, those tabs aren't even standard.
The navigation tabs at the bottom actually are confusing because they can be hidden away with a downward swipe — and pulled back up from the little tab that is left behind. This is, at the same time, very clever and very confusing. I never think: "oh I lost the navigation tabs", but when scrolling through my timeline I tend to think: "woah there, almost hid the navigation tabs".
The difference is that I don't care if the tabs get hidden, but when scrolling I notice them start to hide away and my reaction is always to jerk them back up in place. It's like knocking `X` over (that doesn't matter if you knock it over or not), but that you still actively try to prevent `X` from getting knocked over.
Now here's a real annoyance that I have: the top navigation bar moves. When new tweets arrive the top navigation bar drops down to show you the count of new tweets, same too when you add something to Instapaper. So the navigation bar completely bucks the iOS standard behavior of always staying put and that is off-putting.
I find this movement to be one of the more annoying aspects of the app. It is just something that does not and should not move.
I do, however, like that you can swipe left and right pretty much anywhere to move about the different tab views — I think that is really great as a small time saving touch. But for as much time as this action saves you, you lose it all once you try to switch from one account to another.
Account switching is just buried too deep for me, not to mention slower to get at then on the official app. I also find it annoying that you always start back at your profile when you switch between accounts.
The navigation is something that will take more time to get used to than what I have spent with the app and even still I am not sure if it will be worth getting used to in the end.
### Instapaper
Truthfully I can, and do, ignore all of those problems with the app because it does one thing really, really, well for me: it sends links to Instapaper much faster than the Twitter app does. More than that it adds the link back to the tweet in the Instapaper description so that I can properly attribute the item.
I need not load up a webpage first before sending to Instapaper.
One odd thing is that when you have a Tweet in the main timeline with more than one link in it — there is no prompt for which link you want to send to Instapaper, you just get all the links. I don't mind this, but I do wish I was given the option to choose.
### Avatar Power
There's one last thing about this app that I find kind of odd: its obsession with Twitter Avatars.
This is an awful lot of Matt:
[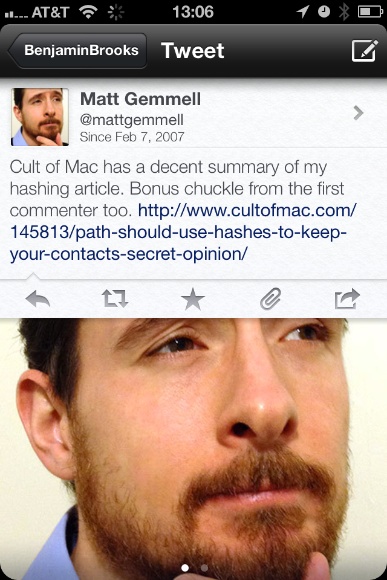 ](http://c276381.r81.cf1.rackcdn.com/twittelator-neue-prof-.jpg)
This isn't that big of a deal to me, but I find it odd how obsessed the app is with showing you huge avatars, take the profile page for example (that is *your* profile page when you install the app):
[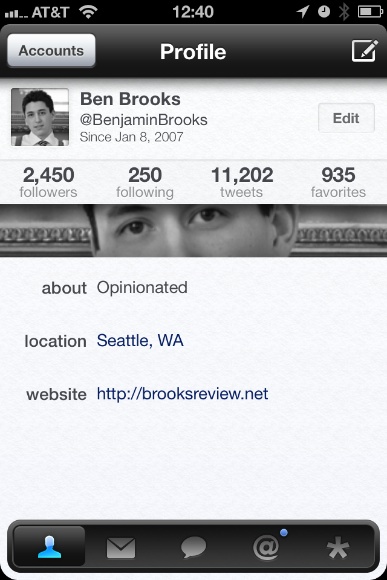 ](http://c276381.r81.cf1.rackcdn.com/twittelator-neue-1.jpg)
Why is my avatar shown twice, and how creepy is it just seeing my eyes? So odd, I feel like I am constantly being spied on with all this avatar love in Twittelator Neue.
### Concluding, Something
So is Twittelator Neue better than the official Twitter app? It only is in the implementation of Instapaper and for me that is enough to keep on using the app. In almost every other aspect I prefer the official Twitter app.
Note: This site makes use of affiliate links, which may earn the site money when you buy using those links.