*(Disclaimer: Tom Bihn sent me the Ristretto to test out, this is the only bag they have sent me — the others I gladly paid for.)*
[A while back I purchased my first Tom Bihn bag, the Ristretto for 13" MacBooks](http://brooksreview.net/2011/02/new-bag/). I really liked that bag, but I had one huge complaint about it: stuff was prone to sliding out of the front compartment — especially when on a plane.
This wasn't a deal breaker, but it was annoying — requiring an extra level of attention needing to be paid while you are deplaning, or de-anything-ing. The only reason I moved away from the Ristretto is because [Michael Lopp opened my eyes to the world of freedom that a backpack offers](http://www.randsinrepose.com/archives/2011/12/04/a_bag_of_holding.html).
Now, I love my Smart Alec from Tom Bihn, but I couldn't help but smile when Tom Bihn responded to feedback and offered a new, modified version, of [the Ristretto](http://www.tombihn.com/page/001/PROD/200/TB0223).
The front pocket now fully zips shut.
[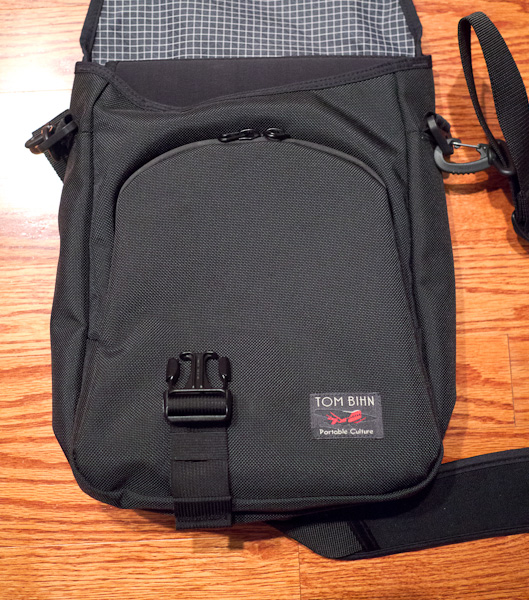 ](http://c276381.r81.cf1.rackcdn.com/ristretto-2.jpg)
That alone makes the bag near perfect because your goods are far more secure, but Tom Bihn didn't stop there.
Tom Bihn has changed two other things that may seem minor to most, but adds quite a bit to the bag.
[They changed the nylon used to make the bag](http://www.tombihn.com/blog/?p=2400):
>The Ristretto is now made with an exterior U.S. 1050d high tenacity ballistic nylon and an interior lining of our ultralight Dyneema/nylon rip-stop fabric from Japan. Both fabrics are made specifically for us. Previous, the Ristretto was made with an exterior of 1000d Cordura® and an interior of 500d Cordura®. For the time being, we will continue to offer one Cordura® color combination — Olive/Cayenne — in all three sizes of Ristretto. Why the switch in fabrics? Our 1050d ballistic nylon has a stiffer hand and a rich weave and we like the way it reflects light. We work with our fabric mills to get this fabric just the way we want it. Our Japanese ultralight Dyneema/nylon fabric saves weight and is as tough as nails. And it's quite handsome to boot.
This new nylon is much stiffer and while that may seem less appealing — it actually makes the bag quite a bit better. For one the bag is a lot more rigid when you set it down, instead of flopping over like the old version, it sits up.
[
](http://c276381.r81.cf1.rackcdn.com/ristretto-1.jpg)
Overall this new nylon adds a bit of structure to the bag and I like that a lot. The old version was just a floppy bag in comparison.
The second change was to add a new lining to the bag — this lining is the typical Tom Bihn grid. While it is not my favorite look, it does greatly aid you when you are digging about the bottom of the bag looking for something — particularly something small. It's a very nice finishing touch.
This isn't an extensive review because it doesn't need to be — everything I liked about the original bag is still here. Tom Bihn made the changes that the bag needed to go from very good to great.
The new zippered front pocket is a godsend.
### The Catch
There is one other thing that was added that I dislike, but it's pretty minor. It's this:
[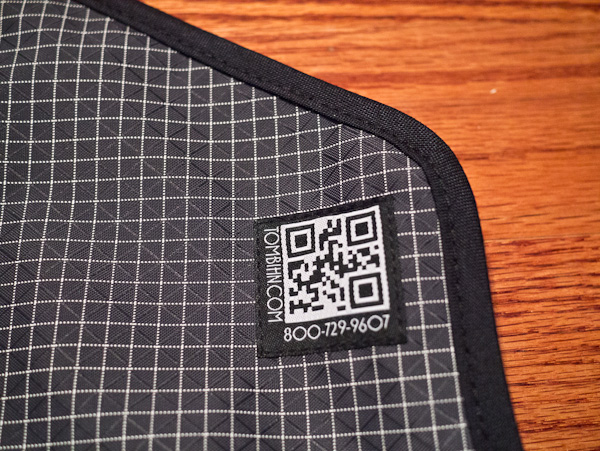 ](http://c276381.r81.cf1.rackcdn.com/ristretto-3.jpg)
A QR code, really? Ugh.
### Wrap Up
Quite a few people asked me if these changes are enough for me to switch back to the Ristretto from my Smart Alec. That's a tough question to answer. I never *wanted* to get rid of my original Ristretto, but I did so to partly fund the purchase of the Smart Alec — and because I just don't switch bags that often.
Having both the Ristretto and Smart Alec at the same time offers an interesting conundrum for me. I love having a backpack and all the room and mobility a backpack affords, but I also like how small a light the Ristretto is — I feel more mobile with the Ristretto.
If I had to choose I would still stick with the Smart Alec, but only because I have seen *the light* when it comes to backpacks versus shoulder bags. If I had both? Well, the Ristretto would get used regularly, very regularly.
It's a great bag, [go get yours here](http://www.tombihn.com/page/001/PROD/200/TB0223).
Note: This site makes use of affiliate links, which may earn the site money when you buy using those links.