Back when my wife was registering for all of our "baby stuff" for showers she asked me which diaper bag we should get. I am pretty sure I said pick "whatever" because I was confident Target wouldn't have what I wanted, and knew my wife wouldn't put up with me spending months trying to find the *right* bag.
So now we have this shoulder bag that claims to be a diaper bag, something parents will likely need to carry almost every time they exit their homes for quite a while. And the bag we have isn't very good.
I could list out everything wrong with the bag, but it's just easier to say that there isn't a single thing I like about our diaper bag. It almost offends me.
So I started looking for a better diaper bag. Weeks later I still hadn't found a single diaper bag that looked suitable. They either looked like a diaper bag, or looked like something I would laugh at if I saw someone else carrying it.
Then I had an idea ((Which can be dangerous and is often expensive.)) . The best bag I have *is* my Tim Bihn Smart Alec, so what if I just used that bag. There's a problem: I don't want to own two, and I don't want to have to go through the process of converting the bag into and back from a diaper bag every time.
Yet, after thinking about it more I realized that most everything I keep in the Smart Alec are things I would like to take anyways in a diaper bag outing, I just needed a quick way to add or subtract the diaper specific items and things like my MacBook Air.
Enter [Tom Bihn's packing cubes](http://www.tombihn.com/Merchant2/merchant.mvc?Screen=CTGY&Store_Code=001&Category_Code=PCUBES).
Since I can easily remove the padded laptop sleeve, and that being the only item I wouldn't want when using the Smart Alec as a diaper bag, this looked like a simple fix.
I ordered [two of these packing cubes](http://www.tombihn.com/page/001/PROD/PCUBES/TB091) (Tri-Star small-all fabric and the same in the non-all-fabric option) and hoped they would be enough. Turns out they are perfect, but a third cube is needed for bottles, so I ordered [this one](http://www.tombihn.com/page/001/PROD/PCUBES/TB0915).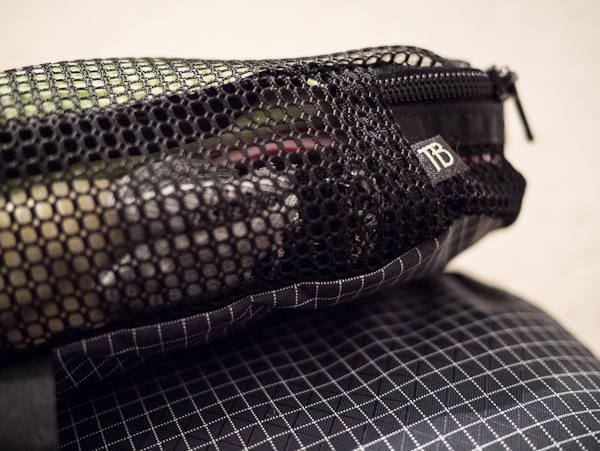 Now I have one packing cube with diapers and wipes. Another with a change of clothes. A third with all the other miscellany that ends up in the diaper bag and bottles. It takes me less than two minutes to go from computer bag to diaper bag.
That's acceptable because I get to use a bag that I love.
What's also neat is that the packing cubes still fit in the "real" diaper bag, so it is still always ready to go for my wife (I toss the packing cubes back in that bag when I change out my backpack). So now I have a diaper bag that I love at very little extra cost, and a system that is very flexible.
I only wish I had thought of this weeks ago.
I know most of you don't use the Smart Alec, but the nice thing about this is that there are probably packing cubes that fit your setup very nicely — it's worth playing with, because diaper bags suck.