For quite sometime now [Agenda](http://getappsavvy.com/agenda/) has been *the* calendaring app that I use on my iPhone. The fact is: I typically only use iPhone calendar apps to view appointments and rarely to add appointments. With the addition of Siri this is doubly true.
There are, however, those times when you really need to manually input an appointment and Agenda has always been lackluster in that department.
No more.
With Agenda 3.0 the add appointment screen was overhauled and rethought. They did a very nice job with it.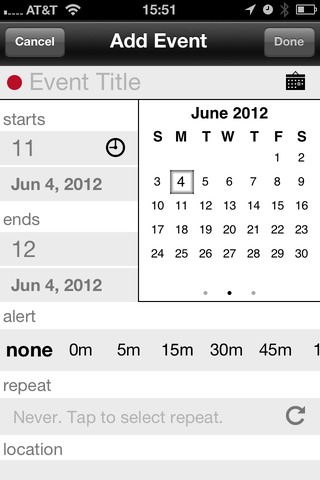 I personally would prefer slightly larger tap zones for the Title area, but that's a minor complaint in the grand scheme of things. One thing that I really like is that this screen is mostly laid out the exact way my mind thinks when I input a new appointment:
– Title
– Start
– End
– Alert
I would like it if Location and Repeat fields were flipped around, but again: minor complaint. (I also like that there are lots of new defaults that you can set here too.)
For a feature that I rarely use, this is a very nice update. It's certainly not as fast as speaking the appointment to Siri, but as fast as anything else I have used on the iPhone (including natural language, which is hampered by the small keyboard size on the iPhone).
### Status Updates
One very clever addition is the ability to import a contact for easier adding into an event. This isn't the same as inviting someone — I actually think it may be better — by adding a contact you allow yourself to send very quick, pre-filled, status updates.
Some of the defaults are: confirmations, I'm here's, late, and of course you can add custom messages (and customize the defaults). What I particularly like is just how easy it is to send the messages.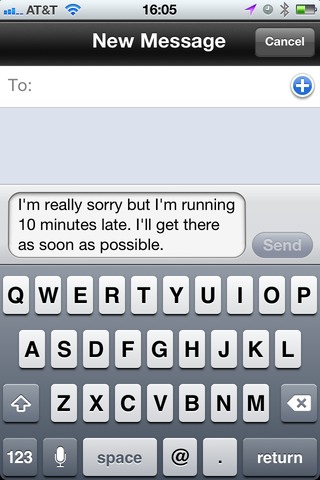 All you do is open the event view, and tap one of two very large buttons (your decision between emails and texts) and then the message and time/date inputs that you specify as variables (so, 10 minutes, in the above example).
That's really clever and useful, especially now with imported contacts.
Now I just need to remember to attach contacts to all my meetings.
### Get It
Agenda is/was great. Agenda 3.0 *is* better. If you don't own the app, [now's the time](http://getappsavvy.com/agenda/).