[Reeder](http://reederapp.com/2/) is an RSS reading application for Mac and iOS and it is one of the most popular iOS RSS apps. Reeder has always been my favorite RSS reader out there, Mac or iOS — it was a godsend when it came out. What makes Reeder 3.0 so very neat is that Silvio Rizzi did not rest on his laurels — of which — I would say, Reeder is already one of the finest iOS apps in the App Store.
Instead Rizzi rebuilt the entire app, from the ground up. He also listened to the fact that some people (read: me) don't want to use Google Reader any longer. I have been testing Reeder 3.0 for what seems like a year now and using it with nothing but [Fever°](http://feedafever.com), my RSS reading platform of choice.
Since this is a 3.0 release I am going to just point out three new things that I love about Reeder 3.
### Thing 1
The best feature of all: Fever° support. This is a self-hosted RSS reader, with an API for apps like Reeder to interact with it. Fever° got Google Reader out of my life and I couldn't be happier.
Reeder does a great job of integrating with Fever°, including the addition of the Hot List. Overall I find Fever° to be faster than using Google Reader in Reeder, but that's also dependent on your web server.
Otherwise Fever° works just as GReader does, but without the privacy concerns that come with Google.
### Thing 2
Next up is the new/updated UI of the app. Once in single item view, the app feels like a hand made letterpress card for each of your RSS items. Except these cards are made of rubber, not paper — because they stretch and bounce all over.
I really love the UI of Reeder, it has the right amount of texture and a simple yet elegant feel to it. The banding animations that are prevalent in Reeder will be jarring at first, but quickly fade after the first use.
### Thing 3
Mark above and below as read with just a two finger gesture. Ok, so here's the deal, it used to be that my thumb would get really tired in Reeder because I was constantly tapping to move from item to item. In Reeder 3 there's a handy gesture: swipe up or down with two fingers in the list view to mark the items above or below that point as read.
I really, really like this feature. It was a last minute addition and it really makes for a fantastic addition to the app.
### Small Things I Don't Like
Well, for starters, I wish the status bar was hidden when in single item view. That would be a great, immersive, experience while reading your RSS items. I also wish the Hot List for Fever° was a bit more informative and allowed you to control the time period — as currently implemented I rarely use it. I also dislike the jagged edges of the headers for the date and feeds sections, like really dislike these.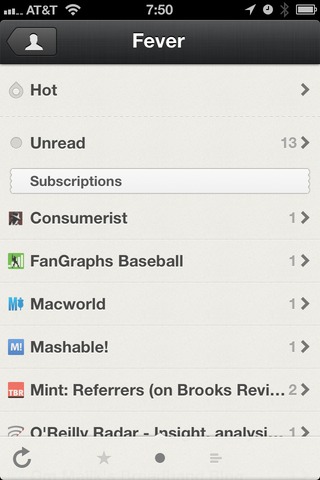 ### Bonus Points
Reeder has a new icon and it is fantastic.
### Worth It
Overall this is a great app that further secures Reeder's place as one of the best iOS apps in the store. [Go get it](http://reederapp.com/2/) (launches 6/13/12 as an update).