I'm a big fan of [Yojimbo](http://barebones.com/products/yojimbo/) and have been using [this tip to sync Yojimbo using Dropbox](http://groups.google.com/group/yojimbo-talk/msg/dfffd469a71b4b9e?pli=1) — except that I never had two Macs using Yojimbo before, so for me this was mostly just a backup solution. Now that I have two Macs I need to make sure that Yojimbo closes on one before I use it on another.
Luckily my dual Mac setup is pretty specific: one Mac at work, one at home. Therefore I know what time I will be at either Mac. So to keep away any conflicts, and to solve my poor memory issues I invoke Keyboard Maestro to do this: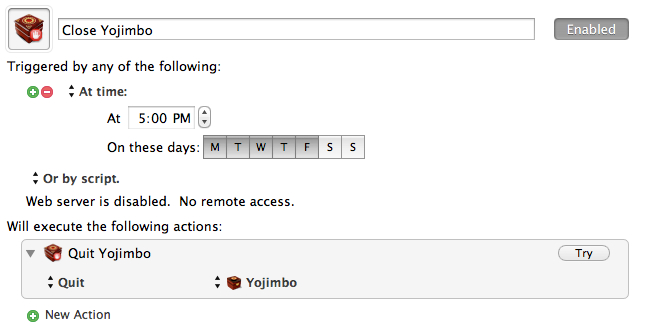 On my Mac at home I set it to close Yojimbo at 8a M-F.