It's almost to the point now where I don't expect any new weather apps to be worth even thinking about, but I am glad I gave [S°lar](http://thisissolar.com) a try after [Jon Mitchell](http://twitter.com/ablaze/status/228353678095024128) pointed it out to me on Twitter. Let's get something clear first, it's not an ideal weather app for me, but it is really interesting and worth talking a bit about — because it does weather a bit differently.
The first thing that immediately struck me about S°lar is how much I love the way the weather data (just temp and conditions) is displayed: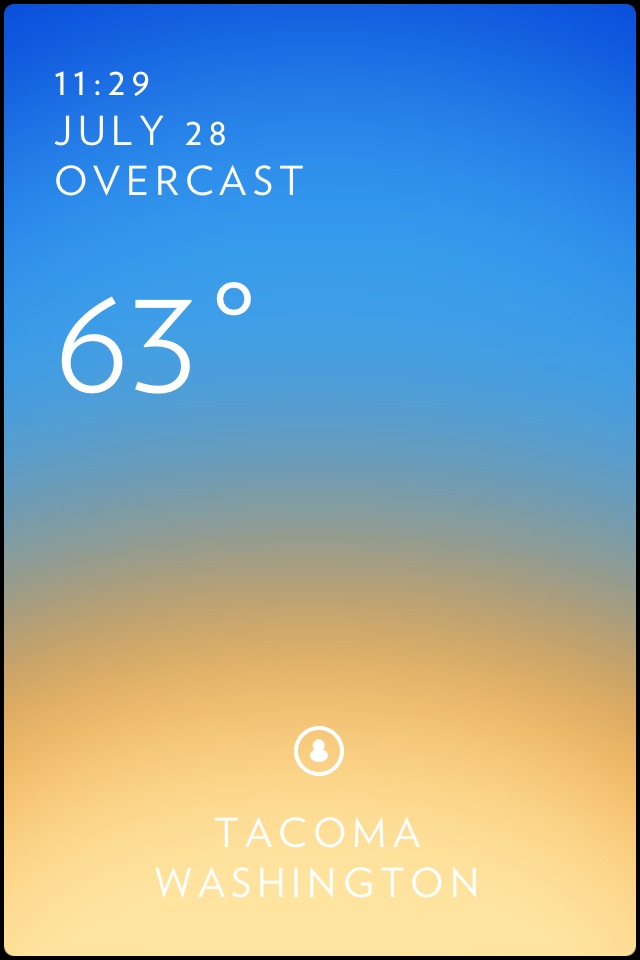 That's a pretty minimal set of data, but it does two things really nicely:
1. Shows the temp in an easy glance able manner.
2. Shows a background that isn't some silly image of the weather, or static thing — instead it gives your a hint of the temp and an indication of the weather (it drips from the top if raining, or shows colors to indicate clouds or blue sky — in this case it is warmish with a blue sky).
S°lar isn't like Dark Sky, but it's better than most any other app for giving you an idea of the weather in a traditional manner.
If that was all this app did, I would likely keep it around — but as it turned out this was only scratching the surface.
Pull down, and you get the three day forecast: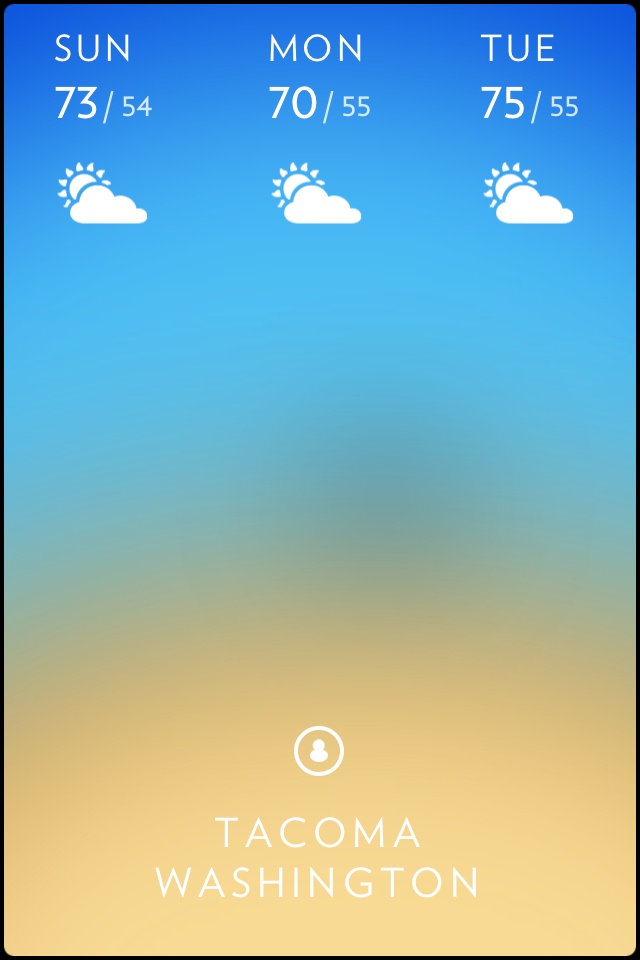 Slide your finger from the bottom up, you can see the weather info change based on the hourly forecast — this is pretty neat: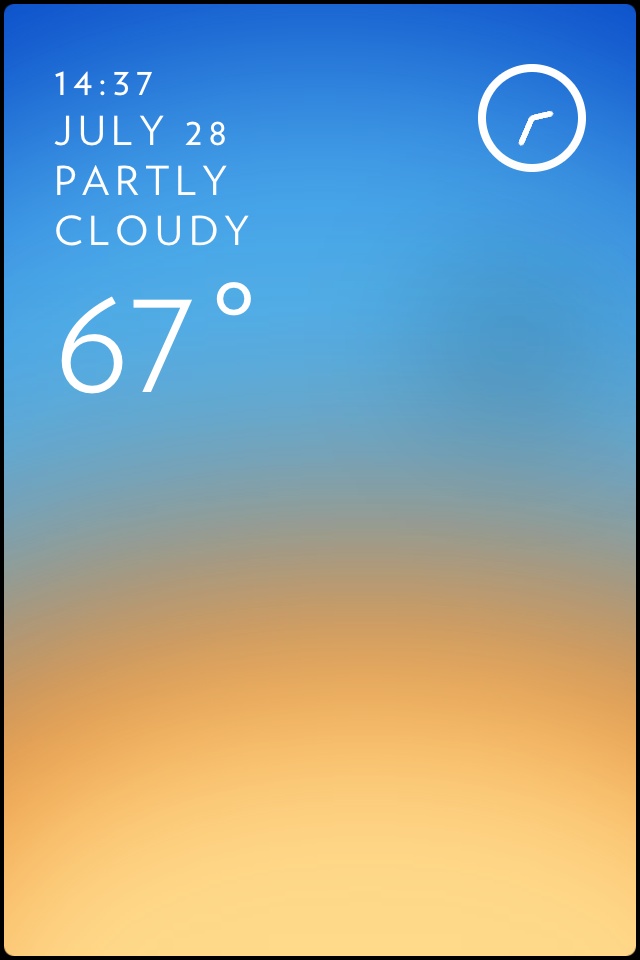 Double tap to pull back and see all of your locations: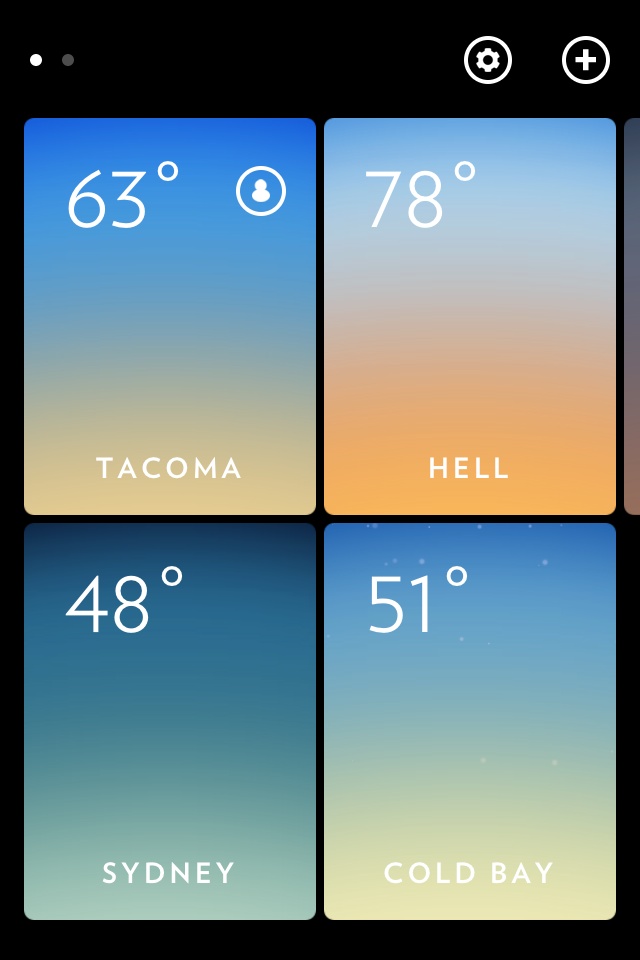 What I love about this is that the view is actually useful, and not just a switcher (you can swipe from side to side to change locations without pulling back to this view). Many weather apps make you select a location before they show you any data, so I love that this app gives you useful data before you even dive into a location. It just works "out of the box".
The settings screen is equally simple and well designed: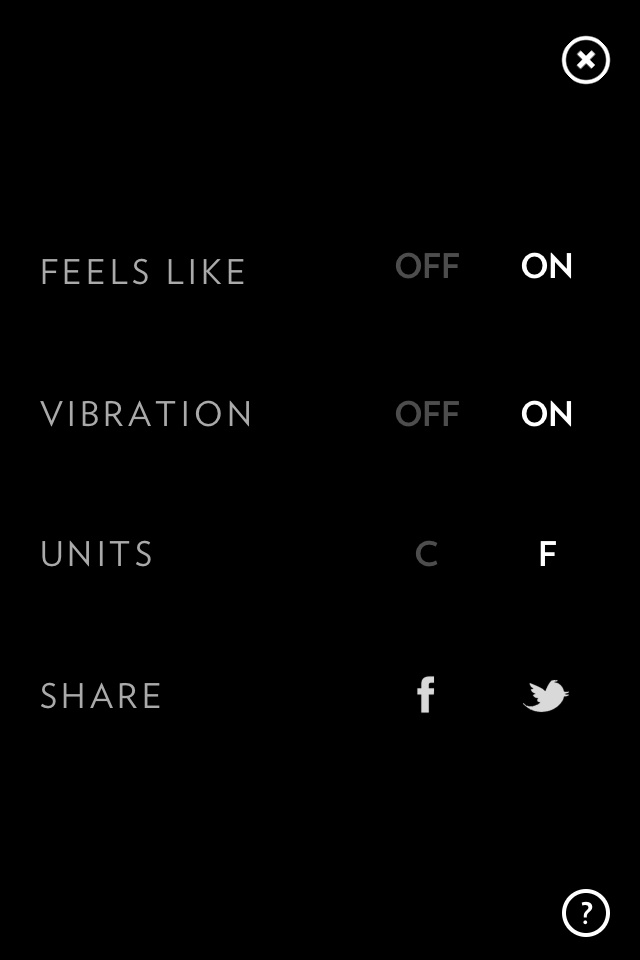 Ok so none of those screens are unique — because while beautiful, they certainly aren't revolutionary.
Here's the reason that I like this app though: go back and look at those swipes and taps I mentioned — each one can be done with only your thumb and iPhone in one hand. That's not something I can say for many apps.
### Why Ben, Why
I really like this app, the UI and interface is really nice and really invisible — S°lar is the [Clear](http://www.realmacsoftware.com/clear/) of weather apps — and I really like Clear.
Overall I don't know how useful S°lar will be to me (I love Clear, but I don't use it anymore), but I do think that S°lar is a very solid weather app, and a perfect convince-someone-they-want-an-iPhone-app.
[Get it from the App Store for $0.99.](http://itunes.apple.com/us/app/solar-weather/id542875991?mt=8)