For the last few days I was in Vancouver BC (Canada for those that don't know). It's a city I have been to a few times and I generally really like the city and the fact that I can drive to it in less than half a day. Even though I have been there a few times, I still have no sense of bearing in the city — it's one of the few cities that I have driven in, that I have yet to figure out. ((San Francisco is another.)) This meant that for three days I was at the mercy of my iPhone and the (dun, dun, DUUUNnn) iOS 6 Maps application. I used turn-by-turn navigation the entire time, never once double checking the spot the iPhone was taking me to, here's the result:
– Times lost: 0.
– Times frustrated: 0.
– Battery drain: far less than expected.
– Speed: fast.
– Times I questioned the GPS and was proven wrong: 1.5.
The one thing that actually blew me away about the navigation was just how fast the maps application loaded a route on the sluggish 3G network I was roaming on. ([Here's just how slow that network was](https://f3a98a5aca88d28ed629-2f664c0697d743fb9a738111ab4002bd.ssl.cf1.rackcdn.com/maps-3.PNG), and [how fast my iPhone is only an hour back into Washington state](https://f3a98a5aca88d28ed629-2f664c0697d743fb9a738111ab4002bd.ssl.cf1.rackcdn.com/maps-2.PNG). Additionally are there no LTE networks in Vancouver, or can USA iPhone's not roam to them?)
I wasn't going to write any of this up, but an odd thing happened on my way home — something that absolutely made me fall in love with Apple's mapping solution — I hit massive traffic long before I expected to and naturally I checked the traffic flow on the Maps.app and scrolled down to see this: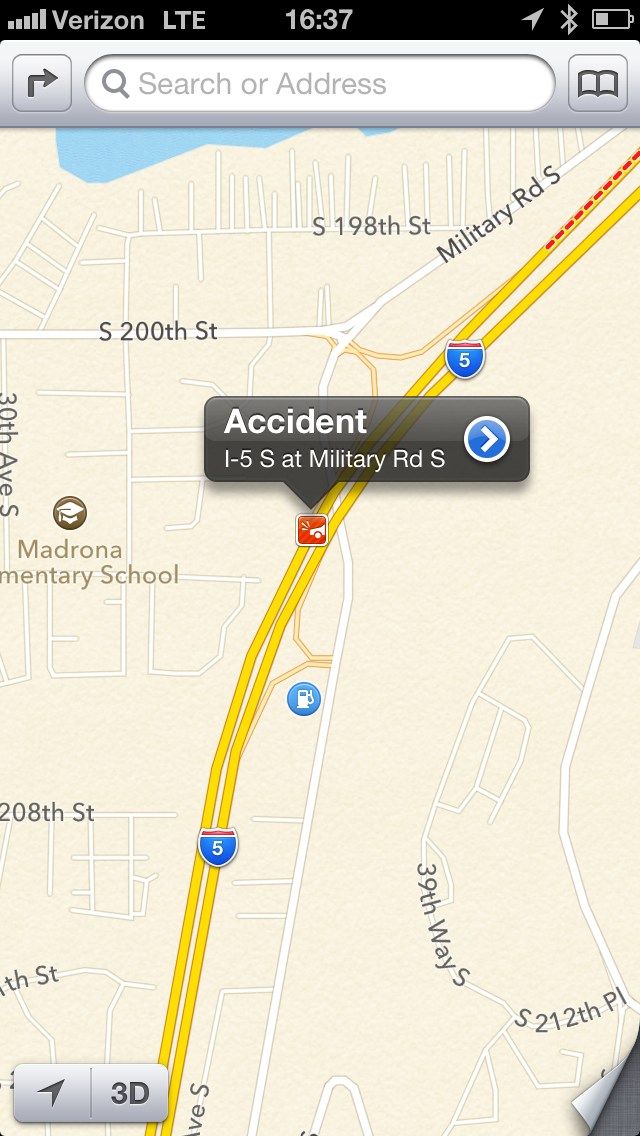 So I tapped the icon, here's what came up: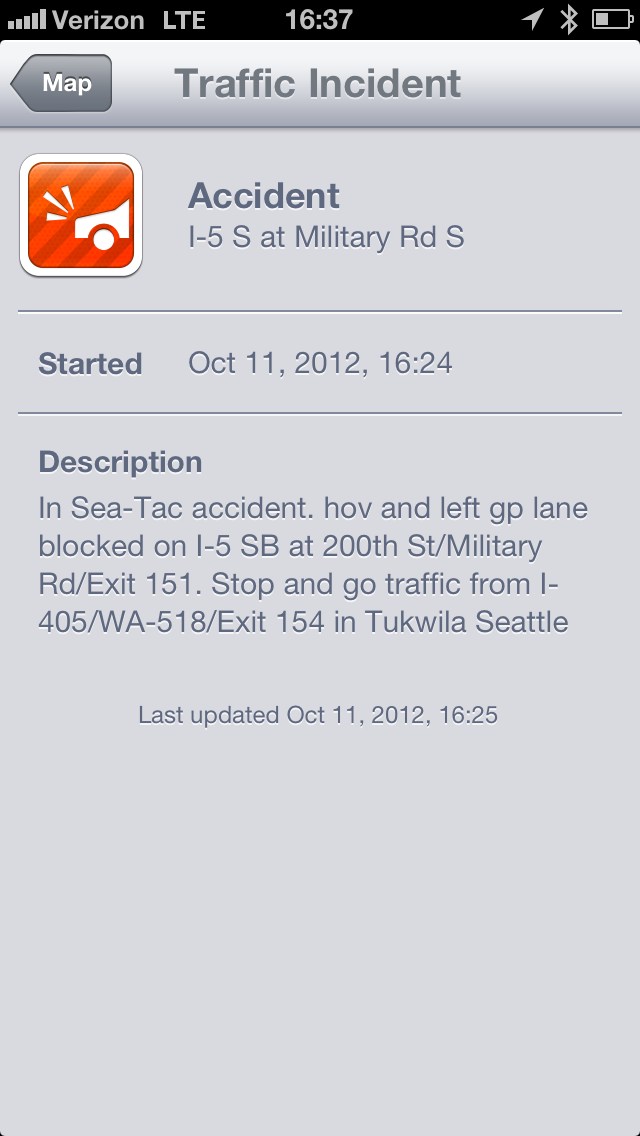 Holy. Shit.
That ladies and gentlemen is what I call useful information. Red, yellow, and green lines don't tell you much other than what you likely already know. However knowing that there is an actual accident ahead, where it is, and the lane it is blocking is nothing short of awesome.
For me this was the equivalent of using visual voicemail for the first time.
#### The So You Don't Email Me Section
1. Yes I know Maps isn't that great in *your* country.
2. I don't use public transit.
3. I know you rely on street view, I don't, nor do most other people.
## Bottom Lining It
I never thought three days in Canada would make me fall in love with a maps application, but it did.