[Now that I have gone over why you should carry a pocket knife everyday](http://brooksreview.net/2012/10/pocket-knife/), I think it prudent to look at some options of knives *to* carry everyday. As I said in my last post on the matter: what is best for me, what is best for Clint Eastwood, is *not* going to be what is best for you. So best not to think of this as telling you what to get, but giving you a starting point.
This is the kind of search that you could spend your entire life on and still not find *the* pocket knife. So it is a search that I embarked on while knowing this, being willing to settle, and with a set of general criteria to guide me.
Up and until a few months ago I was very happy with the knife I was carrying everyday. It was simple, sturdy, and reliable. What I began to notice though was that the thumb wedge used to deploy the blade was — I believe — wearing holes in my pockets. I have about four pairs of pants with holes in the pockets in identical spots and best I could tell this knife was causing it (not from the blade). So I needed something better, something that wasn't so hard on my pants pockets.
## My Criteria
I started this search months ago, and here is the baseline criteria I laid out:
– Had to be under ~$100, so the [coveted Chris Reeve Small Sebenza](http://bladereviews.com/chris-reeve-knives-small-sebenza-21-review/) is out of the picture (for now).
– Could not have a thumb wedge that could potentially wear holes in my pockets.
– Had to be sturdy enough, that should the worst case scenario happen, I would feel confident in using the knife in the wild to survive.
– Had to look great. Whereby I mean it needed to have a discernible personality that I liked. (Dangerous, sleek, tactical, old-timey, etc.)
That was it. Since I was buying a lot of knives I spread this over many months — testing each knife as my daily carry for at least a week. Many of these knives are by [SOG](http://sogknives.com), which isn't the best knife maker out there, but is a personal favorite of mine given the location of their company.
## The Knives
### SOG Fielder
[I previously reviewed this knife](http://brooksreview.net/2011/11/fielder/), and my thoughts on it still stand. It is a nice looking knife with average blade steel. It isn't my personal choice for an everyday knife, because of the weight and size. It's also not a knife I would want to take out in the woods to rely on for survival. That said it is a solid around the house / sitting on your desk type of knife.
That's where it has been used since I reviewed last.
([Buy it on Amazon](http://www.amazon.com/exec/obidos/ASIN/B004LF01GS/ref=nosim&tag=brooksreview-20).)
### SOG Toothlock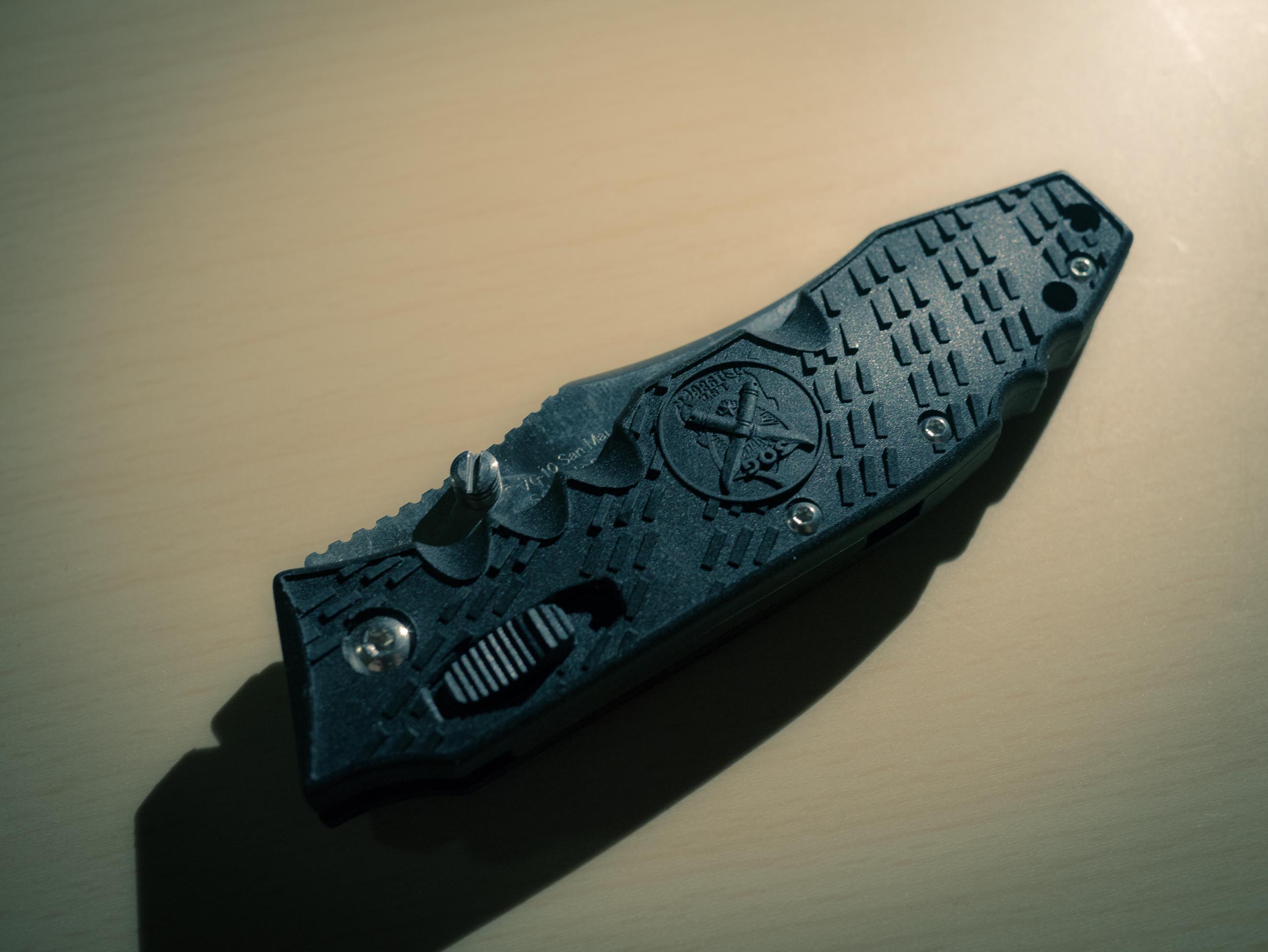 This is a very interesting knife. The locking mechanism is also used as the deployment mechanism — and this blade can be deployed very quickly with a slight flick of the wrist. The shape of the blade is a reversed curve — that is great for certain tasks but makes sharpening with the wet stones I use a bit more of a challenge.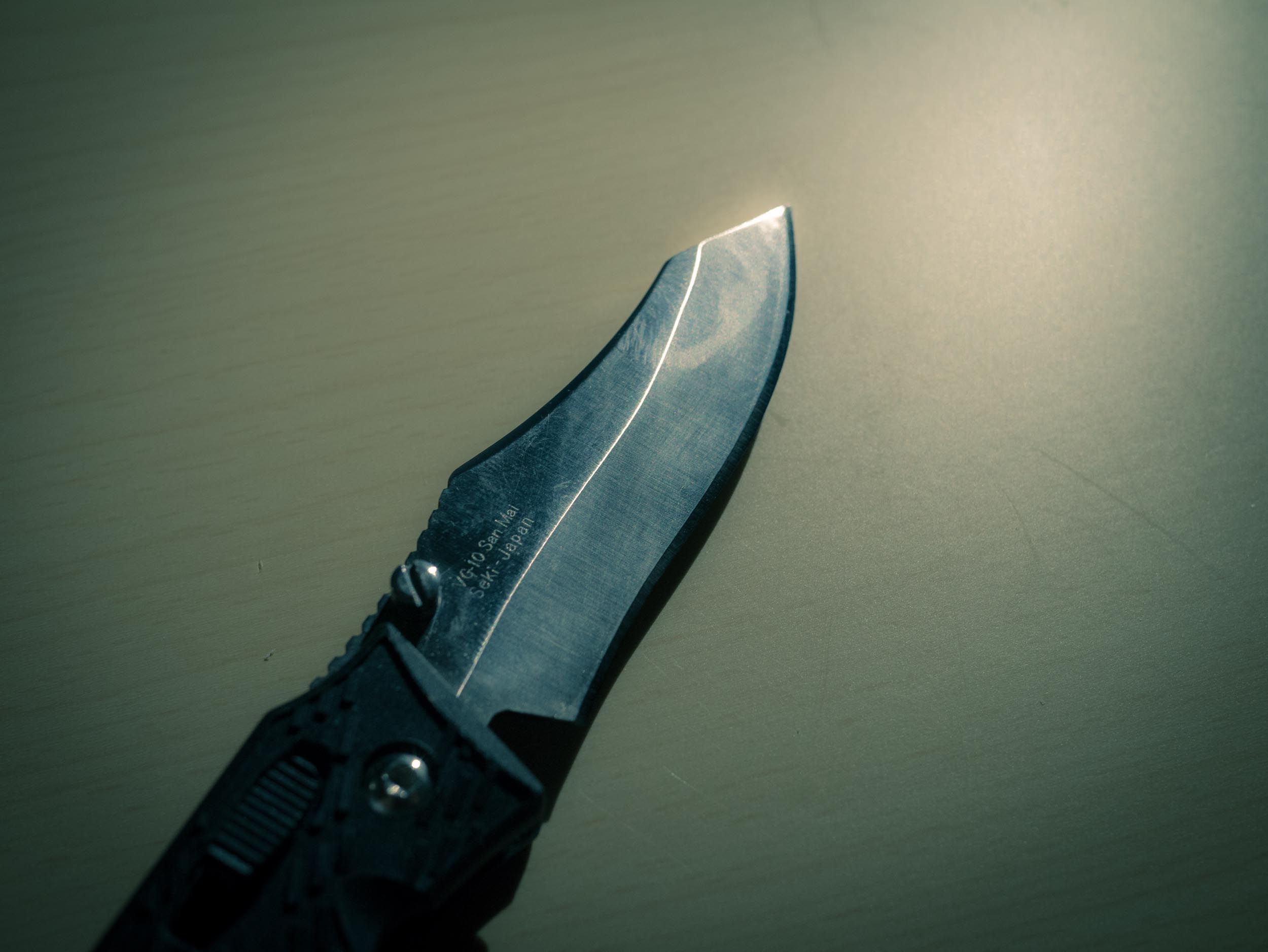 Overall this is a nice knife but is very angular and large — too much so for it to sit comfortably in my pocket. It is not uncomfortable in my hand, but it is just another solid knife — not what I was looking for. I wouldn't feel screwed if I was stuck in the woods with this knife, but again not my first choice among this group of folders.
([Buy it on Amazon](http://www.amazon.com/exec/obidos/ASIN/B0069E80L2/ref=nosim&tag=brooksreview-20).)
### SOG Flash I (partially serrated)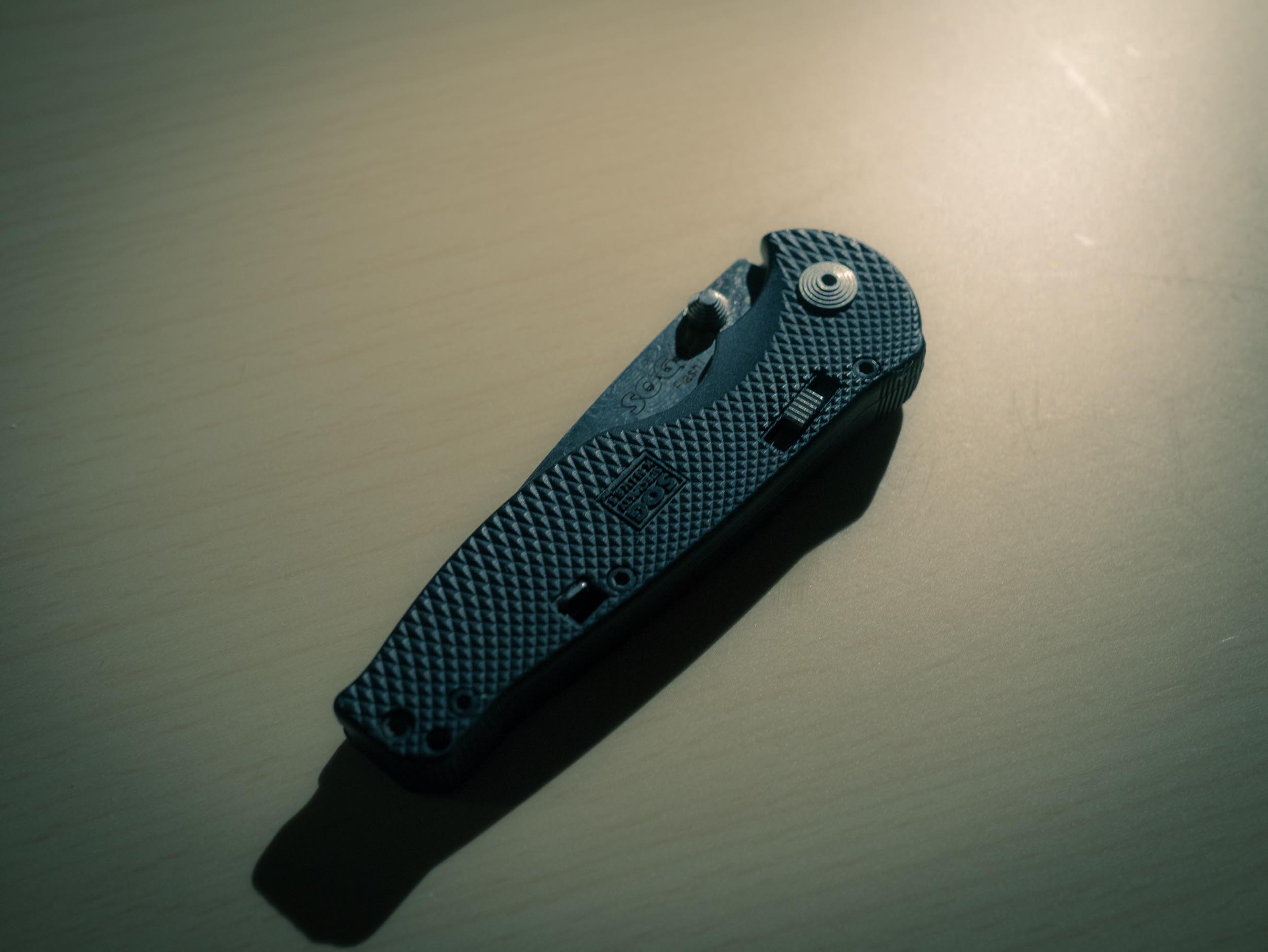 I used this as my everyday carry for quite a while, but switched away because I found the knife to be too small and the serrations too annoying for everyday use. It's inexpensive, light, and discrete to carry — a good knife to have if you aren't sure about carrying a knife everyday.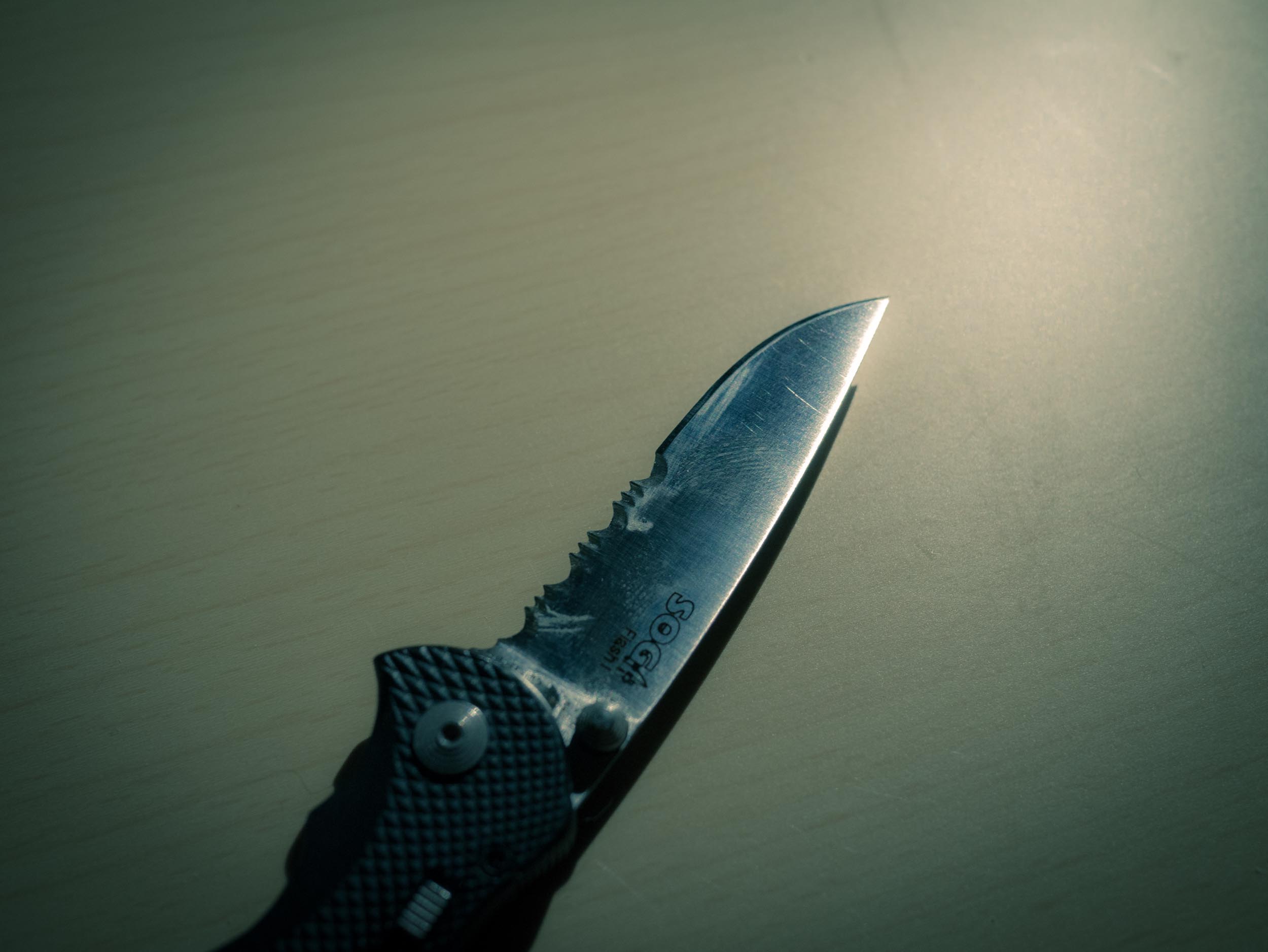 Do yourself a favor and get the non-serrated blade. This knife uses SOG's assisted open technology, so it flicks open expeditiously when encourage by a nudge from your thumb — which means there is a safety you have to disengage. The safety isn't as cumbersome as it sounds, you get used it in very quickly and can leave it off if you prefer. Personally I find this knife much too small for my preferences — certainly not something I would want to rely on in the woods and even too small for most things I did on a daily basis.
([Buy it on Amazon](http://www.amazon.com/exec/obidos/ASIN/B000AQABOY/ref=nosim&tag=brooksreview-20).)
### SOG Twitch II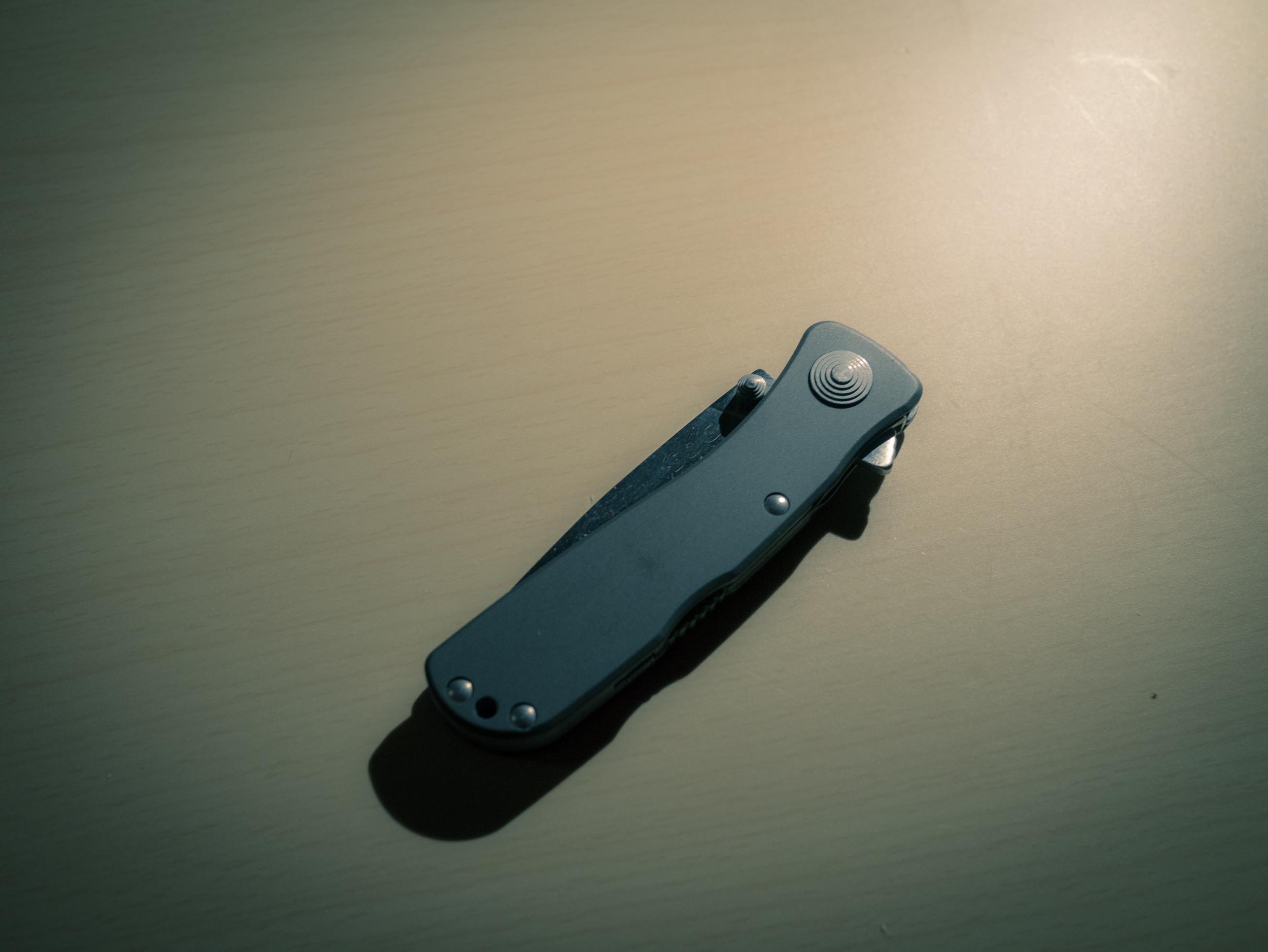 This is the knife that I think is wearing holes in my pockets. I really like this knife — it's solid feeling, a good size, a nice blade.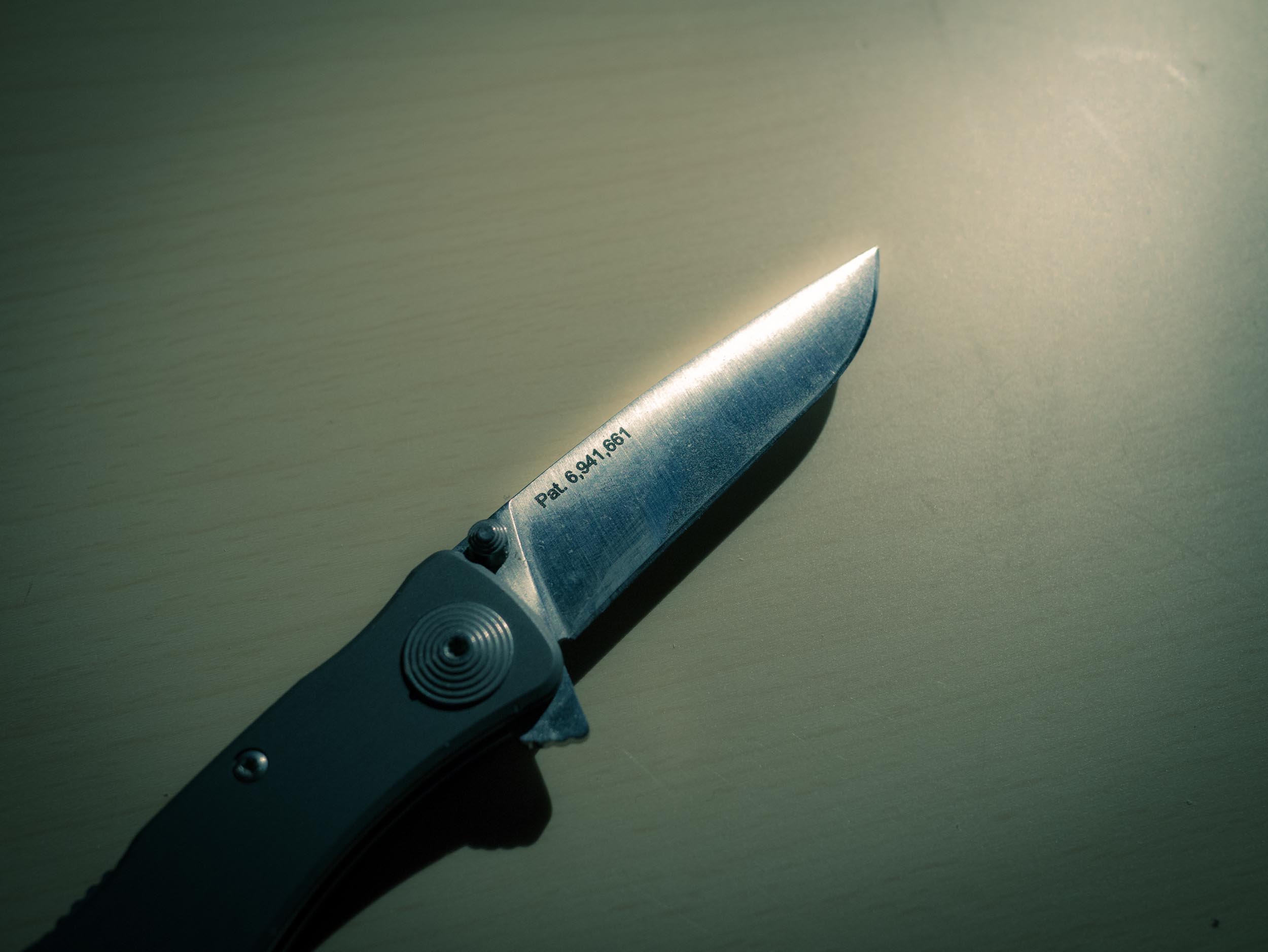 I really like this knife — so much so that it's now my go-to knife when I have to dress up in a suit, but can no longer be an everyday for me given my need to not stitch up my pockets weekly. The knife is smooth and sleek, and has a heft to it that makes it feel solid in your hand. It is, again, not a blade I would want to rely on in a life or death scenario, but it is certainly a better option than the Flash I. I've found it to be an ideal size for me for a daily carry, both in length and the thickness of the handle.
If only it didn't have that thumb wedge for deployment — which is assisted and happens very quickly.
([Buy it on Amazon](http://www.amazon.com/exec/obidos/ASIN/B0001WC73K/ref=nosim&tag=brooksreview-20).)
### SOG Trident (partially serrated)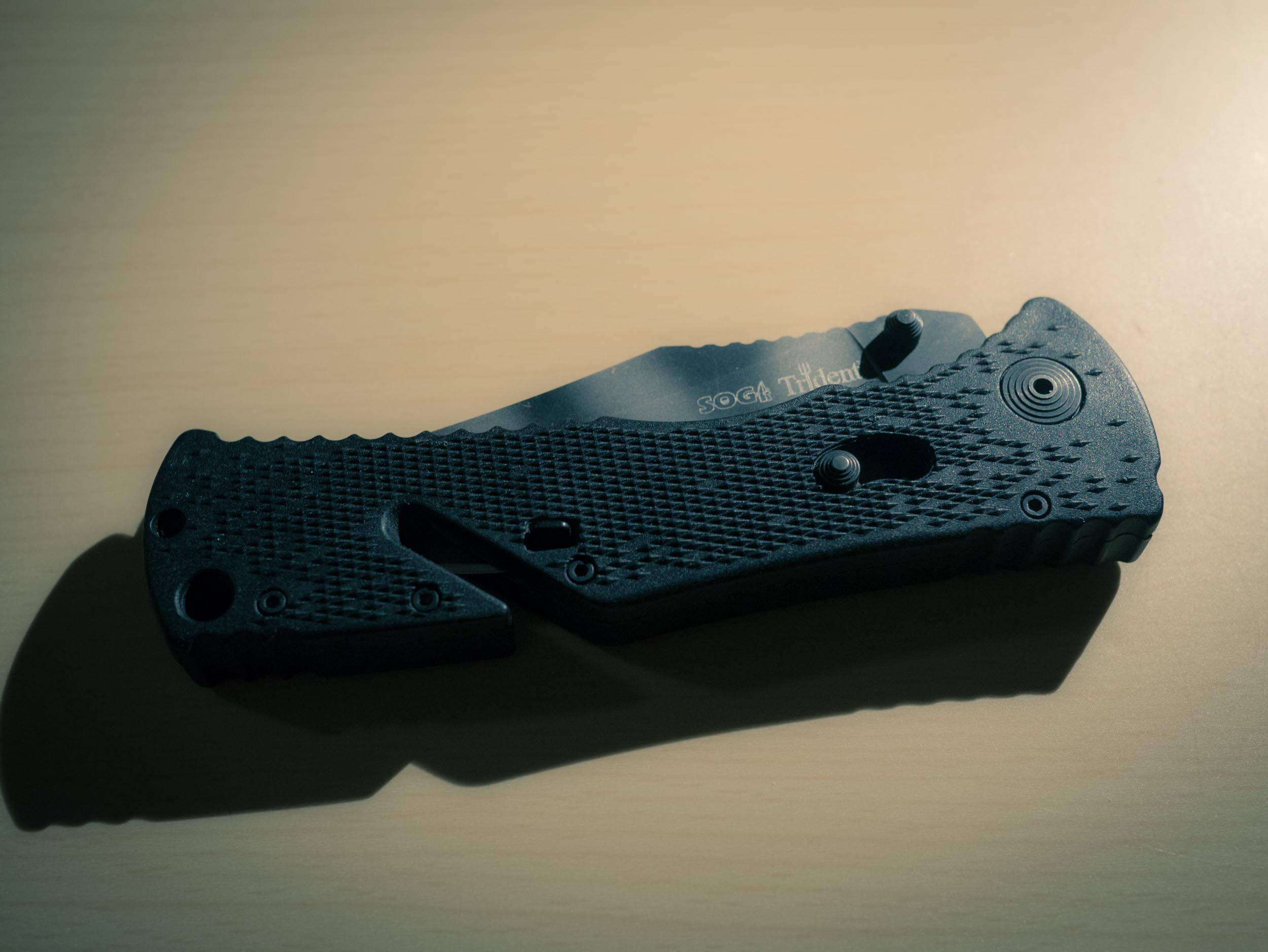 Ah, the first SOG knife I ever purchased. This is a much larger knife and one that I typically carry when hiking. I like just about everything about this knife, but as an EDC it is far too large. I also worry about carrying an EDC that has a v-cutter, a notch that allows you to slide in thin material to cut without having to deploy the blade (seat belts in emergencies), as I worry that such a grove would suck in something that I wouldn't want against the blade — like car keys.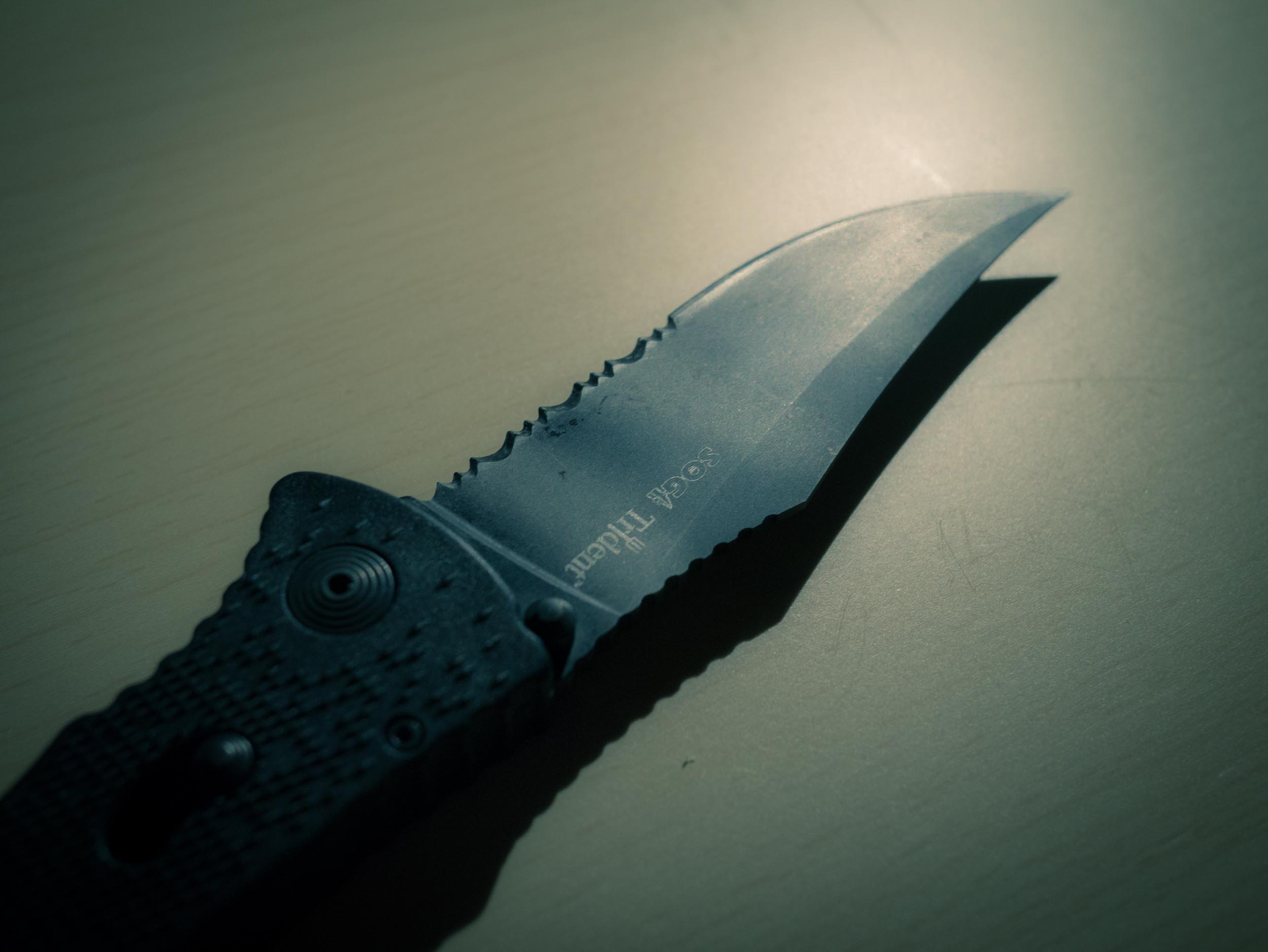 This is a fantastic outdoors knife, but not so much when it comes to an EDC. It is just too large to carry in most of the pants that I wear without it being noticeable and uncomfortable. I've put this knife to the test many times and it has yet to fail me. The deployment is assisted, so again it is fast, and the overall balance of the knife is very nice.
([Buy it on Amazon](http://www.amazon.com/exec/obidos/ASIN/B00020BNW2/ref=nosim&tag=brooksreview-20).)
### Spyderco, I have no clue what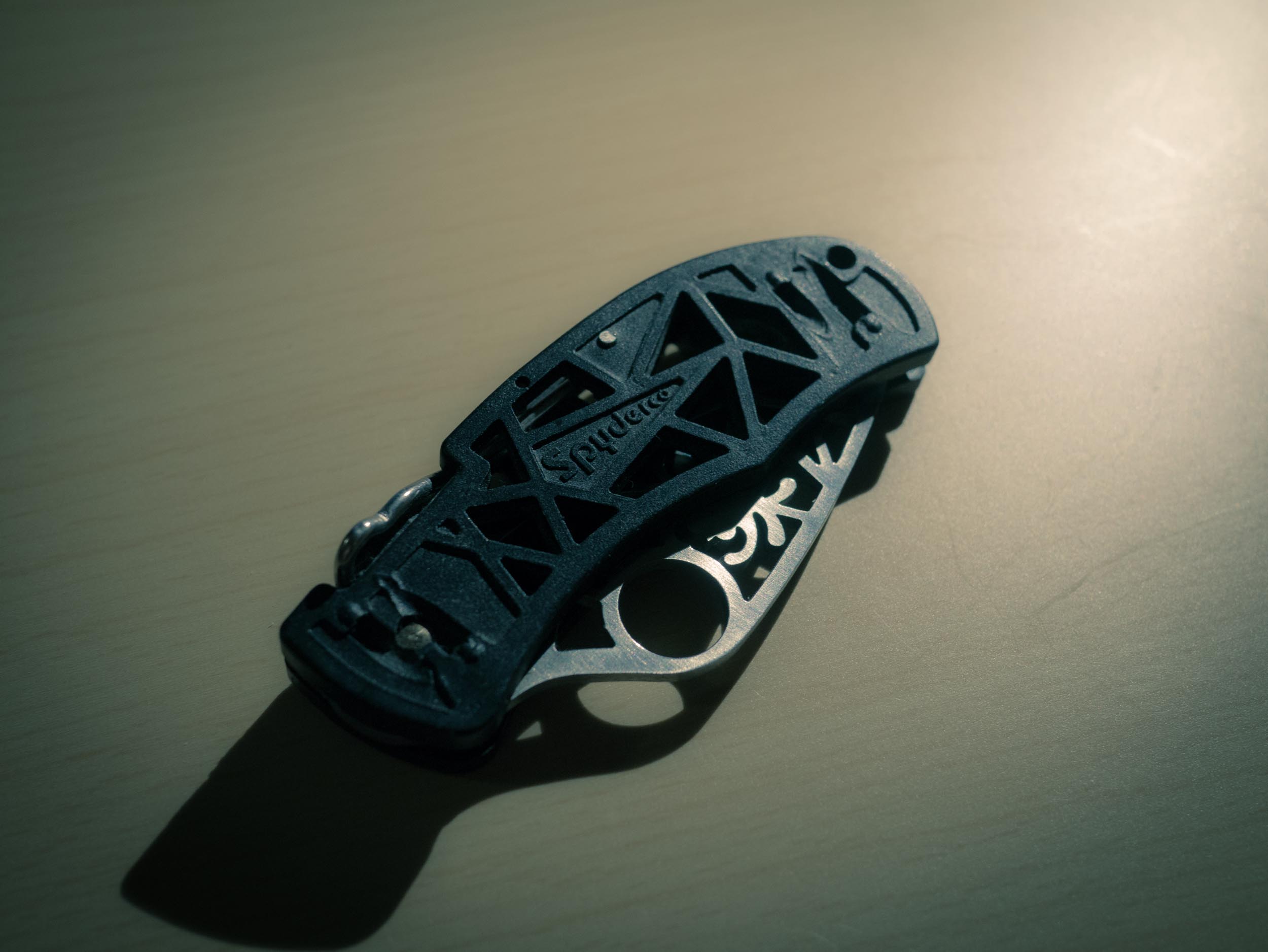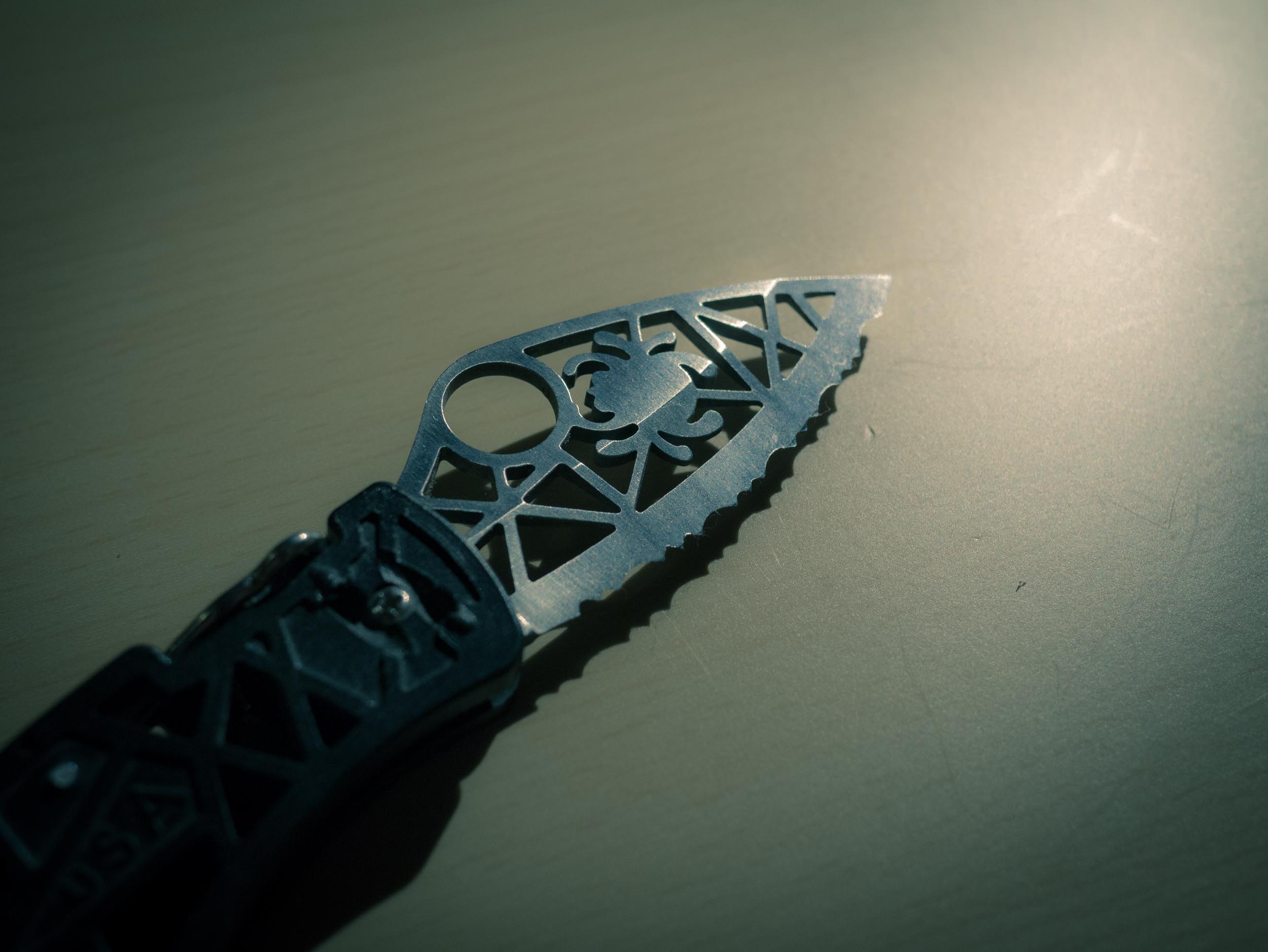 I was given this knife as a gift a very long time ago. It has a fully serrated blade and is more of a decorative knife than anything else.
It looks neat, but that's about it.
I feel like this is a knife that a villain in a bad superhero movie would carry and threaten innocent women with, thus becoming the lynchpin of a pivotal scene in the film. Or something like that.
### Beretta, Who knows what.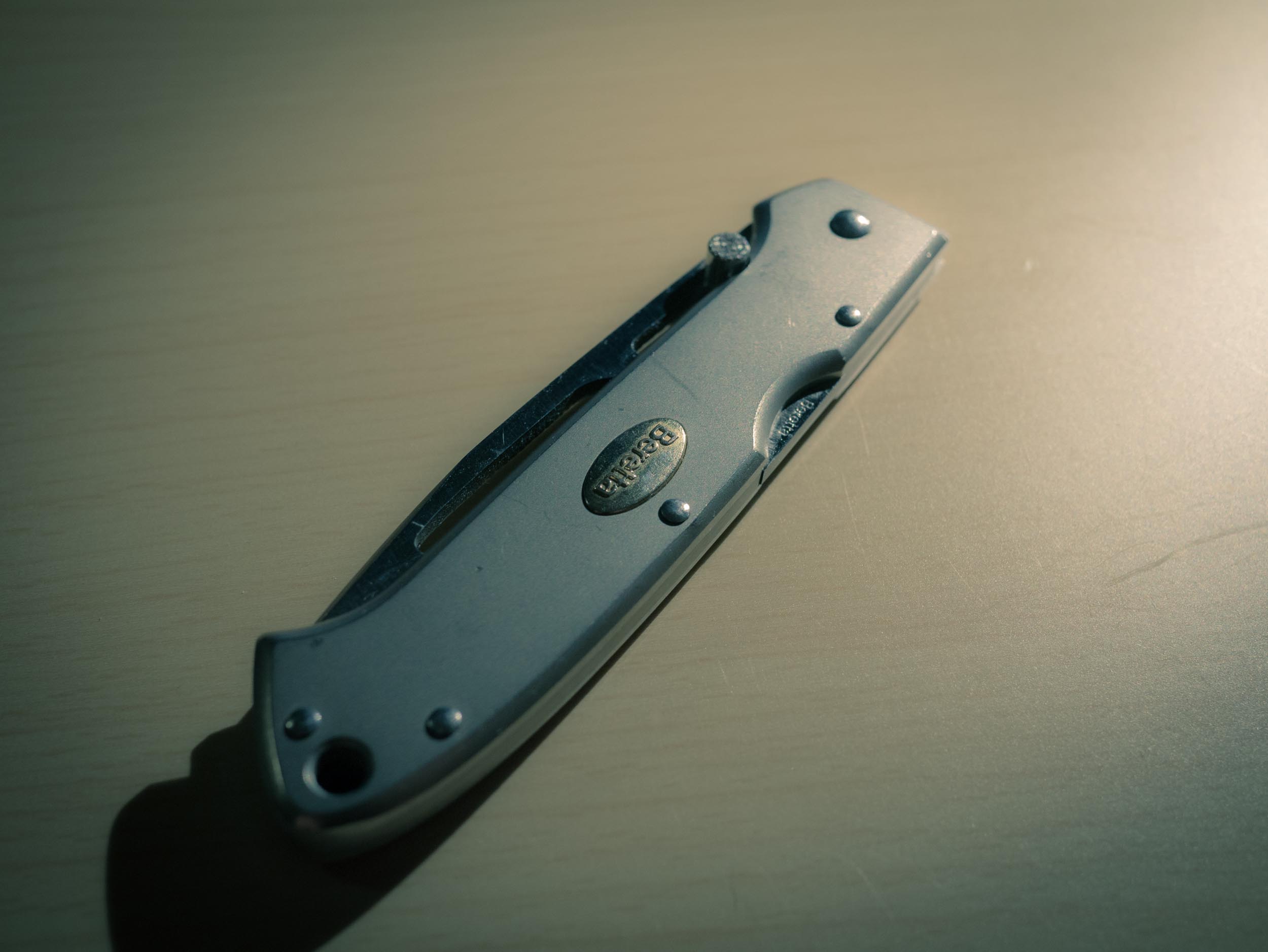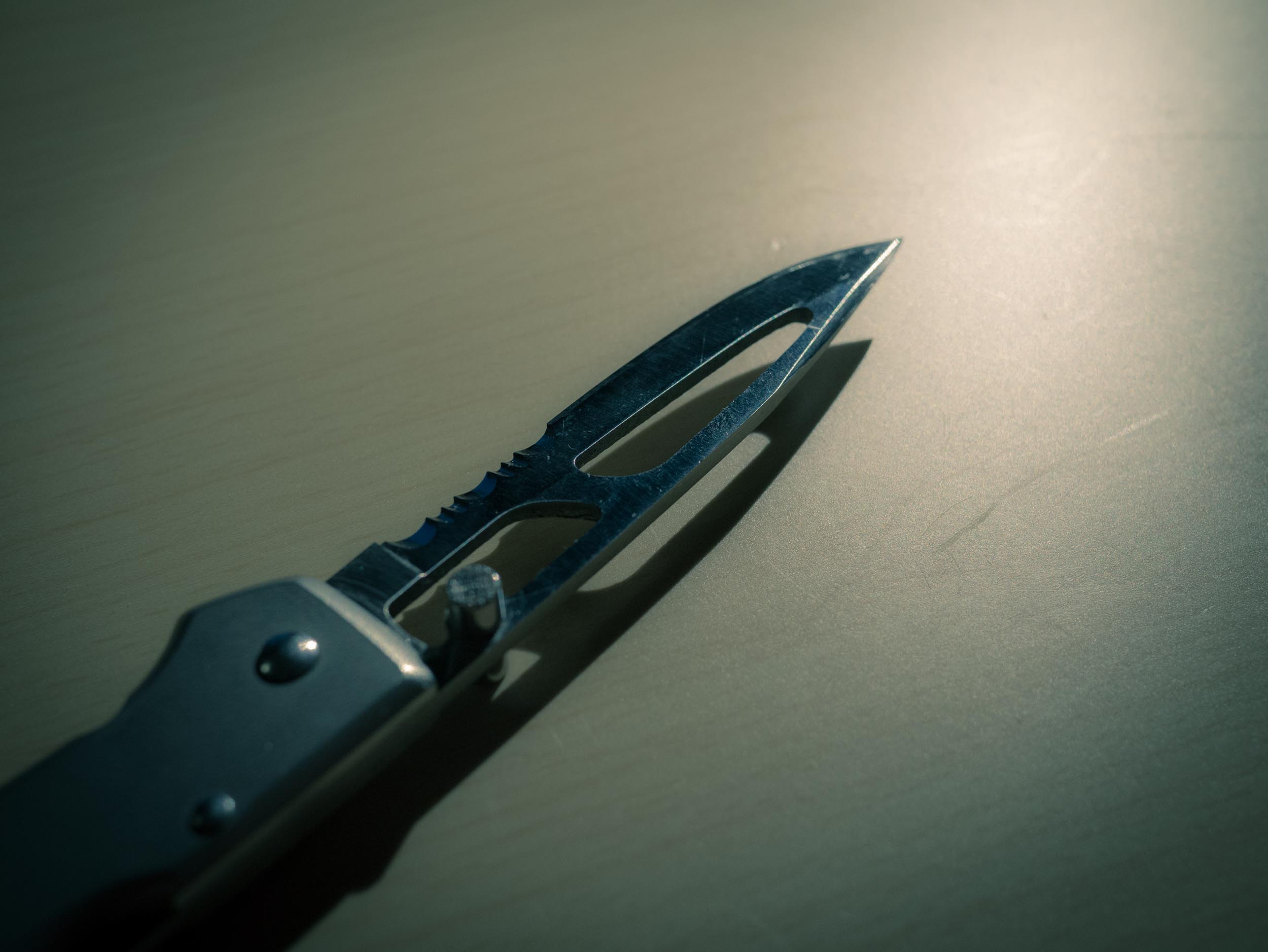 I remember buying this knife, I think I was in high school, I thought it was the coolest knife I had seen at the time. I still like the looks of it, but since the day I bought this knife it has been a bad knife for me.
Forget that it is partially serrated, or the fact that the blade is, again, hollowed out for a cool pattern. No the failure of this knife is that I have never once been able to actually open it with one hand. Drives me nuts. This blade is still razor sharp, because even though it is over a decade old, I haven't used it.
### SOG Spec Elite I
When I purchased this knife I was expecting not to like it, but I found it for a very good price. What surprised me is that I instantly liked the knife. The long sleek blade, the handle that fit in my hand perfectly, everything seemed great.
It has incredibly smooth and fluid opening, the double sided lock release is a nice touch for a lefty like me.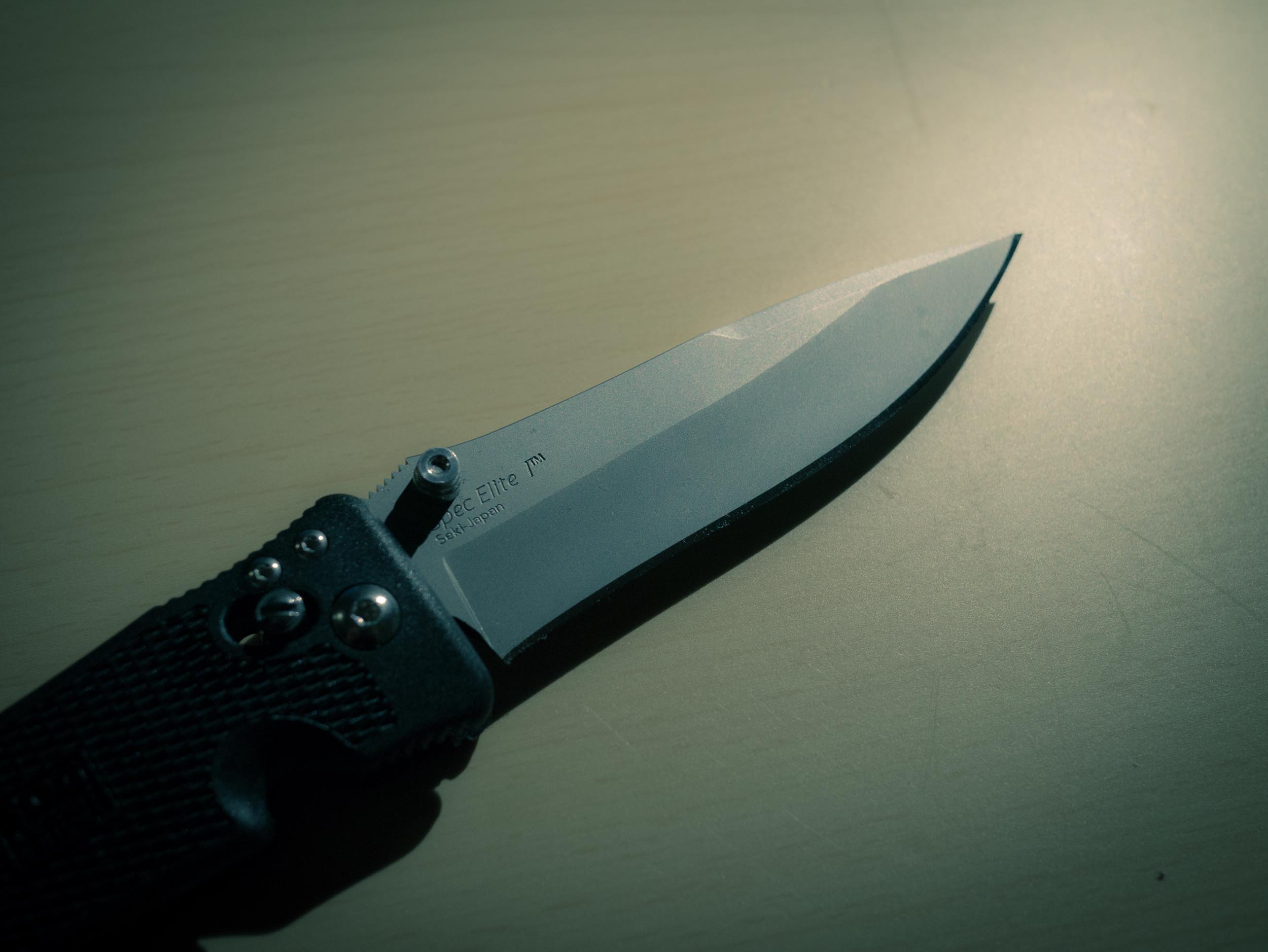 The only problem: it is really too big to carry, well, at all. I didn't find a single pair of pants I owned that this knife comfortably fit in. Yet, I still really liked it. If you are the type to carry a knife in a tool bag, or stashed in your car — this is an awesome option. I really like the knife, just not as an EDC, as it is solid and handles well. I'd have no qualms being stuck in the woods with this knife.
([Buy it on Amazon](http://www.amazon.com/exec/obidos/ASIN/B000JJJ5SK/ref=nosim&tag=brooksreview-20).)
### SOG Spec Elite Mini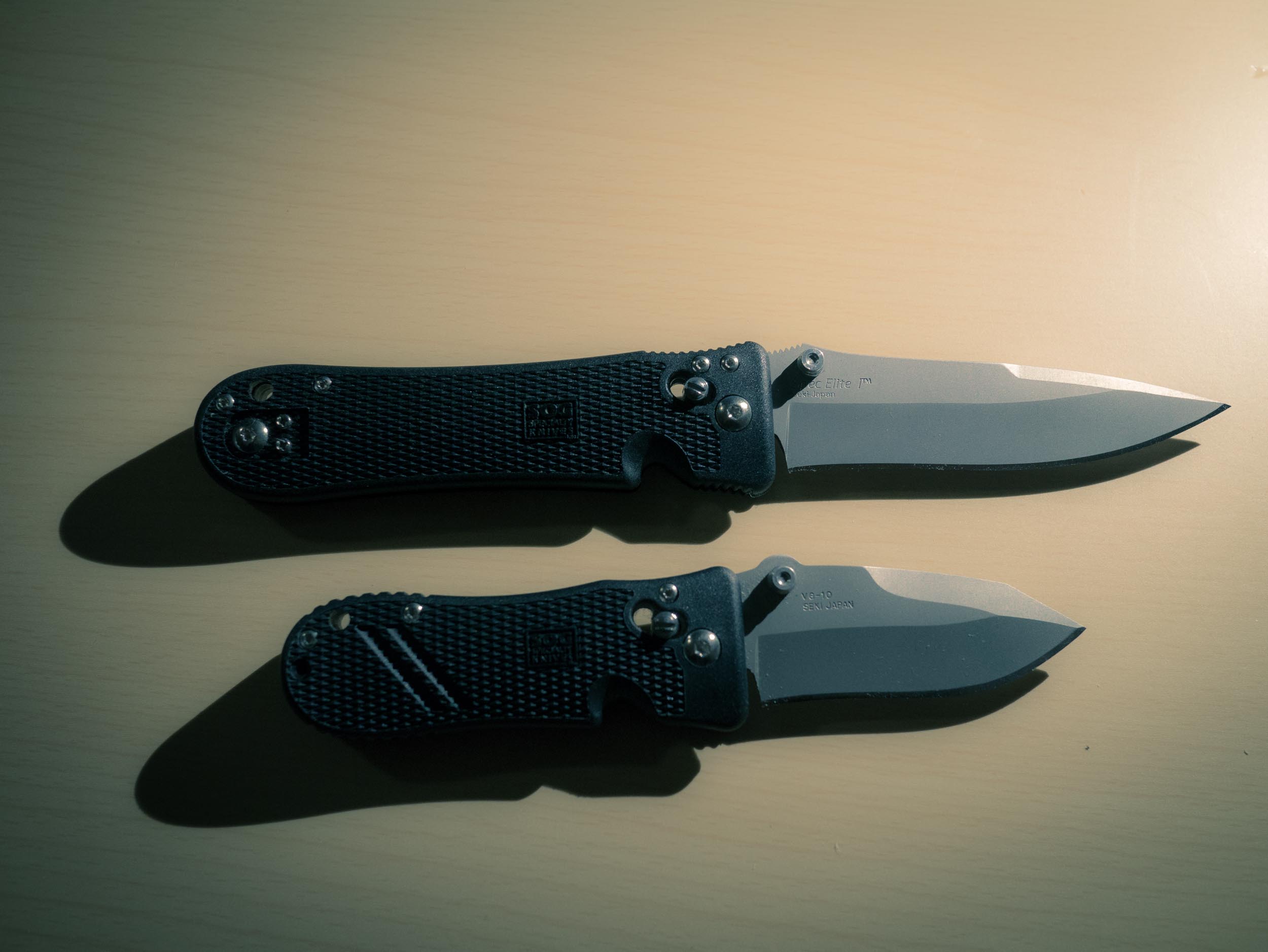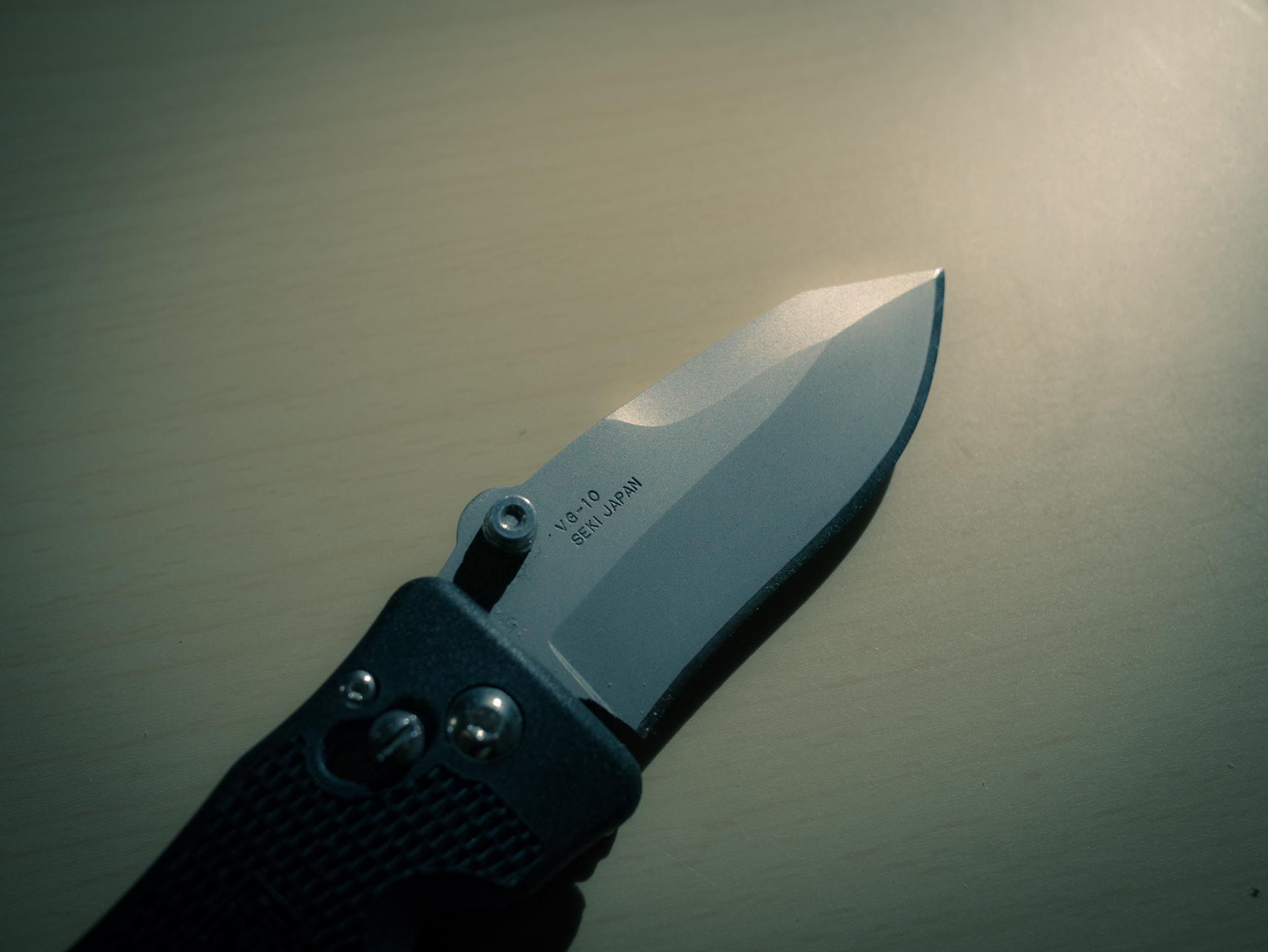 My love for the Spec Elite I, sent me looking to see if the knife is made in a smaller version — it is. This is the smaller version, and it is really great. Instead of shrinking the knife, it's like SOG took one inch off the blade and handle length — keeping the thickness, tapering, and width all the same. The result is a chunky little knife that still feels great and moreover feels incredibly capable.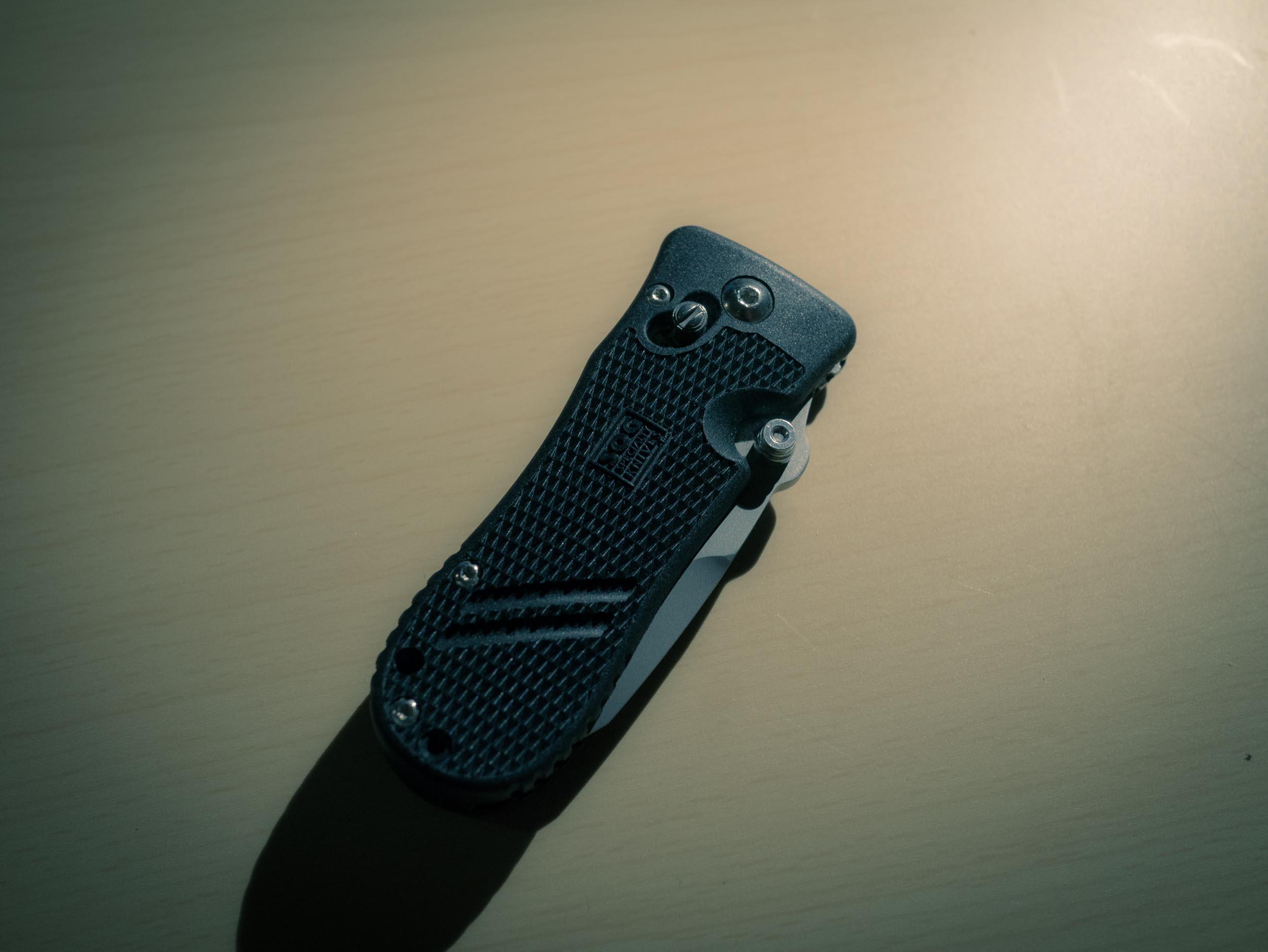 I'd not worry one bit if this were the knife I was stuck in the woods with, even though it isn't a large knife. The unfortunate part is that I found it too bulky to carry in any pants lighter in weight than jeans — which for me is a non-starter.
Even so, I almost stopped looking at this point because I liked the knife so very much, but I felt compelled to check out more options — I still wanted perfection and this knife wasn't there for me.
([Buy it on Amazon](http://www.amazon.com/exec/obidos/ASIN/B005Z2CPVK/ref=nosim&tag=brooksreview-20).)
## CRKT M16-02Z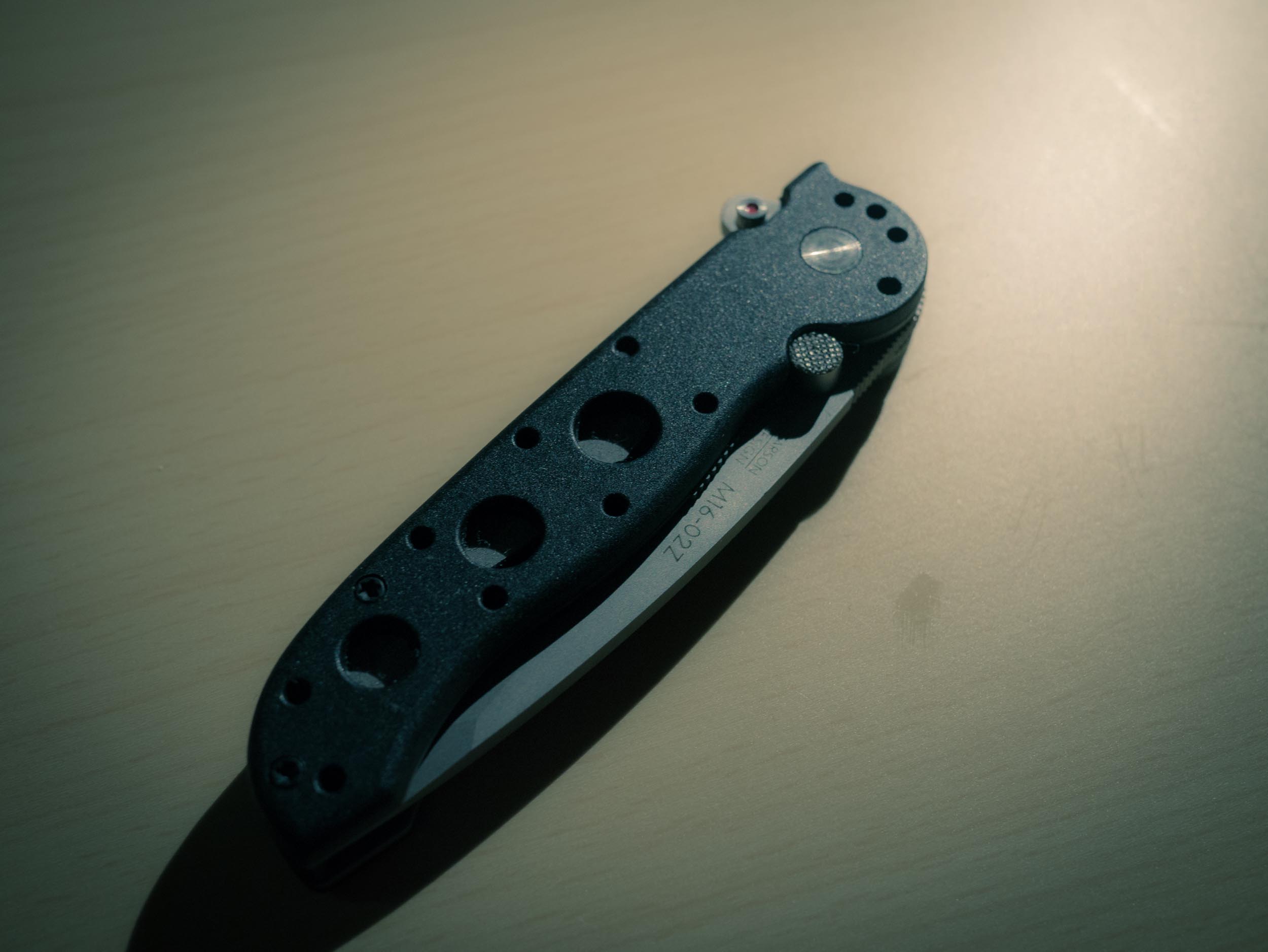 [Patrick Rhone praised this knife](http://patrickrhone.com/2012/09/06/columbia-river-knife-and-tools-m16-02z-knife-review/), [which made me order it instantly](http://brooksreview.net/2012/10/amazon-knife/). As I posted before this is a very solid knife, with two fatal flaws for me as an EDC.
1. It is too long and too thick.
2. The locking mechanism is much too finicky for me, as the mechanism has a safety to *close* the blade.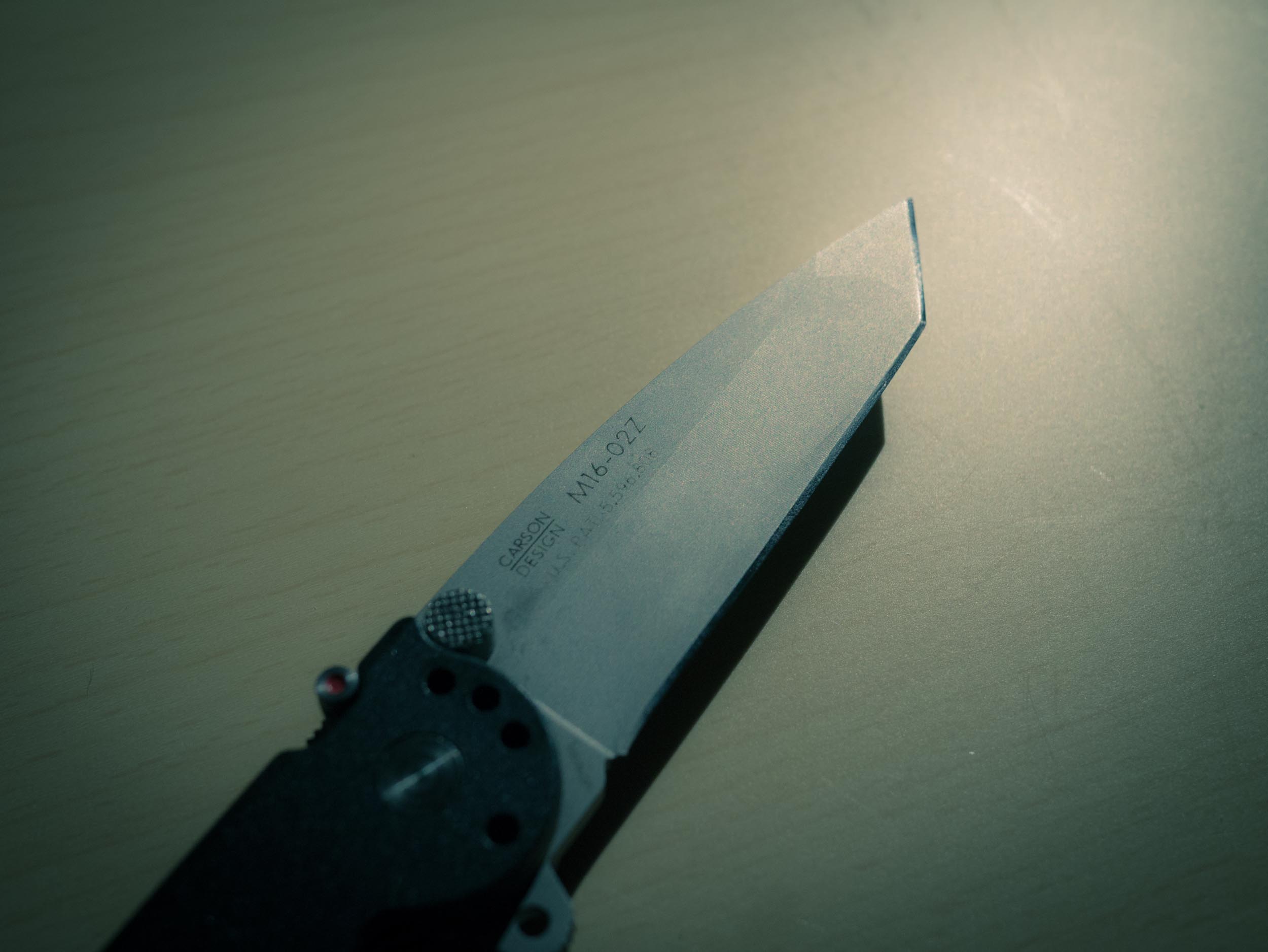 While many of the SOG knives I have listed have safety's, they are solely on the opening action — seems odd to me that you would have a safety on the closing action. That said this is one tough little knife, feels absolutely rock solid.
It doesn't have a thumb wedge like the Twitch, but it does have a nub for your thumb to press on, and that nub is very rough — I just can't get into that type of opening action. This is another of the knives that I would feel fine with in the woods, and works well in an everyday situation. However I can't get by the size and the closing action of the knife.
([Buy it on Amazon](http://www.amazon.com/exec/obidos/ASIN/B000WAC7RM/ref=nosim&tag=brooksreview-20).)
### Ontario RAT-1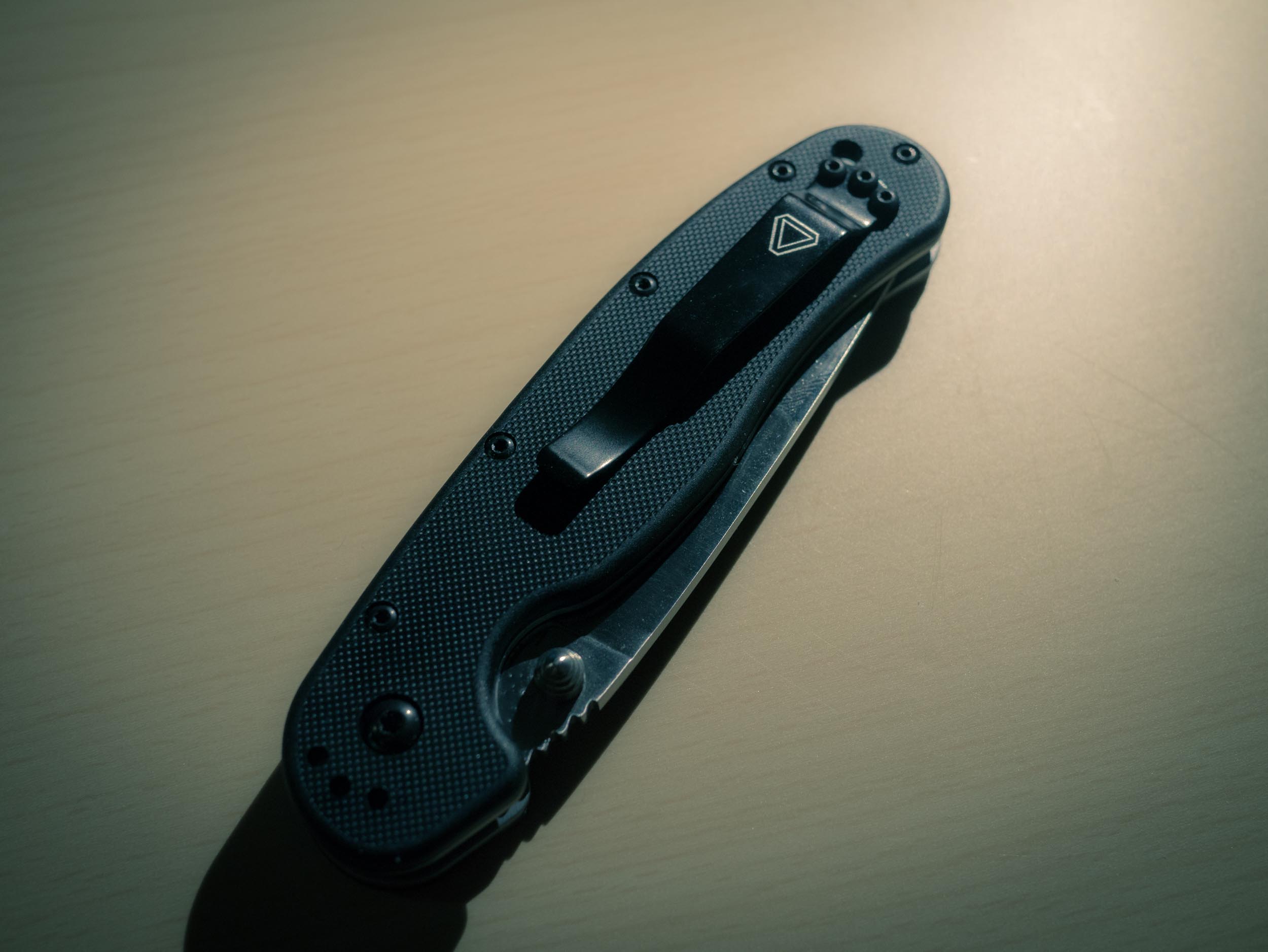 When I ordered this knife I knew it would be too large for an EDC, but I was [so excited to learn about it](http://bladereviews.com/ontario-rat-1-review/) and see the low price, that I couldn't resist.
It's everything I expected it to be: the most solid folder knife that I have ever held.
The ergonomics are great, the build is superb. This is a knife that would likely not make me miss one of my fixed blade survival knives if I had to survive with it — it's that nice.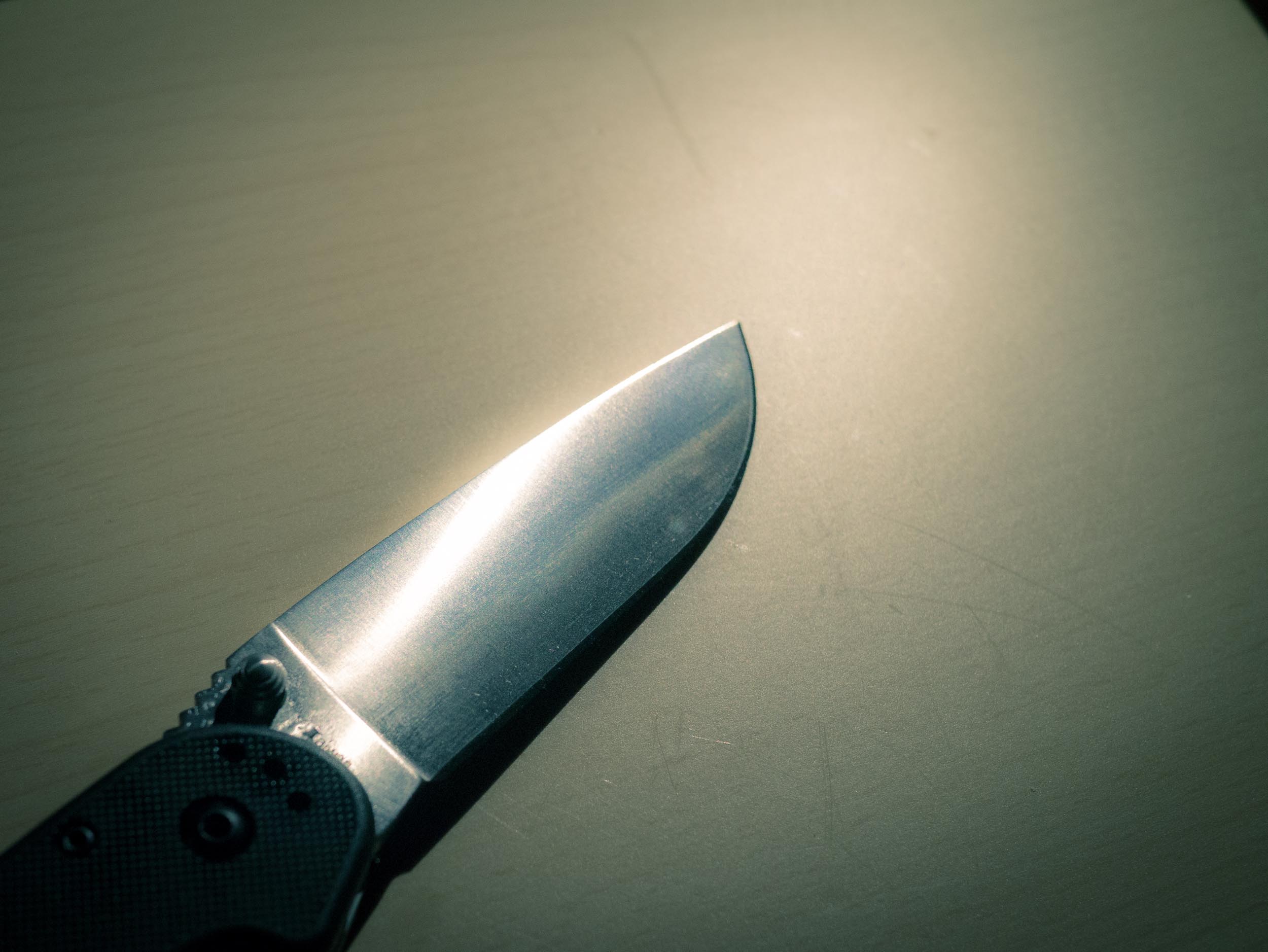 For an EDC though this is just much too large, but it will be my new hiking knife — without a doubt. There's just one issue that I have with the knife: the liner lock is very cumbersome to use left handed — and I am left handed. I can close the knife fine right handed, but when held in my left hand it is a two handed job. Again, not a deal breaker, but not the greatest. I am hoping that with wear that liner lock eases a bit so that I can close the blade using my left hand easier.
I made a stink out of the closing action of the CRKT because an EDC needs to be deployed and put away with ease — that's how you use an EDC. However when I am out in the woods I am typically not constantly pulling out a knife and stowing it back away. In the woods if I pull out my knife it is out until my task is completed — less back and forth. This is why the RAT 1 works great as a hiking knife, despite the liner lock issues.
([Buy it on Amazon](http://www.amazon.com/exec/obidos/ASIN/B0013ASG3E/ref=nosim&tag=brooksreview-20).)
### SOG Aegis
I was very hesitant about buying this knife, but I was determined to find a great knife. I'm glad I bought this knife. It is very solid, not in the way that the Ontario is, but for a light knife it feels sturdy. The knife, is just (again) far too large for an EDC.
But the blade, oh do I love this blade shape. I don't know what it is about the blade, but it looks both menacing and delicate at the same time. I really love it. So much so that I struggled to try and make this knife work as an EDC for me. Ultimately the knife is just too large to work.
The blade shape is great in use and deploys lightening fast with the assisted opening. The closing is a bit tough, but I think with age it will break-in nicely. Ultimately I would be concerned with this blade in the woods, given how thin it feels. This is likely completely unfounded, but I feel like this blade would snap under heavy use — again I am probably way off on this assessment.
([Buy it on Amazon](http://www.amazon.com/exec/obidos/ASIN/B00137ETQA/ref=nosim&tag=brooksreview-20).)
### SOG Aegis Mini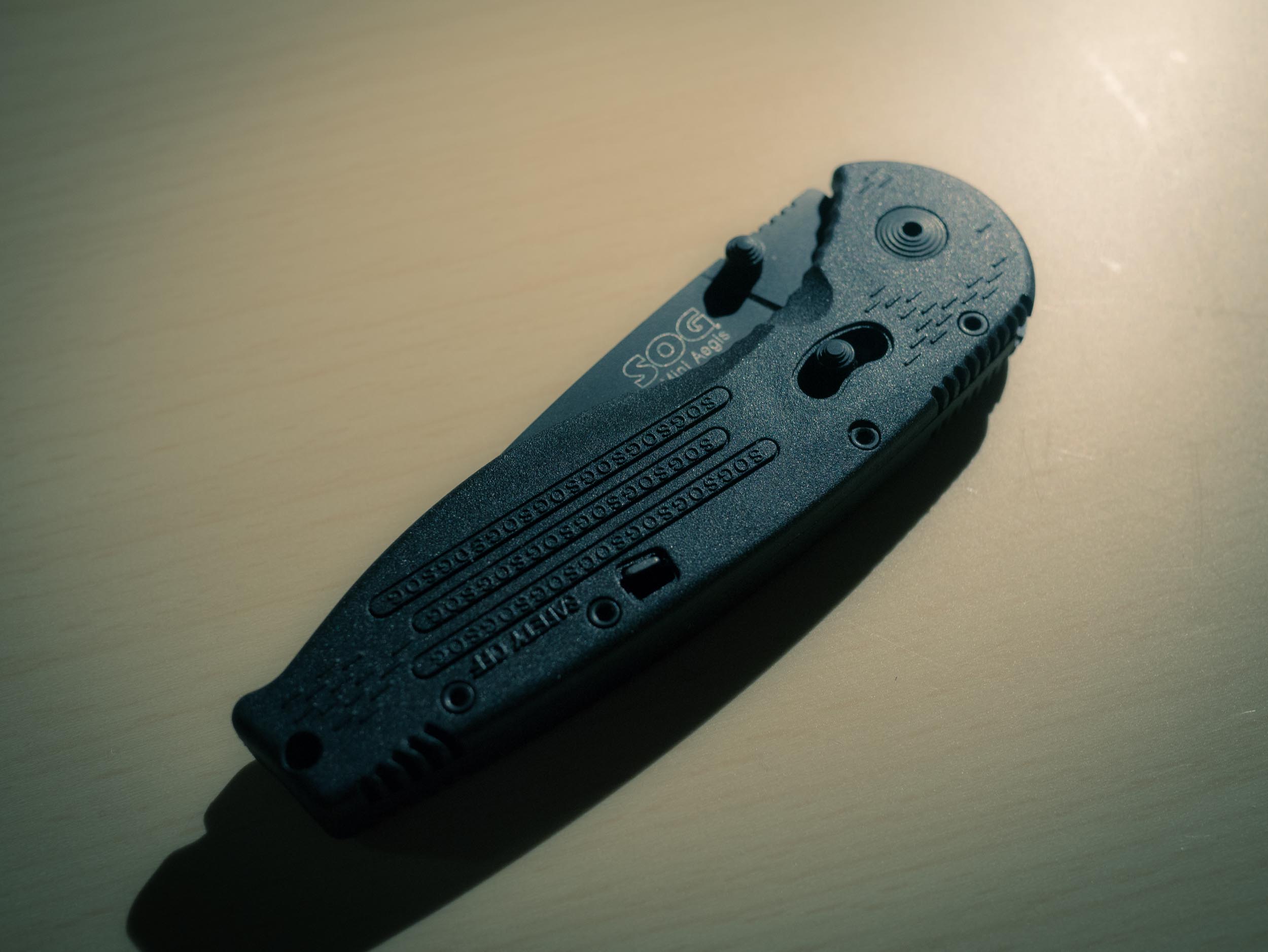 With the Aegis out, I purchased the mini Aegis in hopes it would be everything I wanted. The moment I first held this knife I was in love. It is surprisingly light, retains the same shape of the blade that I love from its older brother. Yet, this Aegis fits very comfortably in my pocket.
I think this is *the* EDC knife for me — at least of all that I have seen and tried so far. So let's look at my criteria against it to see how it stacks up:
– Under $100, check. It is $40 on Amazon.
– No thumb wedge, check. Thumb studs only.
– Sturdy enough for outdoor survival? Half-check. The knife feels sturdy, but the frame has no metal which is worrisome to me. The blade is also delicate feeling — enough that I wonder just how it would hold up if really stressed. Therefore my main outdoor concern is in durability when pushing the knife to the limits. Otherwise I would have no qualms.
– Looks? Check. I went with the matte black metal finish, and it looks fantastic. Much meaner than the all silver Aegis that I own.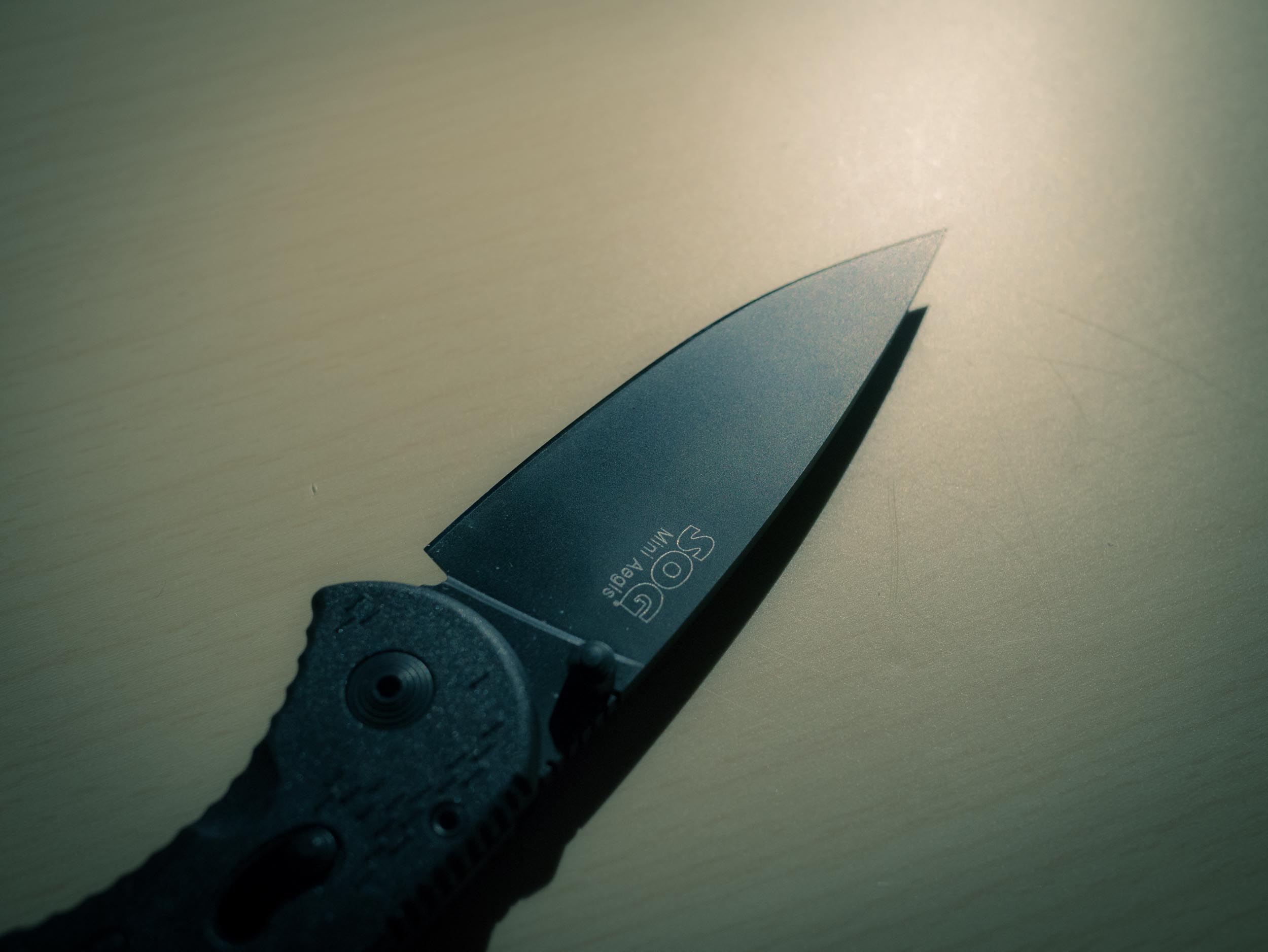 So the knife gets a 3.5 out of 4 — not too shabby. Most other knives were non-starters. This is the knife I am going with for now.
([Buy it on Amazon](http://www.amazon.com/SOG-Specialty-Knives-AE-22-Straight/dp/B004WN5844/ref=sr_1_1?ie=UTF8&qid=1353088583&sr=8-1&keywords=aegis+mini).)
## The Search
The SOG Aegis Mini suits me very well. It's from a local company, and meets most all of my needs — certainly all of my normal everyday needs. Every knife I tested (exception to the Spyrderco and the Beretta) were very good knives — you can't go wrong with any — but most are just too large or too small. So as the saying goes, the Aegis Mini was just right.
I have more knives on the way to test from a couple of other brands — I'll report back on those comparing to the Aegis Mini, as it seems like it might be a tough one to beat.
### Note
[I am selling some of the knives that I don't wish to hang on to, here](http://store.brooksreview.net/). They will all come sharpened and ready to go, but all are used.