*Disclaimer: I was on the beta program for Horizon and given a free copy of the app to review before the final version launched. Do what you want with that knowledge.*
I've been [outspoken about calendars](https://duckduckgo.com/?sites=brooksreview.net&k8=%23444444&k8=%23333333&k9=%23D51920&kt=h&k3=brooksreview&kq=n&k4=-1&q=Calendar), which has prompted a lot of discussion with developers about making better calendar apps. Recently I was asked to try a new calendar app for iPhone called Horizon.
[Horizon Calendar](http://horizonapp.me) — available today on the App Store — was created with the simple goal of showing calendar events alongside the weather in a single view.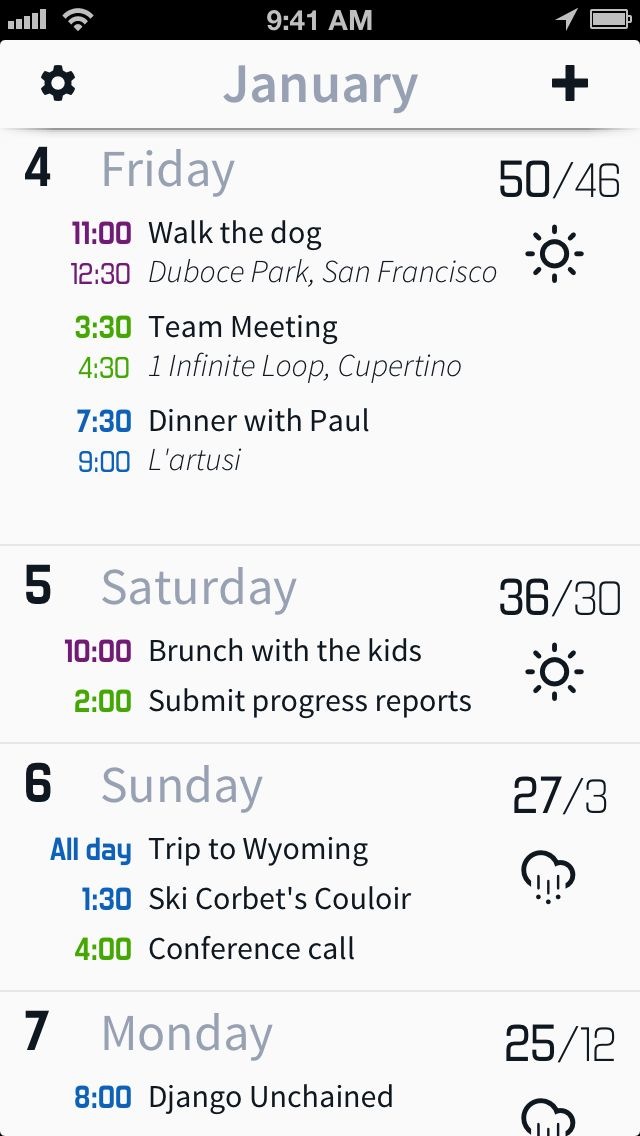 I was skeptical about the app when Horizon's developer first contacted me. And after initial use I thought: "It's *just* Agenda with Weather data".
Then I quickly forgot about Horizon and moved on, which was unfair. I didn't understand the vision of the app. Horizon is more than just ideas from Agenda mixed with weather data — it's your day and your week.
I admit that sounds obvious, and a little silly, but consider how I plan my week:
1. On Sunday I try to review the weather for the week in Check the Weather, then review my tasks for the week in OmniFocus, and finally my appointments for the week in Fantastical: Three apps.
2. Each morning I check my appointments for the day, and then the weather to make sure I'm dressed appropriately: Two apps. (Tasks are reviewed on my Mac at work once the week starts.)
If Horizon could show me the OmniFocus tasks for the day, I'd have a fantastic dashboard overview of my day and week, without needing those other apps.
Before I continue down that rabbit hole, I want to talk briefly about Horizon itself:
– The icon is appropriate for the app's name but feels like neither a weather app or calendar. I don't get it.
– The design is great. I love the font choices, text sizing, spacing, and color scheme.
– It has an automatic 'night mode' — a nice touch that I'd love to see in more apps.
– It's fast. It installs very quickly and the entire interface is snappy. Normally I wouldn't notice it, but for some reason the responsiveness stands out in this app.
– It shows location-based weather information, but it's not always obvious what location the weather refers to. Horizon's developer tells me it uses your current location by default and your event's location field if it contains an address, city, GPS coordinate, or zip code. Luckily the app helps you by auto completing addresses as you type them.
So that's Horizon in a nutshell: fast and pretty.
Now back to the utility aspects of the app: It's like my mom. I mean that in a good way.
As a kid my mom would give me a rundown of the day when I was getting ready for school:
– "Remember you have knife lessons after school today"
– "Don't forget to take in your new search engine code for show and tell"
– "It's going to be cold and rainy, so bring a jacket"
Horizon gives me most of that information. It tells me what I have going on and it gives me the weather highlights. The only thing missing is OmniFocus task data to tell me what I'm actually *doing* during the day.
I don't know how practical Horizon is for people that have a lot of meetings and are always indoors in a cubicle. Fantastical or Agenda are probably better as stand alone calendars. But for a high-level overview of your week or day this app is really intriguing to me.
Horizon seems like it could be great while traveling: Imagine landing in an unfamiliar city on business, not knowing the local weather conditions, and needing help to be prepared and stay on track. That seems like a great fit for Horizon.
Horizon won't replace my weather apps, or Fantastical, but I don't think it needs to in order to be useful. I'm currently using Horizon when I need an overview of my life and using Fantastical as a quick-entry calendar app. It will be interesting to see if that workflow sticks and even more interesting if the location-event-specific weather data becomes less cumbersome to use.
Horizon is `$2.99` [on the App Store](https://itunes.apple.com/us/app/horizon-calendar/id593206559?ls=1&mt=8).