Sometimes, when something new comes along, I can't help but be a little giddy about it. I see the email, the announcement, the download link, and all I can think is "Shit I am driving right now, should I pull over?"
Such was the case when I got an email from Max Seelemann telling me that [Ulysses III][1] had been submitted to the Mac App Store and was awaiting approval **and**, that in the meantime, here was the beta preview of the app. I didn't pull over, but I did make sure that downloading and playing with the app was the very first thing I did when I got back to my Mac.
I've been using Ulysses for [a long time][2], I love the app, but it fell by the wayside as I fell in [love with Writer][3]. I've had some sneak peaks and some beta builds of the Ulysses III text editor, but nothing that would prepare me for how excellent Ulysses III truly is.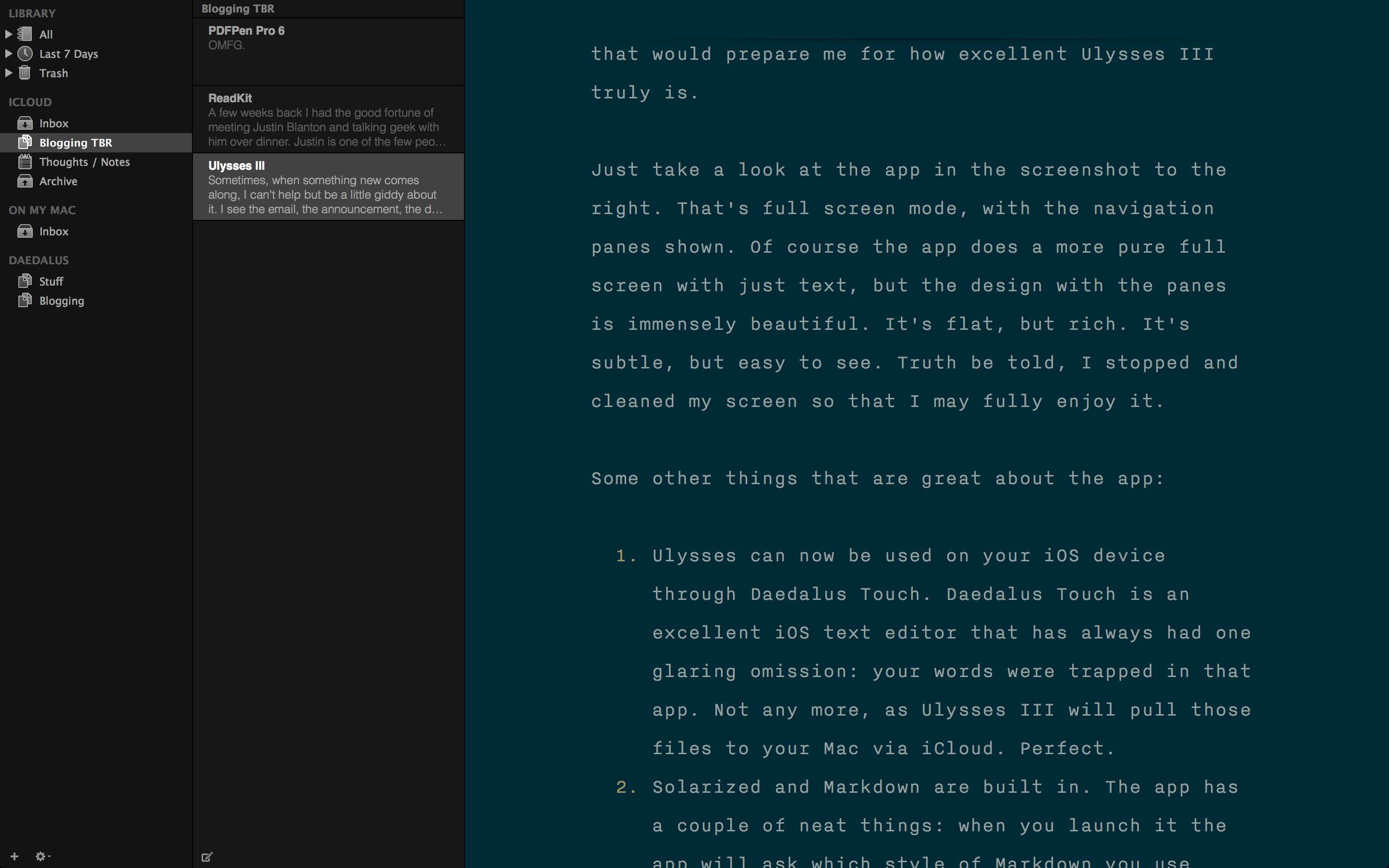 Just take a look at the app in the screenshot to the right. That's full screen mode, with the navigation panes shown. Of course the app does a more "pure" full screen with just text, but the design with the panes is immensely beautiful. It's flat, but rich. It's subtle, but easy to see. Truth be told, I stopped and cleaned my screen so that I may fully enjoy it.
Some other things that are great about the app:
1. Ulysses can now be used on your iOS device through [Daedalus Touch][5]. Daedalus Touch is an excellent iOS text editor that has always had one glaring omission: your words were trapped in that app. Not any more, as Ulysses III will pull those files to your Mac and show them in the sidebar as you see in the above screenshot. What's even nicer is that not all your files are synced, allowing you to get rid of things you don't want to see on iOS, and yet still be able to see everything on your Mac. Perfect.
2. Solarized and Markdown are built in. The app has a couple of neat things: when you launch it the app will ask which style of Markdown you use (underscores or asterisk) ((Asterisks are the original, and should always be used.)) and remember that setting. The app has a very beautiful transition between Solarized light and dark themes and automatically defaults to the dark theme when you go fullscreen — a very nice touch.
3. You can select your own font, or make your own color scheme. But truth be told all you really need to do is change the font from Menlo to Nitti Light and select Solarized.
If you had previously tried Ulysses and didn't like it, now is the time to give it another look. It's simpler, it's refined. Ulysses of old is like the current (non-two) version of the OmniFocus for Mac, and the new version, Ulysses III, is OmniFocus for iPad. That's the difference level — that's the simplicity and power this app packs.
What I like, that Writer doesn't give me, is the navigation of my files. The iCloud file picker on Mac is broken at best and useless on most occasions — yet that is all I use. To be able to group, sort, search, link, and sync files all within a beautiful interface without having to ever manage files in the Finder, or the confusing iCloud file picker, is a breath of fresh air.
I don't know how best to explain my preference for Ulysses III over Writer, so the best analogy I could come up with is this: Writer feels like the perfect piece of paper, with the perfect pen, while Ulysses III feels like the perfect notebook, with the perfect pen. There will always be times when one piece of paper is desirable over a notebook, but those are less often than the times when a notebook is more desirable.
This analogy also fits with the difference between file management. Where with Writer you are stuck with many sheets of paper that are easily misplaced and only loosely paper clipped together. With Ulysses everything is in one place, bound together, it can get crowded if you are not careful, but works much better than the former. (I created an Archive box for finished works in Ulysses, which cleans things up nicely.)
I've moved Writer out of my Home screen and replaced it with Daedalus Touch, and have and will, be only writing in Ulysses III. I can't recommend it enough.
It's on sale for a week at $19.99, and the final price with be $39.99. [Go buy it][6]. (Likewise [Daedalus Touch][7] is only $0.99 right now.)
(See also: [Brett Terpstra's take on it.](http://brettterpstra.com/2013/04/03/mac-app-review-ulysses-iii/))
[1]: https://itunes.apple.com/app/ulysses-iii/id623795237?ls=1&mt=12
[2]: http://brooksreview.net/2010/11/writing-tools/
[3]: http://brooksreview.net/2012/03/writing-2/
[5]: https://itunes.apple.com/app/daedalus-touch-text-editor/id406964546
[6]: https://itunes.apple.com/app/ulysses-iii/id623795237?ls=1&mt=12
[7]: https://itunes.apple.com/app/daedalus-touch-text-editor/id406964546