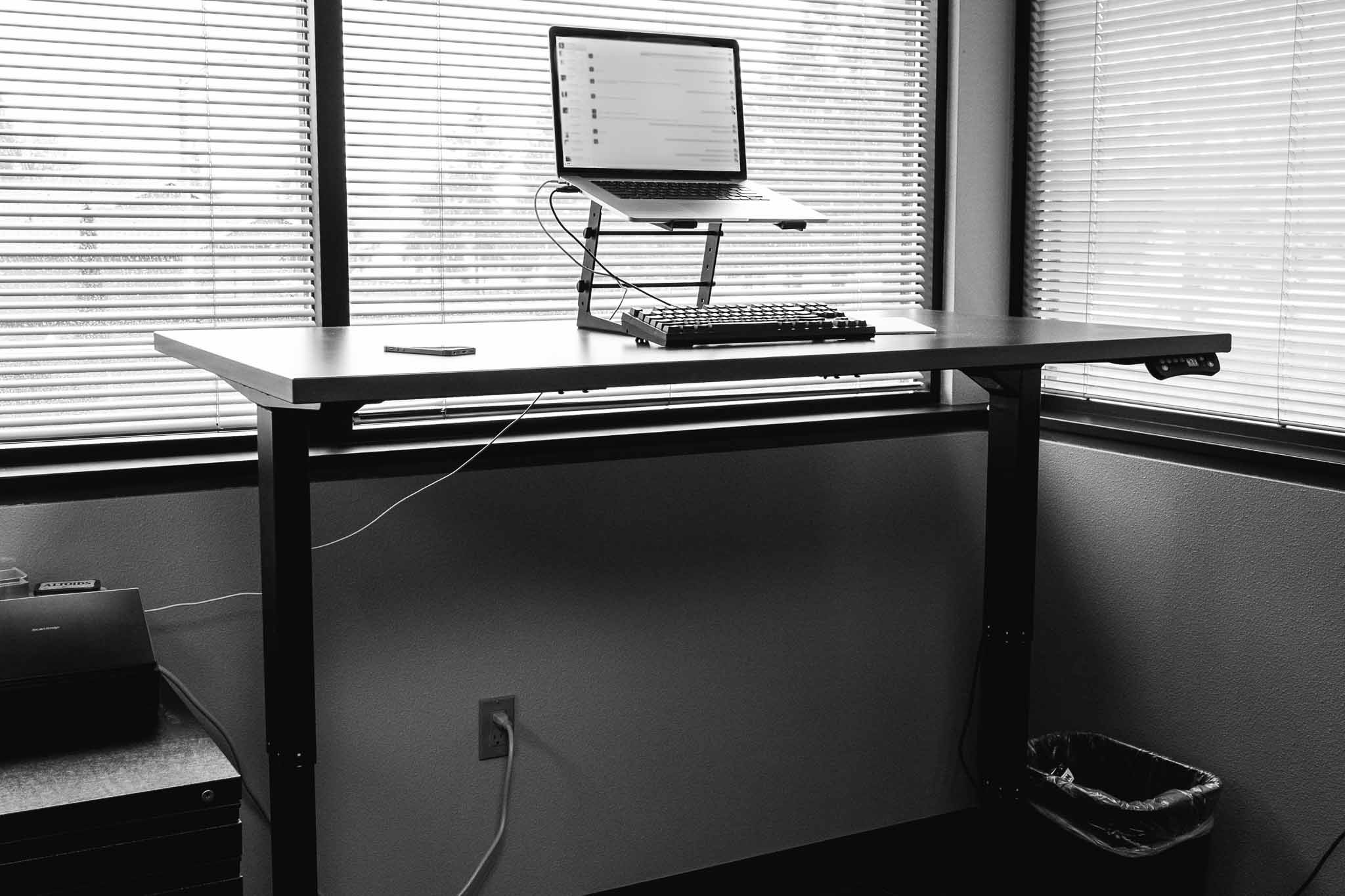 I've been using a standing desk pretty solidly since 2011 and prior to last month I could have confidently told you that I had only spent 20–30 days sitting at a desk since 2011. Sitting was a very rare thing, because when I work, I stand.
That's just the way it is now for me.
My legs and feet rarely get tired. I don't get annoyed by standing and anyone who has tried standing for work knows exactly the annoyance I am talking about.
I prefer standing and my life seems to not be impacted, so I stand.
From the moment that I started standing I wanted to get an adjustable height desk — a fancy one that moves up and down to preset heights with just a push of a button.
There are times, especially with young kids at home, where I just don't get enough sleep and that makes sitting really — really — needed.
In the past I've always had a sitting desk I could move to, but it meant physically moving all my crap from one desk to another. That amount of annoyance always kept me standing, but meant that if I did move it was a move that would last the rest of the day.
An adjustable height desk just seemed logical, but I forbade myself from getting one for the first year to force myself to stand more. However, a month ago I got myself an adjustable height desk, apparently I finally "got around to it".
I bought the Jarvis Desk from ErgoDesk.com, as it seemed decent looking, but more importantly it was cheaper than most other options I was considering — by about half. It was almost a no-brainer purchase.
I did consider other desks, the two top contenders I didn't buy were:
GeekDesk: This is probably the most well known of the lot. But I didn't like a few things about it: the top choices were various flavors of ugly, and the legs have a large cross bar on them that I find unappealing. Additionally it was more money once shipping was factored in.
NextDesk: I really wanted one of these. They are gorgeous and just look like art. However their starting price was double the Jarvis, and they had that bar across the legs (again).
The Jarvis was cheap, and missing a cross bar, so I pulled the trigger.
The Desk
Overall the desk is what I thought it would be. It's very sturdy, large enough, has four presets for height control (I only use two), and just works.
It's a desk, what more do you want?
There are some nice things about the desk:
The top can easily be swapped out, and the width of the legs is adjustable, so you have a pretty flexible base for your desk.
The presets work like a charm, though I keep playing with them all the time.
Overall the desk is very stable. It's not rock solid, but then again it adjusts over a huge range — it's more stable than I expected.
The movement speed and fluidity is fine. Nothing stellar, it is what it is. I can't imagine a scenario where I would need a desk to zoom from one position to another. The wait isn't annoyingly long, but it isn't fast either.
There are, of course, a few issues:
It's pretty noisy. As in: the entire area around me knows when I am changing heights because you can't avoid the whining sound. That's probably the second worst issue with the desk. (But something I expected. I doubt it's any more annoying than Shawn typing next to you.) Maybe less of a whine and more of a whine-hum.
The top I picked is a dark grey laminate, and man does it suck. I like the look of it just fine (though it's nothing great), but it's a magnet for smudges. I tried seven different cleaners before finding one that would clean it streak free, and even then you can't touch the desk without leaving a mark. It will drive an OCD person to break — I get close sometimes.
Overall then, solid value for a solid adjustable height desk. I'd pick a different top/color, but I am probably only a month away from building my own top for the desk anyways (that was the plan all along).
I recommend the desk, but I have caveats, which I detail next.
Using an Adjustable Height Desk
For the first week of owning the desk I imposed a rule: sitting is allowed at lunch only. (I eat lunch at my desk most days.) Then after the first week I changed the rule to: sitting is only allowed after noon.
In fact, today, as I write this post it's the first time in almost three years that I came into the office and just sat down instead of standing up to work.
Where I was perfectly happy standing before, I am now prone to switch heights two to three times throughout the day. I worry that this is less healthy — having an adjustable height desk over a standing only desk — but then again I am much more comfortable and thus less cranky being able to sit down when I want.
When I don't sleep well the night before, or when I just need to kick up my feet it's easy to do so. I've built the habit of standing to work, so I feel more awkward sitting. So long as I don't let that feeling change, I should still stand more than I sit.
---
My advice is to get a standing only desk for at least the first year of standing while working. If you give yourself the option to sit when you are trying to change from sitting to standing, then you will sit. Take away that option to sit for at least a year so that you can build a strong habit.
After that you will probably find you don't need an adjustable height desk after all. I sure as heck don't need it. It's a nice desk, but unnecessary.