I have a serious addiction to bags, but my recent move to Fujifilm cameras necessitated another bag purchase — this time a camera bag. I never found the need for a small camera bag with the GX1 and the OM-D as they stowed well inside the GR1 Field Pocket (and inside my jacket pockets). I really only used one lens with both those cameras.
With the move to Fujifilm, however, I sold off all of my other camera gear, and thus needed a bag to at least have a central repository for my new gear at my home. This became blatantly apparent when I carried all the lenses and accessories piece meal to the hospital for my daughter's birth.
Previously
With my Canon gear, the size alone, meant you needed bags for the gear. I had a special hiking backpack (for sale right now), a Pelican/LowePro serious storage case, and my shooting bag which is the more classic Domke F-4AF Pro.
I still have those bags, but the Domke proved too large. The camera and lenses swim around in the bag, and it is just too big now. So despite all of that, I wanted a smaller bag which better reflected the smaller size of my tools.
The Search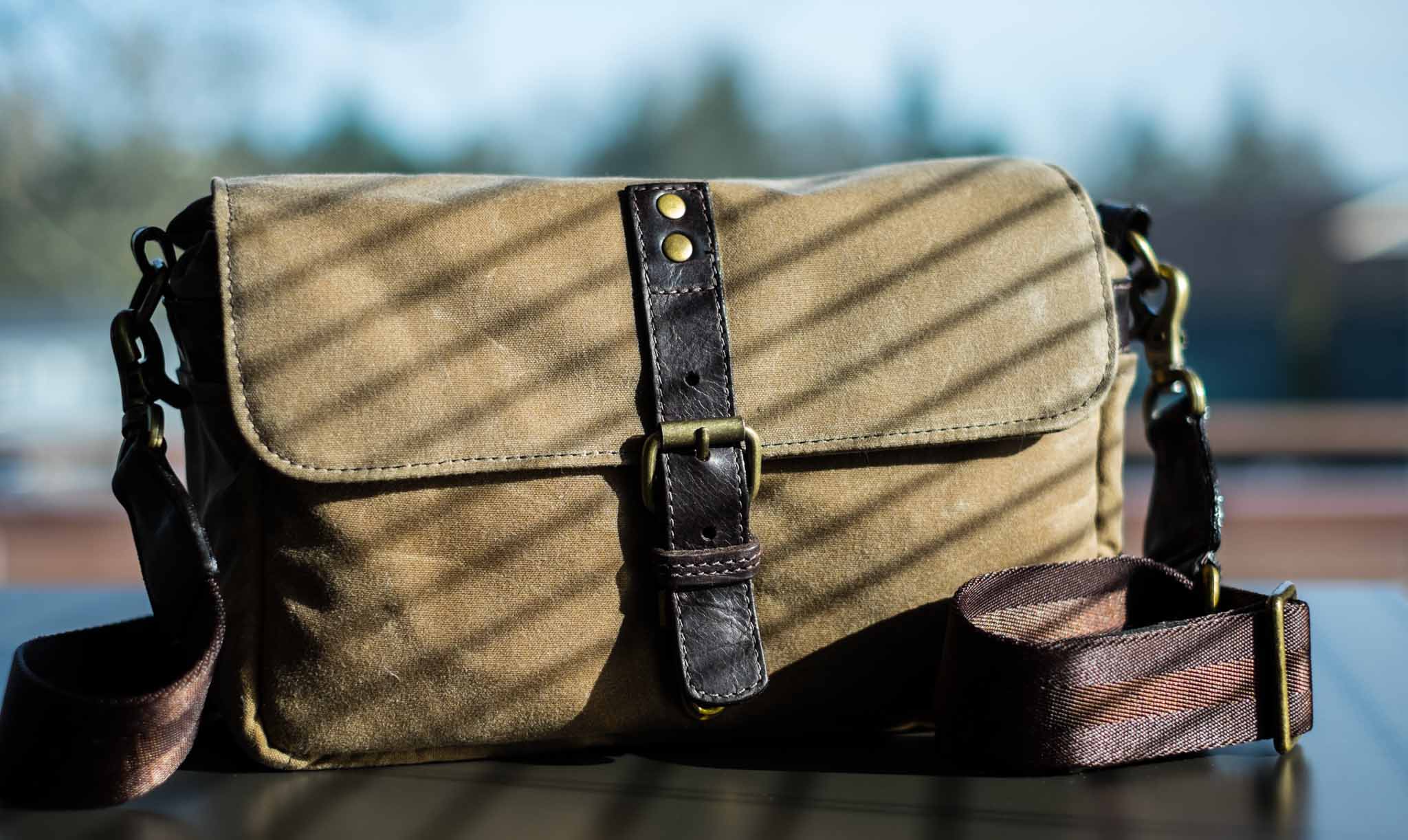 I really thought I would just get a smaller Domke, as they hold up really well, but I kept looking to Think Tank and Ona Bags as well.
Ultimately, the Ona Bowery in Field Tan led me to the purchase button.
Quality
I was immediately taken aback when I opened up this bag, the fit, finish, and feel of the bag is exquisite. In my opinion it is finished better, and feels better, than Hard Graft bags and at a fraction of the price.
---
It's small — though others would say large — but it holds my entire Fujifilm kit just so. This bag is just something special as a bag in general.
The canvas is meant to patina, and comes a bit distressed (I don't think purposefully). Since owning it the distress keeps coming, and I love every new mark that shows up on it, but one could wax the canvas if bothered.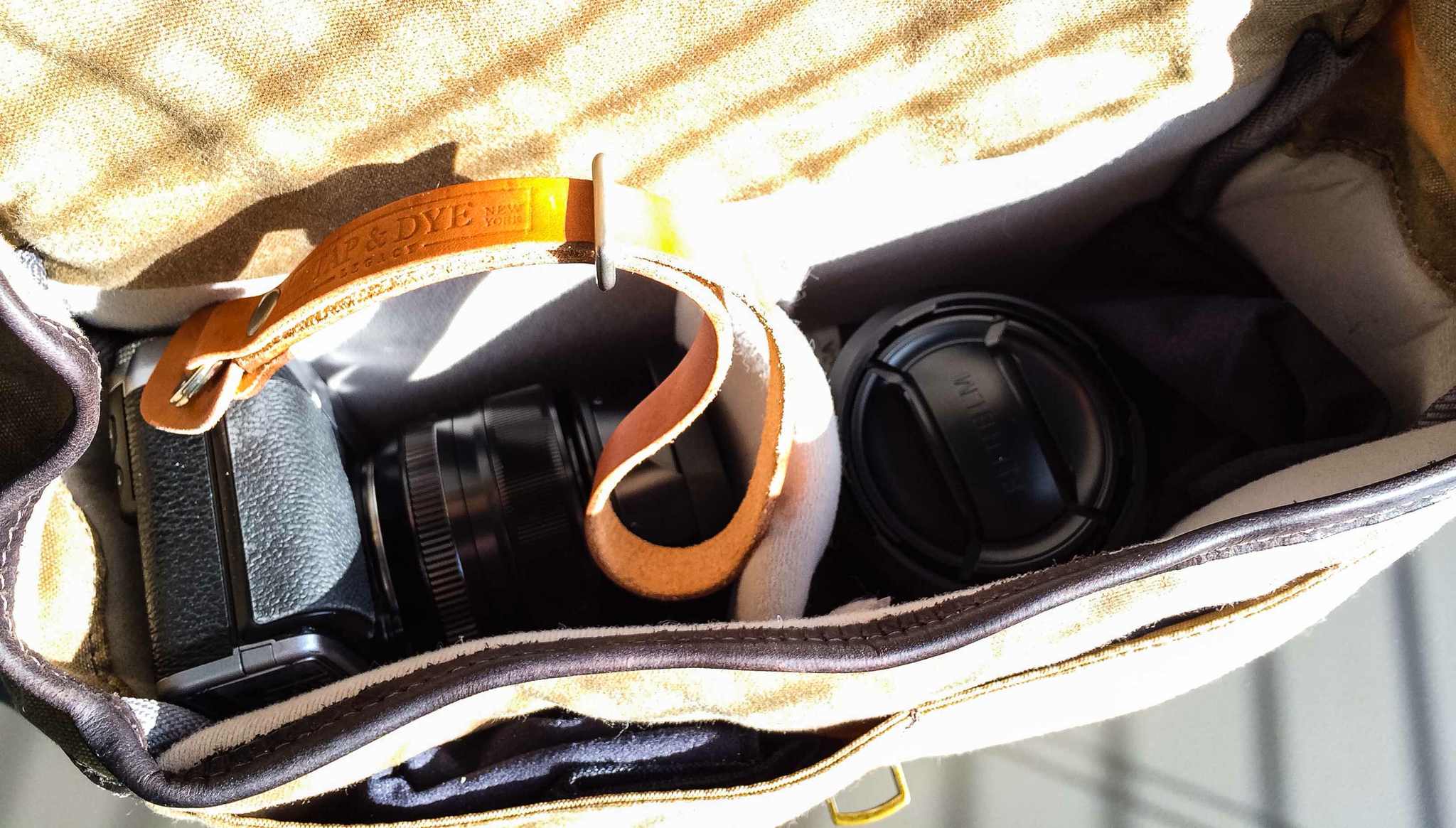 There are a few really nice touches on this bag that I want to point out:
The clasp. I am so used to velcro and zippers, that the metal clasp is a refreshing change. It's silent to use, secures well, and is just all around better to interact with.
The shoulder strap feels like a smoother seatbelt material. I really love it. It's smooth, but no so slick that it slides off your shoulder. Really something nice. The DSPTCH straps always slid off my shoulder, but for some reason this strap (though smoother) stays put.
The trimming on the bag is subtle, but so well done that sometimes I just admire it. I'm trying not to exaggerate, but it really is well trimmed.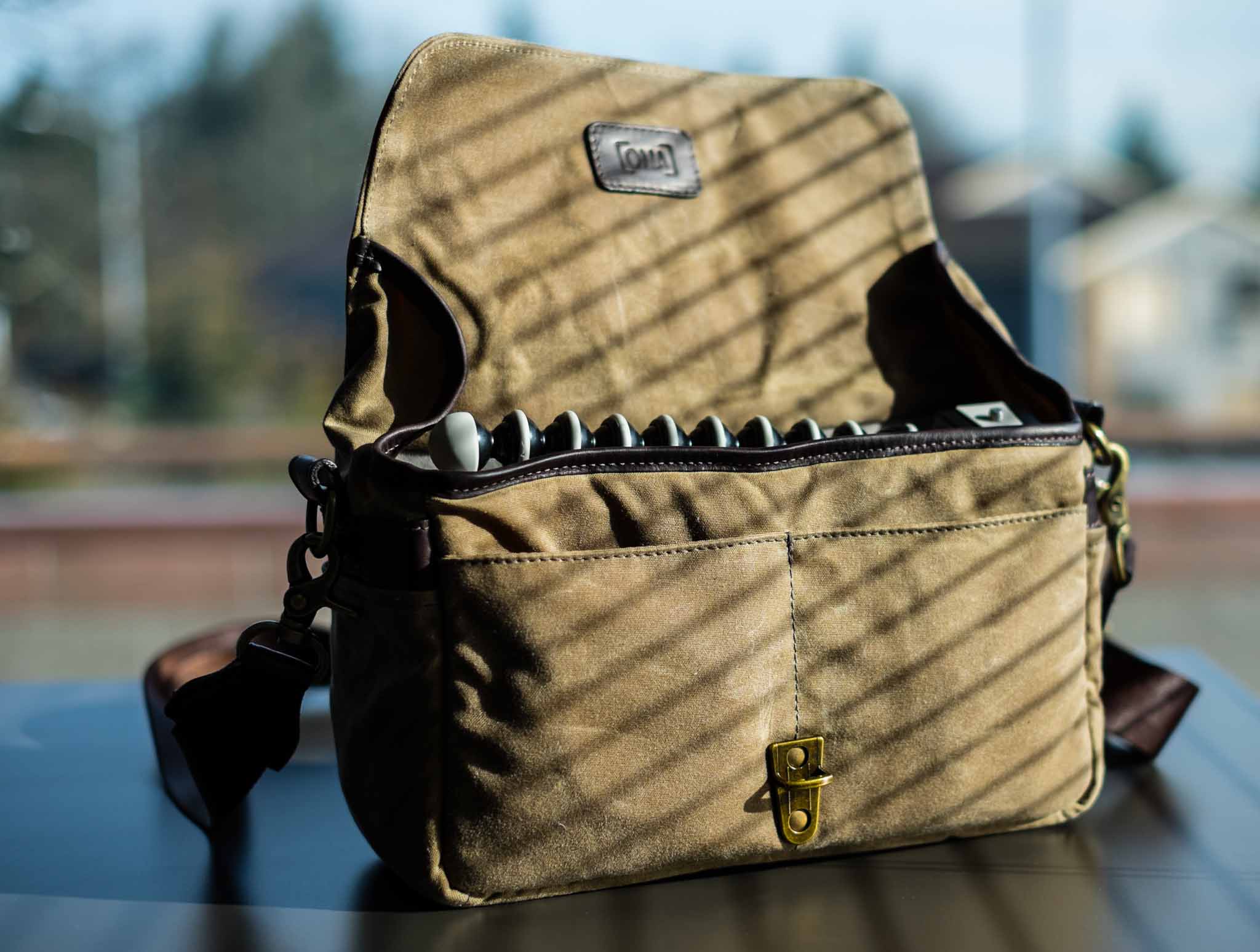 Of course, nothing in life is perfect and especially not the accessory pockets on this bag.
At each side of the bag are little pockets to stow stuff. The rear and front pockets are adequate. They don't secure shut, but they are tight enough that batteries, memory cards, and filters won't come slipping out.
It's the end pockets that are the real issue: they are tiny, obstructed by leather trim at the opening, and almost comically useless. I loathe them. They are hard to get anything out of, and not much will fit in them. I'd almost prefer they didn't exist at all.
The bag is also missing any kind of secured pocket — I'd love to see a zippered pocket on the inside of the flap for storing memory cards, but there isn't one. In fact aside from the foam padding and interior divider you would be hard pressed to say this is a bag specifically made for cameras. That is both good, and bad.
Overall
This is easily the best camera bag I have ever owned, and quality wise one of the best bags I have owned in any category. It isn't perfect, and it is pricey compared to like sized bags, but I don't think I could have made a better purchase for a small camera bag.
Something tells me I will have this bag for quite some time.
Buy It and Support the Site