A few months ago Tom Bihn announced the Founder's series of bags — specifically creating a backpack and briefcase. Both looked neat to me, but the backpack wasn't one I was likely to ever use. The briefcase, however, intrigued me a bit more. Tom Bihn sent me a review unit of the Founder's Briefcase to check out and I have been using it for about a month now.
This is a really odd bag. Over the course of using it I have gone from being in love with it, to being indifferent about the bag. It's a clamshell design that has a very large zipper running around it — this allows for the bag to open completely flat so that you can leave your laptop in it as you go through TSA checkpoints, or you can just unzip the top and grab what you need (including your laptop).
The Look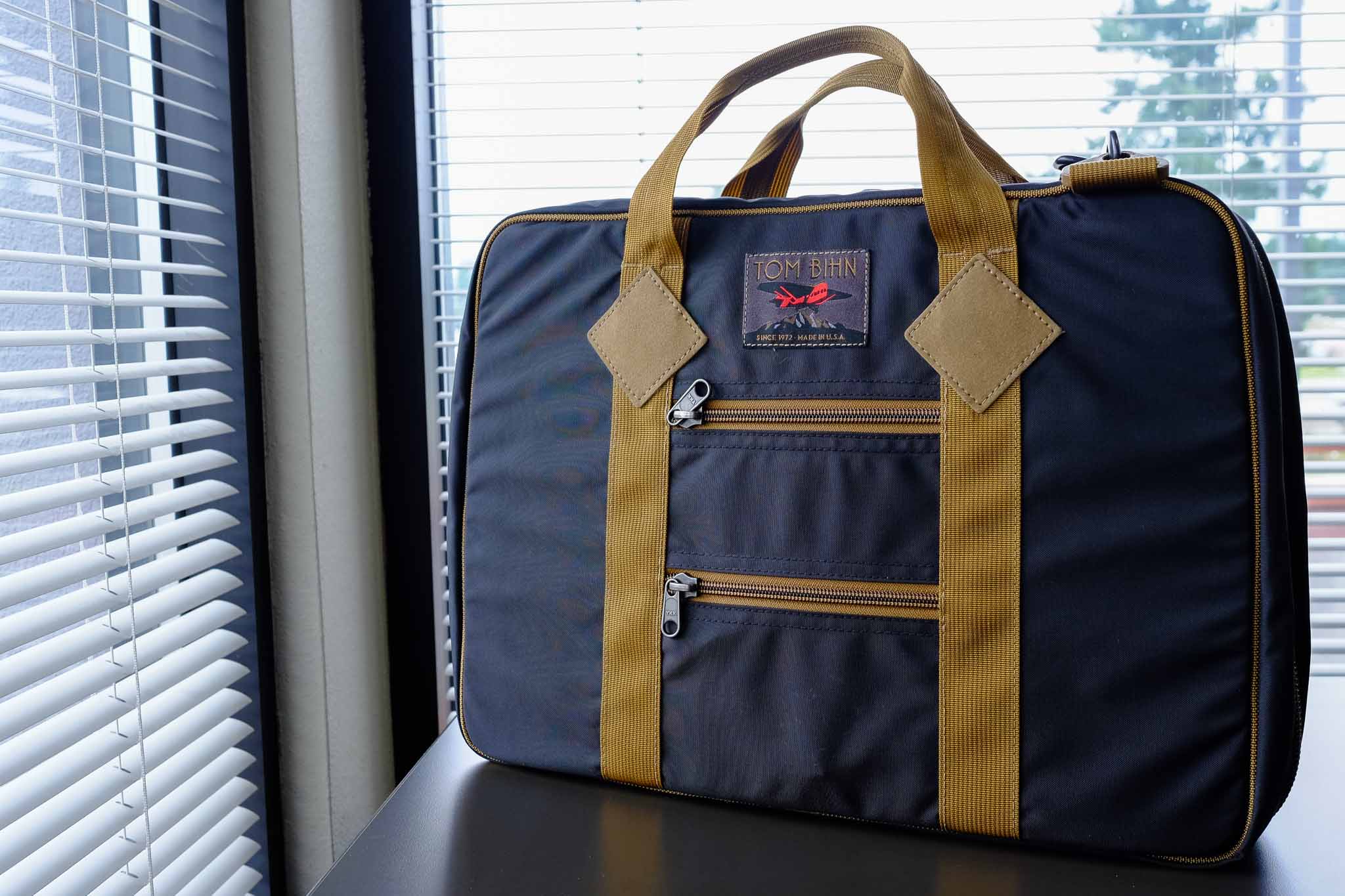 What drew me to the bag initially was its look. Likely not everyone's cup of tea, this bag screams Pacific Northwest style to me. You wouldn't be out of place using this bag in Seattle with your Filson jacket on — it seems designed for the casual northwest businessman.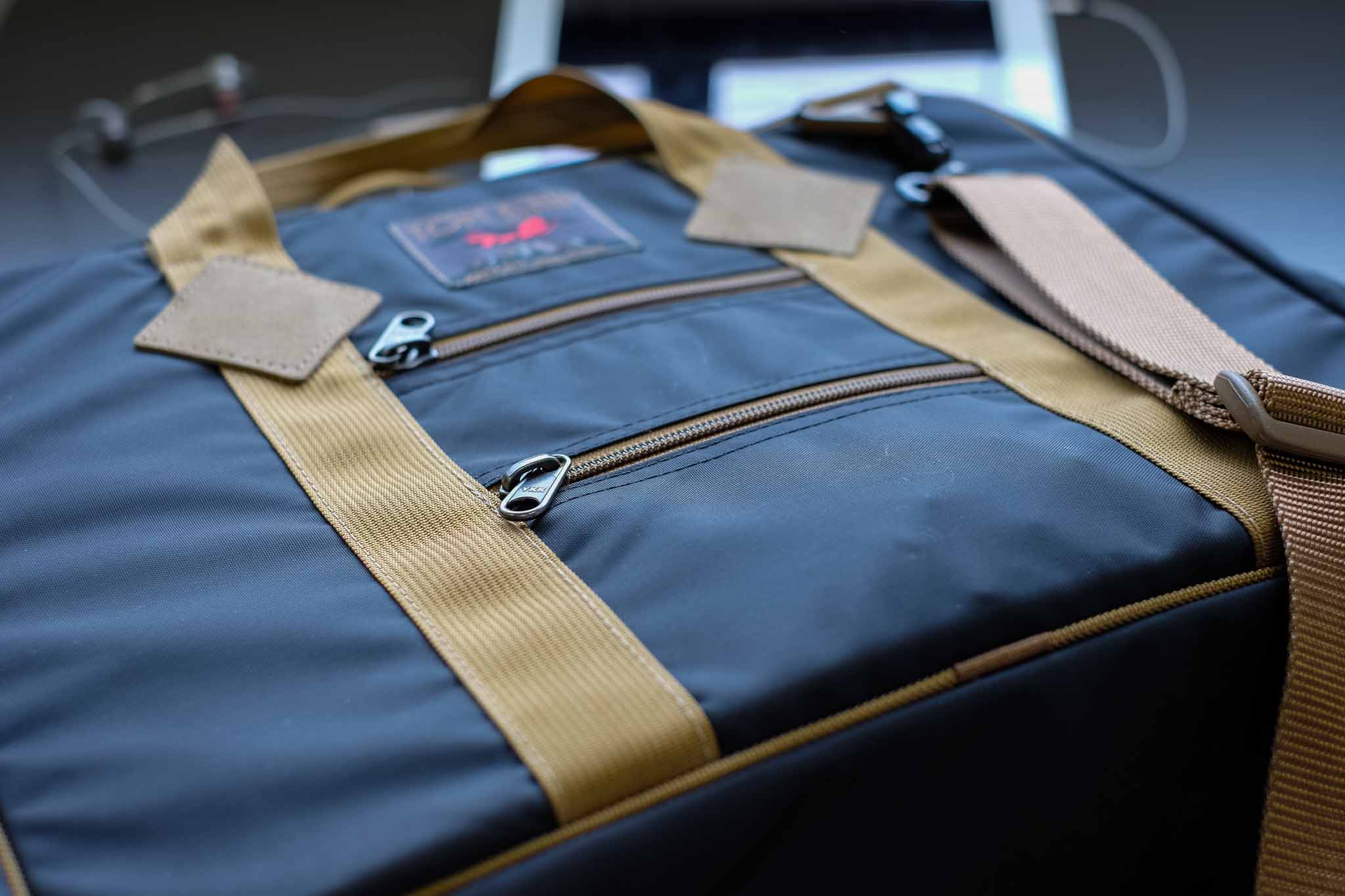 Surprisingly the bag material had more of a sheen to it than I had expected, as the nylon used is a bit shiny for my liking. It's not enough to ruin the aesthetic of the bag, but I personally think it makes the bag look too retro (even though that is the point), instead of making it look retro 'inspired'. ((I really hate having to use that terminology.)) That's a tough distinction, so you'll have to judge from the pictures for yourself how you think the bag finishes.
There's one other aspect of the design that I love: the clasps on the shoulder harness. They are a bit large and metal — seemingly out of place on the bag — yet they are my favorite part. They are such nice detail and the fact that they mate with plastic means you won't get that metal squeak.
I think of this bag like a plaid flannel shirt — it can be very handsome, but can also be woefully out of place. Personally, I have a couple plaid flannel shirts.
The Function
So the design is niche, but well done. How about the functionality of the bag?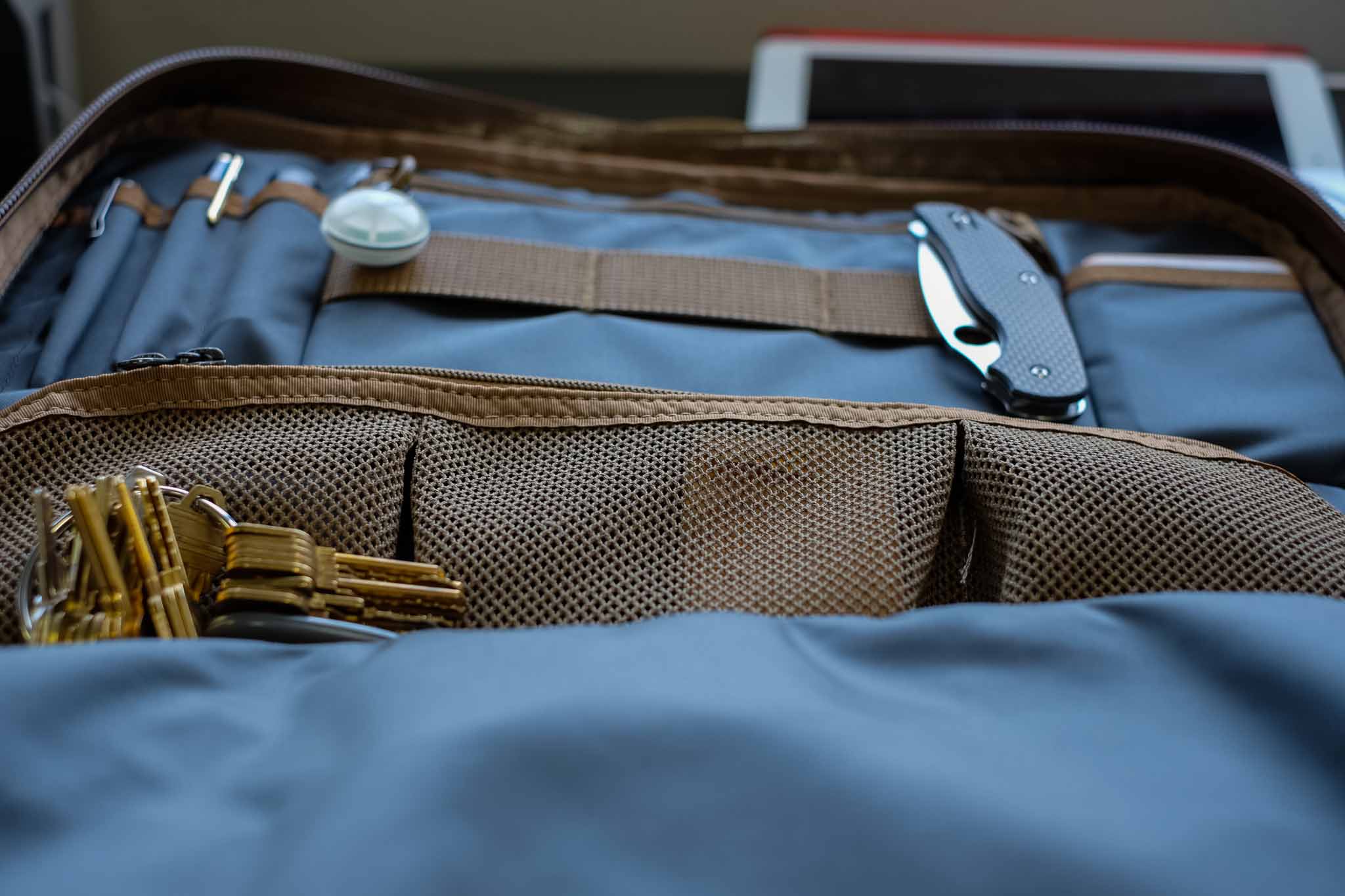 I hadn't used a shoulder bag in quite some time, so I was leery that I would enjoy it. I was proven wrong on that account — and while I still think backpacks overall are better, I'm hard pressed to find faults with the bag other than "it's not a backpack".
This briefcase functioned exceedingly well in my day to day usage. There's an option for an interior packing cube, which Tom Bihn sent to me, that I find rather unnecessary as it seems much too small to be useful and I found it just got in the way for me. The packing cube could be useful if you are prone to carrying a really light weight rain jacket — or a t-shirt — outside of that I don't see the utility.
It's nice to know you can add a packing cube, but I'd rather see the mount used for an iPad sleeve or something of that ilk. Speaking of which, there is a "tablet" pocket in the bag which is fantastic — but only if you own an iPad mini or smaller tablet. It's a pocket on the inside of the bag that is lightly padded with a bit of rigidity added — overall a wonderful touch. I just wish it fit an iPad Air instead.
This tablet pocket is a design element I hope to see in more bags.
There are two things which, functionally, I don't like: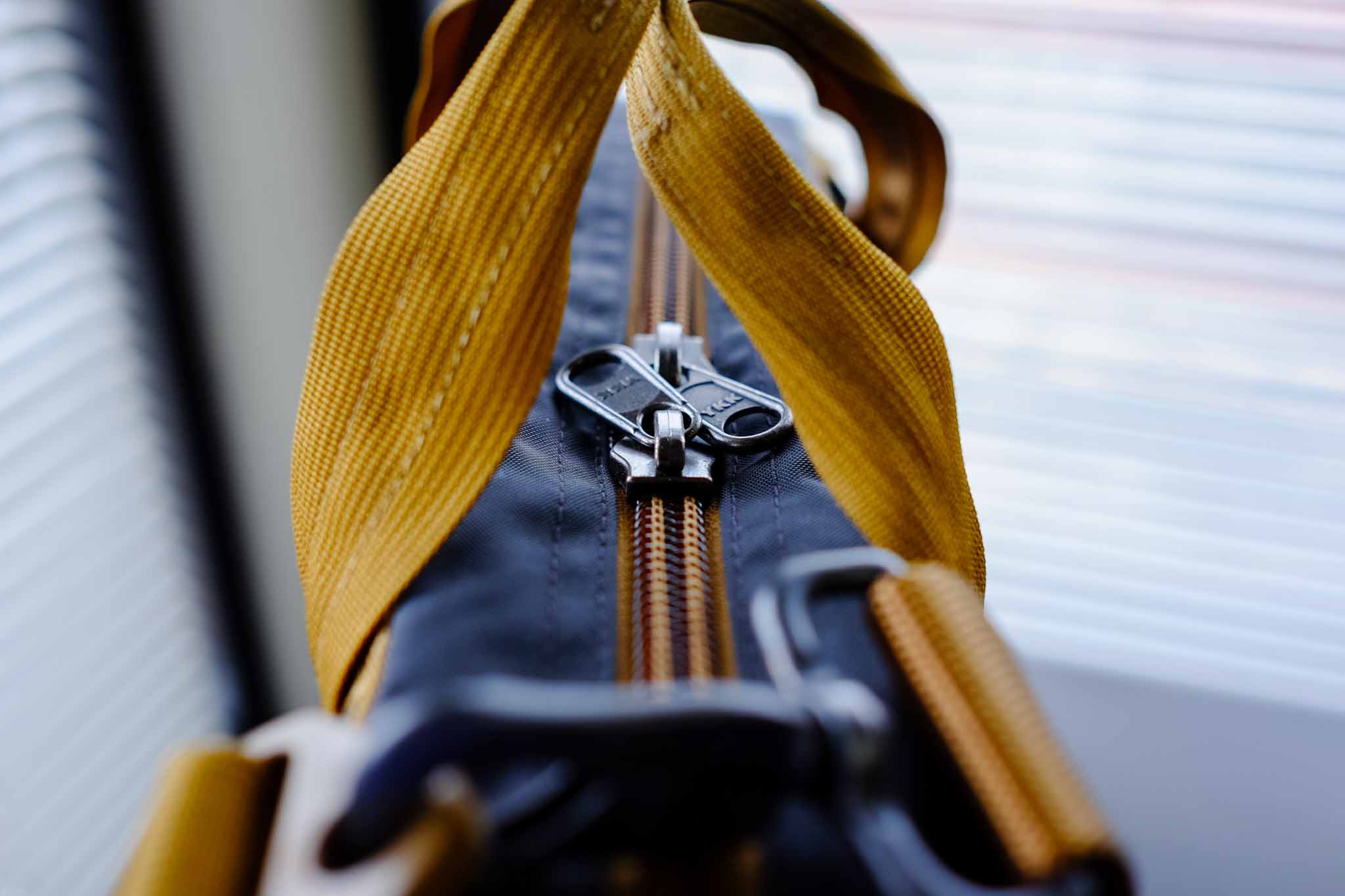 The zippers around the clam shell are large, which makes them tough to get moving, often causing me to lift up the bag from the resistance met with the zipper. The zippers are also pretty loud, and I much prefer quieter zippers for the same reason I hate velcro on my bag — the Goruck zippers are great in this regard.
There is a quasi Molle bit of webbing on the interior of the bag, three rather flat loops. They are really thick, and shown on Tom Bihn's website as holding a great many things. I don't get them. I think this space could be better served with more pockets instead of this strap system. Really seems like a waste.
Aside from those two things, I have no other complaints. I like the two small exterior pockets and I really like the mesh pocket strip along the bottom on the interior of the bag — it holds a lot more than I would have guessed.
Overall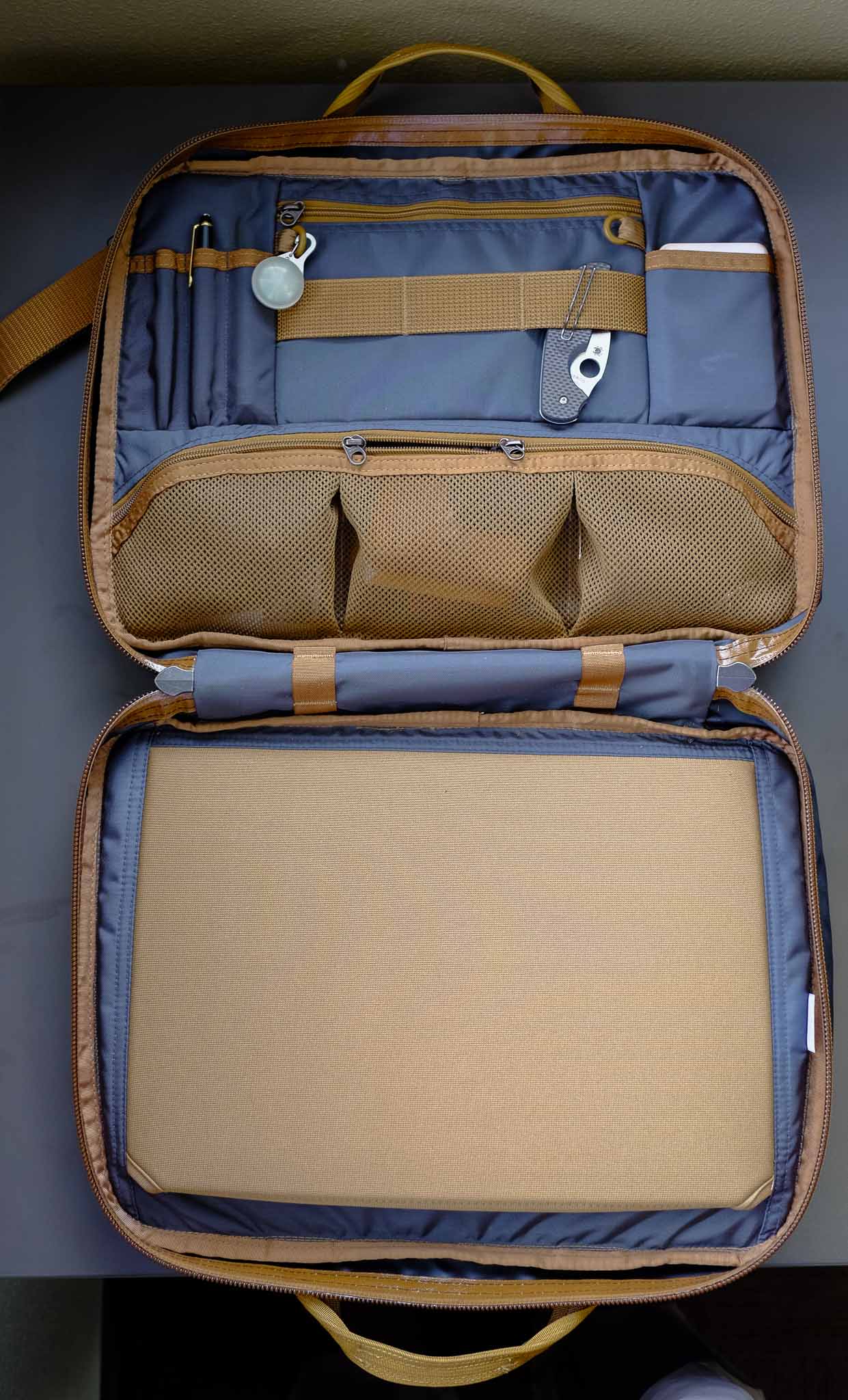 What I really liked about this bag was the ability to leave it standing (it stands well on its own) and zip just the top open to grab my laptop, or iPad — while reserving the option to lay the bag on its side and open it all the way. It's a nice compromise in that you can easily use the bag as a top-loader (as I do 90% of the time), but it doesn't bat an eye lash if you want to open it all the way up and lay it flat. This makes it a solid day-to-day option for the traveling person and excellent for neatly packing away your items for a longer journey.
I really like the look of this bag when it's gray and rainy here in the Northwest, it seems to fit in very well, but it stands out just enough to not be boring. I won't be switching to this bag (since I prefer the extra room a backpack affords), but for those of you not on my backpack bandwagon you will find this to be a very solid alternative.