Let me start off by saying how glad I am that I don't use Media Temple anymore.
I recently had a client who is a real dickhead owe me a bunch of money, as part of the dispute he had the reasonable request that I transfer ownership of the Media Temple hosting to him.
No problem, 7 weeks later Media Temple finally did that transfer (and gave me no notice that it had been transferred). None of that really mattered to me, until I saw that Media Temple went ahead and allowed my client to charge my credit card for hosting fees.
What? Yep, once the account was transferred my client was allowed to charge my card.
So just FYI, when you transfer account owners, Media Temple will leave your credit card information in place. Isn't that swell?
So what's going on here?
Well Media Temple told me that they leave the card in place in the event that it was an employee who left the company, that way a smooth transfer can take place. Ah, perfectly reasonable if you ask me, except that I specifically told them that was not the case when I filled out the transfer form.
Here's the relevant part of the account transfer form: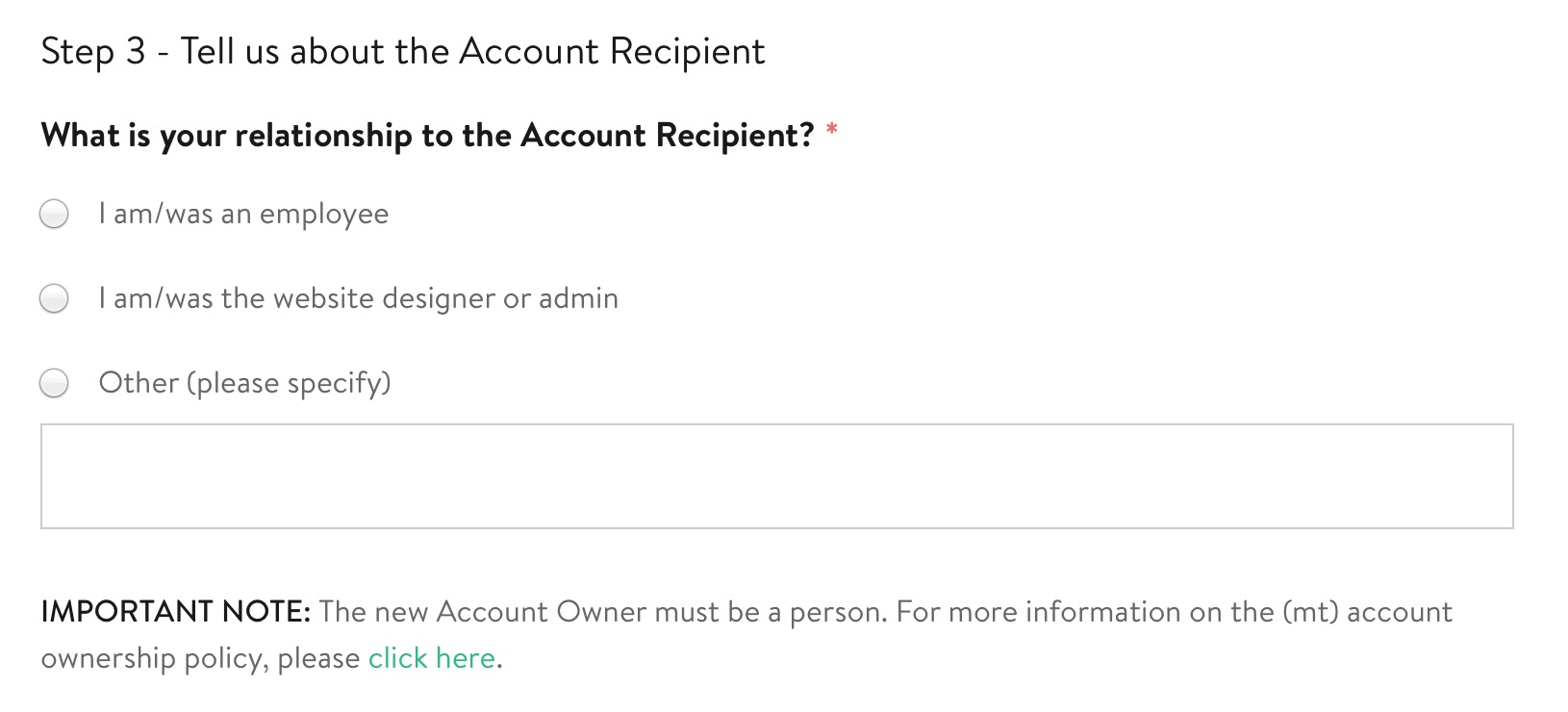 Three options, the first is the scenario in which Media Temple says they deem keeping the billing info — which is logical. Except I chose option number two, which clearly indicates that their scenario isn't in play anymore. No where I can find does Media Temple warn you they keep the billing info — but maybe I have missed it — it does seem like you should be given that option on this form, or it should be stripped by default (the better move).
This is where my complaint lies. Media Temple knew this wasn't an employee leaving situation, but still kept the billing info and allowed someone else to make unauthorized charges on my card.
Come on, that's not ok.
That needs to be changed.
---
If you want a credit card removed you have to fill out this form. And maybe they will get back to you in one week, I am told. It's better just to close the account and get a better host if you ask me.
Oh and don't bother calling support, they just blame you for not filling out the credit card removal form — because really you should have known. ((Thanks for that Alberto, although you were very calm which impressed me.))