When I read Gabe Weatherhead's post about how iOS 7, and its crash prone nature, should have ruined Apple's reputation I really wanted to take him to task over it. I agree that iOS 7 crashes, but I don't think it crashes that much — but the problem is that his argument faced the same flaw as my rebuttal would have: anecdotal evidence only.
In other words I needed to poll people to see how bad we collectively thought the crashing was on iOS 7. I created a vague poll with six possible responses. The polling software showed those choices in random order and used cookies to keep people from double voting. ((Not fool proof, but good enough.))
This is the poll question and possible answers:
"How often did iOS 7 (pre-7.1) crash on you?"
Mulitple times per day
Daily
Only a few times
Barely
Never
Every time I used the device
Now, before we get into the results and analyzing them, we need to address fundamental flaws in this poll.
Flaws
I did not specify what "crash" means. I left it open to interpretation. Some would damn the poll because of that, but in my opinion that is the most accurate way to conduct this research. A perceived crash in this case is no different than an actual crash. That is, a perceived crash will equally 'ruin' Apple's reputation as a real crash would. You wouldn't rebut an anger customer by telling them the device didn't really crash.
I did not specify devices, or limit devices. I only specified iOS 7.
I used vague and slightly interpretive terms. I'll address this more later, but it is of very little difference.
I posted this on a tech blog, not say Facebook — so the respondents are naturally more likely to notice a crash.
I didn't ask for an opinion on if the crashes were better or worse than iOS 6. This is because human memory is shitty at recalling annoying things like this — either forgetting them completely or exaggerating them in hindsight.
Overall is the poll flawed? Hell yes. But so is every poll, but knowing these key flaws can better help us interpret the data.
The Results
Here are the raw results in bar chart form, the total number of respondents was 676.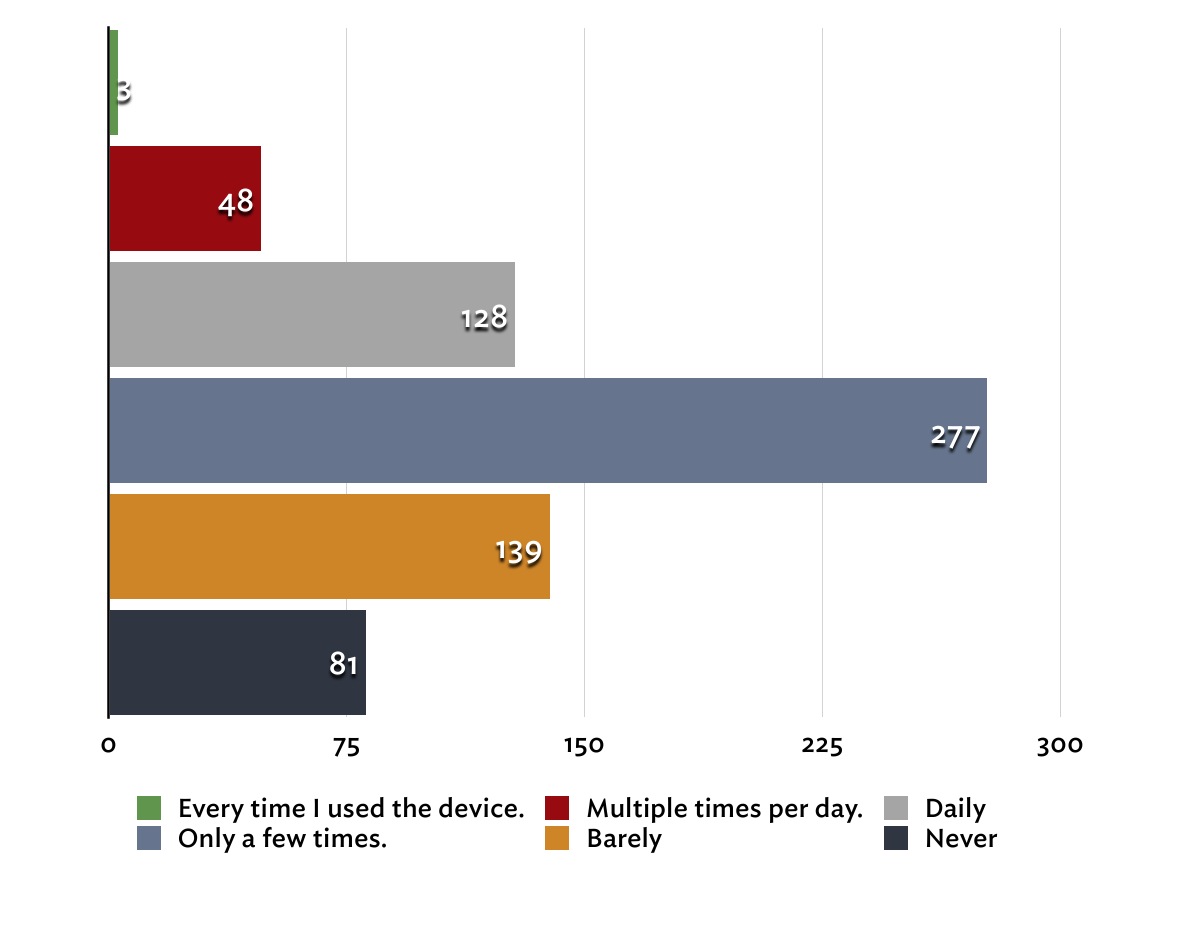 I've now taken that same data set and consolidated the information into two categories, with "Barely, Never, Only a few times" being one category that I call "not too crashy". The second category is "Every time I used the device, Multiple times per day, Daily", which is called "too crashy".
In other words I boiled the results down to a yes or no answer of: Did you iPhone crash too much?
The overwhelming answer is no, for most people their devices did not crash too much. But their devices did crash and one could make the unreasonable argument that even a single crash is too much.
While that is a nice goal, it is completely unrealistic for any operating system on this scale.
What this data doesn't tell us, that would be most useful, is how these responses differ from iOS 6. Without that knowledge we cannot make a conclusion as to whether the software has become more crash prone or not. And it's hard to judge the damage that iOS 7 did to Apple's reputation.
All I can say right now is that 26.4% of respondents to my poll claim iOS 7 crashed far too often to be considered acceptable by any reasonable person. I have no way of knowing if that is worse or better than anything else. It is just a number by itself.
So the real question then: Did Apple damage its "just works" reputation with a 26% crash rate for users of iOS 7?
You be the judge — honestly it was a lower percentage than I thought it would be, but higher than I would want it to be.