The Fourth of July is one of the best holidays in America, and my absolute favorite (and among adults one of the more favored too). Most people around the world know it as our Independence Day, but to me it's the most family centric of all holidays. There's very little stress because (for a change) there's really no gift giving — and it's a well accepted holiday throughout the country. It's not uncommon for many stores to close.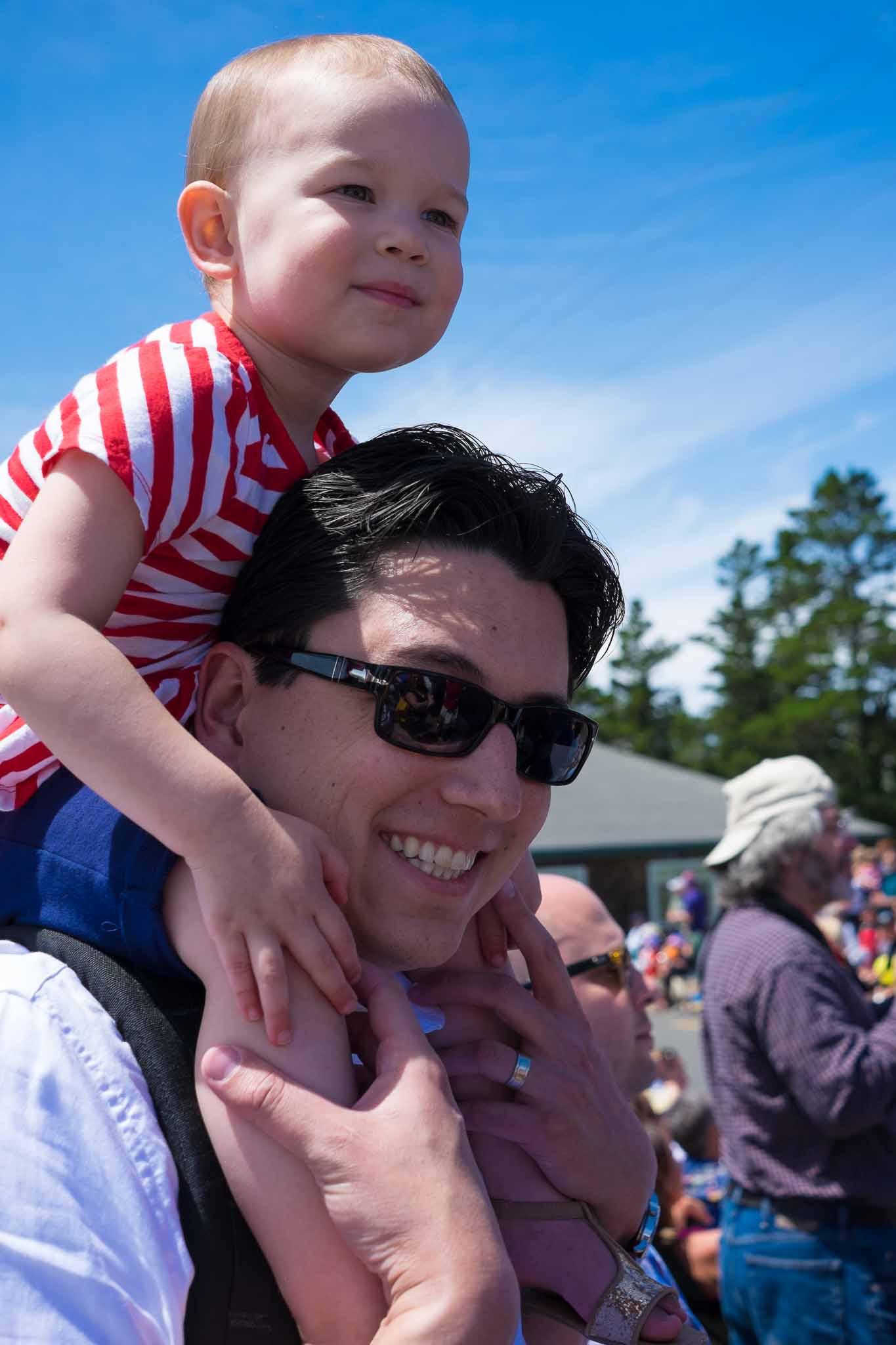 Further, the festivities don't usually take place until the evening — so you get a nice warm July day all to yourself. This year saw my family down on the Oregon coast, where we watched a small town parade of homemade floats. My two year old sat on my shoulders to see well above everyone.
Being as how we had two kids out with us, we knew we needed a diaper bag, and I knew I didn't want to carry that silly one my wife loves. So I stuffed my GORUCK GR1 to the gills with the stuff for the girls and atop its padded straps is where my oldest daughter sat for a good hour plus. ((My shoulders were killing me. When did she get so heavy?))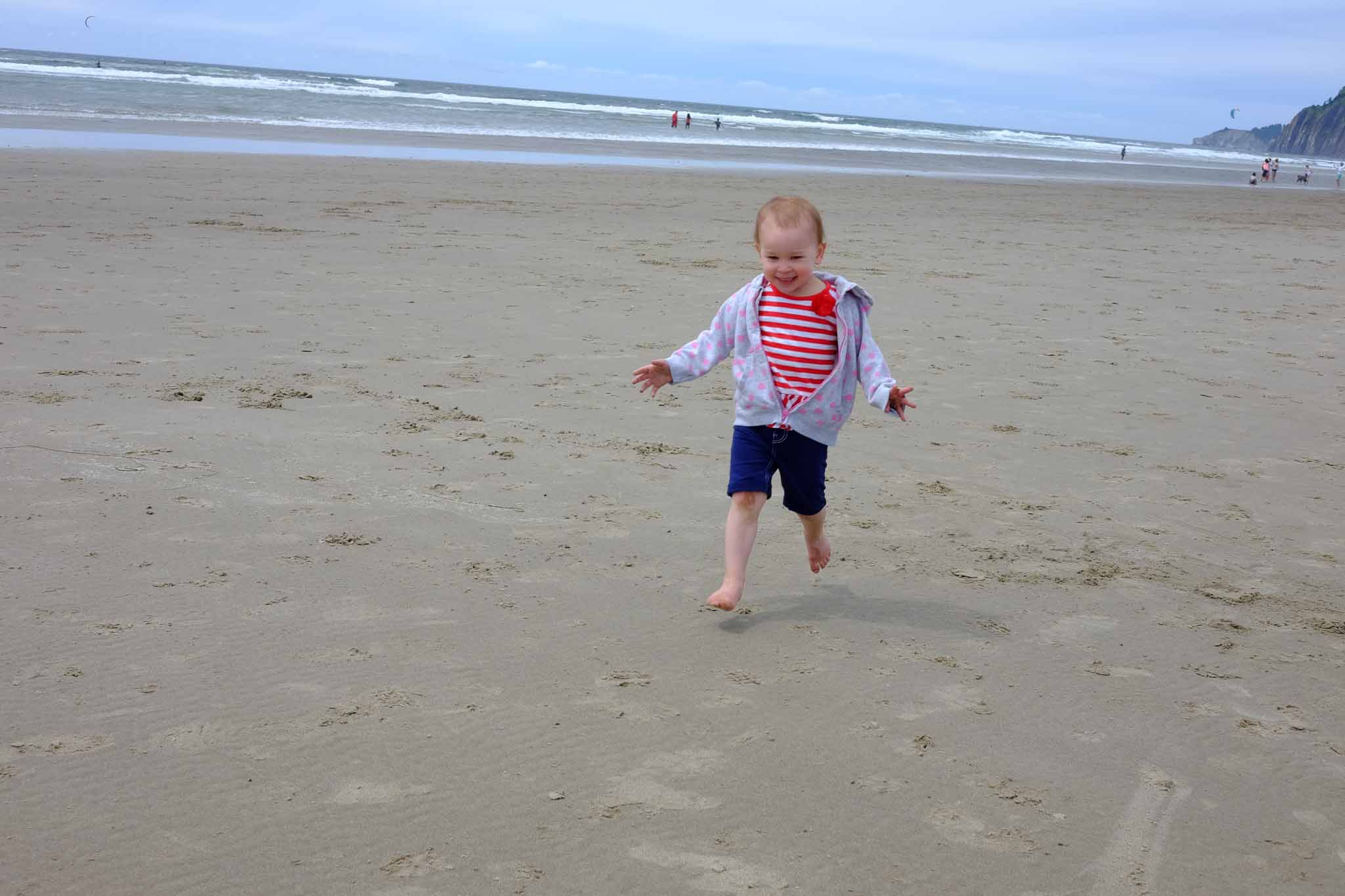 It was a fun time and after the parade we headed to the beach. My wife took our youngest back home for nap and my daughter and I ran down the windy-chilly beach. And then, as two year-olds do, she bit it. No tears, just a quick pop back up. Hands covered in sand.
She promptly rubbed her eyes — long before I could react to try and stop her.
Tears
I rushed over and flung the GR1 to the wet sand, where it skidded to a stop, so I could block her hands while I dug out a burp rag to wipe the sand from her face. All ended well after some serious tears flushed the sand from her eyes.
I looked over at my GR1 to see a little skid-mark in the wet sand, and I grinned.
"This is what the GR1 was made for", I thought to myself.
Now a few weeks removed from that event I still cannot shake that idea from my head. I'm the guy that won't set his iDevice down on a rough tile surface for fear of small scratches. I keep my gear clean and tidy — I don't baby it, but I treat it with care. Same with most of my bags.
But the GR1, the GR1 is a different beast. GORUCK will tell you that it gets better with abuse. It's a hell of a bag, and a hell of a concept.
Any other bag and I would have tried to keep it on my back, not wanting the sand to work its way in never to leave the nylon. But without thinking about it I readily flung the GR1 into the sand.
And I can't figure out why…
I know, in my mind, that the GR1 (and many other bags) can take the abuse, but I never abuse them. I never offer that abuse, because my default setting is for care.
And I know that the GR1 is made for it, but even still my GR1 looks (mostly) brand new. And yet I have never shied away from abusing the bag with dirt and grime.
What is it about a product that makes you change who you may be by default — change to go from someone who baby's their gear, to someone that flings it into sand?
Is it marketing, or the design of the product itself? Perhaps it is something deeper, something you cannot see on the surface — knowledge of toughness feeling inherent to the bag?
I'm not sure, but I suspect it has less to do with marketing and more to do with design of the product itself.
I asked a few people what it is about these products that make use act differently towards them — what defines how we treat something?
Patrick Rhone (Minimal Mac):
If I were to distill it down to a single idea: It's about purpose. There is something uniquely satisfying about using any tool for the purpose it was intended to be used. The GORUCK GR1, for example, was made for the harshest conditions a US Special Forces operator might face. Few of us who own them will ever put them through that kind of punishment. Yet, I love the stains from tree bark on my shoulder straps — left behind by a very big ugly log during a GORUCK Challenge. Not only for the memory of what was accomplished but also because that is exactly the sort of thing it was built to do. I have a 25 year old Dodge pickup that is dented and beat up to all hell. Yet, when I use it to haul some stuff to the dump or pickup some wood at the hardware store, it fills me with tremendous joy and satisfaction. These are the reasons it was made and every dent, scratch, and bump is a story of its purpose.
In a sense, then, the purpose of the product defines how the user should use it — the 'patina' one gains from that use only adds character. That makes sense when you think about trucks and GORUCK bags, but what about something as delicate as a MacBook Pro?
Surely you want to baby that.
Who better to ask than he of stickermania, Myke Hurley (Podcast Legend):
I would say that typically I take care of my products. Like you, my iPad will always rest on the Smart Cover or on a smooth surface, I don't like an unprotected surface to touch it in most cases.

So this is where it's interesting with my laptop. People think I'm crazy or super weird for covering my MacBook pro with stickers, but for me this is the very best way I could treat that computer.

Those stickers all represent something important to me in one way or another. So the outside of that computer is like a visual representation of lots of the things I care about or draw enjoyment from in my life. They are a visual representation of my personality.

But just to make the point, if I'm taking my Macbook anywhere, it goes inside a neoprene sleeve before being put in my rucksack. It receives the full level of care that I give all my other apple products.
You notice something there — said by both Rhone and Hurley — and it's this notion that the outward appearance of a product tells a story that is important to both of them. That the stains on the GORUCK, and dents on the truck, or the stickers on the MacBook Pro speak to the user and the onlookers alike.
A clean gadget is just as representative to the owner as a dirty one. That should have been more readily apparent, but it's often lost in, well, did you see that picture of Myke's laptop? Goodness.
I wrote the above, and conducted the interviews before Apple released their now infamous sticker MacBook Air ad. It featured 74 stickers in total and a lot of different MacBook Airs.
But to me it tells the same story of personality, reflection, character, and mostly love.
I know why I readily threw the GR1 into the sand now: because that's what it was made for, and I love it too much not to use it that way. In other words I don't buy cars to look at them parked in my garage, I buy them to drive.