When I started work at MartianCraft I wasn't really sure how or where I would work. I had a desk I knew I could use and make my own at an office, I had nothing setup at my home. I looked into co-working spaces, but where I live there is one and the price I would pay for what I get in return was absurd.
And so, I didn't really know how things would shake out, or where I would end up working the most. I figured I would use that office, but I couldn't stand, and it felt very rigid. I still use it, but typically only 1-2 days a week.
For the most part I work at home. In a small little corner of our bedroom that I have staked out for a standing workstation. It works well, but it's not perfect. I can hear the kids making noise, and so can those that I talk to on the phone. It's also small, so I can really only use my laptop on the desk — anything else and I tend to have to clear the desk. Which is impractical most of the time, and forces me to work in less than ideal circumstances.
And then there is one of my co-workers, he works out of the library most days. The public library, that place you used to frequent as a kid, but now had completely forgotten about. As it turns out the library is a place people like to work out of.
The local libraries in my small city have WiFi, and tons of space to work on computers at. Yes, nothing standing. Yes the WiFi can border on terrible and tethering is far better for me. ((Though my co-worker doesn't have this issue with Internet connectivity, so your mileage may vary.))
As it turns out, the library is a very good place to work, for a great many reasons. Though, it has its downsides.
Yes, people also love coffee shops, but I am not a person who enjoys working out of coffee shops. If you are, that's great.
What's Great About the Library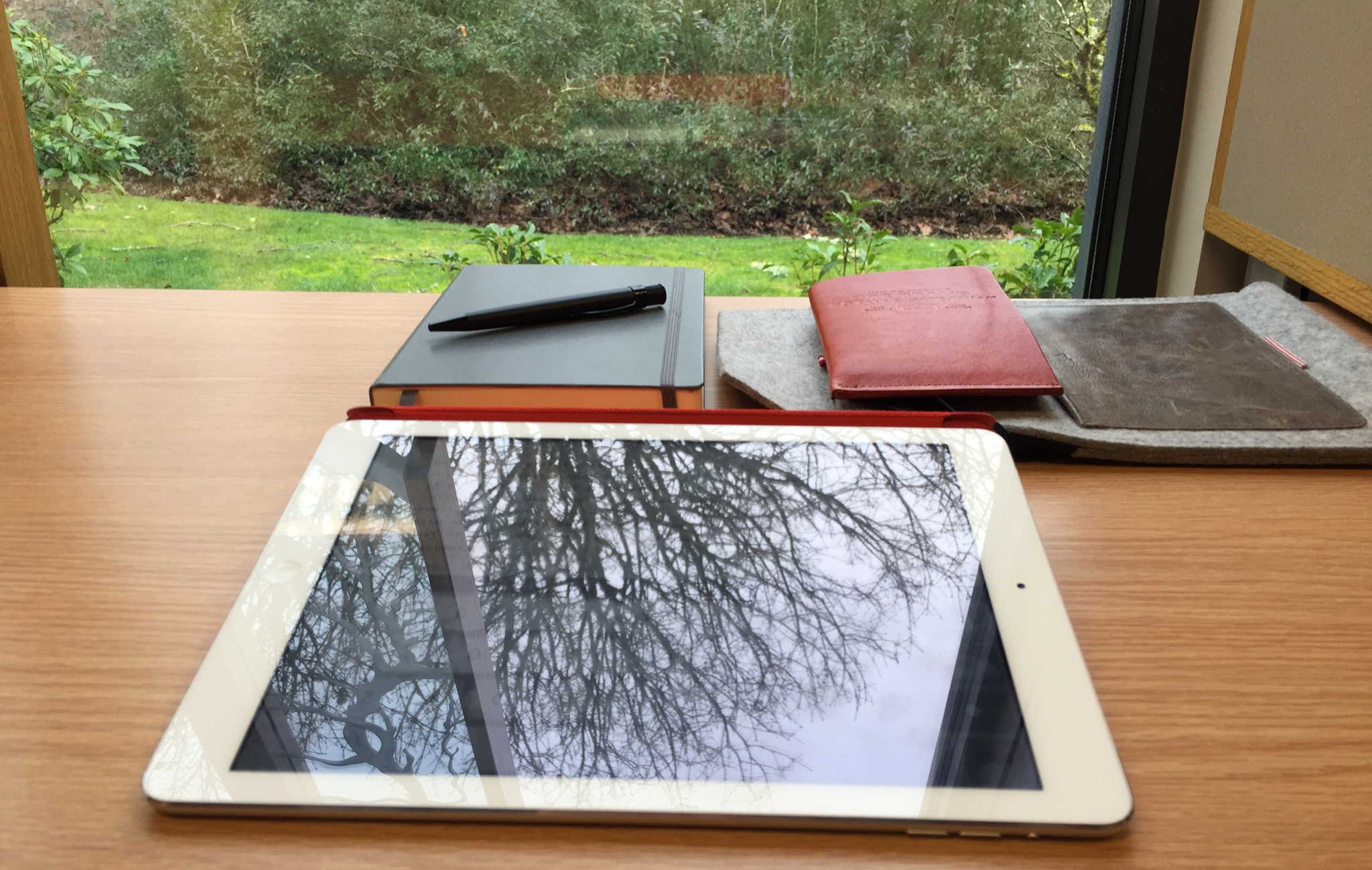 I hadn't been to a library in years, in fact the last time I set foot in something called a library was college, so 2005, and the last time I set foot in a public library might go all the way back to high school. So it's safe to say that I hadn't been to my local public library in almost a decade.
I had no clue what to expect. I did my research and found that I could go in and use the WiFi without a library card, or registering my computer. I found out that the library's have 50mbps internet connections, and from what I could tell, no filtering.
That's all I knew going into it.
I went mid-week my first time, early in the afternoon. What I saw was something I didn't expect: the library was packed. Like really full, and my city is small. I wandered around, scoping out all the work areas (of which there are many), before settling in at a table for three people in a section labeled as 'Quiet', which struck me as odd in a library.
The internet connection was abysmal, 1.5mbps down and a fraction of that up. I tethered and had a decent connection. It was quiet, as you might expect, but that was the least interesting part.
What I found was a near perfect environment to work from when you are remote:
It's free. The internet, the desk, the heat, the AC, the chairs, the tables. It's all free, your tax dollars at work.
There's lots of different types of work stations. There are lounge chairs with airline style tray tables, there are lounge chairs with no tables, there are tables, there are shared tables, and there are private nooks — desks with walls around them (though good luck getting one).
There's a lot of interesting characters there. From the guy talking to no one in particular about how much he can bench press to the woman eating off-brand Cheetos while trying to sleep. The biker dude delicately typing out emails in a pink Gmail window. But they are all quiet. I can look up and be infinitely interested in my surrounds and get sucked in, or I can look at my screen and not be disturbed by any of it.
It's convenient. Libraries are every where, and I can easily drive to three that are within about 10-15 minutes of my home.
That's perhaps what I love the most. I can go and pick a chair, or move between chairs, as my mood dictates. I can work in complete isolation, and without distraction. Or I can look up and be sucked into people watching — some very interesting people.
If I am writing, it's where I want to be for sure.
Not All Rosy
Of course, it's not all perfect in a library as there are a great many things that aren't great:
I have to tether. That paltry 50mbps connection would be great if I got it all, but there was probably 50 people on it.
I can't have a phone call in the library. So if a co-worker wants to Skype, or have a quick voice chat, then I need to walk out to my car.
I can't leave my stuff anywhere while I go to the bathroom.
I can't stand and work.
It's busy. Finding a table can be a challenge and finding the good cleaner furniture can be even harder. A lot of people use the library.
For some that's a deal breaker. For the days I have a lot of phone calls (Mondays and Tuesdays) there's no way I can work at the library. However, for a quiet day where I have a lot of work to do, I've found no place better.
Ah the Library
Before I ventured to the library you might have found me saying that we should close them all and just have a kiosk of rental Kindles with all the books pre-loaded on them. But now I think there's a utility for the Library, but I also think that utility has little to do with books and everything to do with the Internet.
Everyone there was there to use the internet, except Cheetos woman she clearly wanted to sleep. We should be crafting libraries in the truest form of what they are: knowledge centers. They should be places that we can go to get free internet, free computer use, resume help, job searching, and learning. The focus shouldn't still be on books, though they will always have their place, but the focus needs to be on what can be learned and gained.
In that sense insanely fast internet, great workspaces, and even better work tools are paramount to what a modern library should and can be.