I keep saying that I've found the one and only bag that I need, but then I keep talking myself into trying a new bag. I guess I have a problem there, but that's not something to tackle today.
Instead we need to talk about the GORUCK 15L Shoulder Bag. It's not new, as it has been around for quite some time. However, the price recently dropped down ($155, currently) to a level where I felt it was worth checking this bag out, as I have always had a keen interest in it.
Could it be a good shoulder bag? Something better than my current top pick, the Tom Bihn Founder's Briefcase…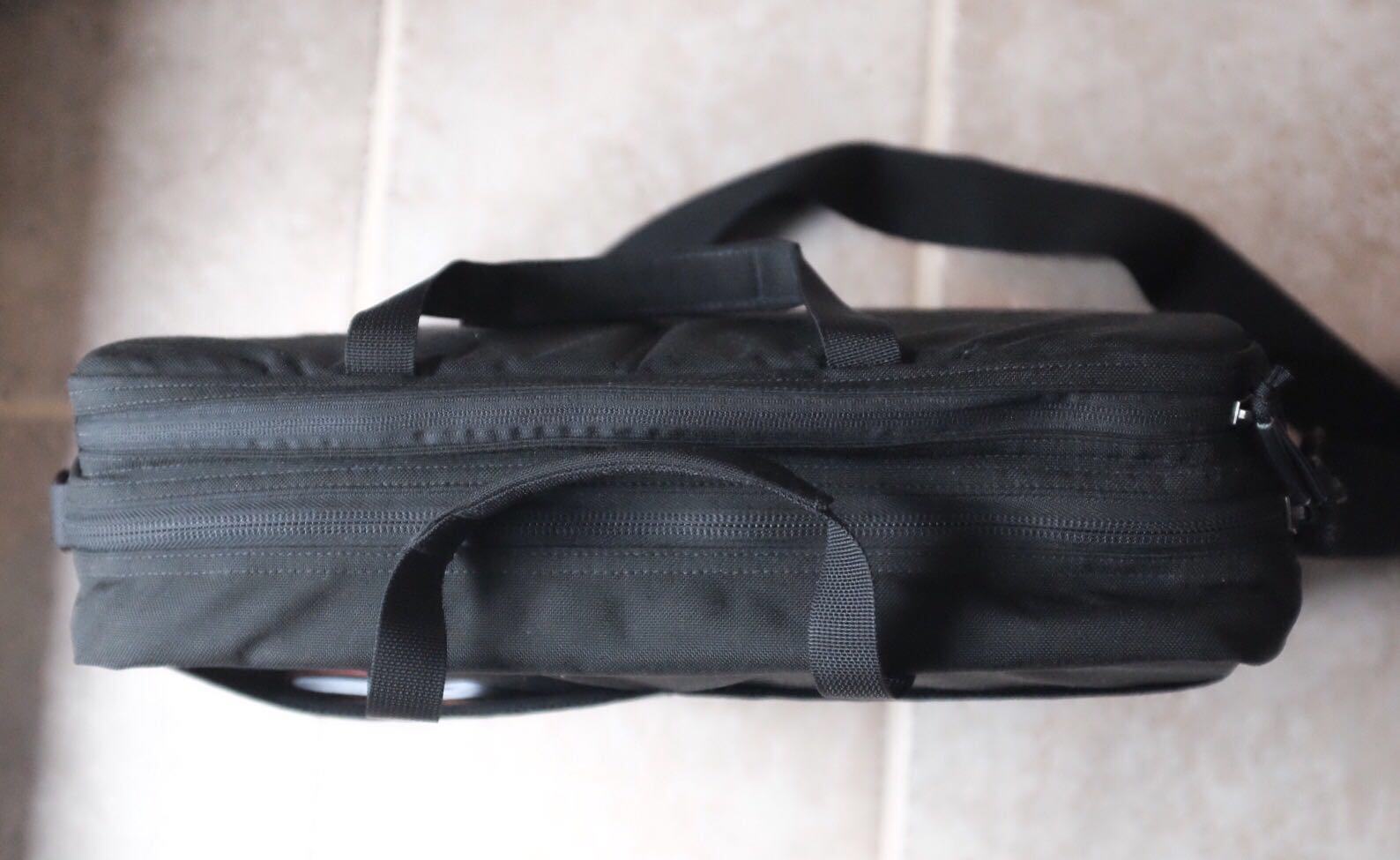 I've been using it now for quite some time (4 months), longer than I would normally test, and am still torn about the bag. It is all the quality that you would expect of GORUCK, just in a shoulder bag. In fact it feels even more padded than my GR1, which is very welcome, as that's my primary complaint with carrying a laptop in the GR1.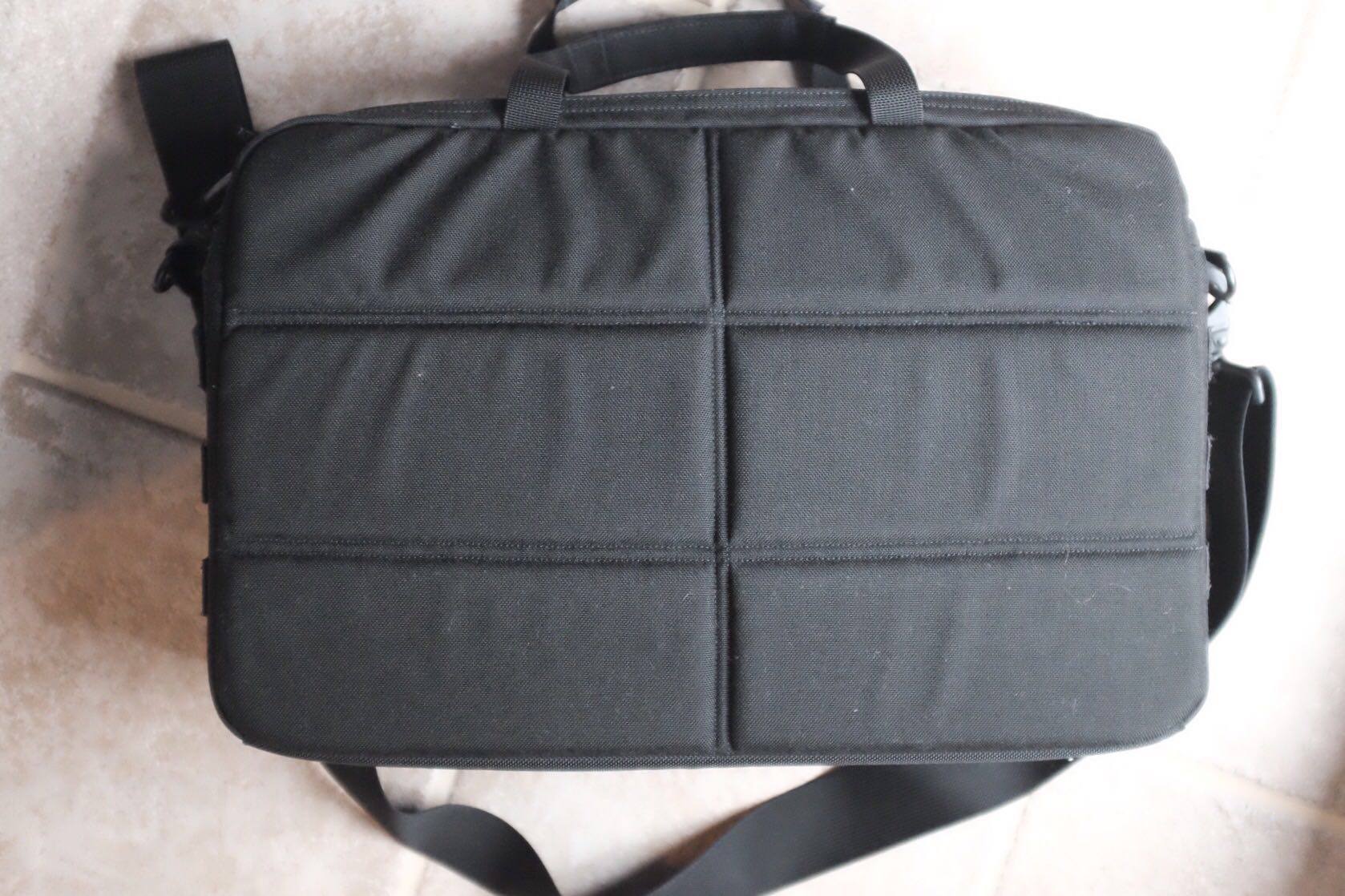 But it is also very large, and very heavy — and that's when the bag is empty. In fact the bag is constructed in such a way that even if all I had in it was one USB cable, it would look bulky. GORUCK calls the bag bombproof and I can't find any clear definition or standard as to what the means, but GORUCK claims the same with the GR1, and I didn't believe it, but I do with the 15L Shoulder Bag it somehow seems even more stout.
Day to Day
One of the best things about using this bag is that it stands vertically quite nicely. Even empty I can sit this bag vertically and it will stay put.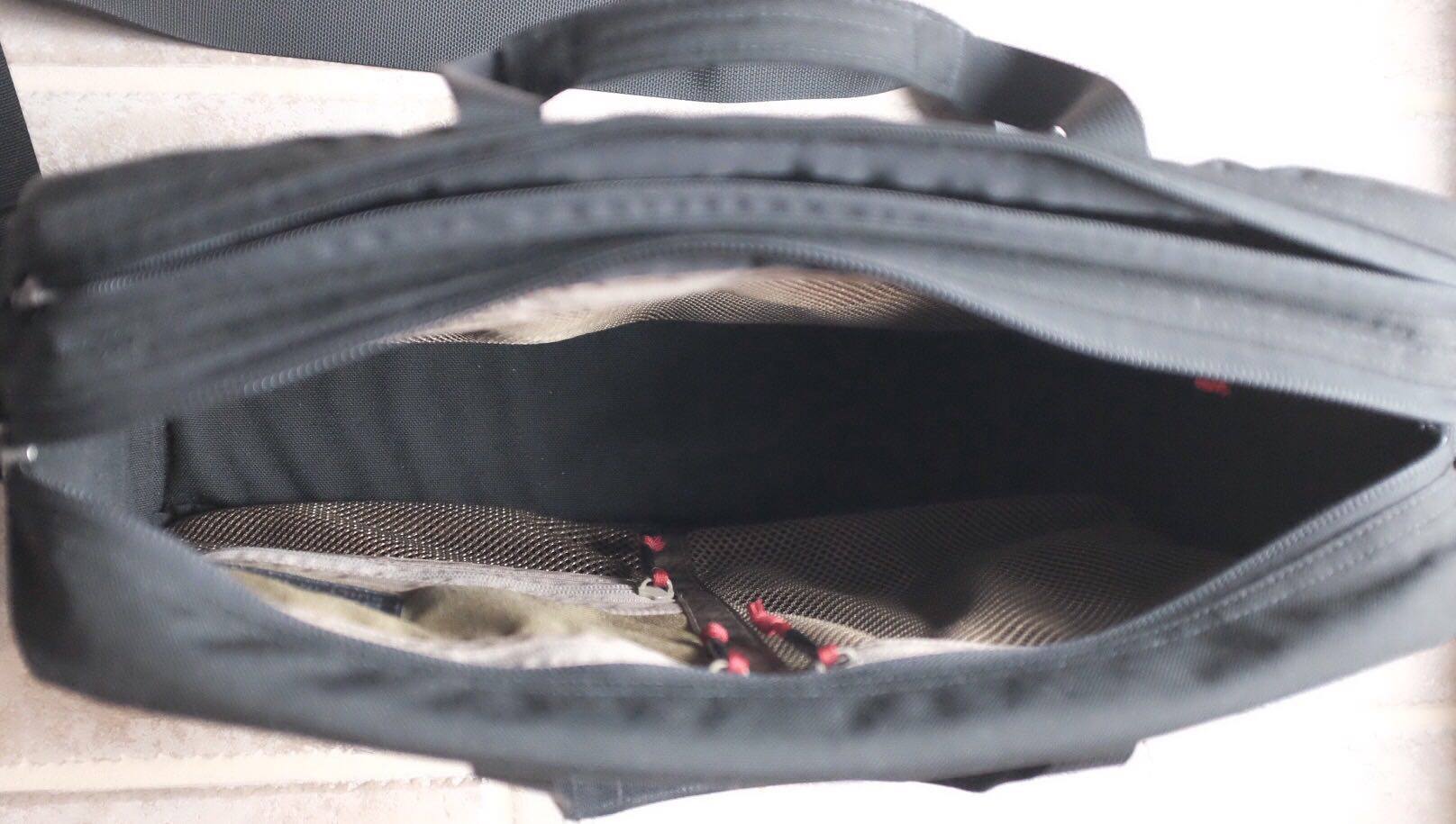 The central compartment is a bit tough to see into (as the picture shows) but offers four zippered pouches. One large, one medium, and two smaller. Personally I wish I had four smaller and and two medium pockets, as the large pocket is a bit too large. Then again the largest pocket does hold a full sized iPad just fine, even with my keyboard attached to it.
The main compartment can hold a lot. Not just cables, but putting my X100T and a water bottle in there is no sweat. This area can hold clothes, or just about any amount of paper. It's truly a large compartment.
On the front there are two pockets for slipping things in, and they are really handy. That said, as you can see in the picture, my DDC Stuff Sheath will start to slide out if you toss the bag in your trunk. It happens all the time for me, but when carrying the bag it's a really handy spot. A bit of a trade off there as I often have stuff spill out if the bag goes horizontal.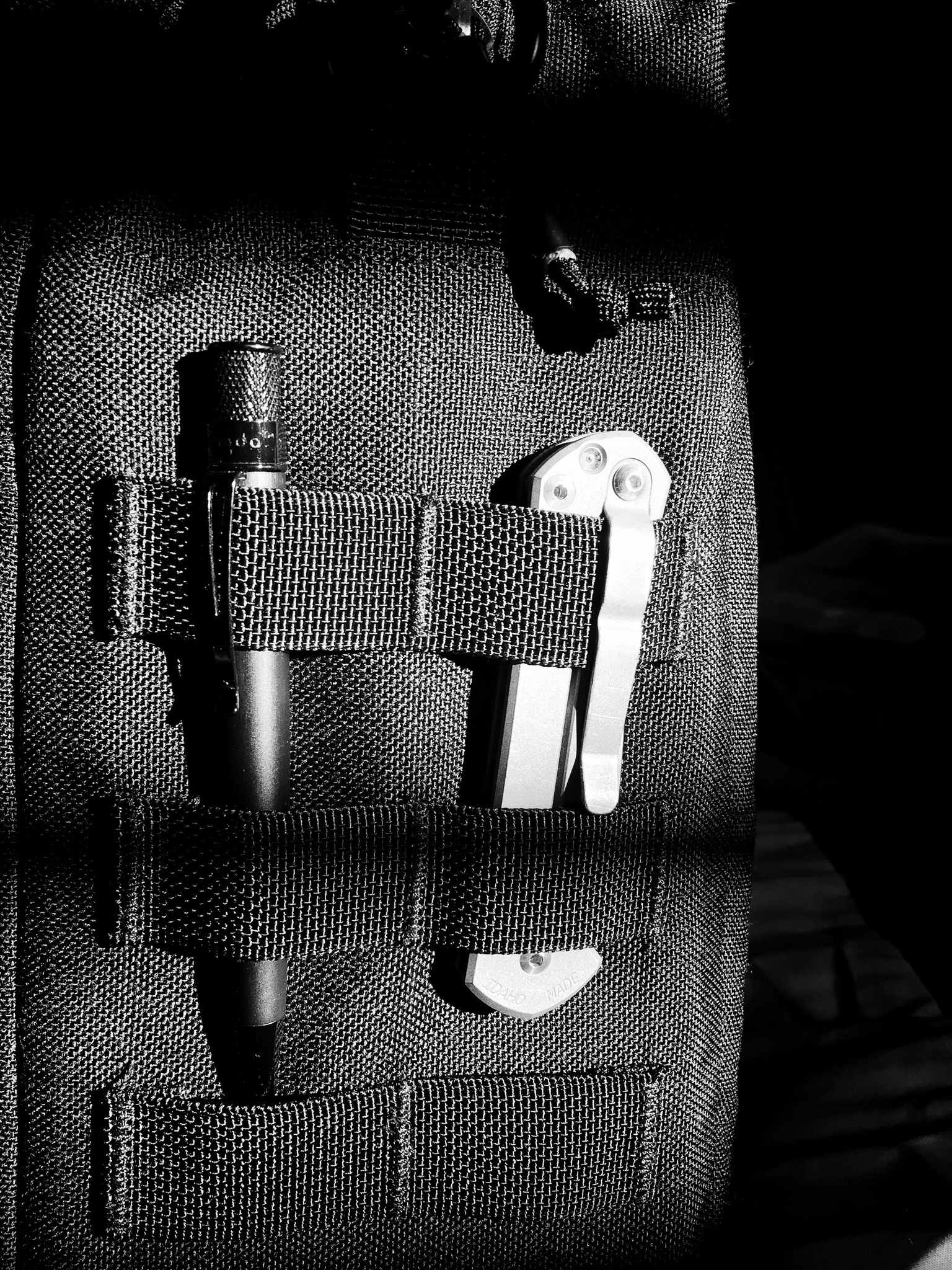 There's also MOLLE webbing on either side, which is perfect for holding my pen and pocket knife. This is one of my favorite parts of the bag — just like on the GR1. Stellar.
I'll talk more about the size in a moment, but the one issue I consistently ran into over my testing was that the bag was heavy. Here's everything I carried:
It all fits, with a lot of room to spare. Which is a problem because that means that without conscious thought it is really easy to overload this bag with too much stuff. My back hurts just thinking about those few days when I really overloaded the bag.
The Size
GORUCK rates this bag at 15L (for reference the GR1 is 26L and the Founder's Briefcase is 13L), and as I found out recently those are hard metrics to use for comparison. So while it is rated at 15L, it feels like a bigger bag in comparison to other 15L bags I have seen.
It feels like a bag just as big as my GR1 when I carry it, but one that cannot hold as much. Having said that it truly feels like a bag that could hold twice as much as my Founder's Briefcase.
The size of the 15L is my biggest hang up about the bag, take a look at these pictures of the GR1 next to the 15L.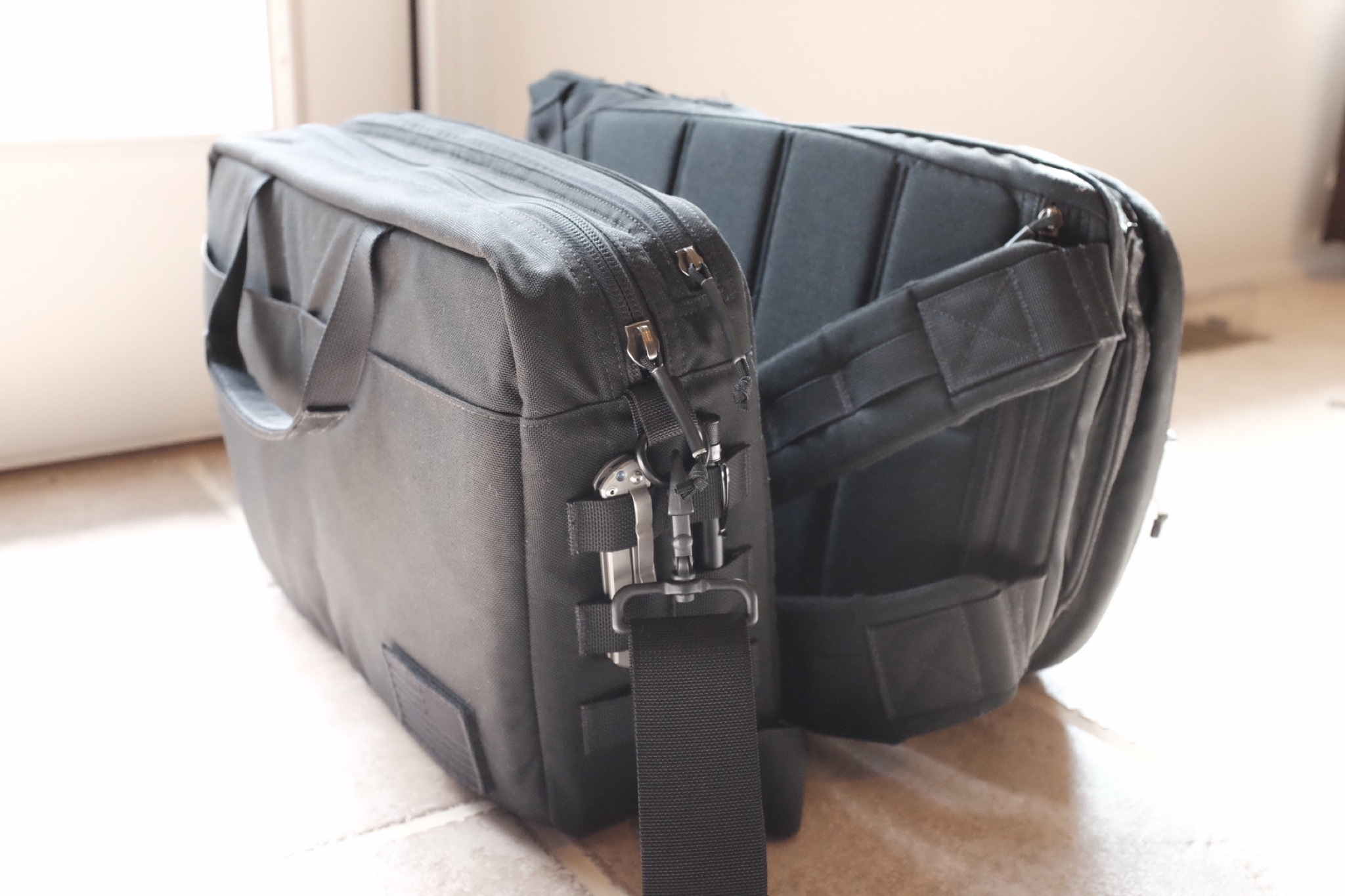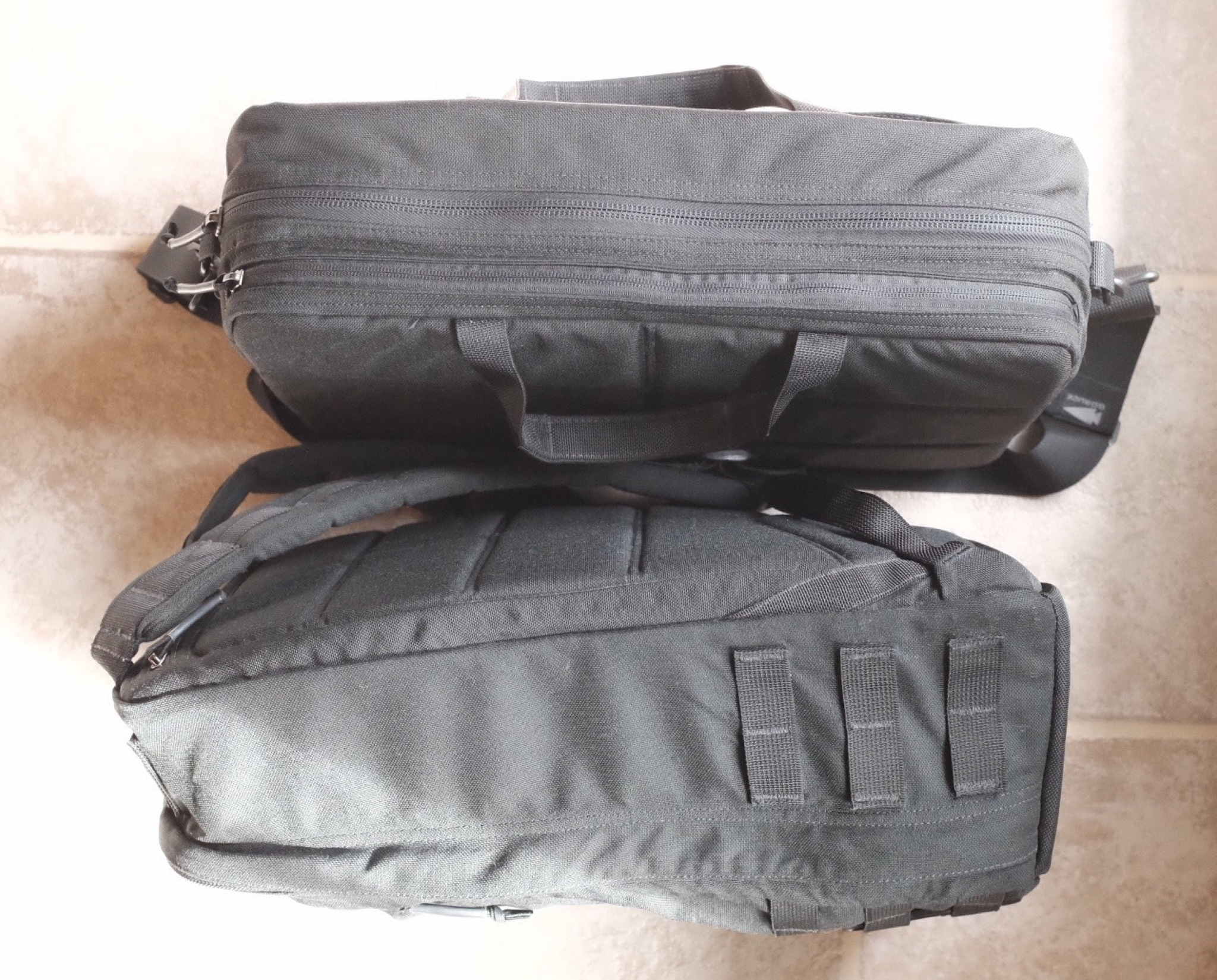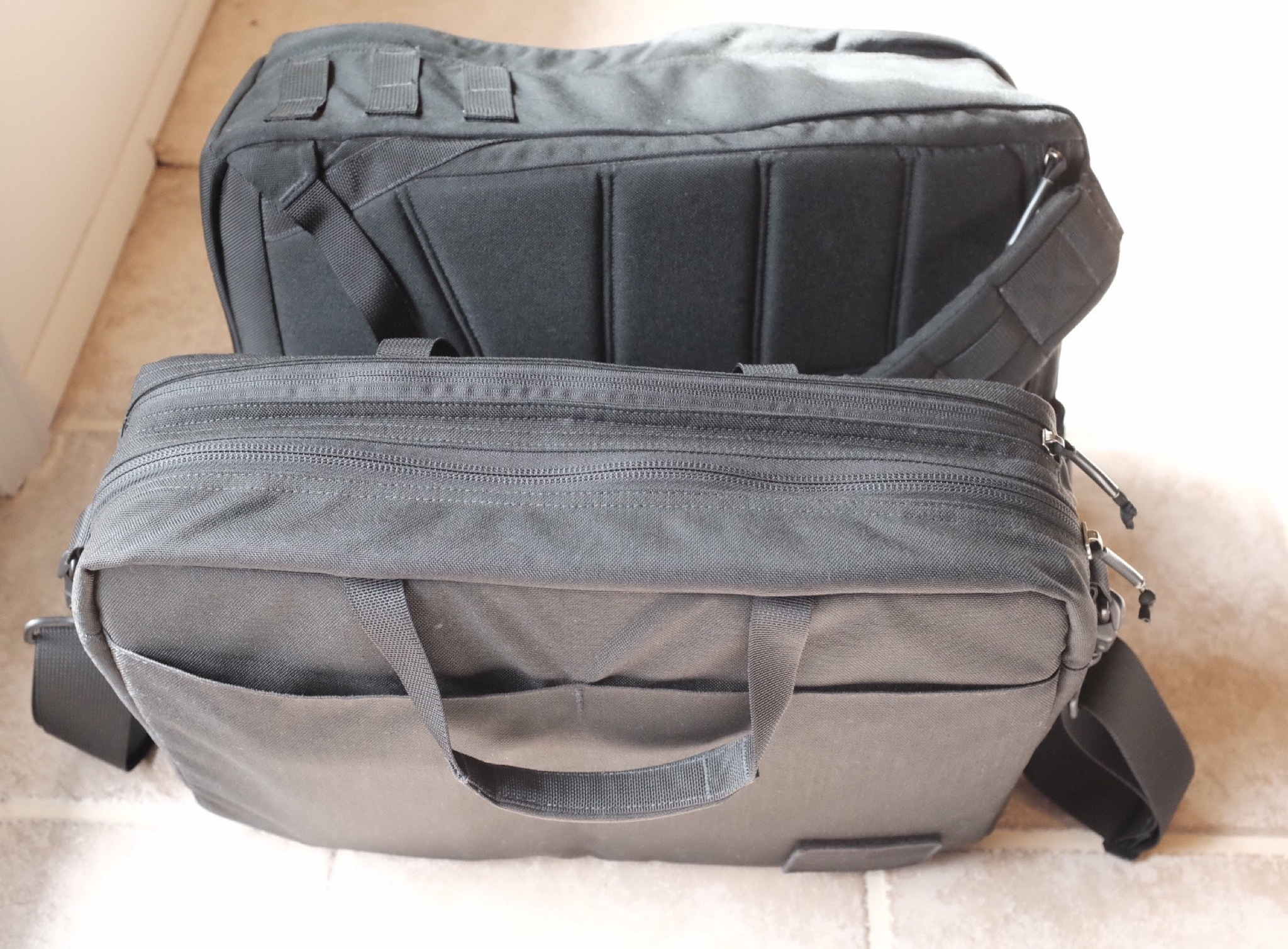 (The GR1 is stuffed with some towels to get a better size representation.)
What should be clear is that even though the GR1 is bigger, it truly isn't that much bigger in height and width — mostly depth. And yet the GR1 can hold a lot more things, and hold them a lot more comfortably as well.
And I think that's where my issue is: the size of the 15L is not a compelling enough reason to use it over the GR1, and I was banking on the fact that it would be compellingly smaller.
Miscellany
Before I wrap this up, a few other things I observed with this bag:
I've seen a lot of people complain about the comfort of the strap. As it's just a piece of nylon, with no padding. Even on heavy days I didn't find this to be an issue. In fact I quite liked the svelte nature of the strap as it tucks away easily.
As far as looks: I think it looks better in person.
It's wider than you think.
I wish the handles look a bit better than they do.
If they had lined the exterior pockets with some sort of micro-fiber/crushed velvet they would be my favorite pockets on any bag.
The zippers are surprisingly loud — it's like the bowels of the bag reverberate the sound.
It is near impossible to see what the small, lower, pocket is housing.
The size was/is mostly overkill.
The laptop compartment doesn't exude cushy luxury. Instead it's just plain nylon.
That said, the bag doesn't look too small, and therefore silly, on my back.
Overall
The reason this review has been in the works for so long is that I've had a really tough time trying to figure out just what my thoughts on this bag are. Mostly: is this a good, or bad, bag?
And I think I've finally figured it out: this is a primary bag, but I was looking for a secondary bag. For me, the Founder's Briefcase is a solid secondary bag, and a stretch as a primary bag. The 15L Shoulder Bag is easily an everyday, primary, bag. There's no doubt about it, which is why I spent a lot of time talking about it in comparison to the GR1, instead of the Founder's Briefcase.
The 15L's main competition is the GR1. And in that vein, it stands up really well to the GR1. So my advice is this: if you prefer a backpack for an everyday (primary) bag, get the GR1, and if you prefer a shoulder bag get the 15L.
It's a very good bag, made really well, and I have no doubt that it will be large enough for most people. Probably not for overnight clothes, but for a sweater or light jacket added to your kit: yes. I carried the GR1 Field Pocket (for my X100T) and a water bottle inside the main compartment with room to spare.