After years of dedication to LaunchBar, I made the move to Spotlight a while back. It's been about 5 months now, and I honestly am perfectly happy. That's odd to say, because Spotlight was something I always wanted to strip out of OS X, but with Yosemite (and now El Capitan), Spotlight really has become a powerhouse.
What prompted this move has nothing to do with what Spotlight can and cannot do. It came down to an issue with my computer. For whatever reason my computer showed the pinwheel every time I invoked LaunchBar and I would have to wait quite some time to use the app. Naturally this kills usefulness eventually I figured it out and I got it fixed.
After I fixed it though I wondered: do I need this tool? Does Spotlight work better?
Moving to Spotlight would free up a few small resource requirements that LaunchBar requires, and well, why not try it?
I've been on this kick lately to see if I can get by with less software running all the time, so this was a natural experiment for me to try. Spotlight really has come a long way.
Spotlight is All I Need
I truly mean that to, but only for me. I don't know about you, or how you use things. What I do know is that in the months since I made the switch to Spotlight. I have not once thought "damn, I need LaunchBar".
So there is that little nugget.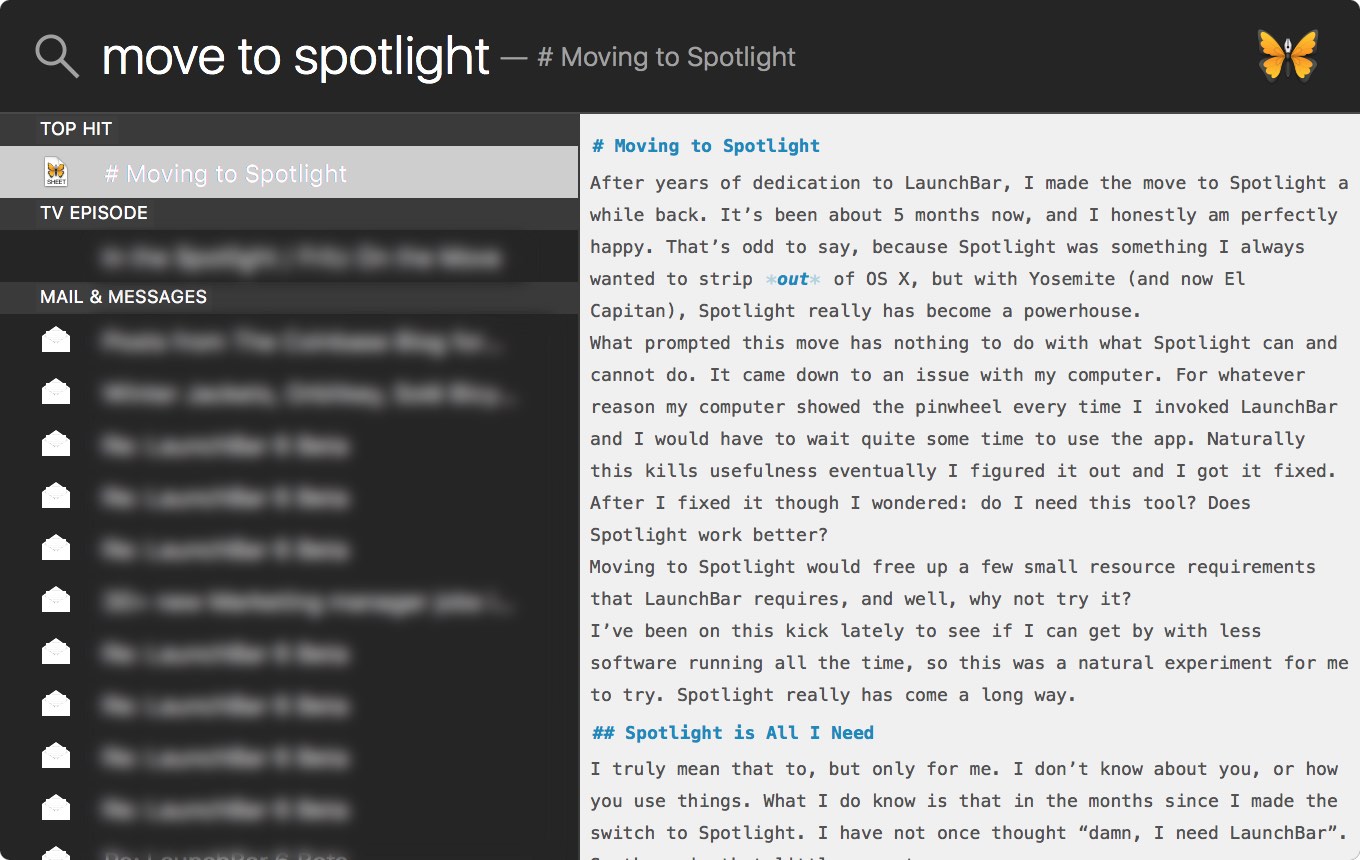 Truth be told, Spotlight is better in many ways. It has better file searching, it can and will categorize my search results by file types.
I can also type simple things and get simple and fast answers.
It is easier.
It is simpler.
It is already there.
It is all I need.
There's plenty of arguments to be made for LaunchBar, or Alfred, and you can make them and I will agree with you. I will also point out that Spotlight is quite nice and likely a fine option for many people.
I happen to now be one of those people that is perfectly suited for Spotlight.
What about Clipboard History?
Yes, so that was missing. There are a lot of tools out there, and right now I am trying out Keyboard Maestro's built in offerings. It's a way different take so I am not used to it, but it's been more than adequate for me.
What about the Power?
Seriously: it turns out I didn't need it. Most of my 'power' comes from Keyboard Maestro, and AppleScripts, not from launchers.
The biggest hurdle to overcome, was the mental hurdle.
It was understanding that I really didn't need any more features. I don't mean convincing myself, but rather convincing myself to give it a try and see what I miss.
Once I could be open to that, I was able to realize that: holy shit it has been a month and I haven't run into a single hiccup yet. I don't mean I found other ways of working either: I mean I it turns out I didn't use the so called power tools that I thought I used.
Are you Happy?
Yes. I'm not giddy, or excited about the switch, but I am perfectly content. I use less resources on my Mac now, and get the same amount of things done.
It all feels a bit zen — and coincidentally it helps me move between Macs that are not mine much more easily.