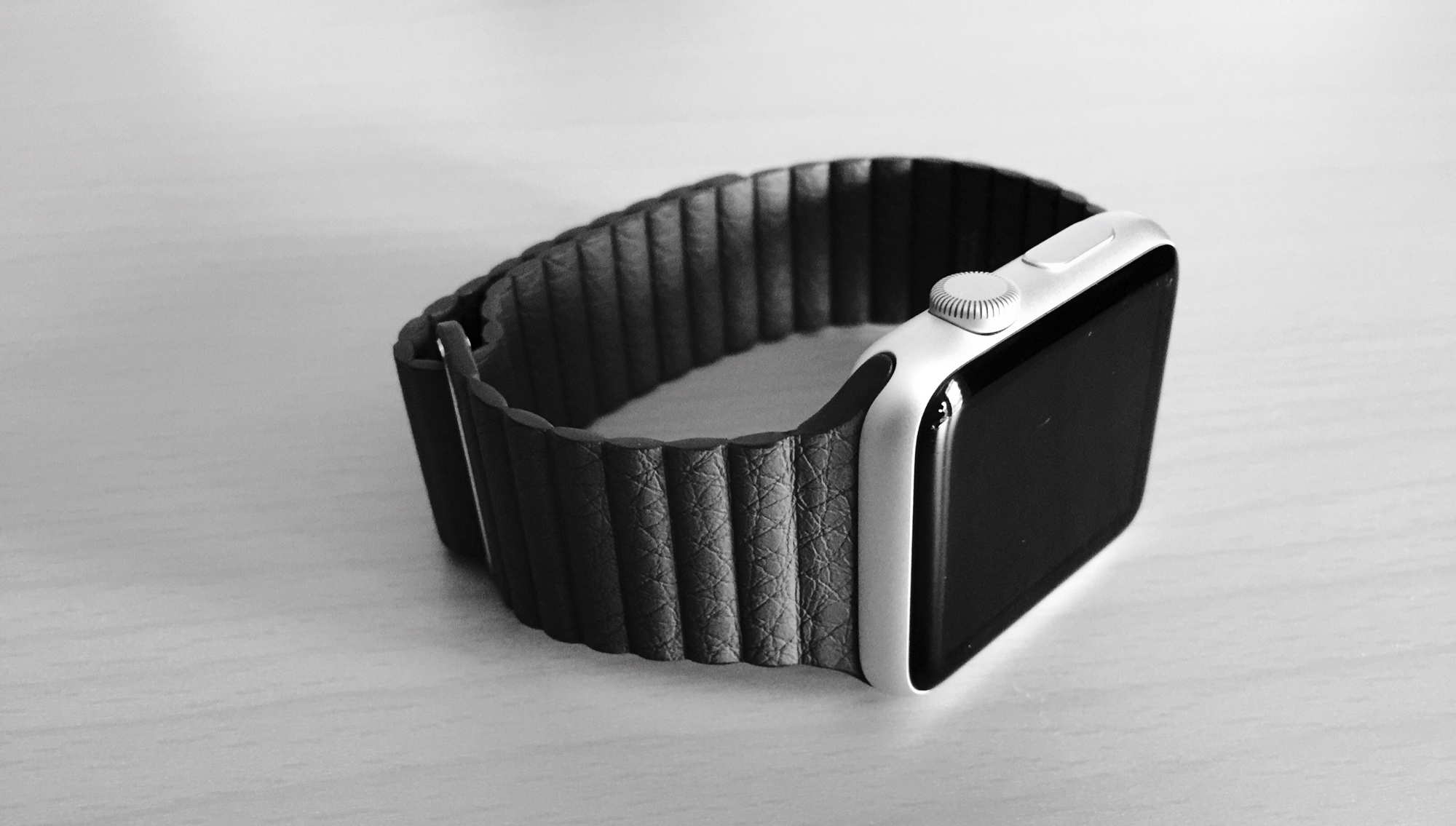 I didn't know what to expect, and in a lot of ways I still don't know what to expect, from the Apple Watch. I'm a person who wears a watch everyday, so looking at my wrist for the time is habit. And like many others, I wasn't sure I wanted an Apple Watch, well I wanted one, but wasn't convinced I needed one.
Still, I got one.
And it is, by far, smaller than I thought it would be. I thought it would be some bulbous G-Shock style gadget, but it's small and sleek. So sleek that my chronograph automatic sits off my wrist higher.
It also weighs nothing. I've often forgotten that it's there plenty of times.
I wear it from the moment I wake, until I lay down in bed for the night — and I wouldn't have it any other way. Actually, I'd love to sleep with it on to use Taptic for an alarm, but I can't do that yet.
It's been scratched, and beaten up, yes. I shower with it on everyday too. But still it works, and the scratches mostly don't bug me.
And I've yet to kill the battery — I don't know what the fuck people do to kill the battery in this thing. Really impressive battery, but I should note that my wife kills her battery just about everyday. I have no clue how though. ((She has the 38mm, I have the 42mm.))
Apple Watch looks best with the white sport band, and it feels best with it too. But still, it doesn't look great with a suit in that combination, so I have the brown leather loop band too. That's also a nice band, not as nice as the sport band, but pretty nice still. Either way you go, both bands are leaps and bounds more comfortable than any other watch band I've worn.
Aesthetically, and from a pure comfort perspective, the watch gets top marks from me.
---
But what about function?
Apple Watch tells the time, so check. Super easy to see the weather, another check. And my next events. Check.
But more than anything else, what is most revolutionary to me about the Apple Watch, is what it did to my iPhone. It relegated my iPhone to my pocket — stowed and locked in the upright position.
I use and check my phone a lot less than before. In fact, 90% of the time my iPhone is on silent (silent on my iPhone doesn't vibrate anymore) and I don't touch my phone much during the work day, or play time with the kids. My iPhone has stopped making noise. My watch doesn't make noise either, it just taps my wrist. Neither bug other people, or alert others that something is alerting me.
I could be getting a call in a library and no one would know. I could respond to a text on my wrist so fast, it will hardly interrupt us. The Apple Watch, for me, has become the most perfect device for staying the fuck out of my way.
But even more than that, it's better than anything else at getting my attention.
Tap, tap.
Erin texted.
I got it — even though I'm mowing the lawn, and typically I always miss those texts because I can't hear or feel my iPhone, I got the message. That's powerful, and yet no one else heard or noticed I got a text.
I always get my messages with the Watch, and I never bother another soul getting them, and I think that's a real solution, to a real problem, of the beeps, bops, and pongs of smartphones.
If that's the only thing the Apple Watch ever does, consider me happy.
Actually, overjoyed.
I don't have to listen or check to see if I missed anything.
Just.
Tap, tap.
Time to stop for dinner.