Note: This item was provided to me from Incase for the purpose of this review.
There's really two extremes to bag design, the first is a big vast pit in which to throw things — like a duffle bag. The other end of the spectrum is bags that have a pocket for each specific thing, perfectly tailored to those items: pens, business cards, laptop, charger, Kindle, tablet, and the list can go on and on.
Most the the bags which I have tested to date, fall on the side of being a large open bag. They typically are not well structured bags, and they typically are not solely designed to carry electronics.
Both the GR1 and the Smart Alec follow this model, with the Smart Alec offering further organizational accessories which can be purchased. The Tom Bihn Founder's Briefcase is very much an example of a structured bag, albeit a shoulder bag.
When Incase offered to send me the ICON backpack to check out, I was really excited. The ICON is a bag that lives to fit the gear you carry — with places for just about every gadget I could want to carry with me. It's made for the digital warrior if you will.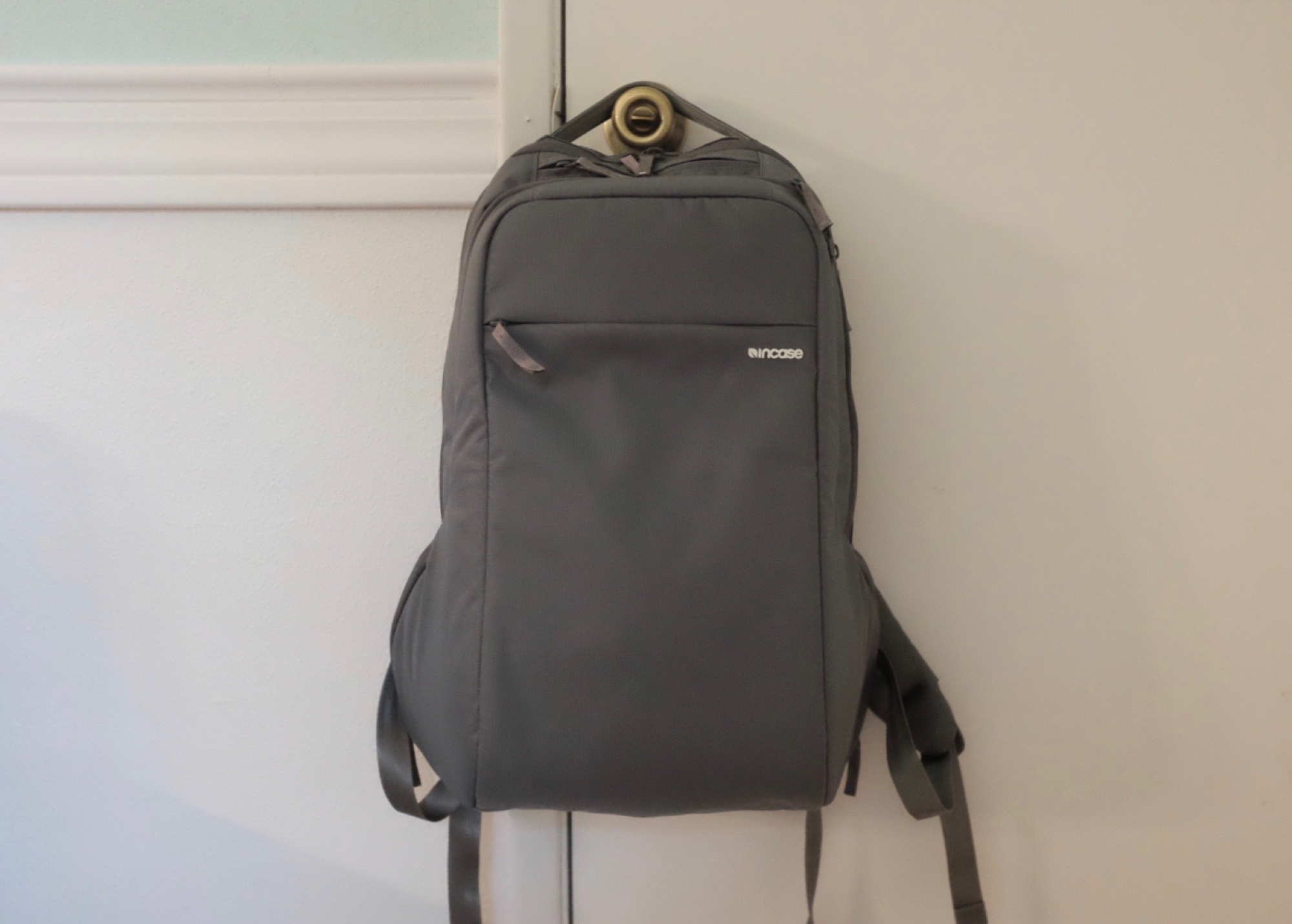 The bag itself is is a large backpack (bigger than the GORUCK GR1) which comes in a few color options (I selected gray) and is designed to hold a standard complement of gear: laptop, tablet, phone, cables, chargers, pens, notebook, etc. In fact most of these items have dedicated areas. This means the bag has a lot of zippers — which takes some getting used to — and given all the padding it is also fairly rigid in shape and form.
So whether the bag is full or empty, it doesn't often change the visual appearance of the bag. Surprisingly, the bag is very light when packed or empty. Most of the time, when a bag is designed in this manner, it weighs a lot when empty as the padding is just heavy. This is not the case with the ICON.
The ICON is $199 from Incase, which is about the average price for a bag like this. I wasn't sure what to expect build wise, but I am happy to report that it is well made. Overall, I have no concerns about the build quality — it feels very sturdy and made to last. I was initially very worried about this, but even on first touch those worries slipped away.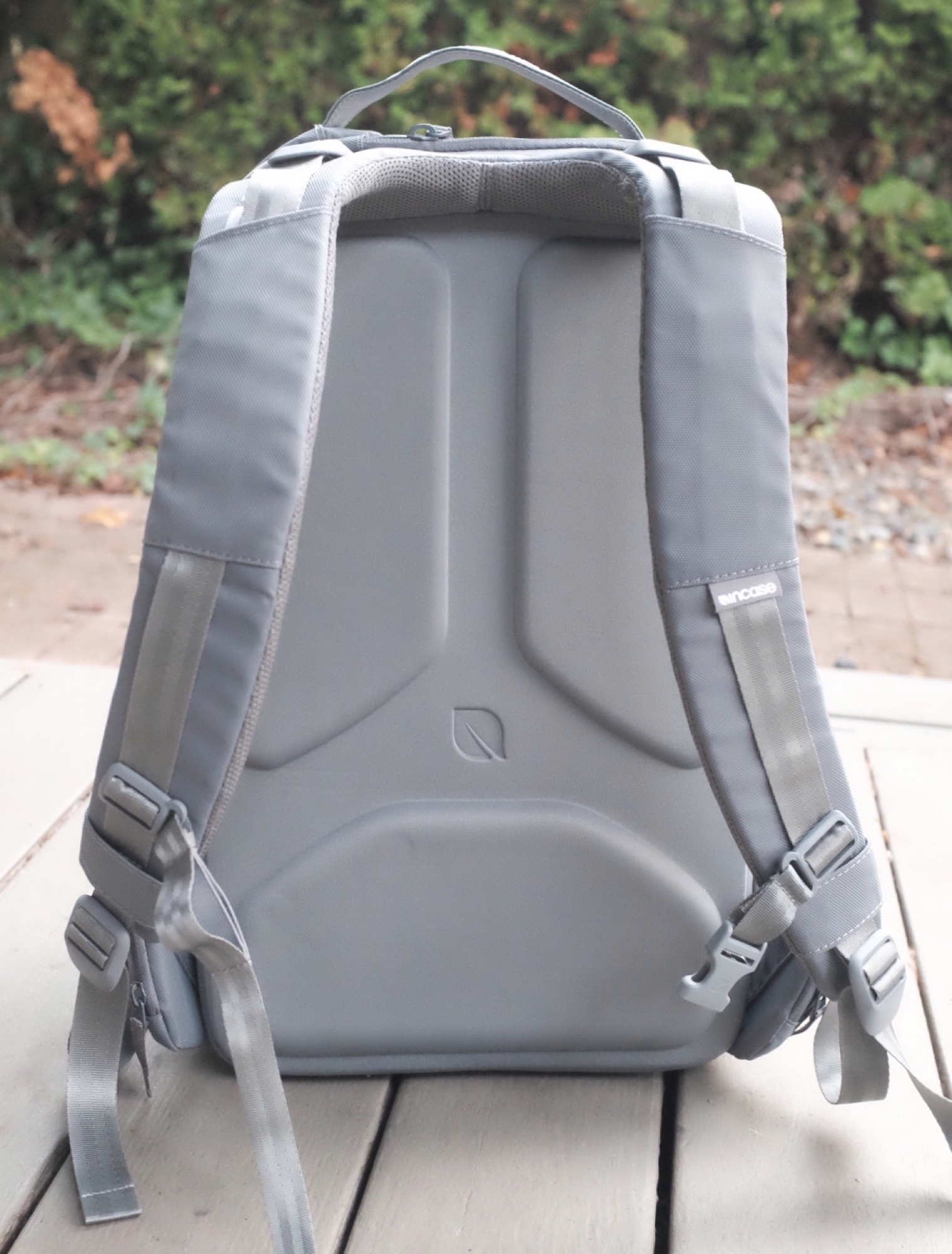 The straps are comfortable, but seems to sit a little wider on my shoulders than I am used to. That said it is not uncomfortable to wear for extended periods of time. The ICON ticks all the boxes, if you will, so it really comes down to how the bag works when you are out and about.
Let's dive right into that.
Coffee Shop Warrior
By far, the most common use case of any bag I own, is quick jaunts to alternate places for work. Coffee shops, libraries — just about anywhere I can sit reasonably comfortably for an hour or two. Typically, I take a very small complement of things with me: MacBook, iPhone, and headphones.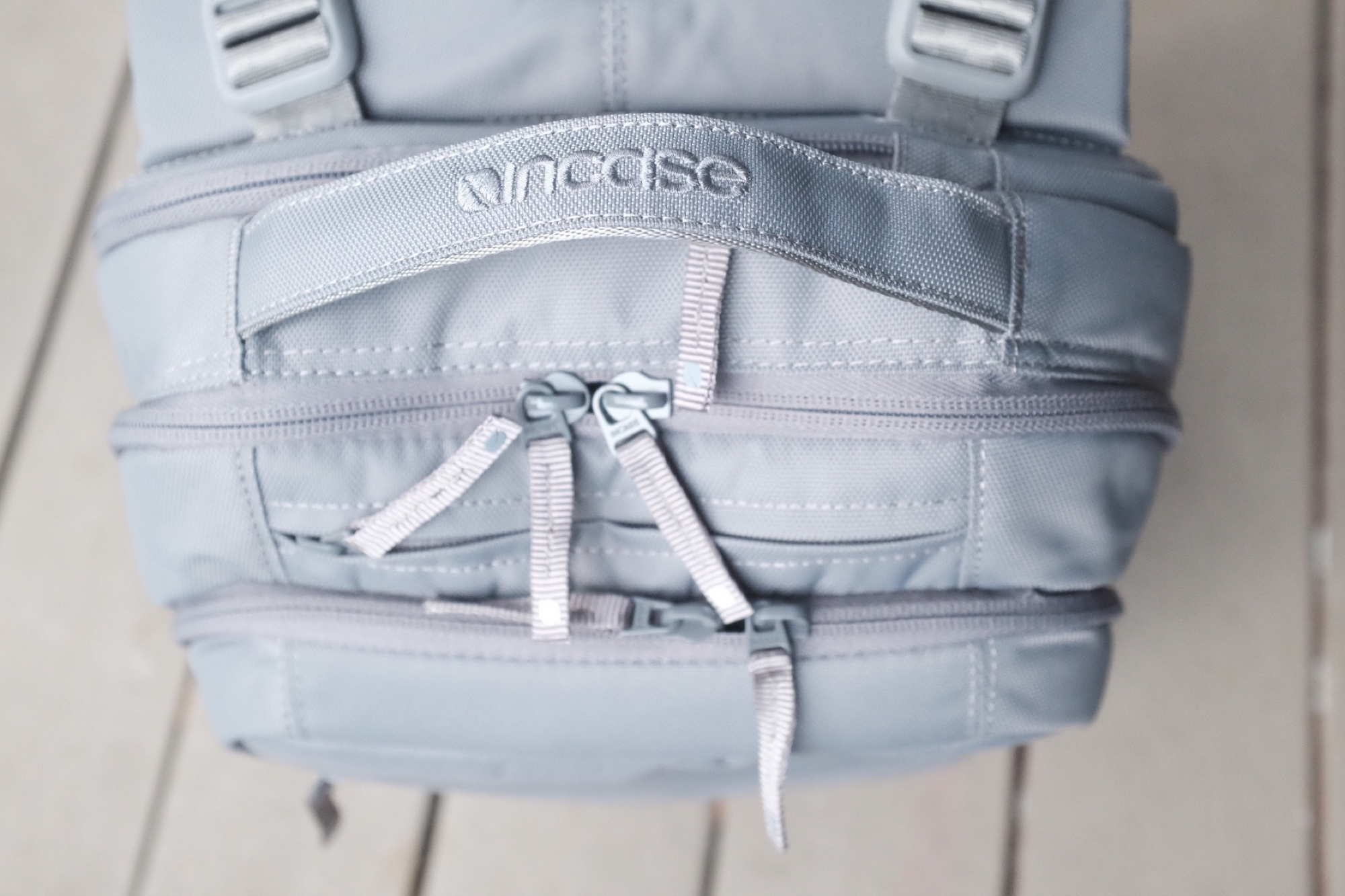 The first time I took that small complement of gear in the ICON I thought it was empty. So I started to load the bag up with cables, battery backups, my iPad, etc. I filled as many of the pockets as I could, and still some were empty. Even with all that gear, it felt light — a testament not only to how light our electronics are these days, but to how well this bag distributes load.
As a coffee shop bag, with my very small computer, I find that the ICON — like the GR1 — is overkill. It doesn't get in the way, but it is still far larger than I would care for and certainly much larger than I need. That said, it certainly looks smaller (and better) than most of the other bags I see people bring in to coffee shops, so it is not out of place.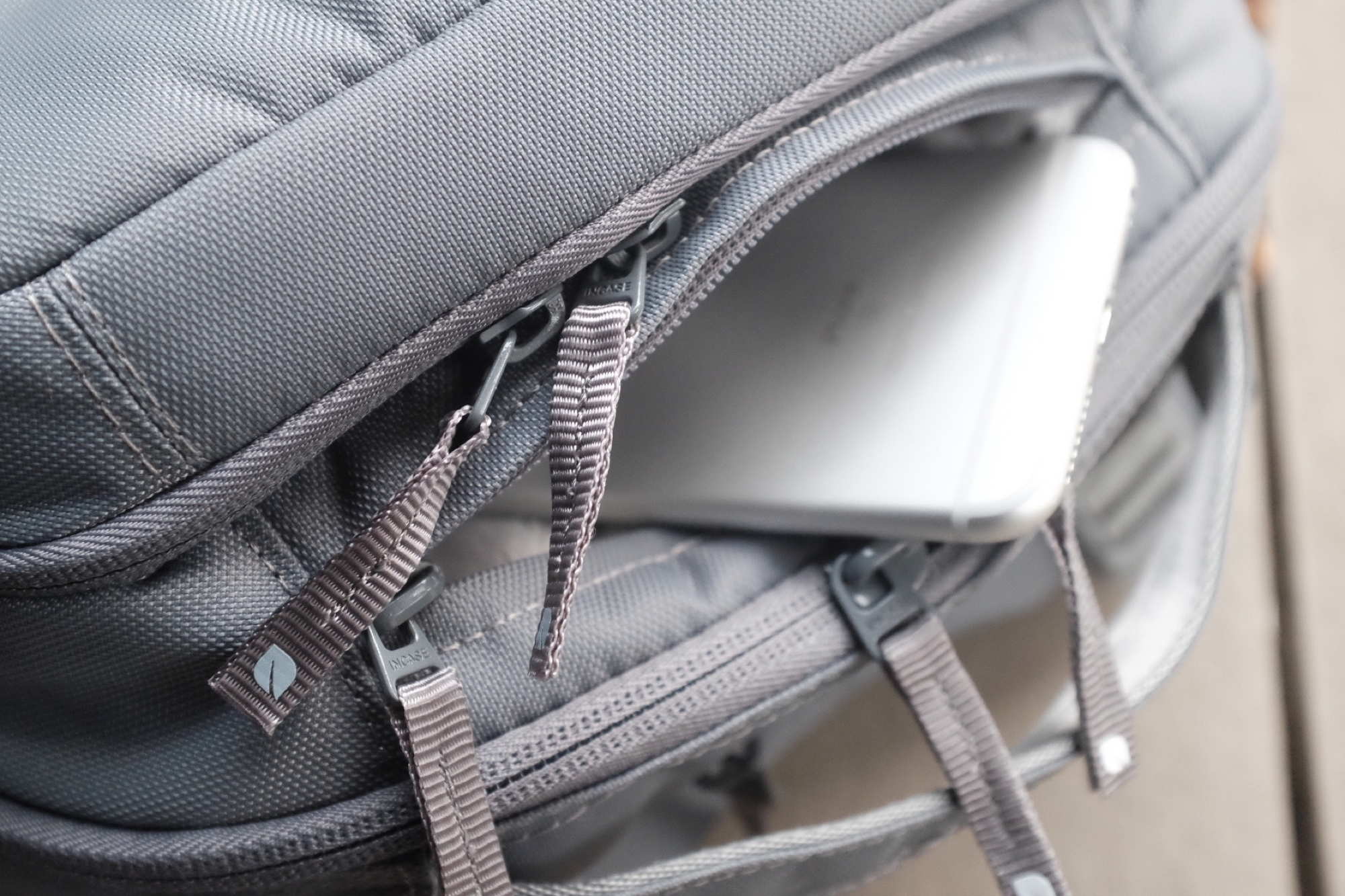 And as a little bonus, do to the rigidity, the ICON stands up by itself perfectly well so at least you are not constantly battling a large bag falling into walkways.
Business Traveller
Luckily, I had a short trip to take down to Texas while reviewing this bag. I opted to take only this bag for the trip (one night stay, two days). If I had to pack anything more than one spare change of clothes ,this bag would not have worked as my only bag at all — even though it is technically larger than the GR1.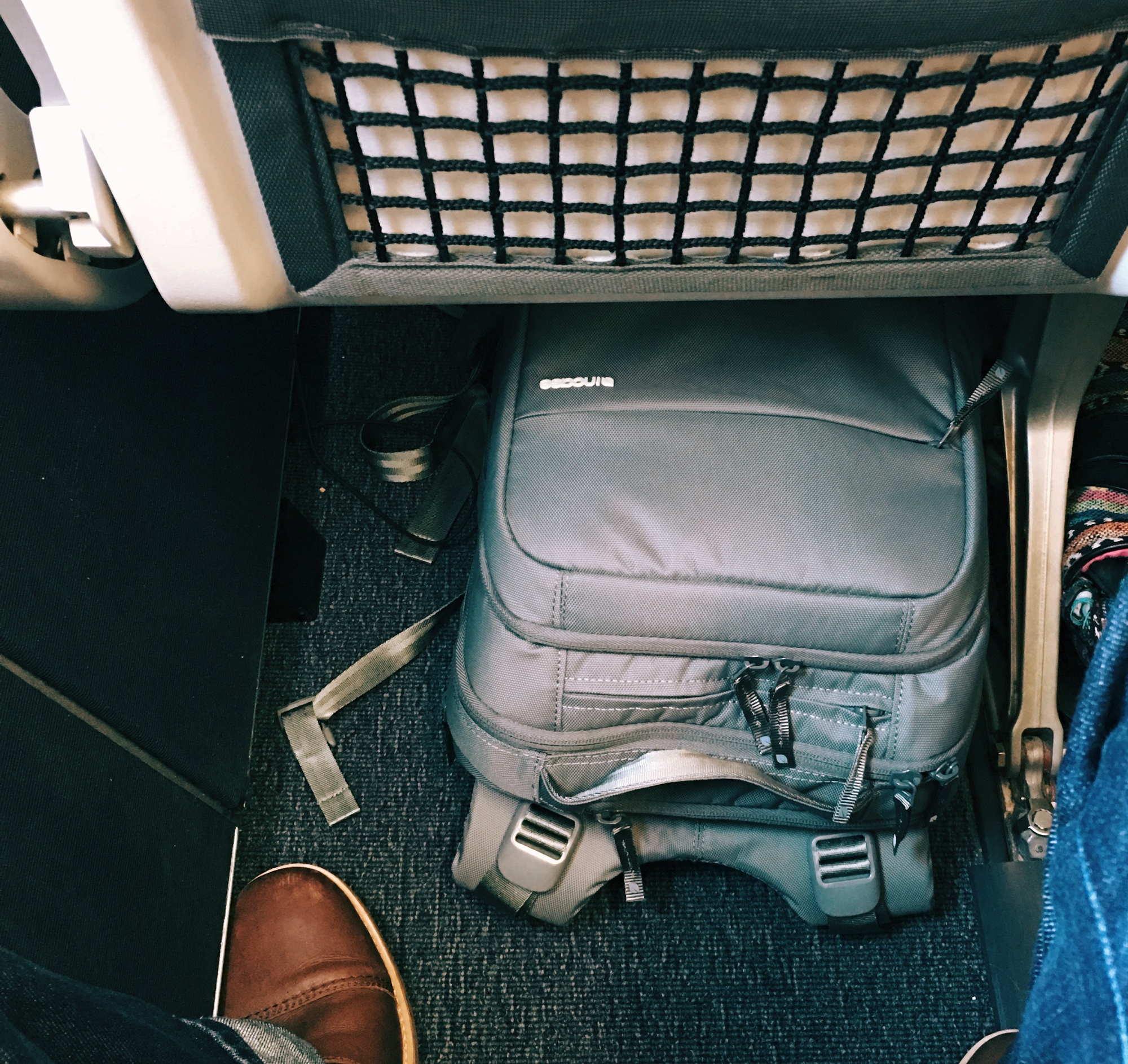 Additionally, I had to strip down my toiletries and leave out a few things more than normal — and my clothes were very wrinkled when I got there because I couldn't pack them in a neat fashion.
This bag is simply not made to carry clothes for trips like this. This bag is meant for your gear. And in that sense this bag was excellent during my travel.
It looked sharp, was comfortable on my back the entire time, worked well through security. Held all my gear, and held it securely the entire time — everything in its place. The ease of getting to the pens in the ICON turned out to be far more handy than I could have imagined.
I also found one of my favorite touches on the bag: the front pocket. At first I thought it was like any other front pocket, which is a slim area for stashing things like business cards and lip balm. But when looking for a place to stash my parking garage ticket, I noticed that there are two somewhat hidden internal pouches inside this front pocket. They are right at zipper level and hard to find at first. Made for holding small things like parking tickets, or business cards this is a quite clever couple of pockets. Even after all the travel I did, my parking garage ticket looked pristine when I pulled it out.
I love those two little pouches, what a fantastic touch.
Overall, as a travel bag, the ICON was excellent for gear and crappy for clothes. It's a lot different than the normal bags I use, but I found the excess of pockets and pouches to be great during travel. Almost everything I need was within reach, and stowed in such a way that nothing ever spilled out of my bag when I was grabbing headphones, or charging cables.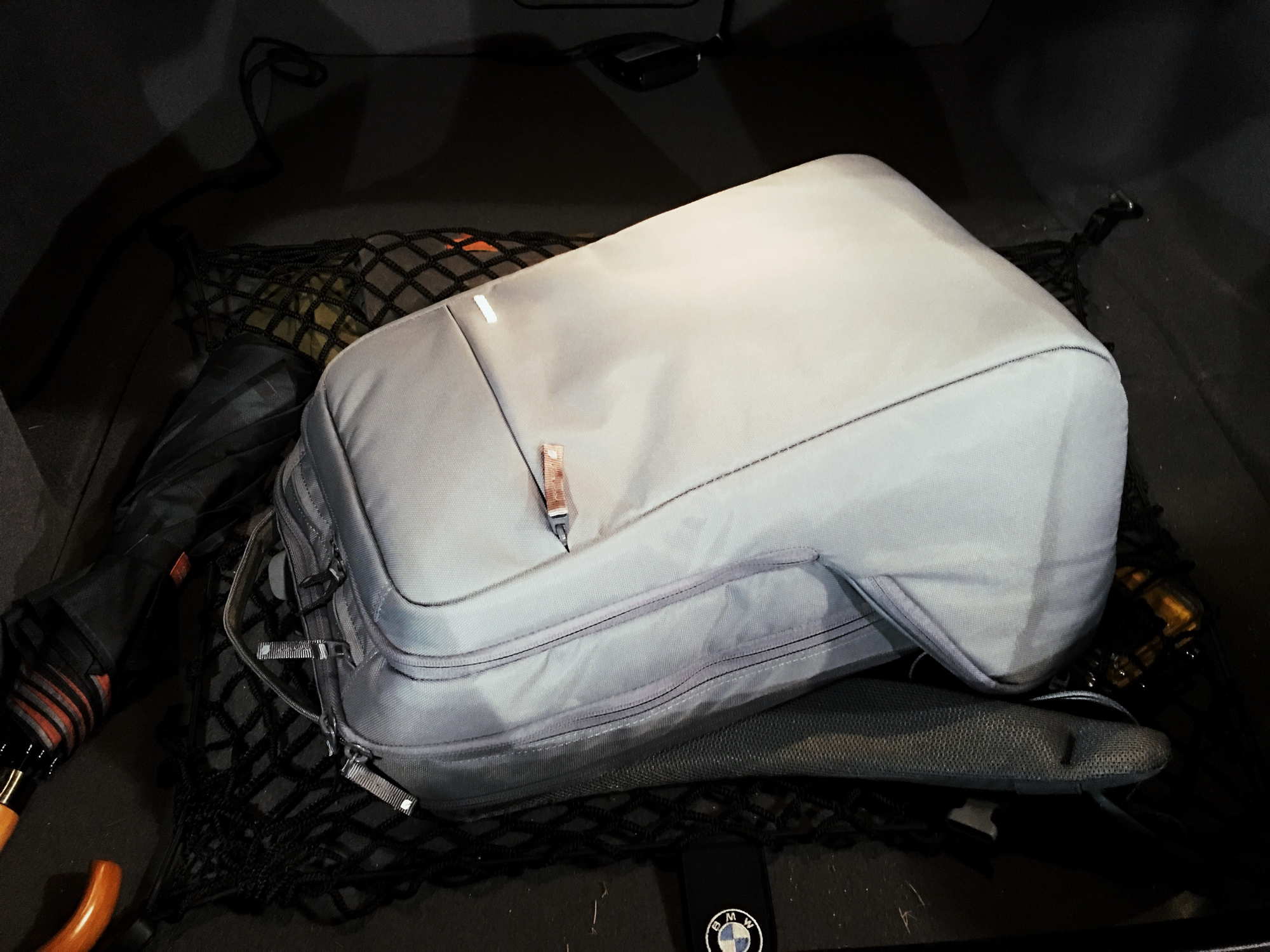 Carrying clothes aside, the only complaint I had about the bag during my travels was that it is much thicker than I am used to — there is a slim ICON though and that might be a better bag for such a light traveler like myself.
Gear Hauler
Hauling all your gear is exactly what this bag is meant for. And I can see a lot of people I know using this bag, as they carry an extraordinary amount of stuff with them.
If someone told me I had to pack up all my work electronics — nothing more — in just one bag, the Incase ICON would be the bag I choose. It is by far the most well equipped at carrying electronics gear of any bag I have tested and by far the bag that offers the best protection for that gear.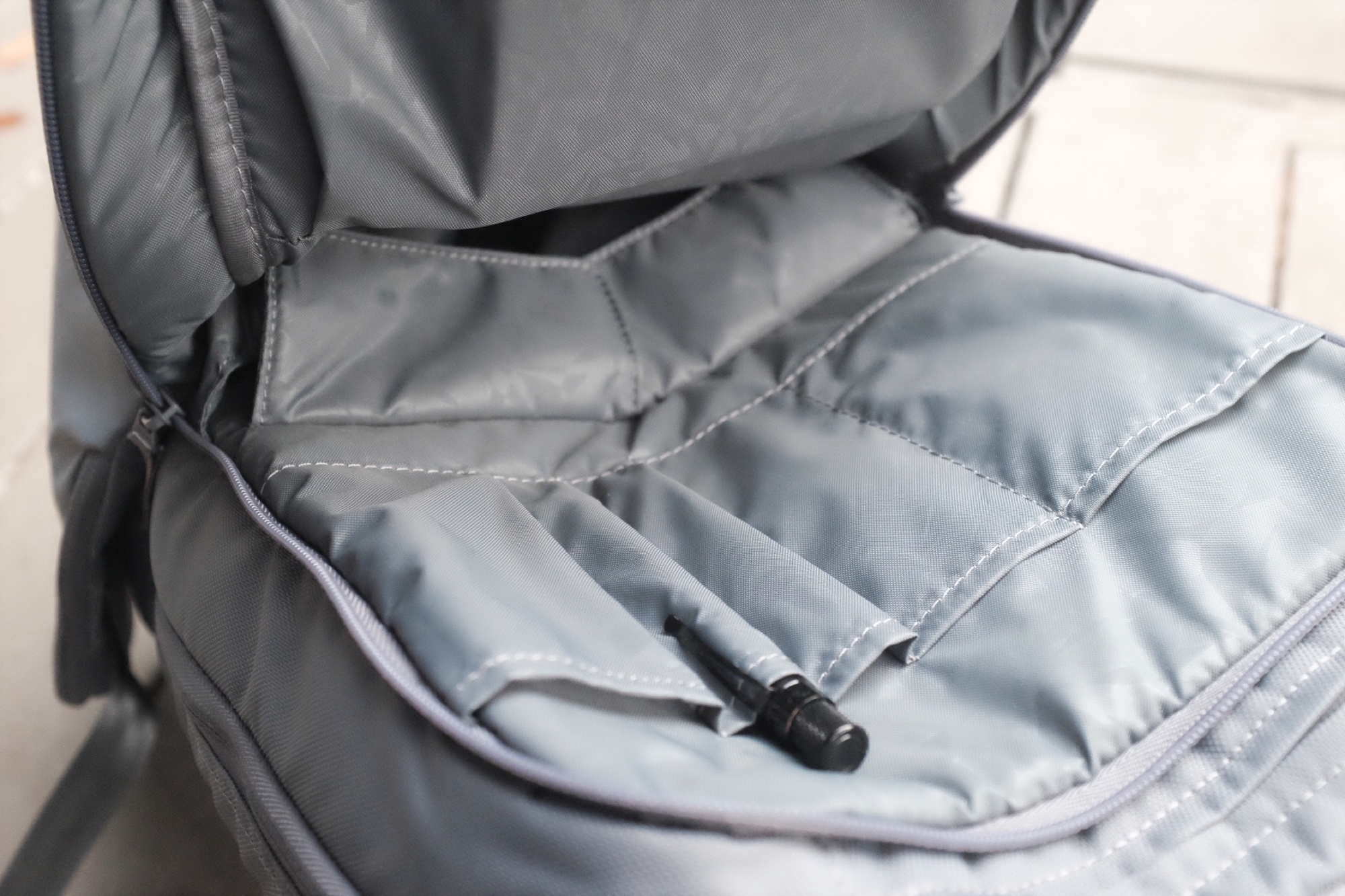 The ICON is not as versatile as a Smart Alec, or GORUCK. You won't be taking it hiking, or stuffing it full of clothes and a single iPad for a weekend away.
This is a bag for laptops, tablets, phones, cables, and more.
I think the larger open compartment is best reserved for a jacket, or a layer that you shed during the day — it is too cramped to keep your clothes from wrinkling, perhaps even a lunch. I could also see this area being easily used to hold a keyboard, and even the CODE will fit in there nicely.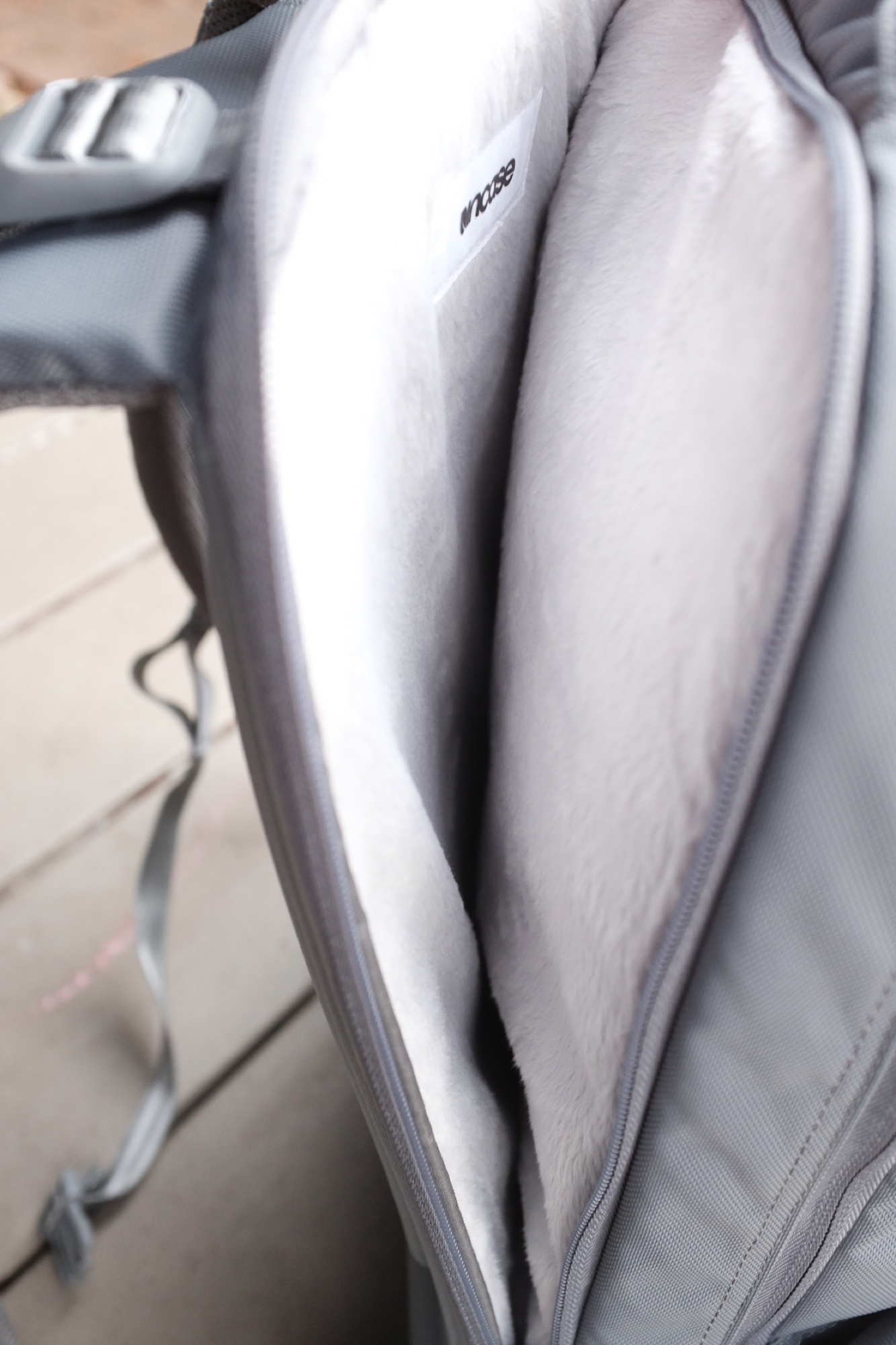 When it comes to hauling my digital gear — all of it — the GR1 and Smart Alec just can't touch this bag. It doesn't matter how many extra pockets I throw at the others, the ICON just holds electronics better.
Conclusion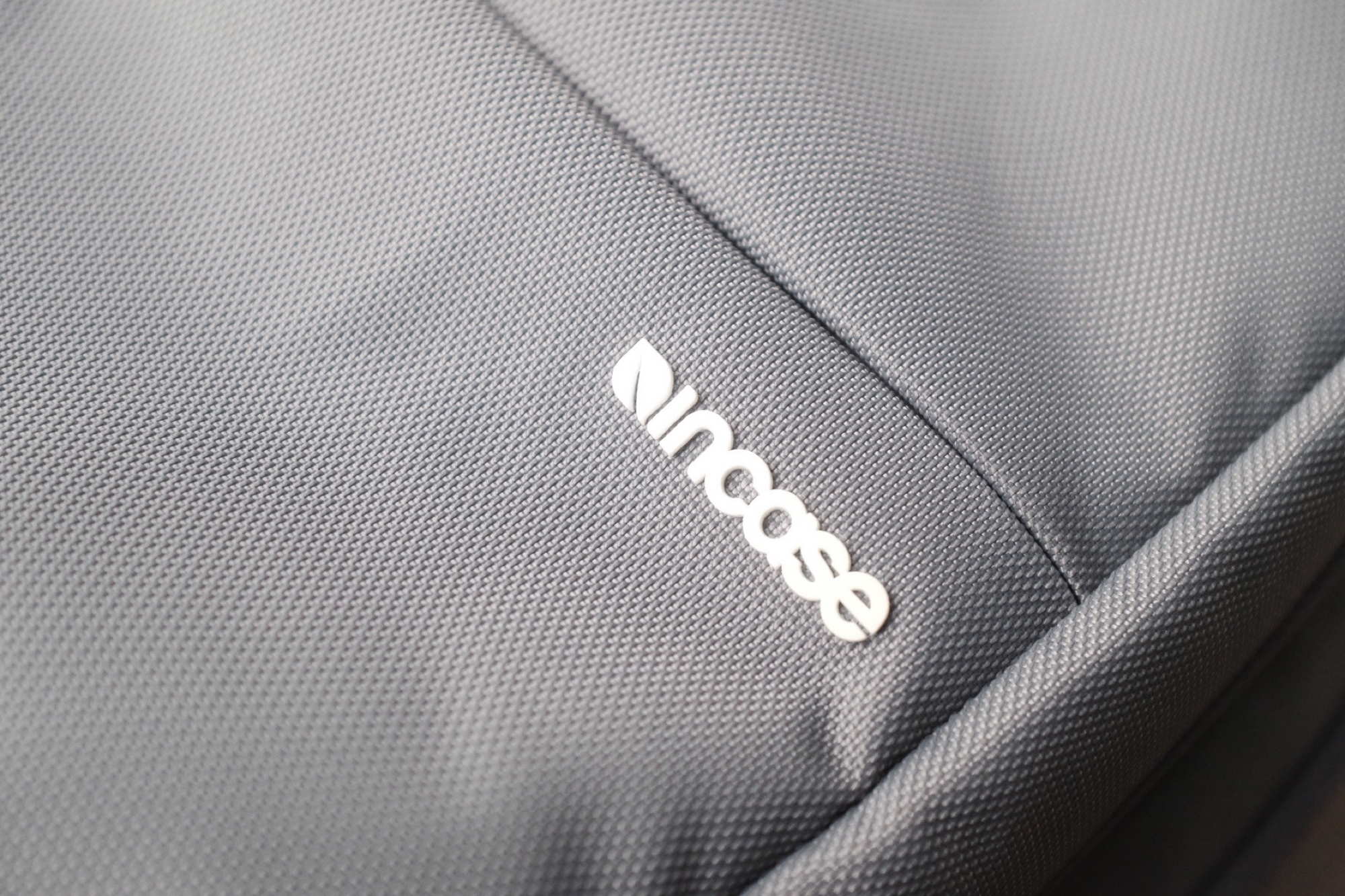 This bag is purpose built for your electronics gear, a notebook and a folder of papers. It's not made for clothing, or any other purpose. I won't fault this bag for that, but it is worth pointing out that many of the other bags I have reviewed do accommodate more clothing and gear for short weekend trips, while still being smaller in overall size than the ICON.
That is the tradeoff with this bag.
You end up with something larger, that is not as versatile, but that holds your electronics exceptionally well, and with the utmost protection. I wouldn't hesitate to recommend this bag to anyone that wants the best bag for hauling their digital life around.
You can grab an ICON from Incase, here. Incase has also setup a special promo code for Brooks Review readers to net you 20% off: BROOKSREVIEW20 (The code expires on 11/26/2015).