I looked through the archives yesterday and realized I never did a full review in the Daylight Backpack from Tom Bihn. All I wrote was a few poorly worded sentences on it, as part of a larger review. Which is a shame, and a mistake I want to correct now — because the Daylight Backpack is worthy of its own review.
The Daylight Backpack is an extremely simple bag, void of all padding, rigidity, and fanciness. It is a floppy mess of a bag when it is empty — which is perfect because it means you can easily stow it away when it is empty.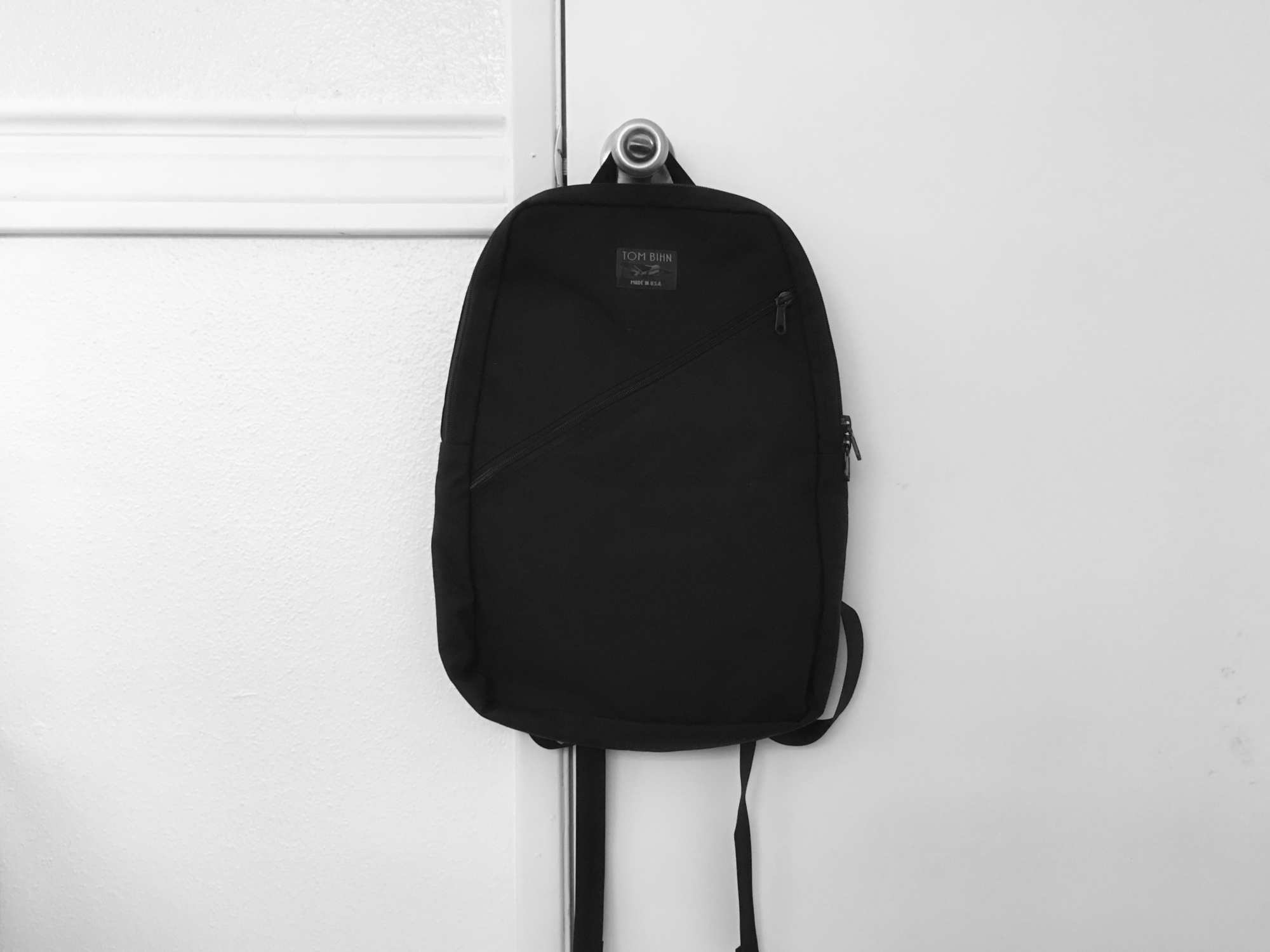 Which brings us to my primary use case for the bag: to take it with me on trips where I only want to take one bag, but might need a smaller bag for day excursions once I arrive. I use it a lot for this — taking it on almost all my trips.
I stuffed the Daylight Backpack inside another backpack traveling down to Florida, and then used it with the Tom Bihn Cache to take my computer and notebook to and from coffee shops (where I was working). It was fantastic, and is a fairly typical use case for me with this bag. Being able to bring along a smaller bag is really awesome when you are trying to keep your gear light. I've also never found a graceful way to have a backpack on, and a bag like an Aeronaut 30 in the airport.
Comfort
One of my biggest concerns with this bag was whether or not it would be comfortable. The straps are just straps — no padding at all. In fact, there is no padding anywhere in this bag. My concerns about comfort were never realized in all my uses of this bag. Even with the bag full, it is not uncomfortable to carry for a couple hours.
It's small size means it can never really get too heavy. You can never really overload it. And so it balances the modern comforts of most backpacks by forcing you to not over work the bag.
It can, however, get a little uneven on your back. Since there is no rigidity to the back of the bag, you have to be careful to not cause that surface to become too lumpy and uneven. If things get uneven it is like trying to sleep with a rock under your sleeping bag.
In my typical use of the bag, none of that comes into play and things are as comfortable as with any other bag. For the odd times when the bag is really full, it can get slightly less comfortable than a bag with more padding, but still better than having to tote another bag along with me.
Size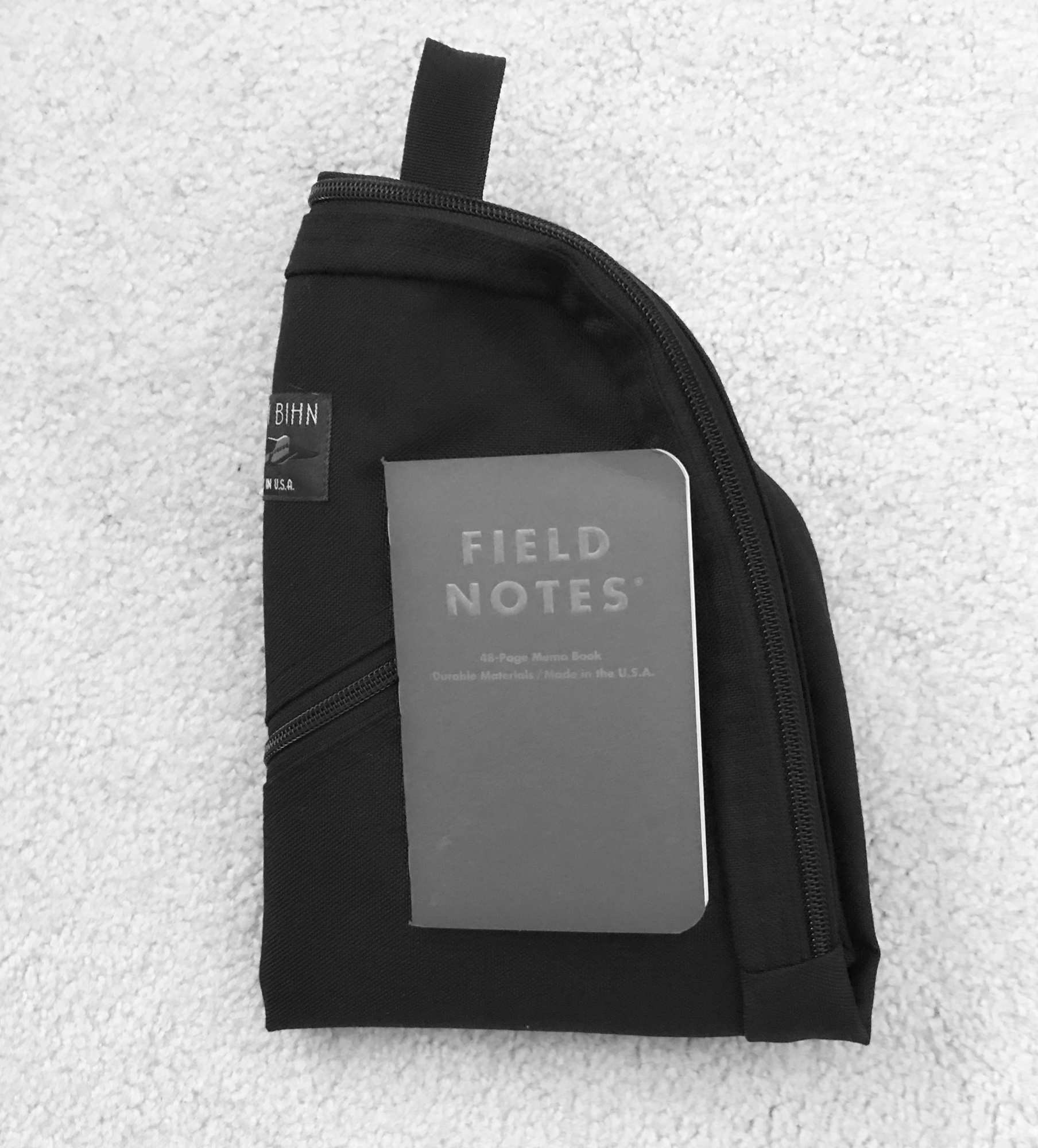 Tom Bihn pegs the bag at 16.5 liters of capacity, which is pretty large given that I can pack this inside most of the travel gear without noticing it. It's certainly larger than the Bullet Ruck I use most days.
When worn on my 6'-3" back, the Daylight Backpack doesn't look too goofy — no more so than that Bullet Ruck. The most striking part is how thin it sits on your back. The Bullet Ruck has far more depth to it than the Daylight Backpack has.
I wouldn't change the sizing at all. Any smaller and it would look like a child's backpack on me — any larger and I probably wouldn't pack it with me anymore. The size is basically perfect given how I use the bag.
Pockets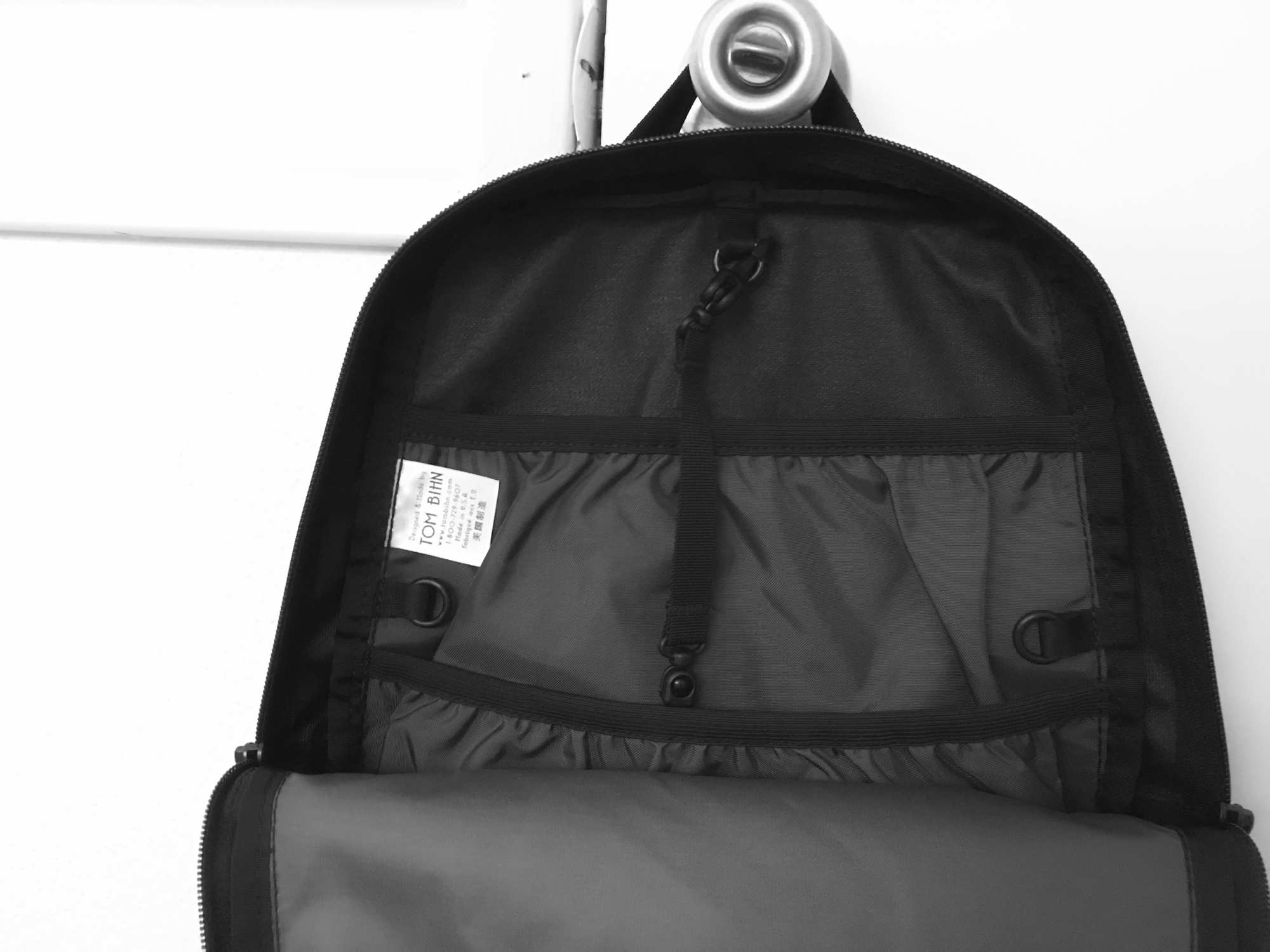 Two compartments and two pouches on this backpack is all you get. There's a large main compartment with dual zippers, which has two pouches (both full width) stitched to the back panel of the bag. Lastly there is a full-width diagonal pocket along the front, which can hold smaller items.
Anymore pockets and the bag wouldn't be as travel friendly as it is. I've found the two pouches inside the bag perfect for holding a laptop in a sleeve (this also doubles as padding for your back) and an iPad in the front pouch.
This is a minimal bag, and so it has minimal pockets. If you need more pockets, then the 'Tom Bihn way' of things, is to buy some of the accessory pockets to add in as many pockets as you need. Honestly, I would love for the bag to have one small pocket for pens — but I have never actually needed that pocket in practice so it likely is unnecessary.
Recommendation
I can't help but to love this little bag. It goes with me on a lot of my trips and it is usually the first bag I reach for when I just need a bag to stuff things in and send the kids off with grandparents.
It works well as a laptop bag (if you have a laptop sleeve) or for a bag to carry a couple rain jackets as you stroll through Pike Place Market.
All this makes me really want to try a Daylight Briefcase, but that will have to be for another time. ((Office is full of bags to review right now.))
If you are someone who rarely uses a backpack, but wants to have one around for those odd occasions you want to use one. Or if you are someone like me who likes to travel with just one travel bag, but wants a backpack when you get to your destination — the Daylight Backpack is a great option. I've not seen anything else quite like it out there.