Now that I have had some time to dive into the iPad Pro, and make it my primary machine, I wanted to look at the apps which really excel on the iPad Pro. The software, the apps more specifically, are what will really make or break the iPad Pro in the long run, as the hardware is all there and the accessories are all there as well. Whether the device succeeds or not is resting on the shoulders of the software for a change.
This isn't just about new apps either, this is about any app out there which makes a better experience on the iPad Pro. This could be a stock app, or some new app you have never tried.
Ok, on to the apps.
Mail
I know a lot of people love other tools for email, but for me Mail is such a consistently solid app, that it is my pick for email on OS X and iOS. While Mail is solid on the iPad, it really is good on the iPad Pro. The only reason is the white space.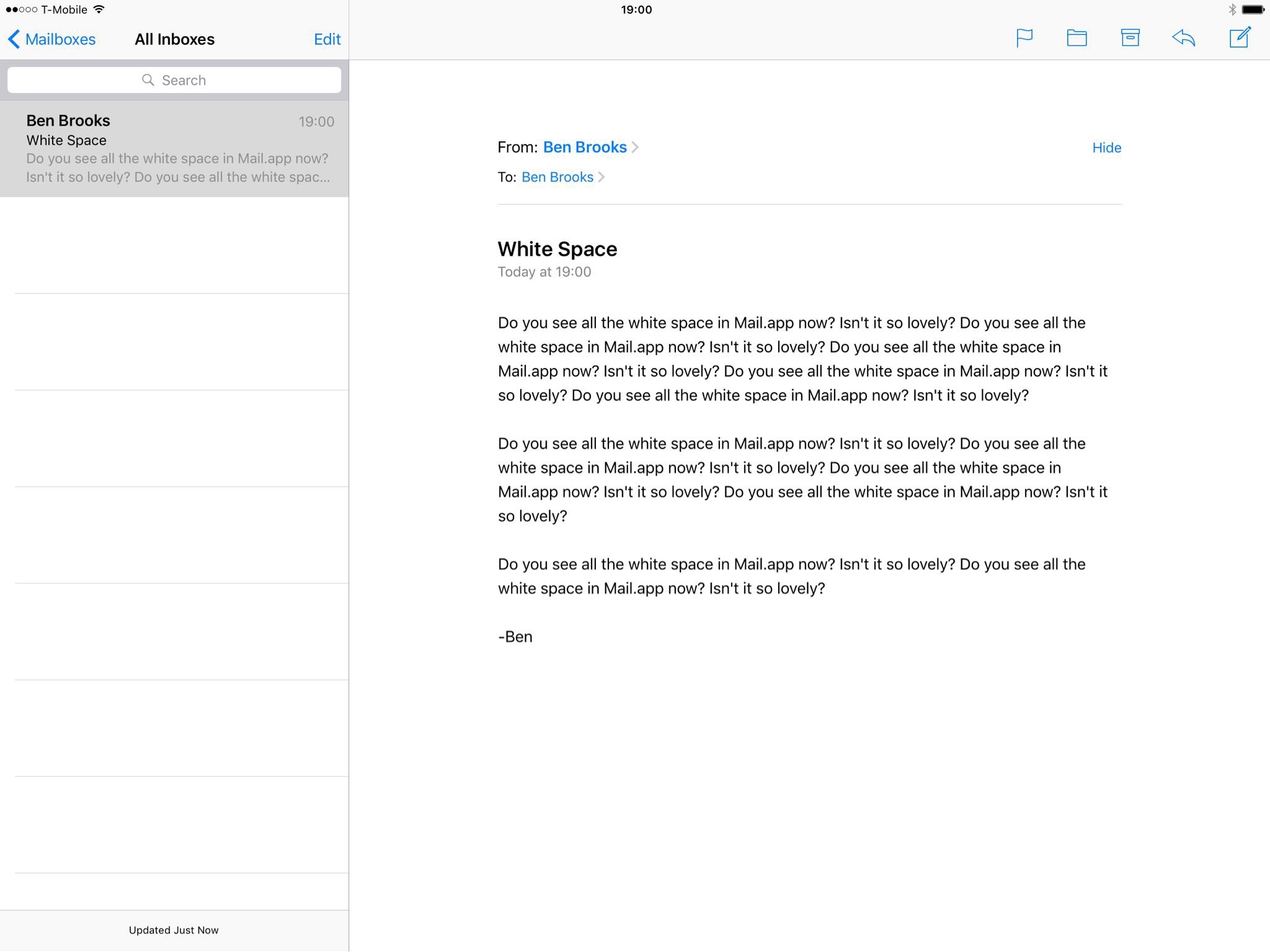 What I love about Mail on the iPad Pro is strictly how good email messages look in them. Tons of room to let that text breathe. So pretty.
OmniOutliner
I've long been a fan of OmniOutliner and it has long been my go to for outlining. Everything about OmniOutliner on the iPad is great, but what is really great is tossing it in a small split view so that you can look right at your outline as you write through the draft.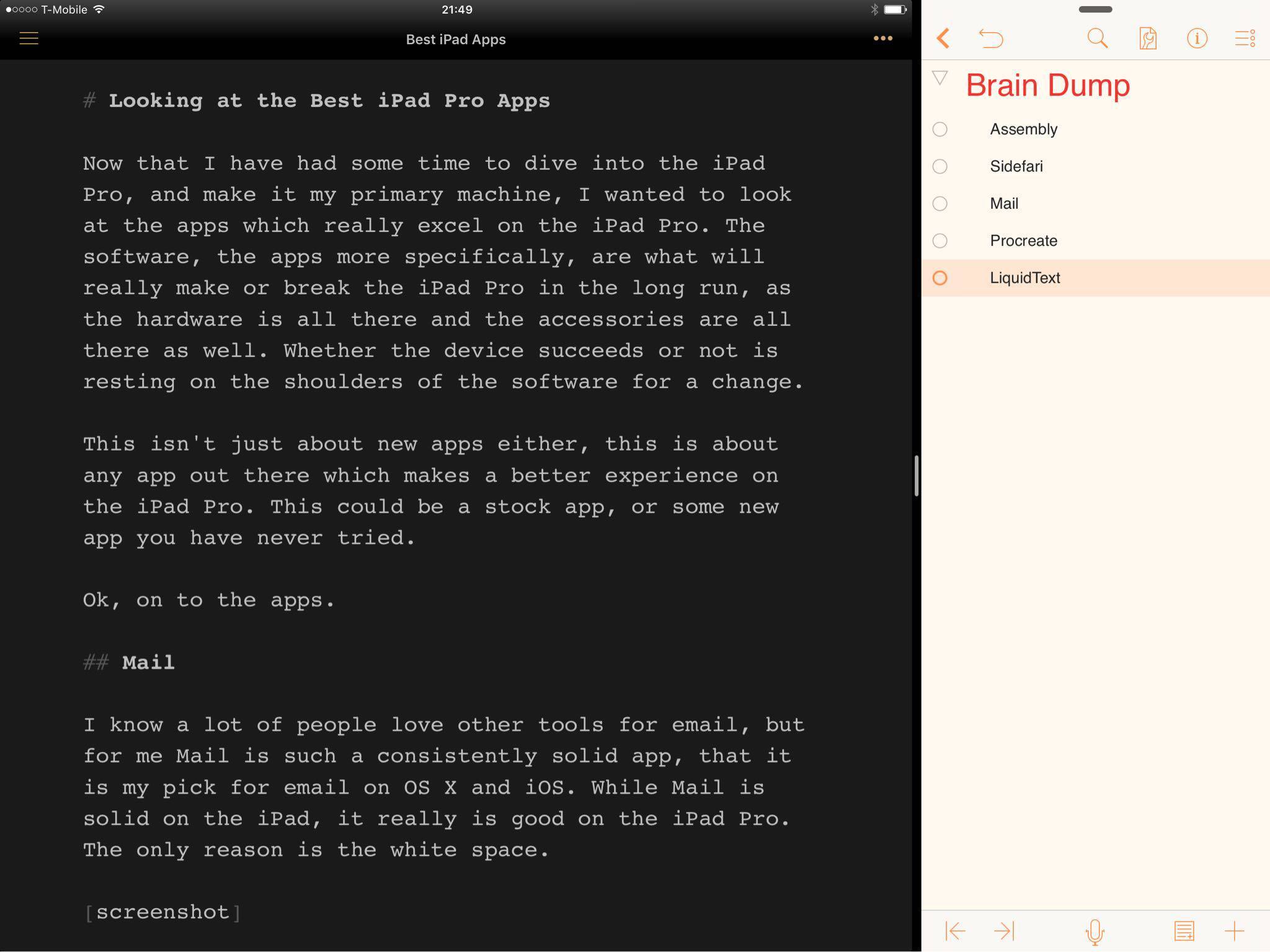 I do this almost everyday and it really is fantastic. It fits really well with how I like to write.
Fiery Feeds
I've been using Reeder a lot, but it hasn't been updated for the iPad Pro yet, and so I switched over to Fiery Feeds for the iPad Pro. I am really liking the app so far. I don't care as much for it as a full screen app as I do for a half screen app — putting Safari on the second view.
The mark all as read view looks great, with the blurred vibrancy look applied to the background — it makes me keep that dialog turned on. Be sure to try out Fiery Feeds.
Byword
I don't love Byword, and I have never been a big fan of the app. That said, I cannot deny the fact it is the most polished writing app of its kind for the iPad Pro. It's my go to app for writing now and it is solid. Very solid.
There's some really dated looks to it, like the gradient of the menu bar, but those things aside — I would be lost on the iPad Pro without this app.
1Writer
Initially I jumped on the 1Writer band wagon when I started on the iPad Pro, and I agree with almost everything Viticci said about it in his review. If you follow me on Twitter, then you saw my rant about 1Writer losing a document of mine. Which is true, I lost a 1,500 word document for seemingly no reason.
What I didn't mention is that I am using iOS 9.2 b4 on my iPad, so it very well could be an issue with the beta version of iOS. 1Writer has been solid other than that one instant. I don't love the UI, but it is a very powerful tool like Editorial, except unlike Editorial it works on the iPad Pro.
It's just a good app all around. I wish it had better workflow building tools like Editorial does, but it is a smartly made app. Labeling the file names with date and time stamps is far better than the 'untitled' label so many other apps use.
Procreate
Initially I wasn't going to download this app, as I have plenty of other sketching apps. It was Gus Mueller who convinced me to download it and I do not regret that at all. It blew me away.
When I got the Apple Pencil I was underwhelmed at first. Not because it is a bad tool, but I just didn't find myself pulled to use it. And then I opened Procreate, grabbed the HB Pencil and proceeded to lose about an hour of time sketching with a stupid grin on my face. Erin didn't have the same reaction as me, but she also thinks this iPad Pro is dumb.
Procreate is amazing, if you only can get one thing on this list, make it Procreate.
Slack
Slack is crappy on the desktop, and far better on iOS. The iPad Pro variant is easily the best. I had my Mac running alongside my iPad Pro the other day and opened Slack on both of them — I was amazed how much more I preferred the iPad Pro display of Slack to the Mac variant. It's a big difference and it is for the better on iOS.
I'd love some more keyboard shortcuts to make it closer to what you have on the Mac, but that is nitpicking.
There is a serious bug with editing messages where you will post duplicate messages when you attempt to edit — which drives me mad, but it is surmountable.
But, I found another little Slack trick I love on iOS: use the in-app browser. With the new way in-app browsers work, this is a really nice thing for continuity with Slack. It's a much better solution for me, as I always hated jumping out to Safari — even on the Mac client. Now I can stay in the app and not have a ton of extra tabs floating around in Safari.
Notability
I used Notability a lot in the past for notes on my iPad, but it had fallen by the wayside in my workflow. I did pull it up on the iPad Pro and it is a very solid offering. Procreate is more about drawing and sketching, whereas Notability is all about note taking. It's not ideal, but I think it is a really good app and I am certainly going to look at taking notes on it.
I haven't found another app for hand written notes on the iPad Pro which works as well as Notability.
Numbers
Nothing loves a big screen like a spreadsheet. Say what you will about Numbers, but nothing makes the iPad feel Pro like edge to edge cells of numbers.
Seriously, though, Numbers is a great app if you have to use spreadsheets.
Hangouts
Yes, a Google app. I don't care about any of the text capabilities, but the video Hangouts I do with me teams three times a week are far and away better on the iPad Pro than my MacBook — hell the FaceTime camera is better on the iPad Pro. It works a lot better than video Hangouts in a browser.
Coda
Coda is a legitimate full-time website building tool on the iPad Pro. It's that good. I love it on the Mac, and I love it just as much on the iPad. A lot of people I know who work on websites for a living are considering an iPad Pro with Coda and I think that says more than I can.
OmniGraffle
I really don't flowchart out things often, and I don't even own OmniGraffle on the Mac. But I love to make flow charts which amuse me in the app. It's just such a fun app — I really should learn to use it for something productive, but damn if it doesn't make me laugh. It's pricey, but OmniGraffle 2 is fun.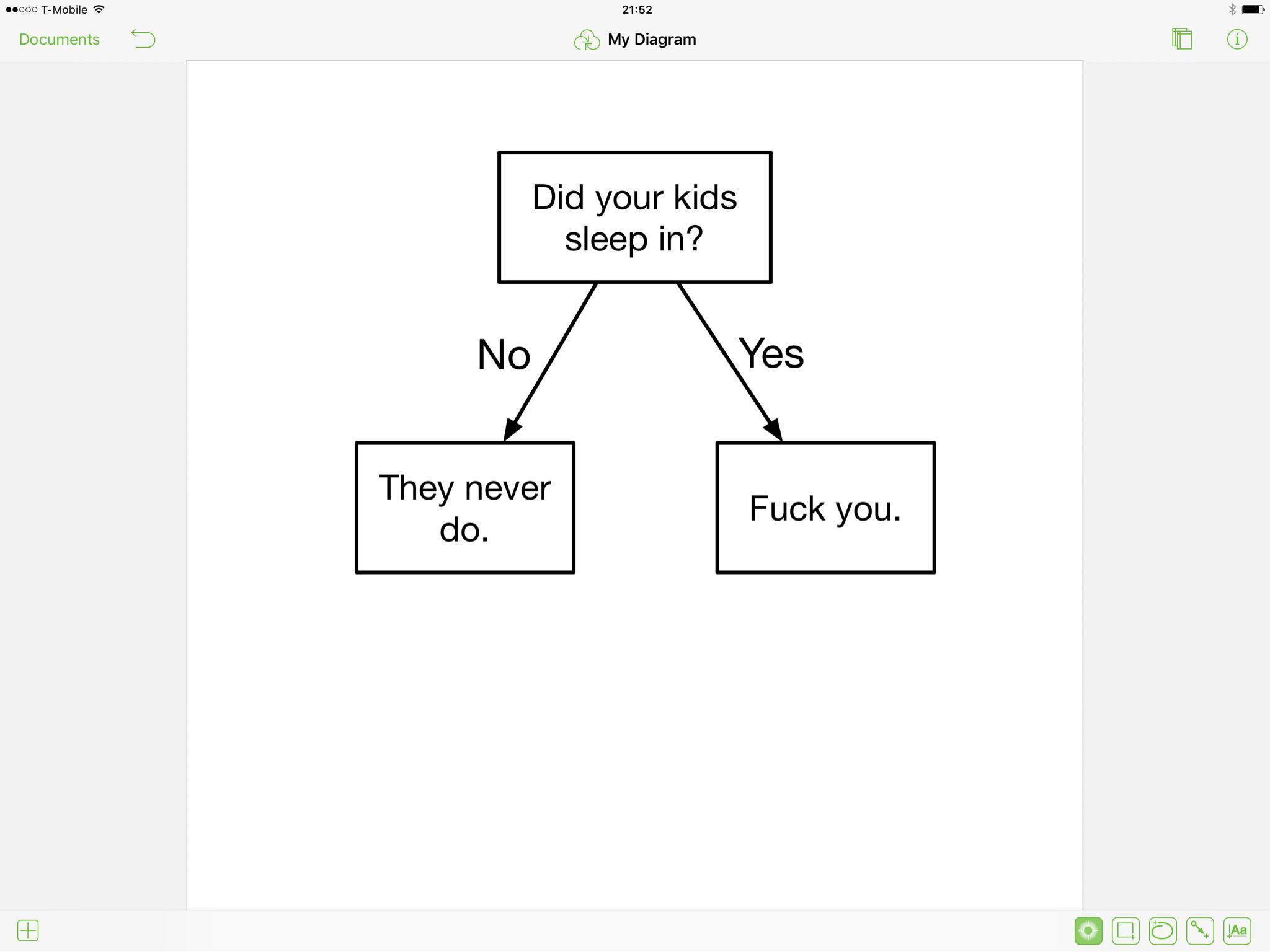 OmniPlan
OmniPlan 2 I use off and on for planning out product roadmaps and seeing how many people I will and will not need for the work ahead. It's just such a better app on the iPad than it is on the Mac. And on the iPad Pro it is really sweet. It was needed the extra screen space and the app delivers on fulfilling the extra screen.
Nothing makes a project manager feel good like a large view of a Gantt chart.
OmniFocus
Yeah, you knew this would be on the list. Of course it is. What I love is putting it in split-view and getting the iPhone layout beside the app I am working in.
A lot of people have long said OmniFocus 2 is best on the iPad, and that's true, but it's also really good on the iPhone. With split-view you can have the best of both worlds and it's OmniFocus, of course it is good.
LiquidText
I've long been a fan of PDFExpert, but I was encouraged to try LiquidText and man is it nice. But, and this is a big but, it is the Apple Pencil which makes it so great.
If I had to edit and comment on things in PDF format, I would be gushing about this app. From what I can tell in my limited use, it's a good app. I need to play with it more, but I am mentioning it now because it left a really good impression with me. It shows uses for the Pencil beyond sketching. This is a pure productivity app which is made better with the Pencil.
Assembly
This is another app which Apple has been promoting. It's basically a bunch of shapes which you can place to make into something. Assembly mentions it is for people who don't draw, but I think this is underselling the app. It's pretty fun to just play around with and I could see it being a neat tool for getting some fast graphics into mock ups.
I bet my kids would love it.
Sidefari
Yes. Yes. Hell yes. How else are you going to browse two websites side-by-side? Sidefari is how. You may laugh and wonder why you would ever want this, but trust me — if you spend half a day on an iPad you will see why this is a great app to have on hand.
Apple should have made this, but they didn't and I am glad someone else did.
---
This is a short list, but there are some really good apps to just get out the door. I really can't wait to see what we have in another month. I am guessing the power software is coming to iPad Pro faster than many expected and certainly faster than I expected.