Note: Tom Bihn sent me the Yeoman Duffel bag for review purposes. No agreements were made as to what that review may or may not look like, as is my standard practice I retain full editorial control.
I've always liked the idea of big duffel bags, or duffel bags in general, as there is something about the look of them that draws me in. Something about the idea of just throwing everything in that huge expanse, zipping it shut and heading off. Perhaps it is because I travel minimally and pack tightly and neatly in very small bags, that the idea of having copious amounts of space in which to pack seems like freedom.
I'm not sure.
I do have a small, classic looking, duffel bag which I have been using for years on weekend getaways. I transitioned it to be the bag for Sloane's travel stuff when she was born, but with two kids it has become way too small.
I have another duffel too, but it's a tad too large to be all that useful (it does hold all my hiking gear pretty well though).
Of course, we are here to talk about the Tom Bihn Yeoman Duffel. And the first thing we have to talk about is the name, because I love the name more than a person should love the name of any bag. For some reason it makes me think of the duffel bags used on Star Trek Enterprise, but that's probably because I have been watching a lot of Star Trek recently.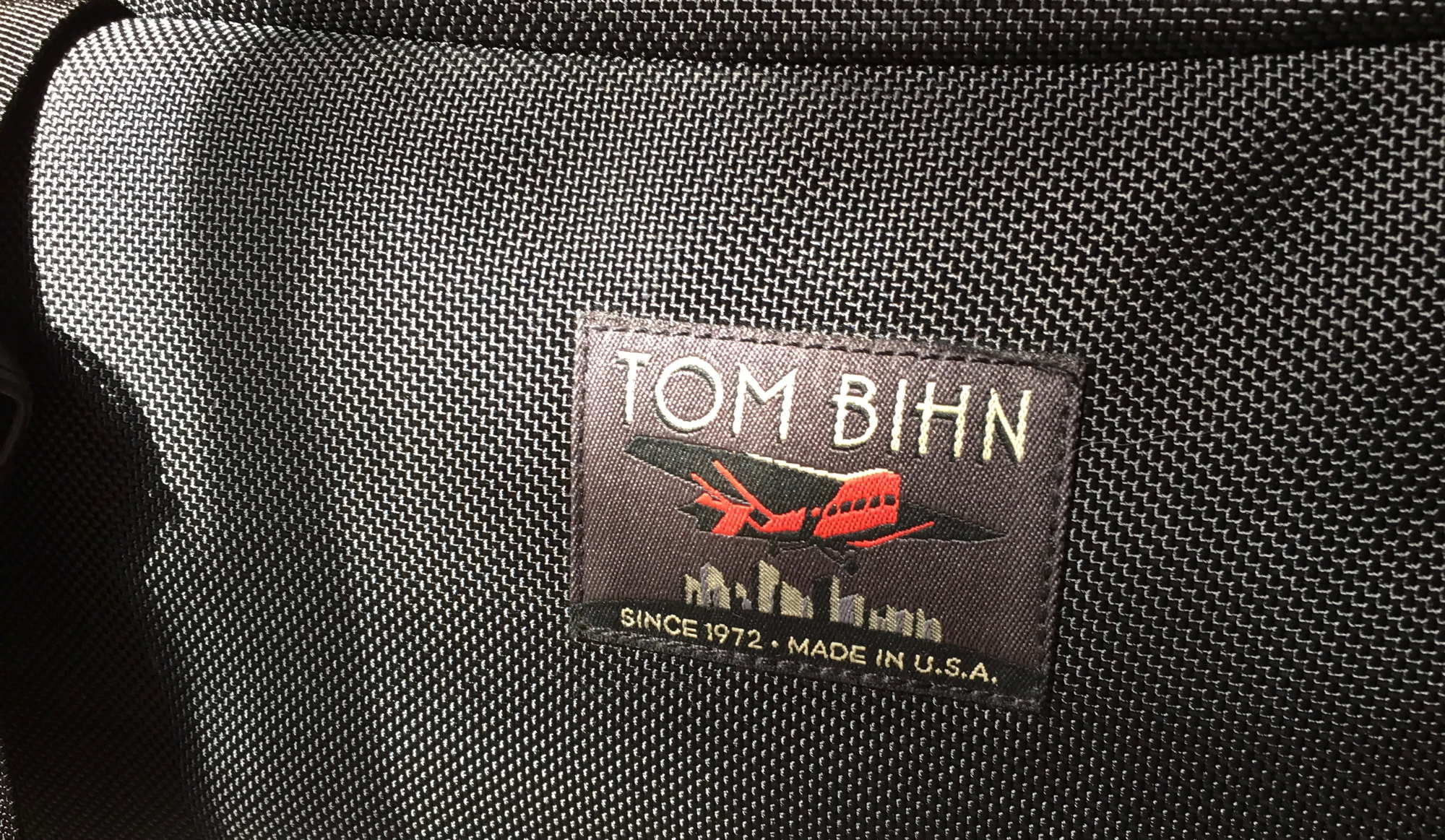 When the duffel arrived at my house, I sent Tom Bihn an email to confirm that I had received it, and I also noted:
"Man is this duffel huge! Not sure what to use it for just yet, but I cleaned out four other backpacks into it. I can't believe the size."
And at 71 liters, while only half the size of my North Face duffel, it is a huge bag. Most bags I talk about here are 27 liters or smaller. Even at more than twice the size of most bags I review, the Yeoman doesn't appear to be a large bag, with an appearance roughly equal to that of your average roll aboard bag.
I wasn't joking in my comment to Tom Bihn either — I did dump four backpacks full of crap into it, and it still had tons of room. While being impressed with the size, I also felt lucky I had not committed a review of the bag, because I honestly had no clue what to do with the bag.
Of course, I found a use for the bag, otherwise we would not be here today to talk about it. The use I found was packing for a trip that snuck up on my wife and I way faster than it should have.
We had been planning to head to Florida with our kids for Halloween in order to celebrate our niece's first birthday with the family. Planning began over the summer — we had tickets back in August — then we kind of forgot about the trip. So come Thursday — the day before we were set to leave — we had nothing packed or planned other than flights and hotels. I was a bit frantic as I am not one to leave these matters for the last minute.
There was also a bigger problem, because we are deep in fall in the Pacific Northwest and Florida is, decidedly not. We had to pull out summer clothes from storage, and go through it for what would still fit and plan a wardrobe with adequate spares for the kids. A daunting thought so close to departure.
When I travel alone, I am minimal and light, never checking a bag and making do with as little as possible. However, when I travel with family we usually check 1-3 bags, so it is always a large shift for me. Because of this I always have to do bag shuffles as I travel more often solo than as a family.
So off I went to grab a roller bag and to pack the kids, but instead I came back with a large box from our garage. I then proceeded to dump everything from the Yeoman into the box. My wife and I basically then just dumped all our kids summer clothes into the Yeoman, added diapers, and for good measure I added my extra clothing. ((Coincidentally I was testing another bag on this trip that was meant for 1 day trips, so I couldn't pack all my own stuff in my personal bag.)) Because we were both lazy and pressed for time, this seemed like a pretty good way to pack for this particular trip and still get the kids to bed on time.
Over the next 6 hours I proceeded to shove even more stuff in the Yeoman. At one point I thought: oh shit, I wonder if I can even pick up this bag. Turns out, the bag felt lighter than my carry-on, so I kept cramming things into it — I had to check the bag anyways, so why not fill it? Clothes are light, as was everything else I put in the bag, but even then it still had plenty of room.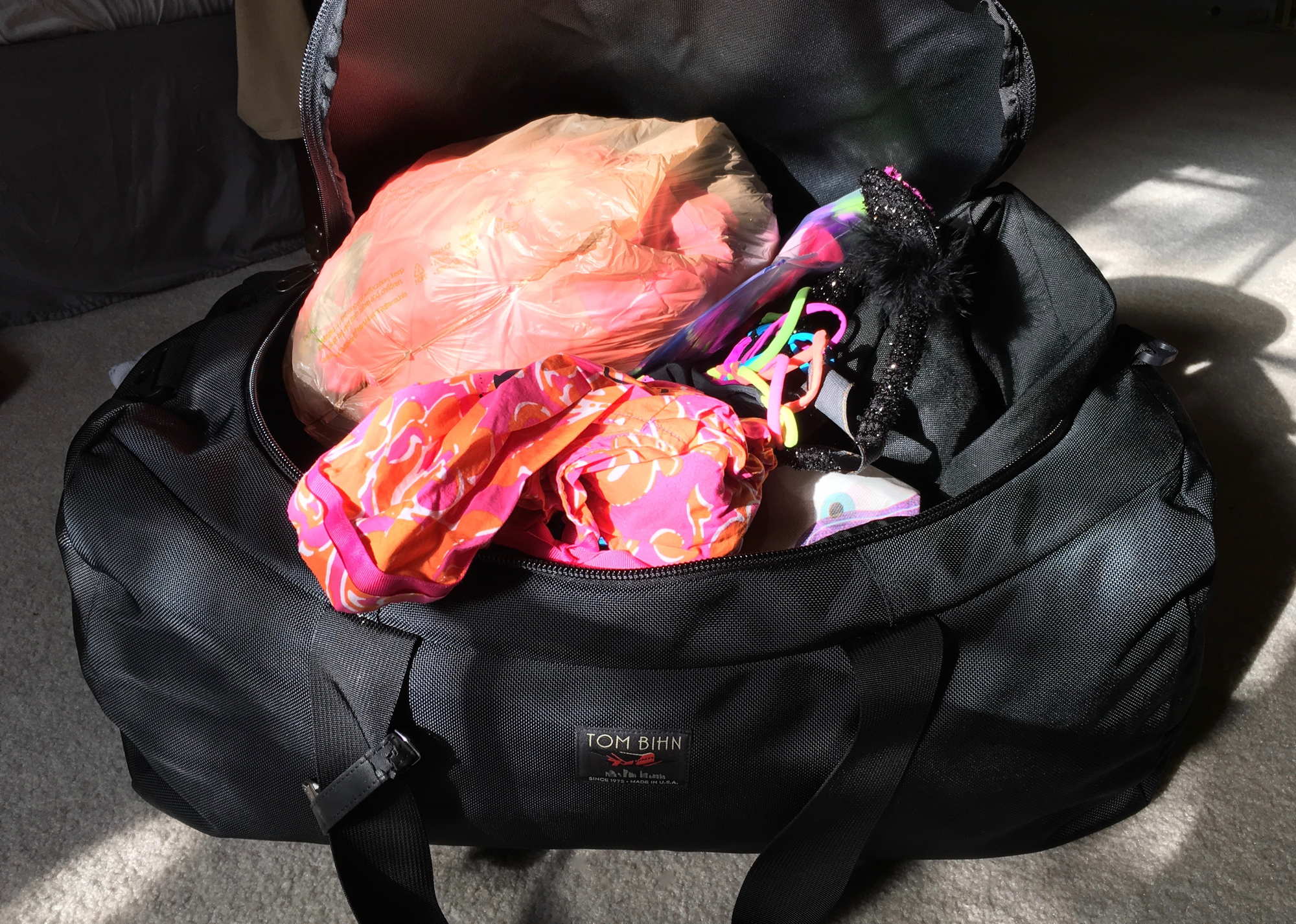 Obviously we checked the Yeoman, which is something it isn't primarily designed for, but taking off the shoulder strap streamlines the bag pretty well. My only concern was the zippers coming open and spilling the contents across the tarmac. The Yeoman, however, arrived in Florida no worse for wear and with everything still inside.
When we packed again in Florida in preparation of heading home, we literally started by just shoving stuff into the bag. Which my wife told me was no way to pack clothes, so she diligently folded them all. Even with that, the buckets for trick or treating, the candy gained, the other goodies they had to have — I even put back in more of my goods to lighten my load on the plane — with all of that it held it all. Not only did the Yeoman hold it all, it held it all with room to spare.
Astounding. ((Any parent will know how killer that really is.))
---
A Note About Duffel Bags
A duffel bag is probably something you have used a lot, but maybe not since you had daily athletic practices in school. And so you probably have forgotten a few things about them, which I think are worth pointing out (albeit they are rather obvious):
A duffel bag is always cumbersome to carry. It will strain your back, and will pull at your arms if hand carried.
A carried duffel bag will always bang into stuff you don't want it to.
They are vast caverns for holding everything you could want.
They are made to be carried for short periods of time, and not to be carried as a primary function. Unlike a backpack which is made to be carried as a primary function of the bag.
They are typically (but not always) non-rigid and thus are actually smaller when they are carrying less.
I personally hate bags with wheels and handles as they take up a ton of internal space, and are heavy even when empty. I won't use them unless I must. For me a duffel bag is the perfect way to haul a lot of stuff, but not stuff that you want to stay neat and tidy.
They are short haul bags for bulk carrying. Don't try to make them something they simply are not. If the idea of your gear sloshing all around the bag stresses you out, then steer clear of duffel bags.
Having said that, they are probably the most versatile bags you can buy, which is why there are also very popular. The key thing to remember is that if you plan on having to carry a duffel bag for large chunks of time, then you really should look for a different style of bag.
---
I'm not trying to be overly dramatic in my descriptions of this bag, but this bag really did blow my mind a bit in a way that was not expected at all. The Yeoman looks far too small to hold all the stuff we put in it, and yet I have literally yet to find a way to fill the bag. I assume I could take all the towels in our home and shove them in, but I don't want to try that lest I am disappointed that I don't own enough towels to actually fill it.
In other words: I've found the new bag for my kids to travel with, and I really wish we had this bag when we went to Disney World as we were short on space coming home.
Tom Bihn describes this bag as:
The Yeoman Duffel Bag is a capacious duffel bag, cheerfully ready to schlep gear for your next adventure. It's likely to become your #1 go-to bag for road trips, camping, and for handling excess gear that needs to fly as checked luggage.
That's basically the perfect description. I won't be traveling with our kids again without using the Yeoman. I hate rolling luggage and the admire this duffel for its ability to look good, look small, and never fill up.
This is a really great bag and I highly recommend it. It's perfectly sized for a family with small kids, or for people who simply cannot decide what not to take with them.
Actually, I might need another one.
You can buy it on Tom Bihn's website, here.