Here we go again, another round of iOS content blocker testing. Before I get into the testing, I want to point out why certain apps were tested while others were not tested. I can assure you I downloaded/purchased/unlocked every content blocker I could find on the App Store. I lost count how many there were after they were all installed, but I was starting to worry I may never stop downloading them.
I was not looking forward to testing these, it takes 10 minutes on average to test each content blocker — and well you can do the math when I had more than 30 installed. That's a lot of time. So I needed to pare the list down in a way which made sense without testing them first.
I first started by getting rid of the ones I knew were pretty shitty. These are the ones where there are 3-5 copies of the same app in the store, or the ones which only hide the ads, and don't block them, and don't block trackers. All of those: gone.
Next I had to think about what I really didn't like: lack of control. I wanted a blocker where I could whitelist sites easily, where I had control of some sort over what I want, or don't want, blocked. Basically, I whittled it further down to apps with settings in the actual app and share sheet extensions for whitelisting.
Luckily for me, this left me at 14 apps. I shaved it down by two more because one was a free version of the pro version I owned. And then I removed that pro version because after the first three tests it was clear it was beyond shitty.
So 12.
I'll say this right now: 1Blocker isn't even close to being the fastest any longer.
The Testing Procedure
I tested in much the same manner as last time, but there were a few changes. Here's the lay of the land:
Device was restarted
All website data and history was cleared
Content Blocker turned on
Safari opened and connected to a Mac to web inspect from the Mac
Load each page in the same order from a bookmark
Record data transferred from web inspector
Record page load time from web inspector. (This is a change from before, and was made to allow for more consistency.)
If a page failed to load I followed these steps:
Invoked the bookmark menu and closed the bookmark menu. In most cases this solved the issue (iOS bug I think).
Reloaded the page twice to see if it occurred again.
If page would not load at all, I plugged in the control time and data size for the page.
As a change from the last tests, I also recorded how many errors I saw on the pages loaded. This will allow for a better way of telling some of the faster blockers apart or so was my thinking.
The Results
Here's the results: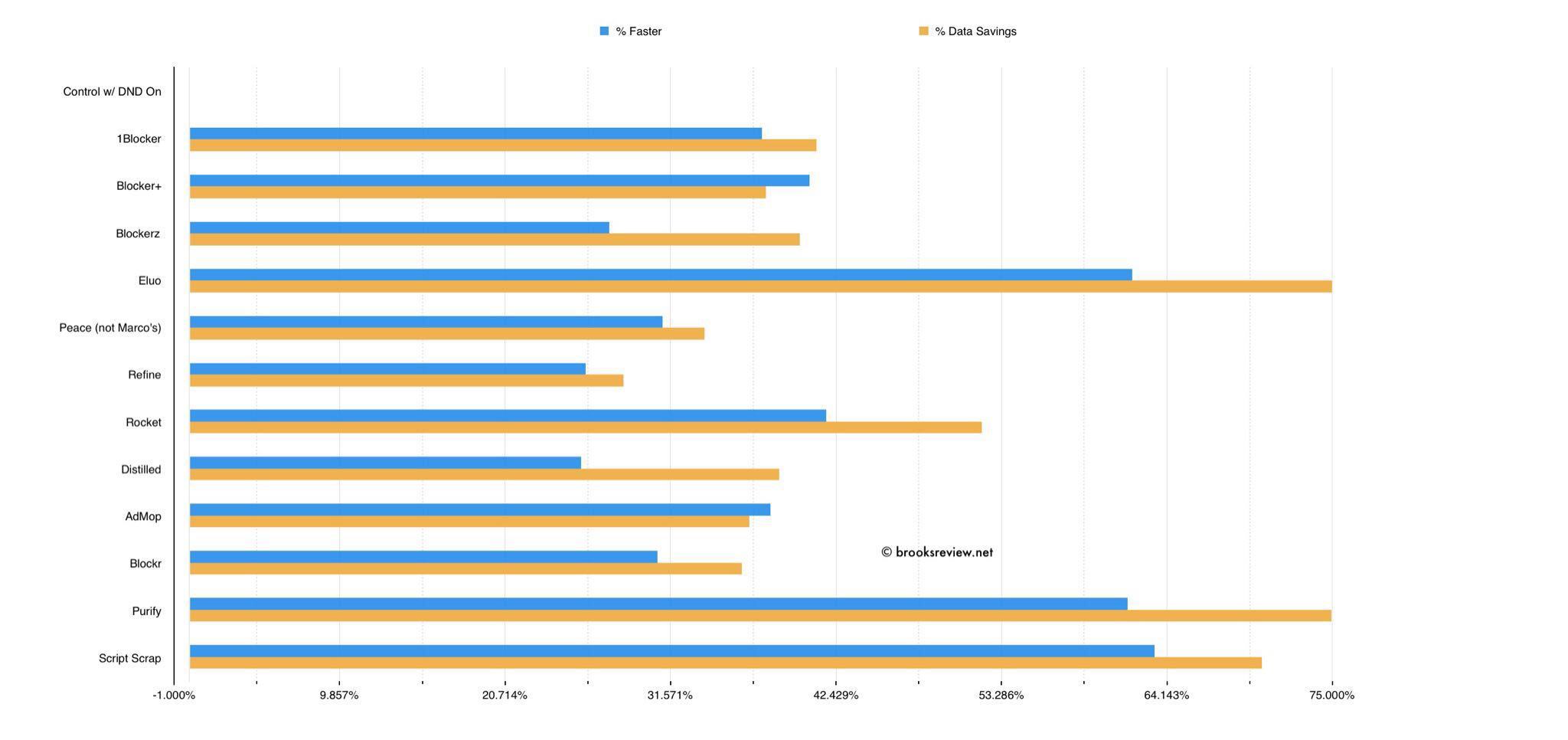 Click to enlarge.

While I have a very fast WiFi and internet connection, page times should be less important here than data. Where content blockers really make a huge difference is on slow networks, not fast ones.
All three of the fastest blockers are well within the margin of error for this test, and therefore are basically tied based on this testing.
Insights
Comically, all three of the fastest content blockers failed to load YouTube at all. Not even that the video was broken, the sites just loaded as a white screen. In fact the three fastest basically broke most video on the sites tested — and both Eluo and Script Scrap broke Buzzfeed's images to where they failed to load.
Overall I am very impressed with the performance and amazed at the data savings which can be had by the three fastest — almost a 75% data savings. That's just stunning.
1Blocker
1Blocker isn't actually slower than it was last time, it was just comparatively slower. My best guess is the other apps are getting faster at being fast, faster than 1Blocker is getting faster. Uhh… Yeah.
I still like 1Blocker, but it really is not the fastest any longer, which is a shame because it is a very solid app and the only one which was fast and also allowed you to write custom rules.
Eluo
Eluo has a gorgeous icon, and the best looking of any of the content blockers I found. It's also the fastest in raw numbers. But it also broke the most sites of any of the three fastest.
In addition to that, I am unable to use the share sheet extension to whitelist YouTube — which is problematic to say the least. I wanted very much to crown this app, but a broken whitelist extension is a deal breaker for me.
Script Scrap
I wrote Script Scrap off in the last round because it was pretty aggressive. I am now including it — despite no changes being made to the app — because it does perform well with these other two entrants while breaking fewer sites than Eluo. The saving grace here is the working whitelisting in Script Scrap — it also has blacklisting if you never want to see, say Facebook again.
I do have to say: it's hideous. It's also the only one not new, or updated, since I started testing content blockers. That leads me to wonder when, or if, it will be updated. Then again, it is the second fastest, so…
Purify
Purify made a big splash in the App Store charts when it came out, but it was slow. With the next update, Purify got a lot faster to where I was debating putting it first the last time. This time it is within a breathe of the fastest app.
It most certainly does break YouTube and most videos on webpages, but I didn't see it break any other weird things. It also has a share extension for whitelisting, which works, and allows you to report the site as problematic to the developer — a nice touch.
While the icon and UI are not great, I must say that this is an app which consistently gets better with each update. And it is updated. I should also note, like many other content blockers, Purify will sync your settings with iCloud so all your devices can maintain the same whitelist.
The Winner
The clear winner is Purify. It's not even a contest after you dive a little deeper. I would love to use Eluo, and it would be my pick, but not until the whitelisting extension starts working again.
I just can't get onboard with Script Scrap, that icon is horrible.
Purify is dead simple to use, it is blazingly fast, and has easy whitelisting. More than any of those things though: it is actively being developed and improved. It's not only the clear winner, but a well deserved winner.
Update: Since posting this I have been using Purify more, and be prepared to white list some sites. Most sites are functional, but some sites which appear to work, might actually not work until you whitelist them. This is not ideal, but for the speed boost — hard to argue with the power here.