Note: This backpack was sent to me by Standard Luggage for the purpose of writing this review. Also all photo credits go to my wife, Erin Brooks, she's way better than I am.
I remember when I was a freshman in college, my sister (she was still in high school at the time) made it to state finals for track — which meant she was competing in eastern Washington. I took a long weekend and travelled out with my family for the two nights. I packed a almost-full duffel bag.
Sounds like a reasonable amount of gear, right? It would be, except the bag I packed in was 72 liters. Mean it was huge and I basically packed for a weekend in it. ((Funny enough, this worked out great as a rain storm moved in and I was the only one with clothing for such an event — and extra clothing for my dad to borrow. Still though…))
When I graduated from college, my father remarried in the Bahamas — a locale where you don't need to wear a lot clothes. Still, I packed in an absurdly large rolling bag ((This isn't the exact bag, but it was/is an REI bag much like this.)) which was somewhere between 80-90 liters. It wasn't full, but it was a lot closer to full than I would like to admit.
Those were two really extreme circumstances, but packing a lot of gear was a general problem I had. I packed a lot of stuff, much of it not needed no matter where I went. And then I started reading a minimal — one bag — travel blog. I bought a Patagonia MLC (which I just recently sold) and from there my travel gear seems to get small and smarter, not larger and heavier.
It actually stresses me out if I can't travel with just one bag now.
Which brings us to Standard Luggage's Carry-on Backpack — another in a long line of bags I have tested and tried, which seek to be the one bag you need for traveling. Let's take a look at it, shall we…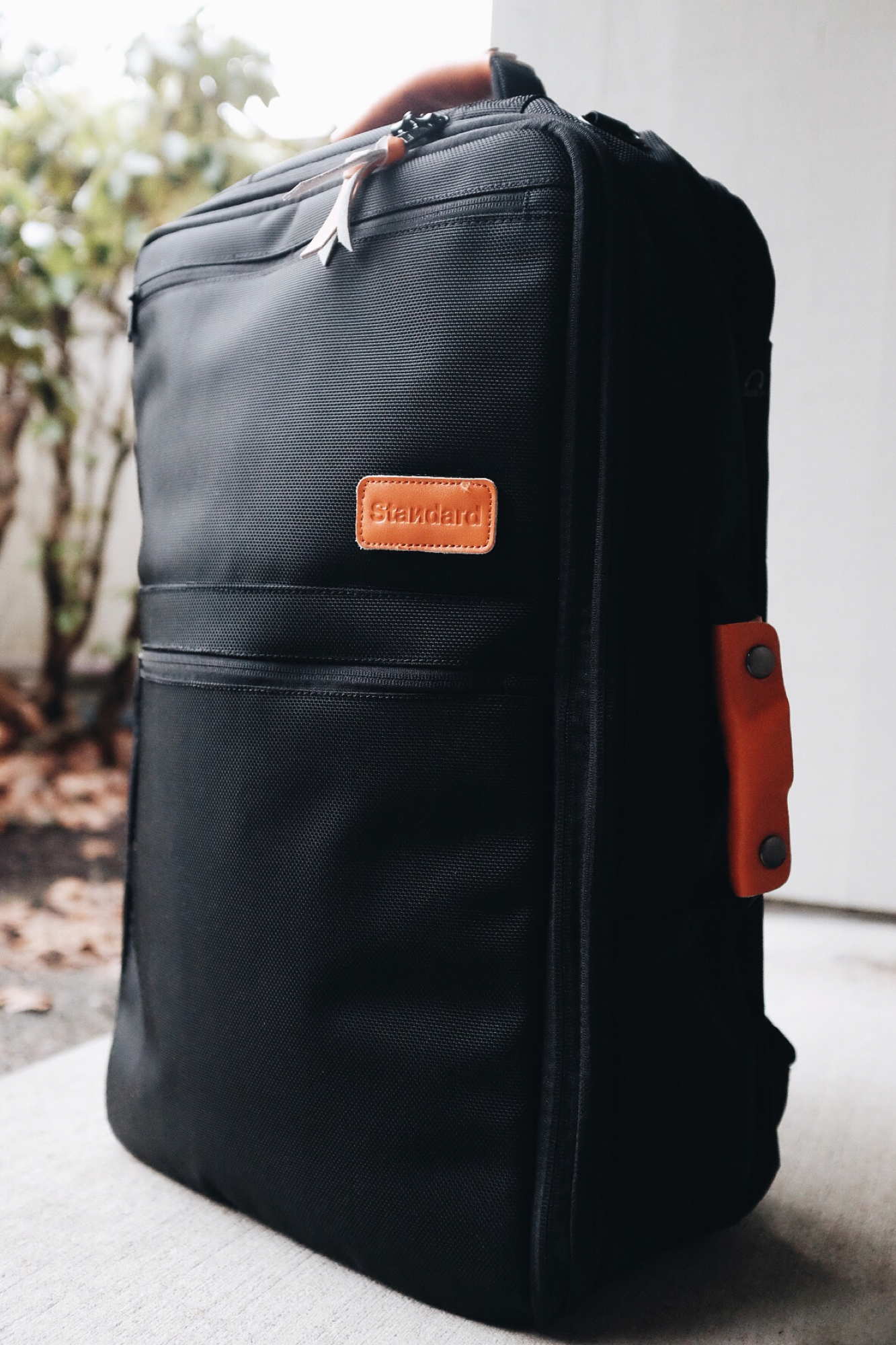 (Quick note: I wasn't able to take this bag on a flight during the time I've had it. My wife has been recovering from a surgery — she is fine — and as such I haven't been willing to leave her on her own with the kids. I've done my best to test through the bag regardless of this and when I do take it on a flight I will post an update if one is needed.)
Fit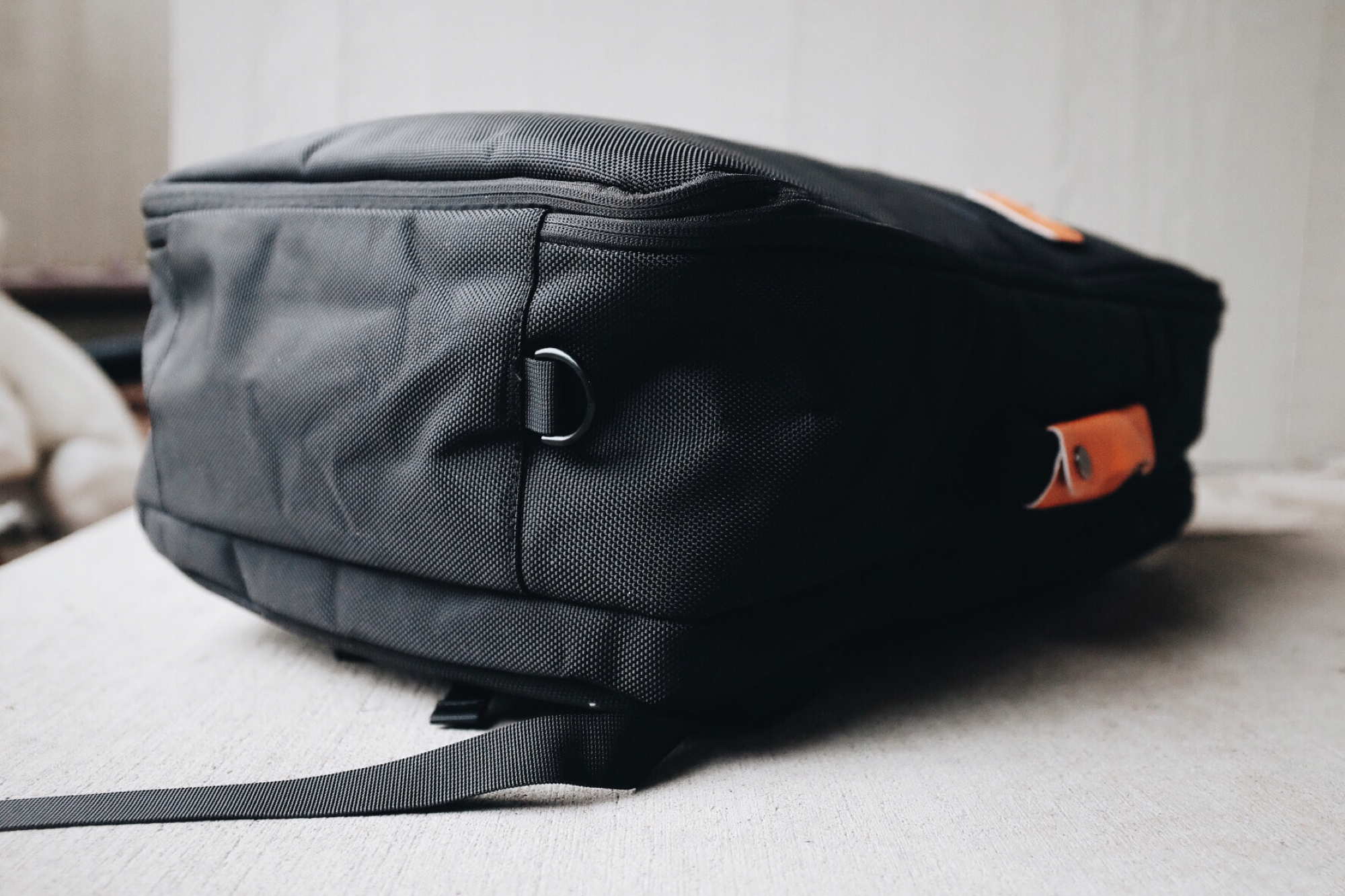 I'm going to dive right into the fit of the bag, because the first thing which struck me is just how big the bag is. It's a much larger bag than most I use, and because of this I was very concerned about the overall fit on my body.
Specifically how the backpack fit is. The fit is good, but certainly not great. That's not a bad thing either — most bags designed like this all fall somewhere in that level of fit. I will say that it is crucial you pack and distribute the weight correctly so that it is most comfortable on your back.
The straps are well padded, but not to the level of GORUCK, but more than many other packs these days. They curve well for my shoulders, but the bag does seem to be hard to cinch up high on my back. This is typical of bags like this, and usually just fine as you aren't wearing something like this hiking.
Overall, with packing 3-4 days worth of clothes and gear, the bag wasn't nearly heavy enough to be problematic when moving around and simulating what you might be doing in an airport. I wore it for quite sometime loaded down, and never felt like it was a bad fit either — you could easily stand in a TSA line comfortably with this on your back.
Conversion
This bag can be carried three ways:
One of the two handles
Shoulder strap (detachable)
Backpack straps (storable)
One of the biggest issues I have with systems like these is how easy or difficult it is to move between carry methods. If it takes a non-trivial amount of work to convert the bag, than I likely will never bother to do convert it — and would be better off getting a bag which can't be converted as there won't be extra straps hanging around that way.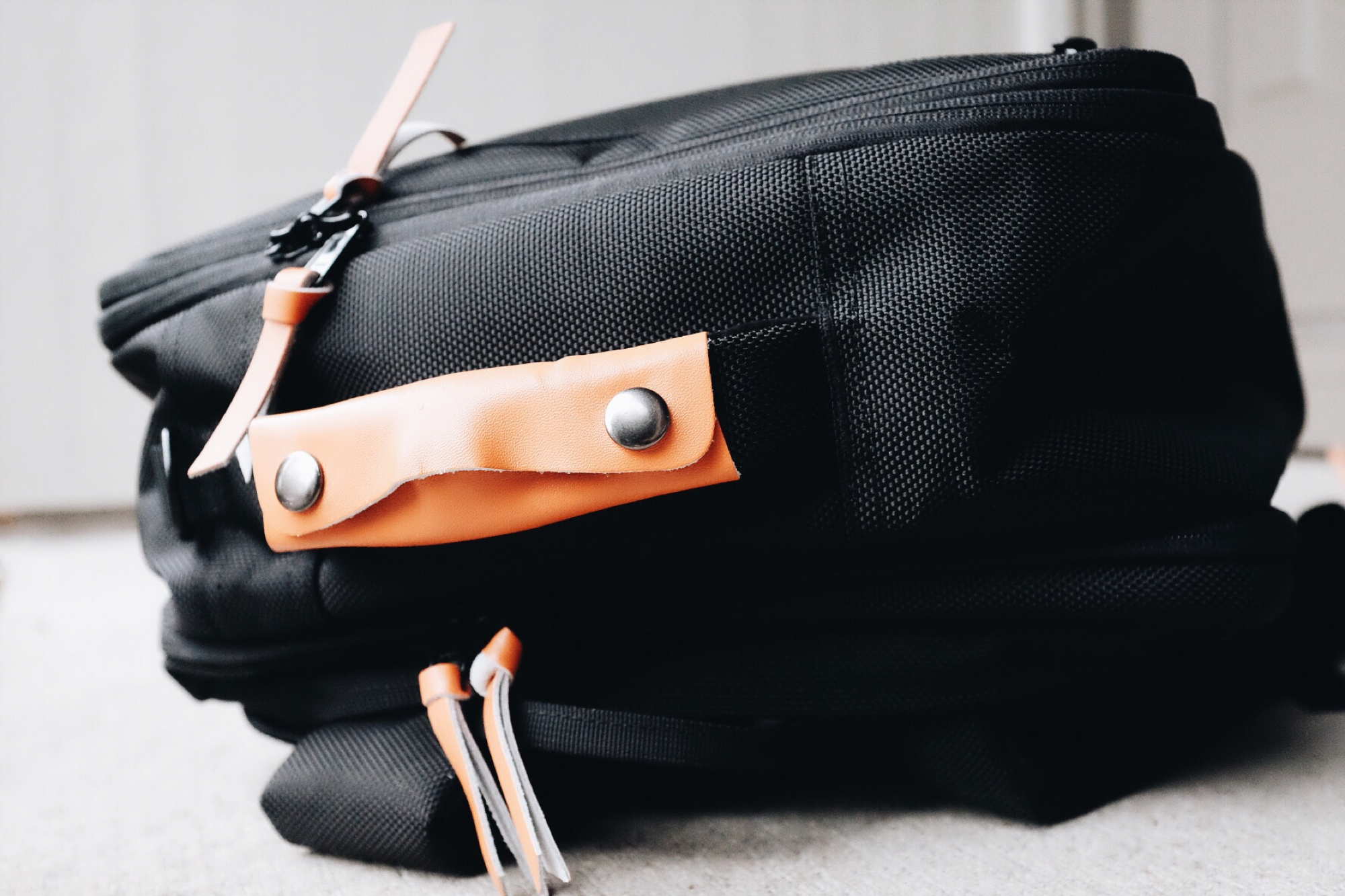 As is the norm, the backpack straps are pulled out of a zipper along the top of the bag, and two clasps pulled from the bottom corners — click the straps in place and you are in business. Unlike other bags, I actually found these backpack straps among the easiest of any I have tried to stow and deploy. As an added bonus they also had a nylon handle deploy between the two straps. A bit overkill given the handle already at the top, but I've had a bag without this handle and you would be amazed how much you reach for that, but don't find it.
The shoulder strap too (as you might guess) is easy to take on and off — but there is no dedicated area to store the shoulder strap in. It's highly likely I'll lose it at some point because of this. Again, that's fairly common with bags of this type. But overall, if you find it, it's as easy to put on as you would expect.
As far as converting the bag from should to backpack, or vice a versa, I have no complaints at all. The system works well and smoothly, and all without any tricks needed.
Holds a lot
This bag holds a lot, as it is rated at 35L, which can expand to 45L. It's a huge bag. My typical 1 night, 2 day, bag is the GR1 which is 26L. My typical weekend bag is 30L. This is bigger than both and might be the largest bag I have for travel.
I think I could easily pack for 5 nights in this bag without breaking a sweat. There's a part of me which thinks I could do 4-5 nights with an extra pair of shoes (something most one bag people will tell you is super hard to pack).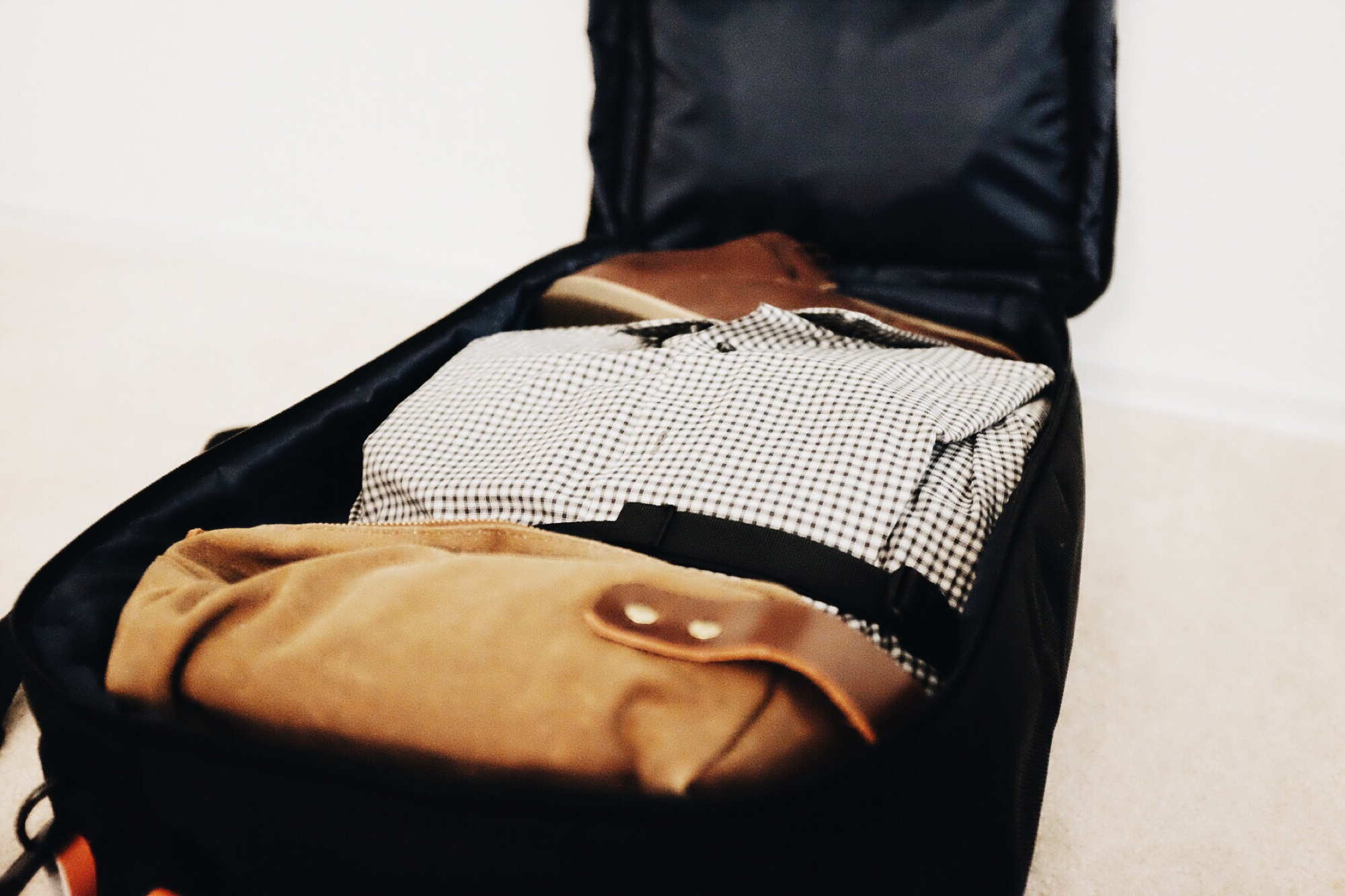 I stuffed this bag with my normal 3 day load out of gear and it felt empty to the touch. It looked empty too. So I put in a pair of shoes, and it still had room. Amazing.
I usually pack my bags pretty close to the max when I leave, and I honestly think I will have trouble filling this bag for any trip I go on which is pretty cool as it opens up a lot of possibilities for use. Since the main compartment is just a large open area, there's less size limits on gear as you might find on other more compartmentalized bags.
Two Colors in One
The bag is standard black nylon, and has a ton of leather accents on it. Standard Luggage, ships you one set of leather installed on the bag, and a complete set in blue — not installed. The idea being that you can pick which color suits you: orange or cyan.
Both colors look sharp, but what I like best is being able to remove a lot of these color accents. I removed a ton of them to give the bag a lot cleaner looks. But it's a pretty cool idea: that you get to personalize your bag with these leather accents. I was also thankful I didn't have to choose the color, as that is always tricky when picking something for reviews like these.
Looks
When you get the bag, every zipper pull has leather strips attached to them to make the pull larger. It was a bit overwhelming to my eye, so I removed a lot, as I mentioned, of the pulls to clean the bag up a bit more. It also hides some of the compartments — I always have an irrational fear of someone unzipping a pocket on my backpacks and taking stuff out of them, so removing zipper pulls makes that feel like a more secure route.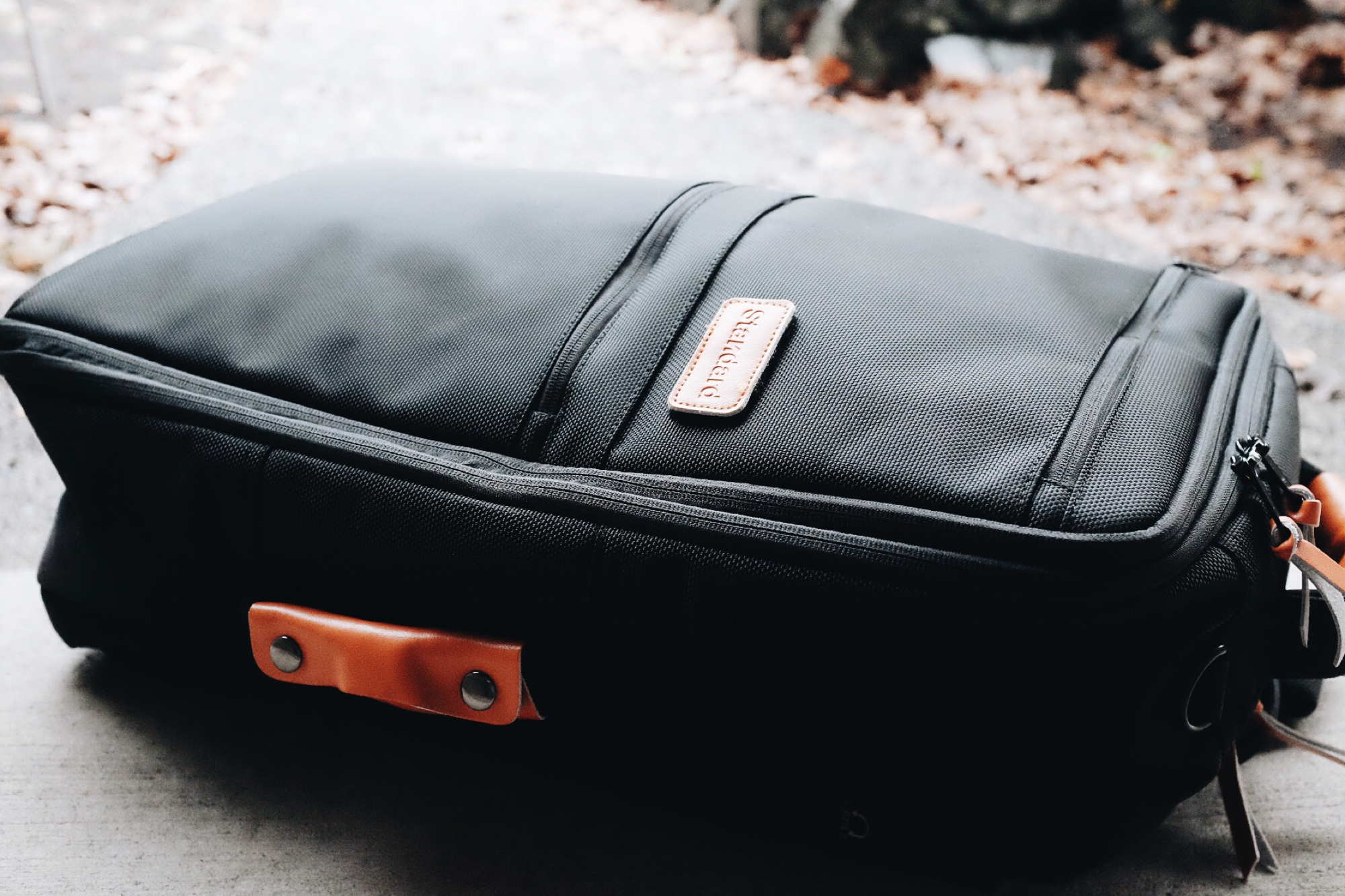 The bag is a big black rectangle and there is no getting around that. The leather accents certainly help to add a little character to the bag, but overall I don't find my eye drawn to the bag, nor repulsed by the bag. It is a solid looking bag, but nothing with wow factor.
This is actually a benefit, depending on where and how you are traveling, as it's not likely to draw attention to you.
Biggest Concern
With most bags like this you have to make a choice: you are taking one bag as a carry on, or a different bag all together (usually of the rolling variety, which is terrible). There's no practical way to take this bag and — say — a small shoulder bag onto the plane. You'll struggle to comfortably carry and manage those two bags not only on the plane, but through security and the airport at large.
Because of that, and the overall size of this bag, you are putting this bag in the overhead storage. I've ran into this issue with other bags too as this is my preferred style of bag to travel with.
Then the question is: what do I do with my headphones, snacks, and devices I want to have at the seat with me? Put them on the floor? This bag is clearly designed for those gadgets to be in a dedicated area within the bag so how do you get to them in the flight? I've always tried bringing some sort of small pouch with me to curb this issue, but even then it is a pain in the ass.
I would love to see a bag like this, with the entire laptop area being a removable section which turns into a small shoulder bag. I could use that smaller pull out bag both on the plane, and when I get to my destination.
How cool would that be? You get on the plane, toss the bag in the overhead, and unzip one section and slide out a smaller bag of your goodies for the seat.
I would love that. This bag does not have that though. Luckily it's large enough you could take another smaller bag like a Daylight bag inside of it and mitigate most of these issues.
Where it Shines
What really makes this bag for me is the size, because it doesn't look nearly as big, as what you can fit in it. And it can get larger too. ((My pro travel tip: if your luggage expands, then never leave home with the bag expanded. You can thank me later.)) Not only that, but it is designed in such a way that my nicer shoes will fit inside it and I can wear comfortable shoes on a travel day. I rarely ever travel with extra shoes, because of how difficult they are to pack in most of my gear.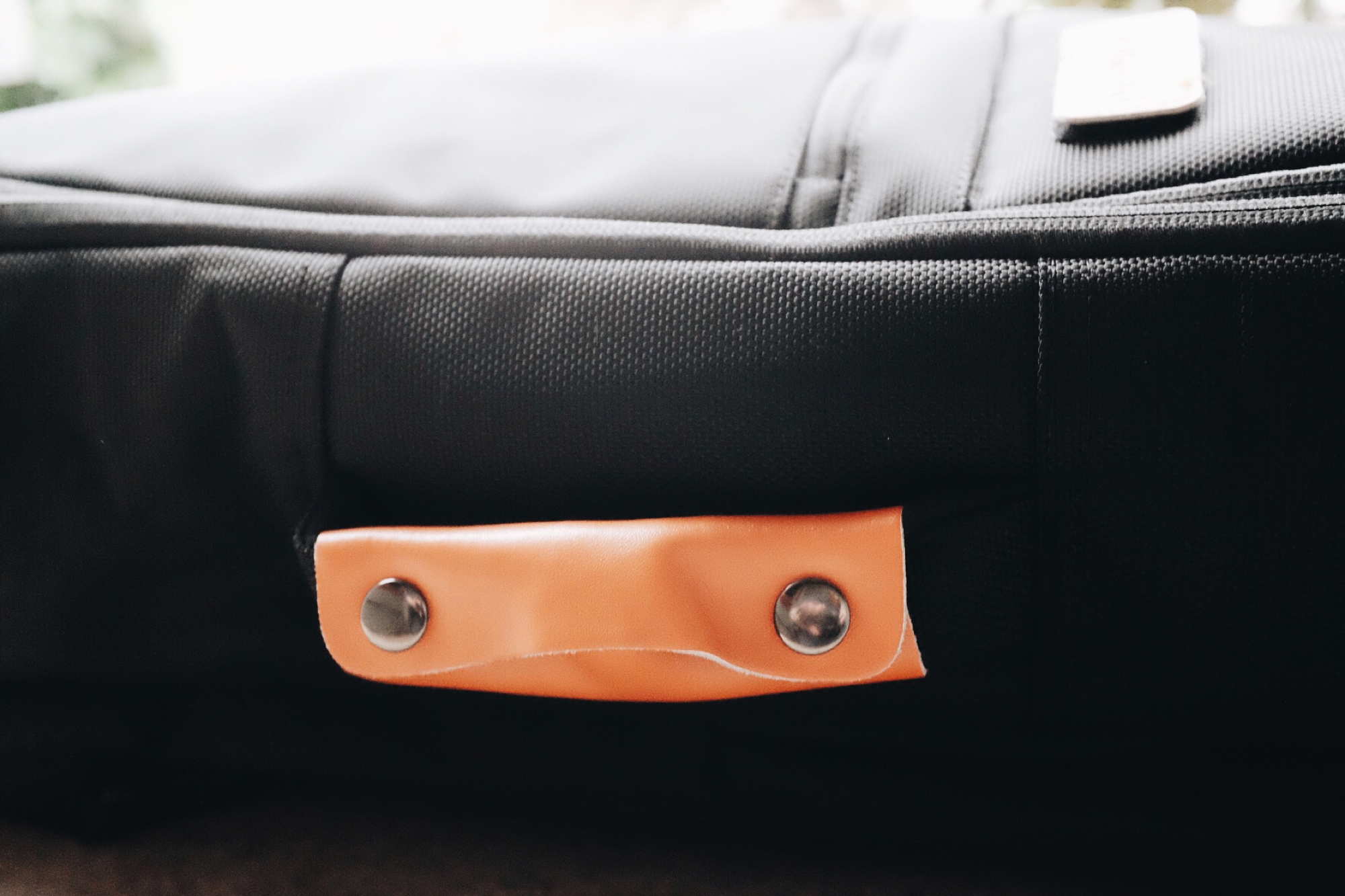 That's a killer feature for me. As I said, you can take really long trips with just this bag, but more than that you can take really comfortable shorter trips with this bag. Extra shoes, jackets, and more. All are well within the bounds of what you can take.
So you don't have to be remotely close to a one bag traveler for this to be a bag well suited to you. You can be someone like I used to be, and over pack, and still have a one bag experience — just a shorter trip.
Miscellany
The logo patch is Velcro so you can swap between orange and cyan. I wish it were the same size as the GORUCK patches so I could use those there. Unfortunately it is not so you have to stick with one of their patches.
The D-Rings, and clasps for the shoulder strap are pretty small. It's clear this bag is designed as a backpack first and foremost. I am concerned how long the shoulder strap would hold up if you used only that to carry the bag.
The bag is really well padded. There's padding every where. Laptop protection galore. No worries about my electronics in this bag.
Even not fully loaded, the bag will stand upright on it's own — a nice touch.
There's a rain cover, but no where to store it.
This looks like it would have no issues at all being checked — there's even locks for the laptop and main compartments. A nice touch if you don't want to carry it onto the plane on your way home.
Overall
Here's the best part of this bag: the price. It sells for $175, and for some of you that may take your breathe away. But contrast that to other bags you might compare it to where they are in the $300-400 price range.
I think this bag will last you years, but decades is where I am unsure. That said, you don't need packing cubes with Standard's bag. It has straps and plenty of small pockets for stowing stuff. In fact I don't think I would ever use packing cubes with it. So you are $175 out the door. Done. It's a heck of a deal.
Most people don't take many long trips throughout the year. Taking a week vacation is maybe a once a year, or twice a year affair. Spending tons of money on luggage for that is a waste. Spend tons of money on the gear you use the most: the overnight and weekend trips. That gear is crucial. If this is the right size for those trips, then you just found a great way to save money.
If it's my money, this bag hits the sweet spot for a longer trip bag. It's priced right, sized right and has the right features to make me happy those couple of times a year I use it.
It's a solid bag all the way around. It's not fancy like some of the more expensive bags out there, but it doesn't need to be fancy because it works really well.