Note: This bag was provided to me by Lodinatt for the purposes of this review.
Whenever I open a box containing a new bag, the most immediate response I have is not what I see, but what I feel in the materials used to build the bag. I had not heard of Lodinatt before they contacted me, and I am betting you haven't either, so I had no clue what to expect when I opened that box.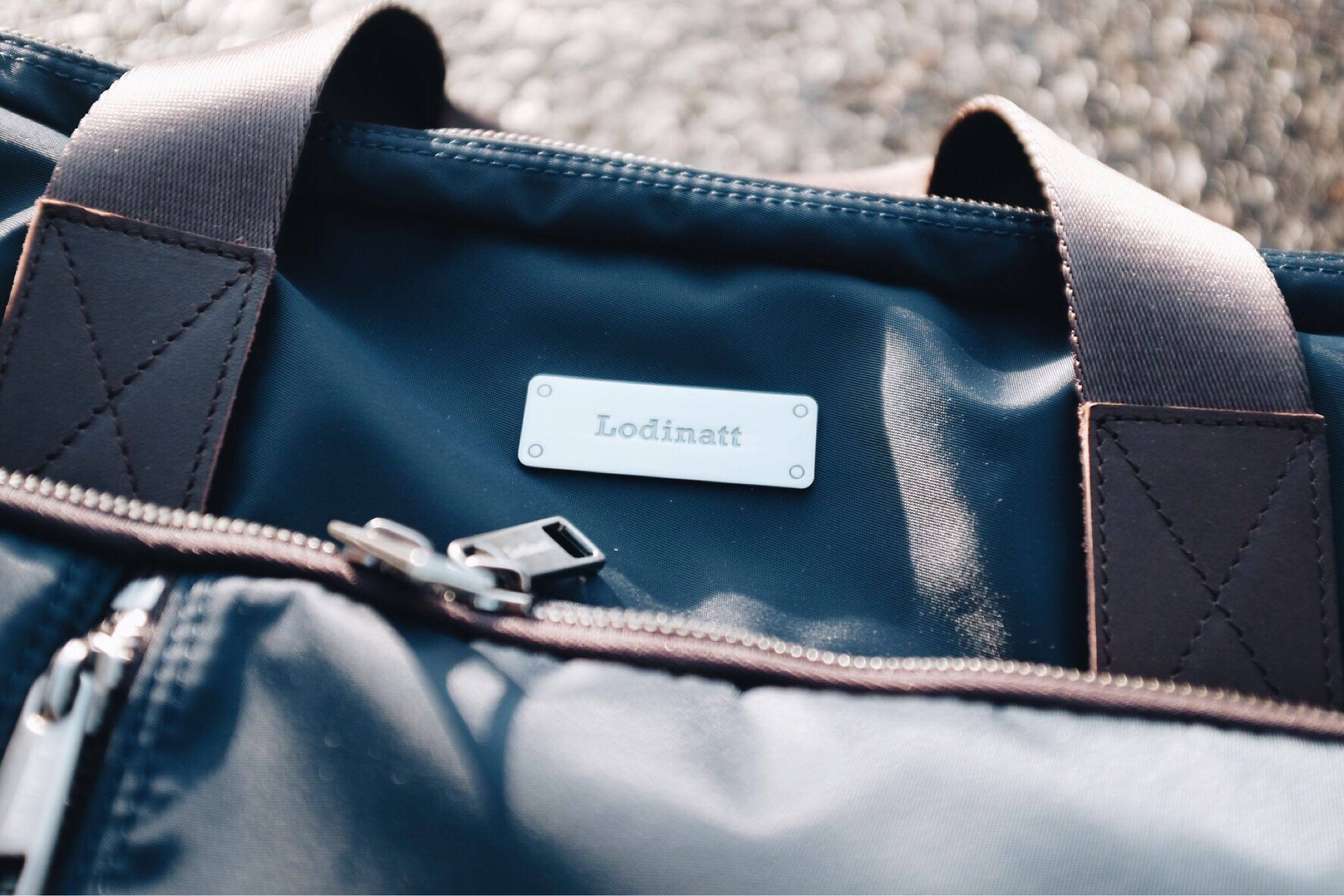 All images courtesy of Erin Brooks

I opened the box and pulled out the bag. The moment I touched the bag, I had a strong reaction to the nylon. It's so smooth and so nice feeling that it was not at all what I was expecting. Then I touched the leather details on the handle and, wow that's some soft leather. My first impressions of the bag were very good.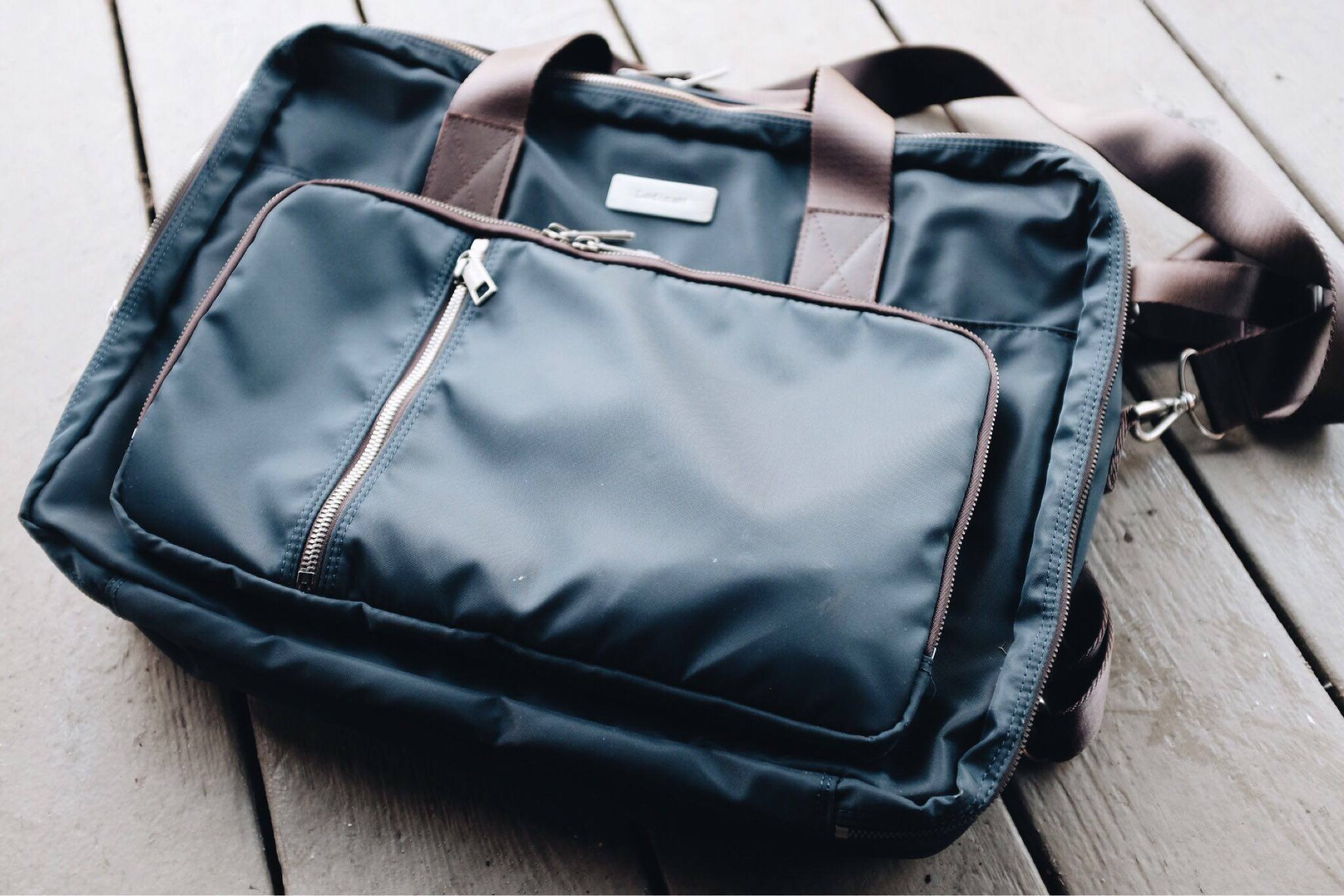 But there's a lot more to this bag than just the materials it is made from.
Backpack and Shoulder Bag
I've written a lot about travel bags which are both shoulder bags and backpacks — these convertible bags are very popular with one bag travelers. But they are far more rare to find in an everyday carry bag.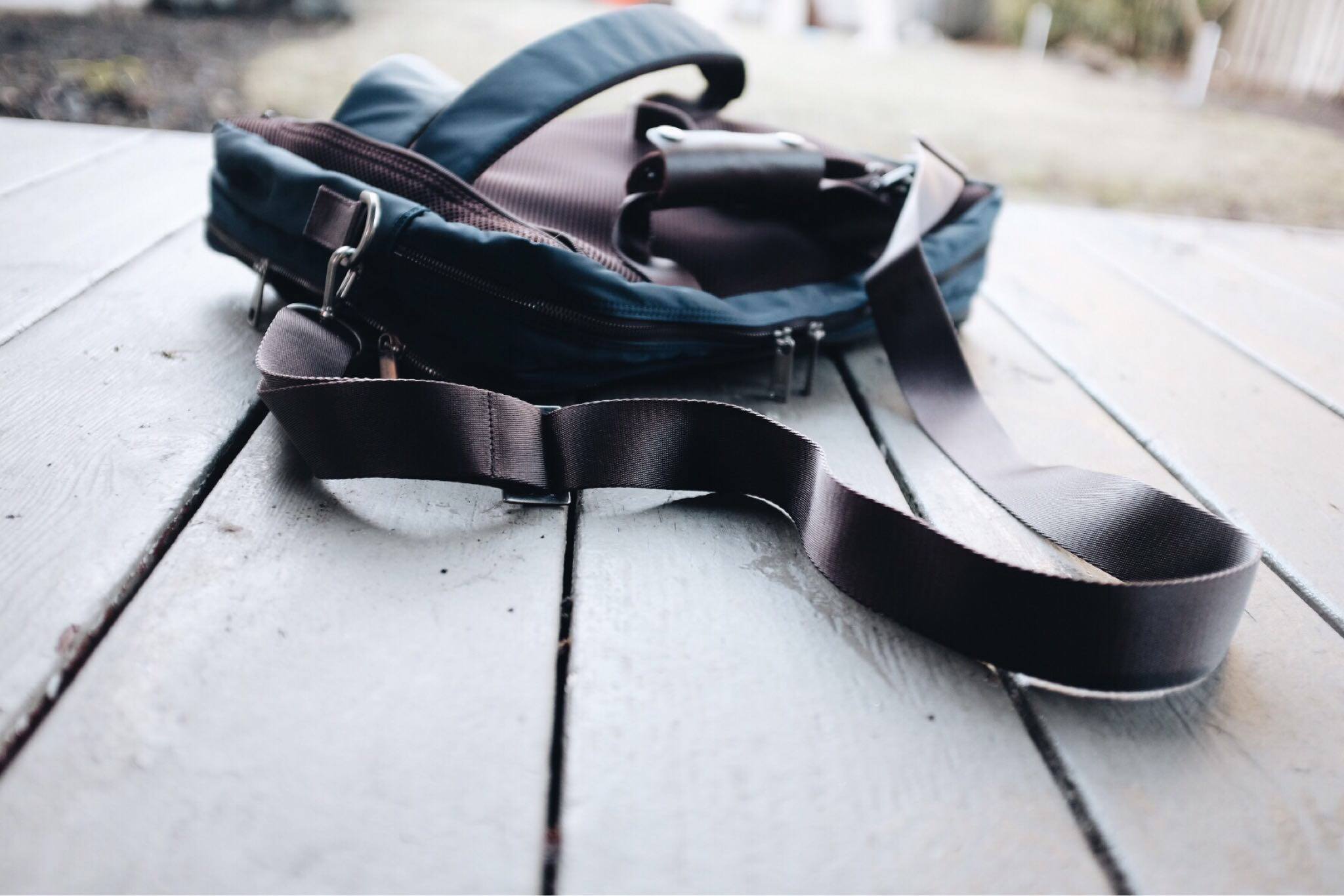 But that's exactly what this bag is: a convertible briefcase and backpack. This bag is primarily designed to be carried as a shoulder bag — that's how the majority of the pockets and zippers are oriented. I get the sense that this bag should always be used as a shoulder bag, except when a need for a backpack arises.
But, just like many larger travel bags, there are backpack straps which are stowed away in a back panel — pull them out and clip them to two d-rings at the bottom and you have yourself a backpack. It's not the most ideal backpack — as I will talk about later — but it is fully functional and made to the same standards of quality materials as the rest of the bag.
If you are wondering why you might want this out of a smaller bag like this, the answer is pretty easy: many feel uncomfortable going into a business setting with a backpack on. This bag, then, allows you to have the looks of a professional business bag, but the ability to use it as a backpack when the need arises. I wish more bags were built like this in smaller sizes.
Size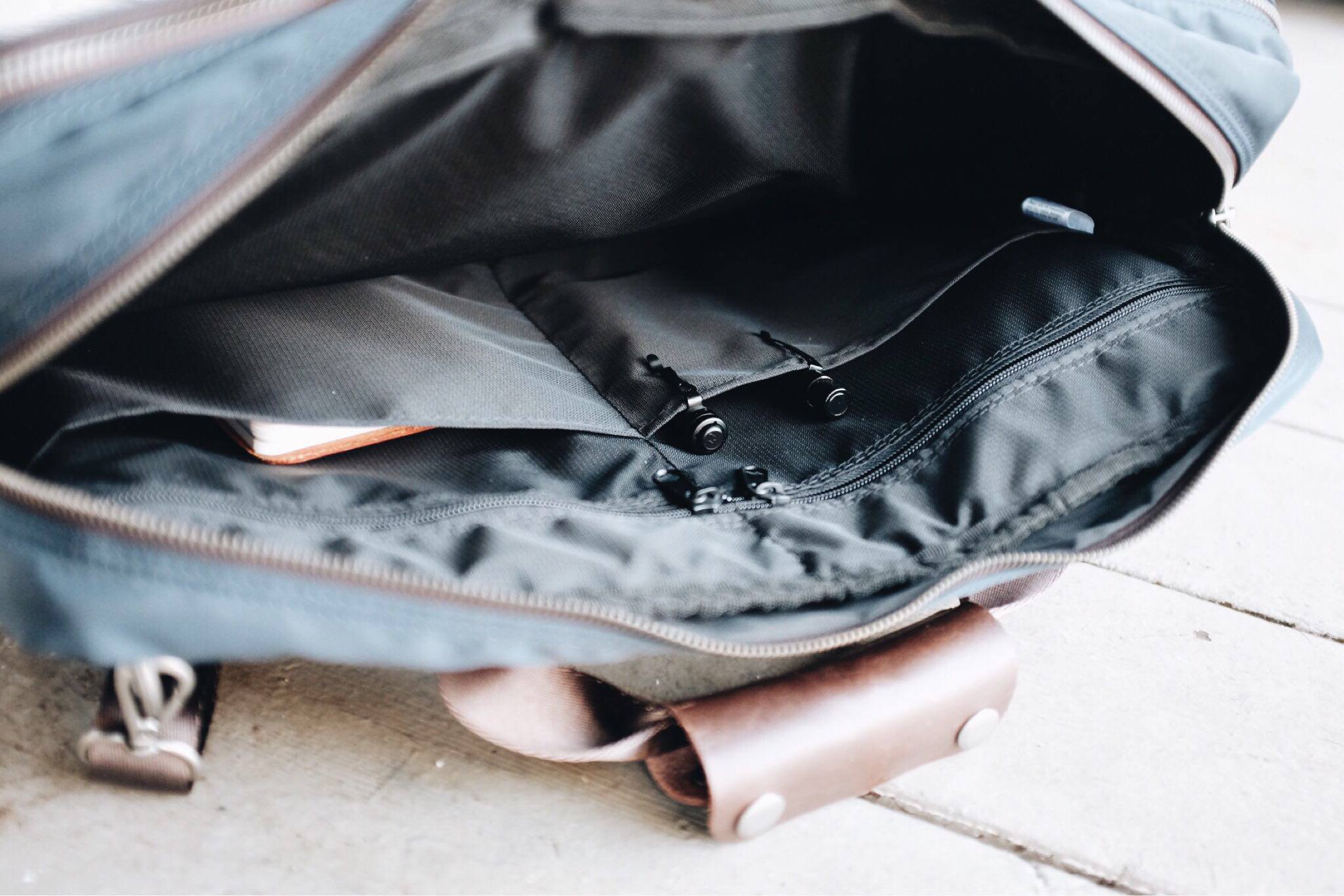 It's actually quite a roomy bag, without feeling like it is a large bag when you have it on your person. It's large enough to easily carry a 15" laptop, but there's a lot more room for other things. In fact I think it wouldn't be hard to pack a small change of clothes in the bag. Something I've done on trips where I am in and out on the same day, is packing a change of shirt(s) so the I have a fresh one before walking into a meeting.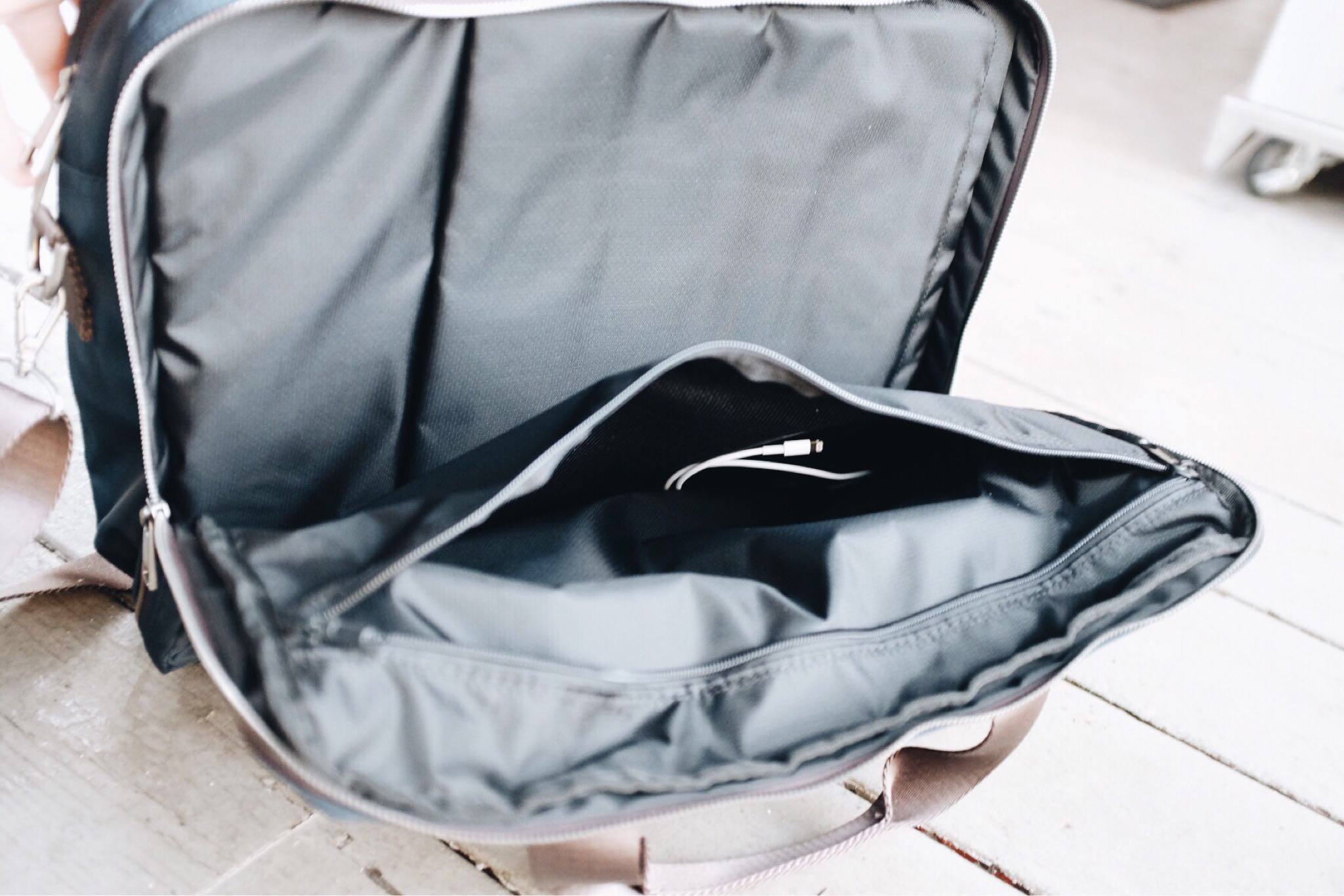 That would be easily done in this bag. In fact it has far more room in it than I imagined from looking at the pictures of the bag, yet it is still a fairly small bag when being carried. Comparing it to the GORUCK 15L Shoulder Bag, it carries much smaller, but seems to hold much more.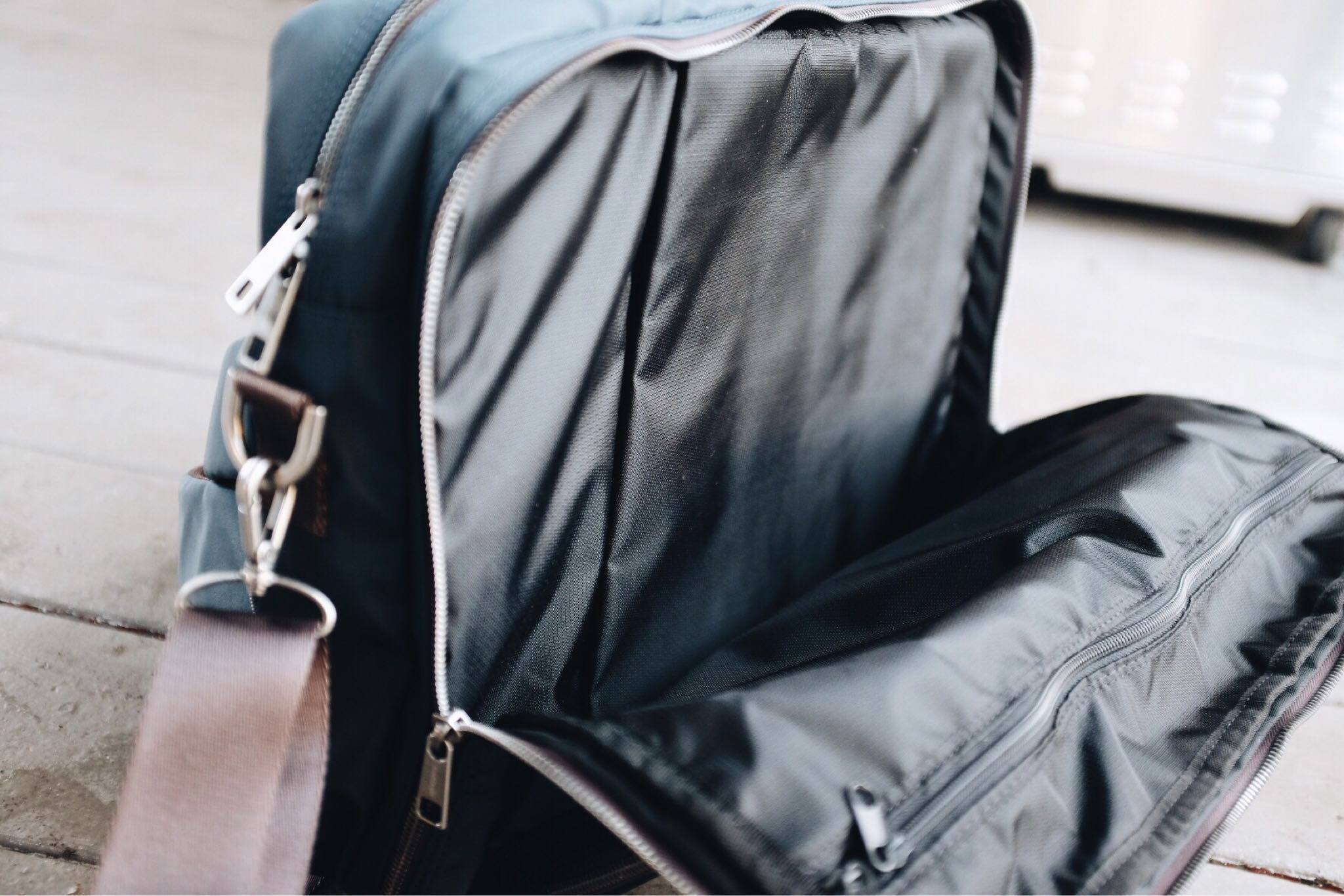 The key for me with bag sizes is satisfying two questions:
Is it big enough to carry what I need to carry?
Does it look small still?
The answer is a resounding yes on both fronts. It looks really thin, and kind of has that perpetual "I look empty" thing going on with how the bag flows.
Looks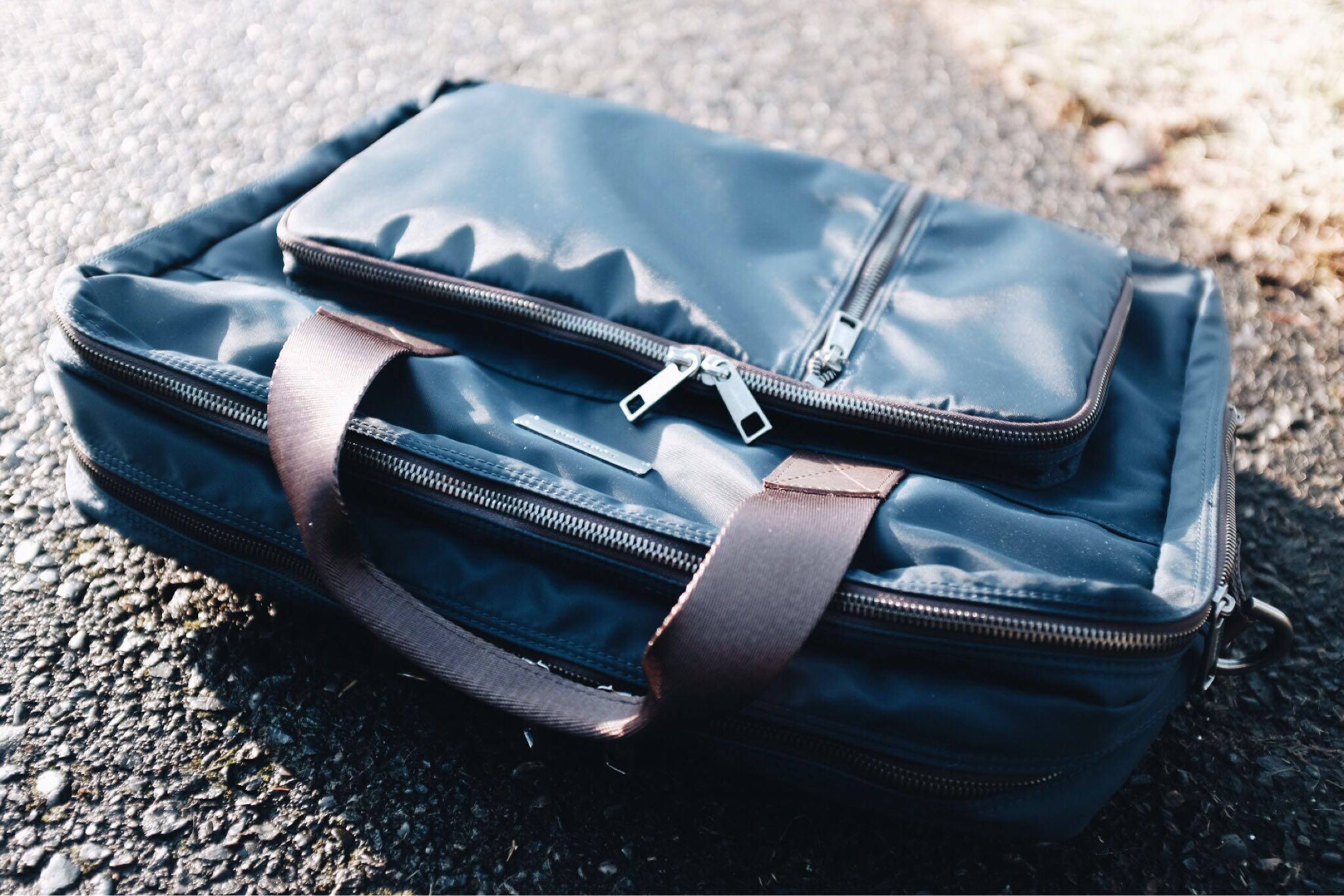 It looks stellar and comes in three colors (Brown, navy, and what looks like yellow). I have a navy bag, with brown accents and it looks sharp. The zippers stand out more than on other bags, but they are also an integral part of the design of the bag.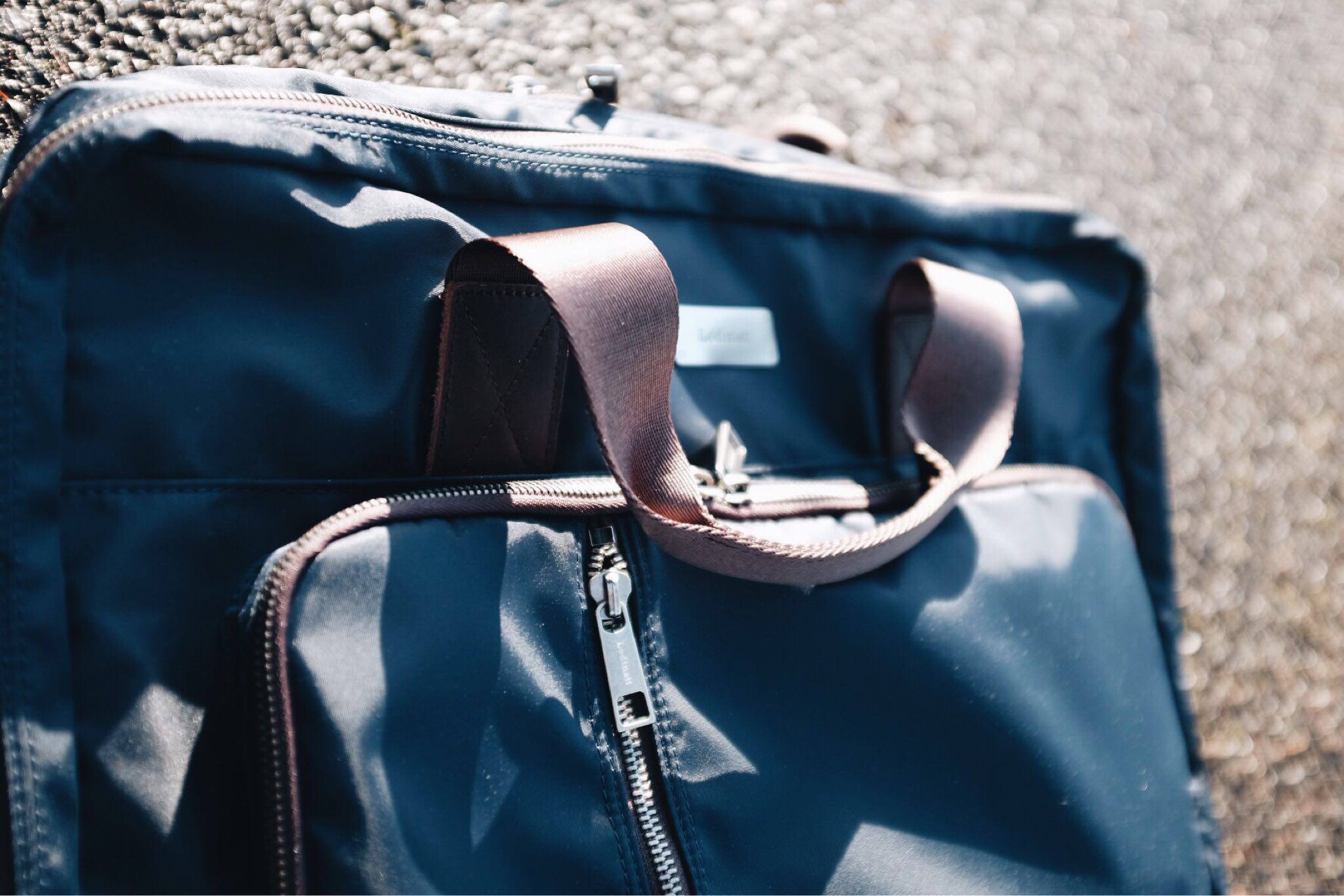 Overall, I think the bag looks great. It's not overly structured, so it fits and looks a touch more casual, but not nearly too casual to be used in a business setting. This could easily go from work to weekend without looking out of place in either situation.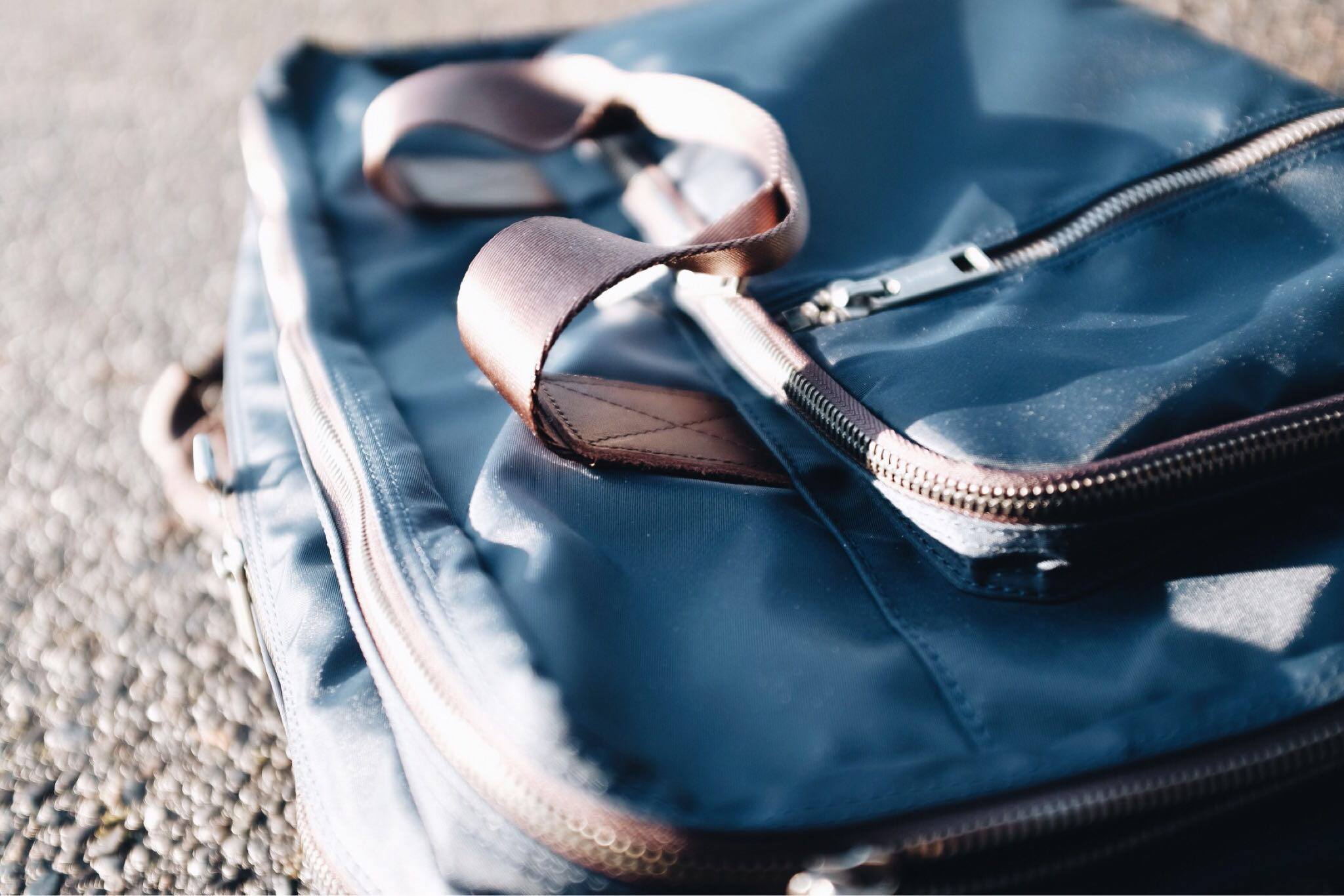 Comfort
The back of the bag has nice padding to it, which is welcomed as it helps to hide the backpack straps stowed behind it. The shoulder strap has no padding and I actually greatly prefer having no padding on shoulder straps for briefcase style bags. The backpack straps are narrow and well padded, which is decent, though I would prefer a wider backpack strap.
Carrying the bag is comfortable when used as a shoulder bag. However, when carrying the bag as a backpack it is not as comfortable on my back. The backpack straps themselves are plenty comfortable, but the way the bag feels on my back is not comfortable. It doesn't feel well balanced and some of my stuff slides out of the pockets (most notably my Apple Pencil) and thus moves around in the larger compartments of the bag.
I'll certainly be carrying it has a shoulder bag most of the time, but I think when I need to be more mobile it will make do as a backpack in a pinch. I could see strapping it on my shoulders when moving through airport security, or a crowd at a conference. But backpack "mode" is more of a secondary use than primary.
Even so, it's a damn useful feature to have in a shoulder bag, but this is more of a shoulder bag that can be carried as a backpack, instead of a bag which can do either equally well.
Some Random Notes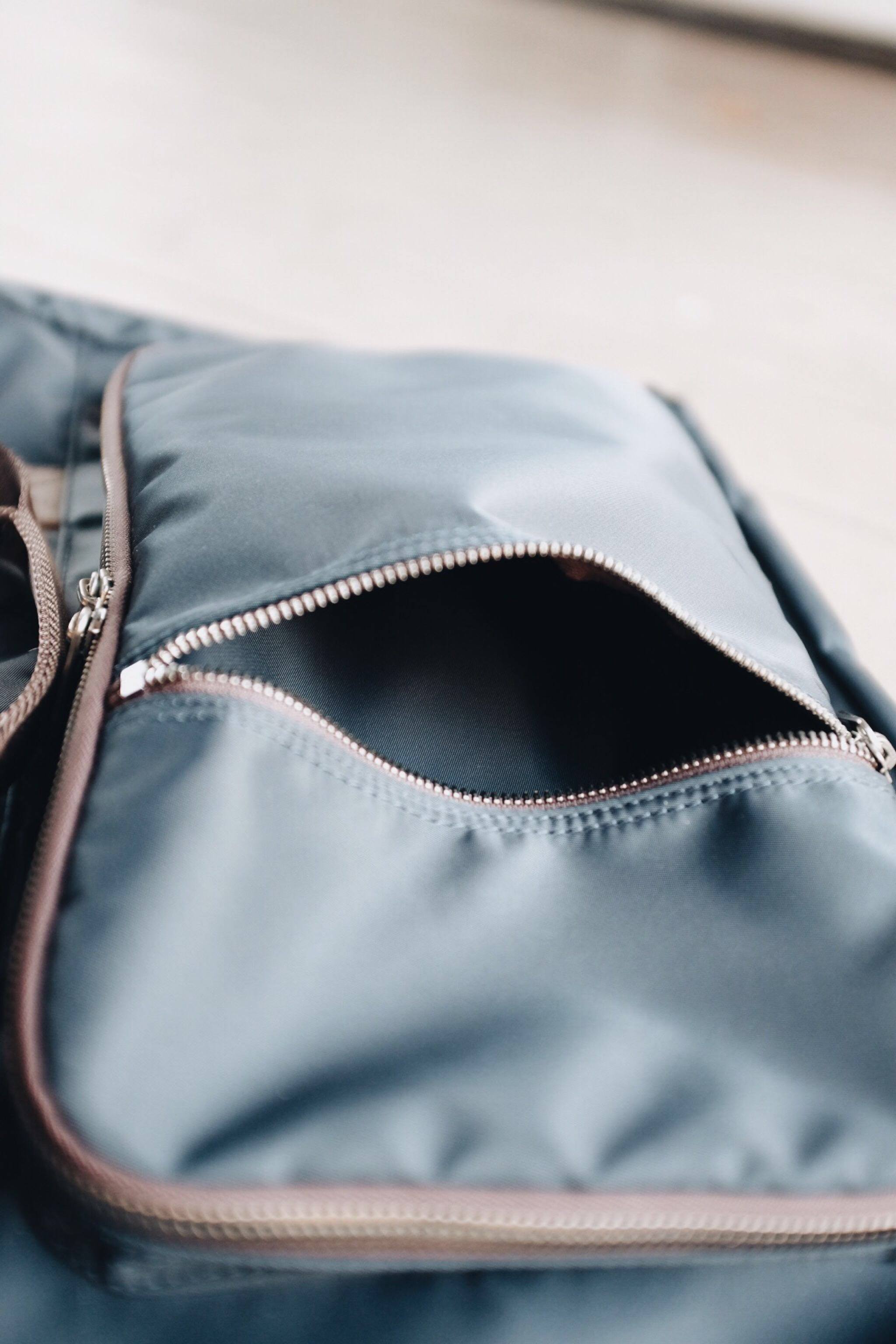 The laptop pouch is vertically oriented so that your laptop doesn't slide out of the protection when it is carried as a backpack. but that also means a part of your laptop is not well protected when you carry the bag as a briefcase.
Quality: this bag isn't rugged, but it also isn't fragile like some other bags. It feels like a very quality bag which will hold up quite well. The d-rings are heavy metal, and not cheap plastic. The leather is soft, the nylon is smooth and silky.
The clips on the straps which connect to the d-rings are nicely made, but feel a touch too small in use. They clip on without any issues, but removing them requires a slight rotation to the d-ring before the clip can be released.
Interestingly the laptop compartment is in the middle of the bag, not in the rear like on most bags. This no doubt contributes to the awkwardness of using the bag as a backpack, but is also nice in that you can buffer your laptop with more items to better protect it if you need to.
The small looking front pocket is actually huge. While the vertical front pocket is actually small. I wish the larger front pocket had a few pen holder loops in it, as it is this space is very awkward given how large it is.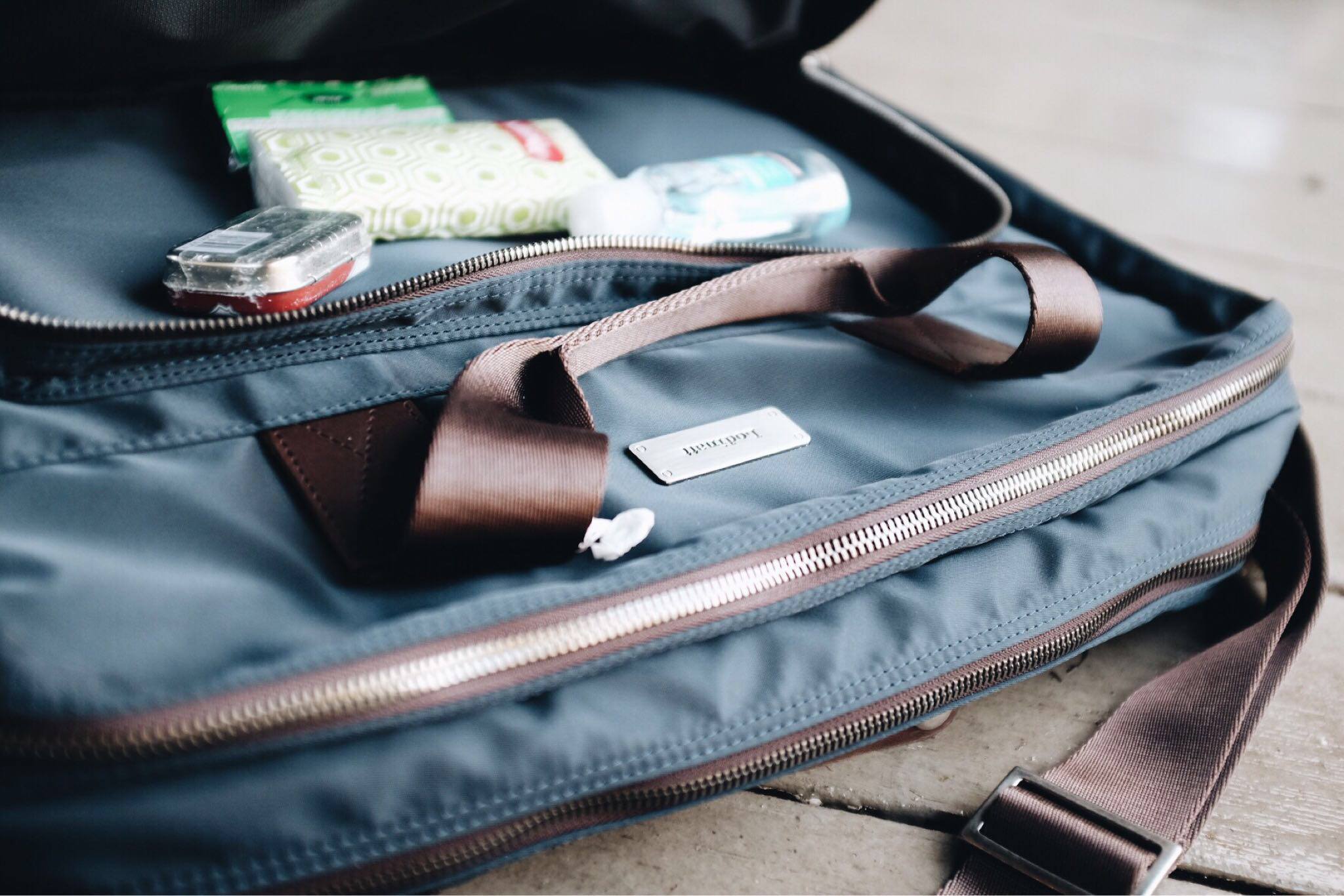 Wrap Up
Overall this is a very nicely made bag, which will likely fit the style and usage of a lot of people. It's an interesting size of a bag and I think a great size for what the average person looks for in a bag. In other words: not too big, and not too small for most people. The materials feel great and the style is something I like a lot.
At $180 it's not an inexpensive bag, but the materials alone certainly justify the price to me. For me, this bag unseats my current top pick for a shoulder bag. It looks similar to my former top pick (Tom Bihn Founder's Briefcase), and yet functions much better than the Tom Bihn as it has considerable more room.
I really like it. Go get it.