Editor's Note: I'm going to be writing some posts about how I travel light. I'll pull them all back together at the end with one larger post and hopefully a video. I am not a super minimalist packer, I am however a light packer. This will also be very geared to men, sorry to all the women — I just have no way of writing about that.
I've previously spent a lot of time, and money, trying to find the best undershirt you can wear. And while I stand by my assessment that Underfit shirts are the best ones you can buy, travel undershirts are a different breed. Whereas with my daily wear undershirts I just need something which is comfortable and looks good under my shirts, with travel undershirts I need them to also be:
Stink resistant
Regulate my body temperature well
Weigh as little as possible
Dry overnight
Once you start down this path you end up looking at two types of shirts: Merino wool, or synthetic. I personally felt that synthetic must be the way to go, however after a lot of research it seemed very clear to me Merino wool was the way to go. Which sucks, because those shirts are very pricey.
Also, since I rarely pack any other t-shirts, I need my undershirt to be able to be worn to open the door for room service, or to walk to the front desk. For some this is a low bar, but for me I would prefer the shirt to look at least presentable with me wearing it.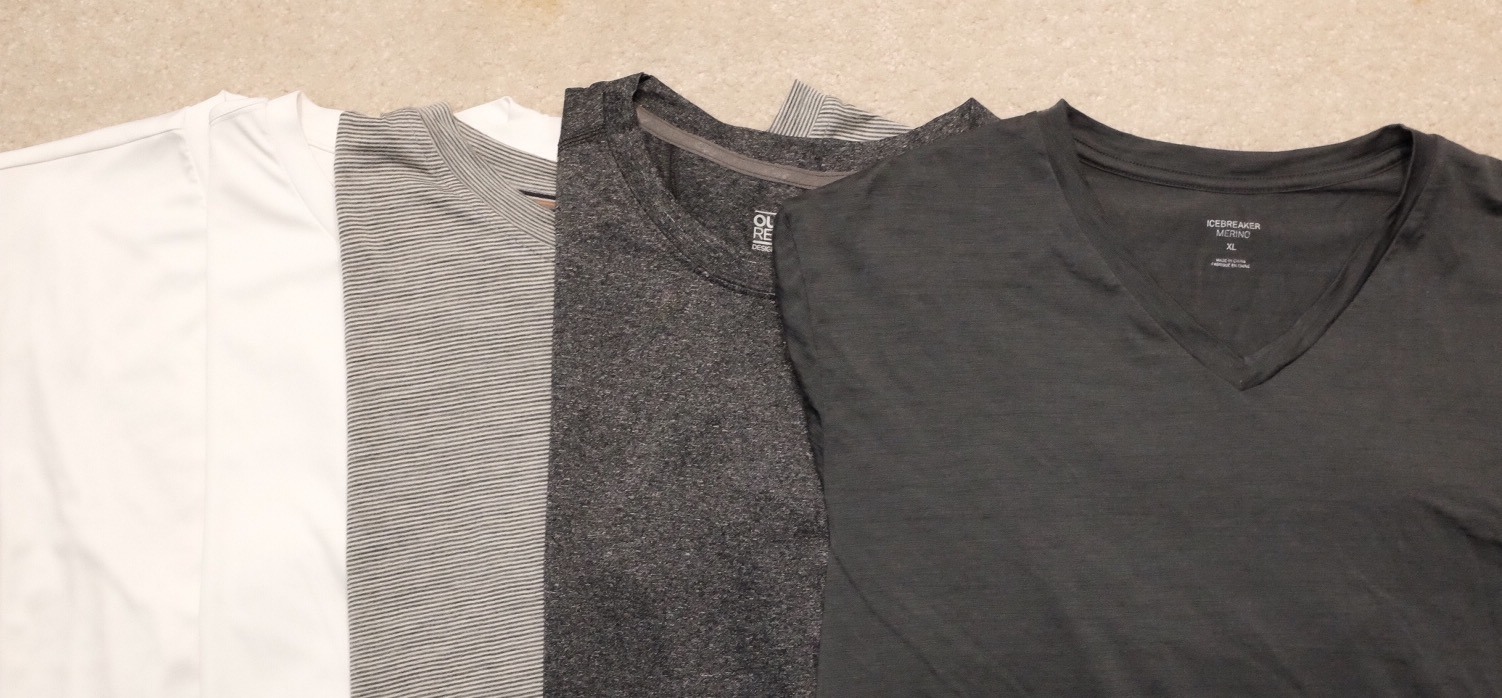 From left to right: Ministry of Supply Core V-neck, Crew, Smart Wool, Outdoor Research, Icebreaker Anatomica.
Merino Wool
When you get into hiking, or one bag type travel (as we are talking about in this series of posts), the Merino wool torch is one you are going to hear a lot about. It wicks moisture well, dries fast, and is naturally odor resistant. All of this adds up to a fabric you can wear for a week or more, without it smelling bad. And still being able to be washed and dried overnight with no aid of anything more than air. Often these shirts will dry in just a few hours hanging in a hotel room.
For undershirts you are looking at spending between $50-100 per shirt. Which seems insane, and is a bit insane. I waited and bought all of mine during different sales and ended up netting a price between $30-40 per shirt. Still, expensive, but at least it felt like a deal.
The big concern I had: do they work, and are they comfortable?
Amazingly, the answer to both questions is a resounding yes. I've worn these undershirts for a week straight, without washing them, and all they ever smelled like was the fragrance of my deodorant. I couldn't detect a hint of anything else. They also dry insanely fast.
And comfort? Yes, they are comfortable, but not as comfortable as cotton or synthetic shirts. Having said that though, they have never been uncomfortable to me in the least. Honestly I would buy a drawer full of these shirts, except you actually only need a couple at any one time. It doesn't matter how long of a trip you are going on, or where you are going, one shirt is probably all you need if it is Merino wool.
It's astounding. I have read a few accounts of the shirts smelling like body odor for some people, but those accounts seem far more rare than the positive accounts. I've been wearing mine even when I am not traveling, as they regulate my body heat exceptionally well.
I've tried both a Smartwool NTS Micro 150 crew neck and Icebreaker Anatomica V-neck and found both to be excellent shirts. The biggest issue I have is that these shirts hug the body closely (though looser than Underfit) — leaving me a bit self conscious. Ultimately this isn't a deal breaker for me. Of the two I tried, the Icebreaker shirt is much nicer than the Smartwool shirt, and as such I would recommend you start there.
Synthetics
This will encompass anything that is not cotton and not wool. Here you get a lot of comfort and great moisture wicking to help with body temps. What you don't get is a fabric that dries as fast as wool. It dries fast, just not as fast. More importantly you won't get the odor resistance.
I tried Ministry of Supply's Core line of undershirts and they boast a coffee infusion to control odor. Unlike most synthetic shirts, they certainly didn't smell after a day, however they do start smelling not long after that. These are not shirts you are going to be wearing all week. I would say they need to be washed every couple of days, if not every night.
They are also more prone to static build up, and you often get that clinging feeling from the shirt which tends to drive me nuts. However, even with that, I much prefer the feel of these on my body to the Merino shirts. They look and fit more like a typical t-shirt where they are looser, but still comfortable under a dress shirt.
When it comes to washing them, they tend to dry a bit slower than Merino, but certainly would dry overnight while you sleep. Overall, I think these are the best of the shirts I tried if you are looking for a more traditional shirt, which is also travel friendly. But you'll need to pack a couple, as one won't do it.
More Options
Most of the brands you see throughout these guides will sell a base layer shirt like this. Additionally you can find most hiking brands selling either Merino or synthetic shirts. The quality varies widely (especially with synthetic) but that's another good route for finding a deal on these.
What I Pack
Despite my affection for the Core undershirts, I still pack the Merino shirts when I travel. Actually, I take that back, I don't pack the Merino shirts as much as I wear them. Meaning: I wear one undershirt and pack no others. That's why I make that shirt Merino, because it won't let me down and I typically won't have to wash it.
For trips longer than 2 days, I tend to toss in another shirt just to have an extra if I need to wash the one I am wearing for some reason. That second shirt tends to be a synthetic shirt so that I have an option for a different type of shirt if I want it. However, it could just as easily be another Merino.
---
I'm not adamant one way or the other here, as I can see the reasoning for both types of shirts. Buy what you like best and wear that, just make sure it isn't cotton. No matter which type you pick, you will be good to go. Whatever you do, get a system where you pack no more than two undershirts, and given that you might opt for one of each. If you don't want to wash shirts while you are traveling, get Merino.
See the rest of the posts here.