When I purchased the GORUCK 10L Bullet Ruck, I thought I had found the perfect combination of backpacks to own: 10L Bullet Ruck, GR1, GR2. These three bags covered 99% of my bag needs and it felt good. Then I decided to switch to the iPad Pro as my full time computer, and I found the iPad Pro (12.9″) doesn't fit in the Bullet Ruck.
Now I had a gap once again at the bottom of my bag sizes — which also happens to be my most frequently used bag size. So I began trying a lot of different bags out to find one more compact than the GR1, but mostly I just kept taking the GR1 as everything I tried just didn't feel right.
I then set down the path of looking at my other options:
Of all the bags I could pick from, those four were at the top of my list. I quickly ruled out the 15L Bullet Ruck, because they don't sell them anymore, and it just didn't seem like it would be the right bag for me.
I was very close to buying a used Radio Ruck (they don't sell them anymore), until it dawned on me, that the 21L GR1 is the Radio Ruck. Once I realized that, the bag quickly dropped out of contention.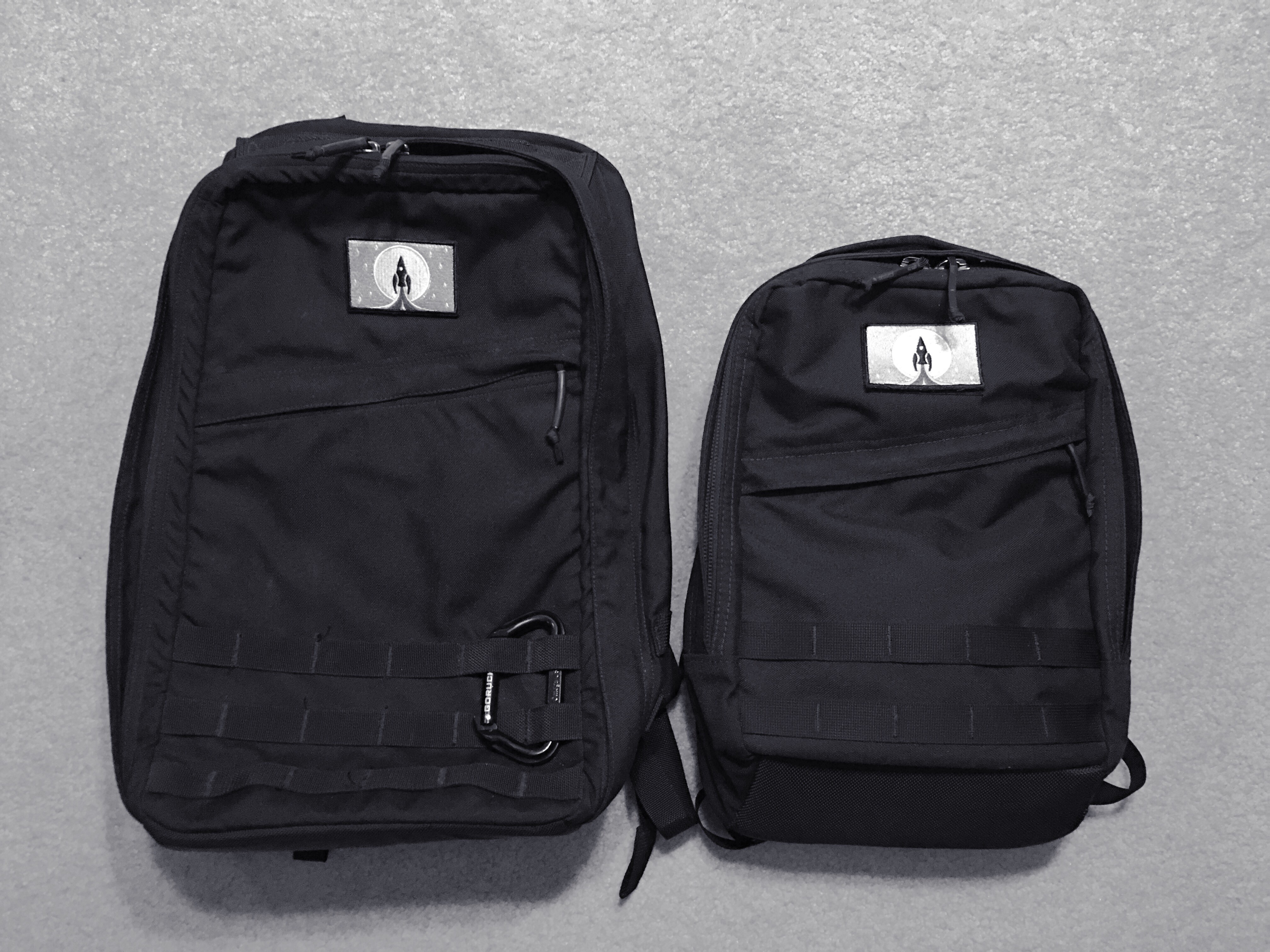 GR1 on the left, and the GR Echo on the right.

Which brings us to the topic of this review: the GORUCK GR Echo. At 16L it is the smallest ruck sold by GORUCK, which also has a dedicated laptop compartment. It is described as being for people under 5′ 8″ — I'm 6′ 3″ for the record — so right away I knew this might be a poor choice.
I purchased a used first generation GR Echo from a local seller, with the 3/4 zip front. Overall: the bag is really nice. It's like all other GORUCK bags, with excellent construction and similar looks to the GR1.
It fits my iPad Pro almost perfectly. It is the right size for the stuff I want and need to carry in it. For every possible aspect, it is the perfect bag for this use. Except for my body. It feels a bit small on my back — if it were an inch taller it would be just right. As it is, I feel like it is either too low or two high on my back and this leads to psychological discomfort.
Still, I would classify the bag as almost perfect for my needs. In looking at the sizing of the GR Echo as it compares to the Synapse 19, it seems as though the footprints of the bag are going to be identical — so this makes me hesitate from trying out that bag.
As it stands, I am going to keep using this bag — as it is near perfect and I have yet to find anything else this close to perfect for me. But I am not wondering if the 15L Bullet Ruck might be the right choice after all, or perhaps I just need a 9.7″ iPad Pro and then I can regain the perfect harmony of the 10L Bullet Ruck.