A small standing desk, that's really all I need.
So up went that small desk in the corner of our bedroom, and there I worked for a good 6 months. It wasn't big enough though, and I often found myself working on the bed or the floor. I needed a bigger desk.
In came my large desk, out went a side of the bedroom. This is better. But that bed, it's so comfy. Oh and then there's my wife needing to touch up makeup in the attached bathroom. Also the little fact of being 16 hours a day, in the same room.
It gets old.
I need my own office space.
The girls can share a room and I can give up my office when guests stay with us, so out went the second kids room and in went my office. I painted it, and arranged it so it still could house a queen sized air mattress without disturbing my stuff.
The window, it's behind me though and there's no way around that if I want to use this room as a guest room as well. No light hits my face and I find myself contorting to stare out the window when I am losing myself to thought. When I am crafting proposal language, writing, copywriting, editing — thinking — I need to stare off and doing so is a chore at my desk.
I have all the room in the world now, except that rectangle over there reserved for an air mattress (for our guests that don't come nearly as often as we remember them coming).
Now, another 6 months later, I've had enough.
I pull the desk off the wall and place it under the window in the room. My office is a mess, but my mind is happy. Things feel better.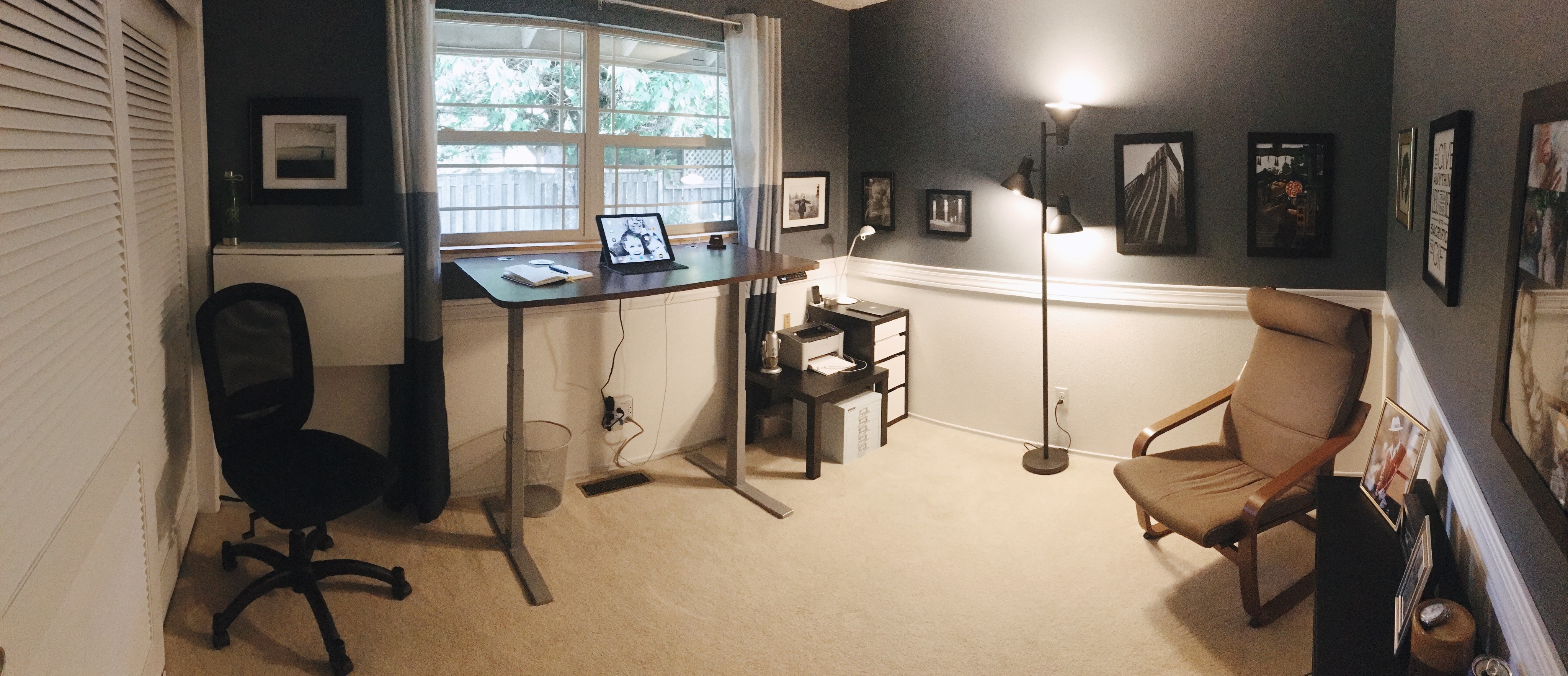 It only took a year and half to realize this.
Actually, realize isn't the right term here — I always knew this — the right phrase is that it took me a year and a half to be selfish.
That's the key to building a home office which works: be selfish.
It's too easy to say that you don't need your office on the weekends, so keeping a bed in there isn't a big deal. That you'd prefer to give your kids each their own room. That you don't really need an entire room to yourself.
Bullshit.
You need all of it. Not only do you need your own space, but you need to lay that space out in the manner which suits you best, not the manner which suits your household best.
So no, there's no room in my office for that air mattress any more. Oh well, guests can sleep in the play room or get a hotel.
No, the kids don't care about sharing a room — they love it. I don't feel selfish about taking over this space in a way that doesn't suit the rest of the house, because I am happier before, during, and after work.
It took me well over a year to be willing to cave to what I always knew I had to do — I just hope you do it sooner than I did.
Be selfish. Make the office that works for you.