Editor's note: this bag was provided to me for review purposes, and is a pre-production unit.
Cavernous, that's the word I would use to describe this travel backpack and shoulder bag. To give you a better sense of what I mean, I had to triple the amount of clothing I would normally pack for my trip, in order to make the bag feel somewhat full and to keep my stuff from sloshing around the bag.
Even with all that extra clothing, there was plenty of room to spare. I typically don't open with thoughts on the size of a bag, but that's the most striking part of this bag. It's big. It doesn't feel big on my back, or even heavy, but it looks big and packs even bigger.
Physically, it looks smaller than the GR2 when viewed straight on, but I feel pretty confident that it could hold more than the GR2. On a profile, it looks much bigger than the GR2.
There's a lot more to a bag than its size, but the size here is striking.
Comfort
There's two ways to the wear this bag: as a shoulder bag with the provided no-thrills strap, or as a backpack. Of course I am most interested in the latter.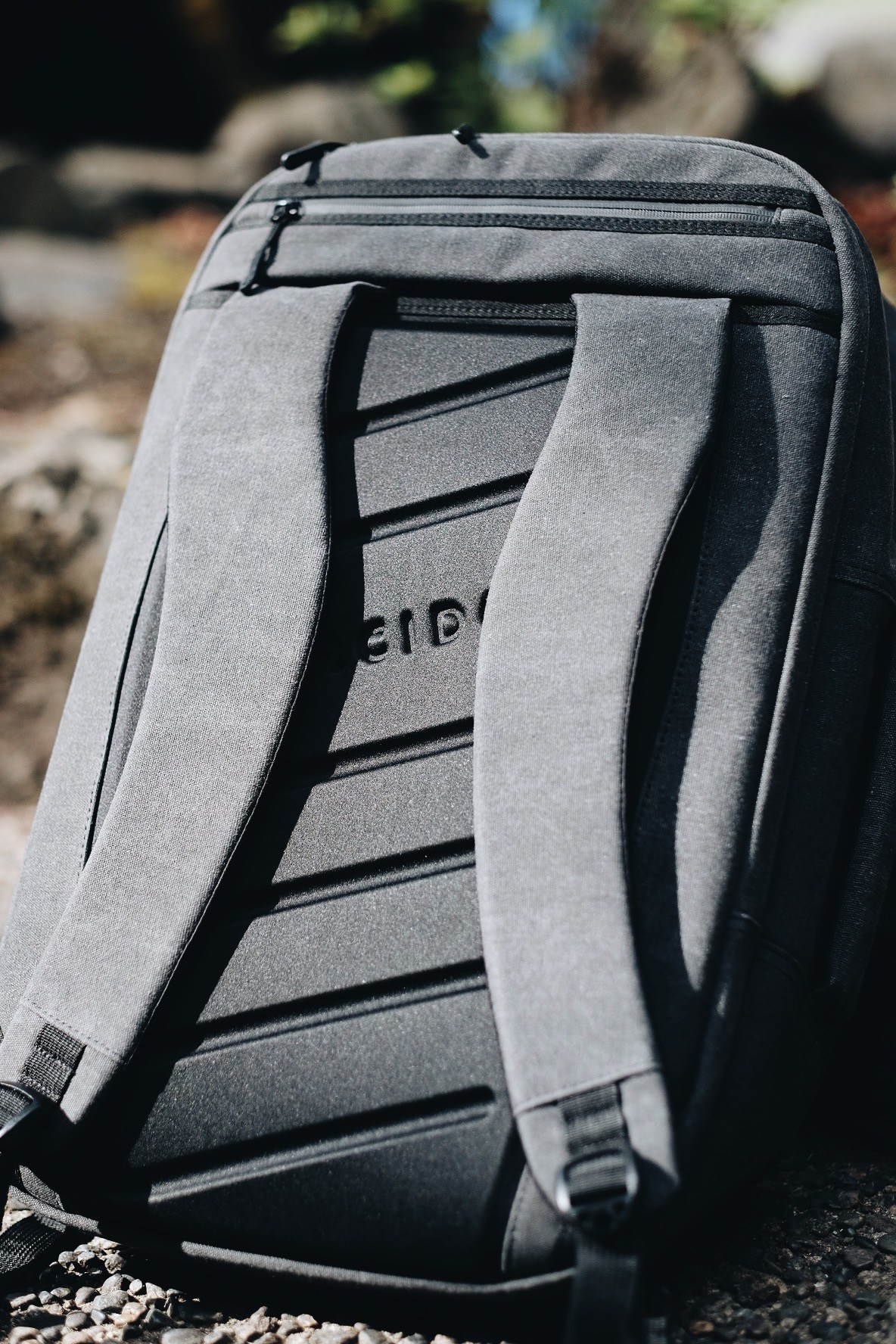 The backpack straps are wide, sculpted, and densely padded. My biggest fear is that the shape of the bag would make it feel like your shoulders were being pulled back, but I was decidedly wrong about that.
In my traveling I found the bag to be perfectly comfortable on my back for long periods of time. The dense straps were comfortable once adjusted correctly (they need to be further tightened once you don the backpack, which is very easy to do when wearing the bag).
The only issue I have with the bag as a backpack, is that I found myself unintentionally bumping into things as I underestimated how far the bag stuck off my back. Despite that, the bag gets a thumbs up for comfort. I think if I traveled more with that bag, I would get used to the size fairly quick.
Organization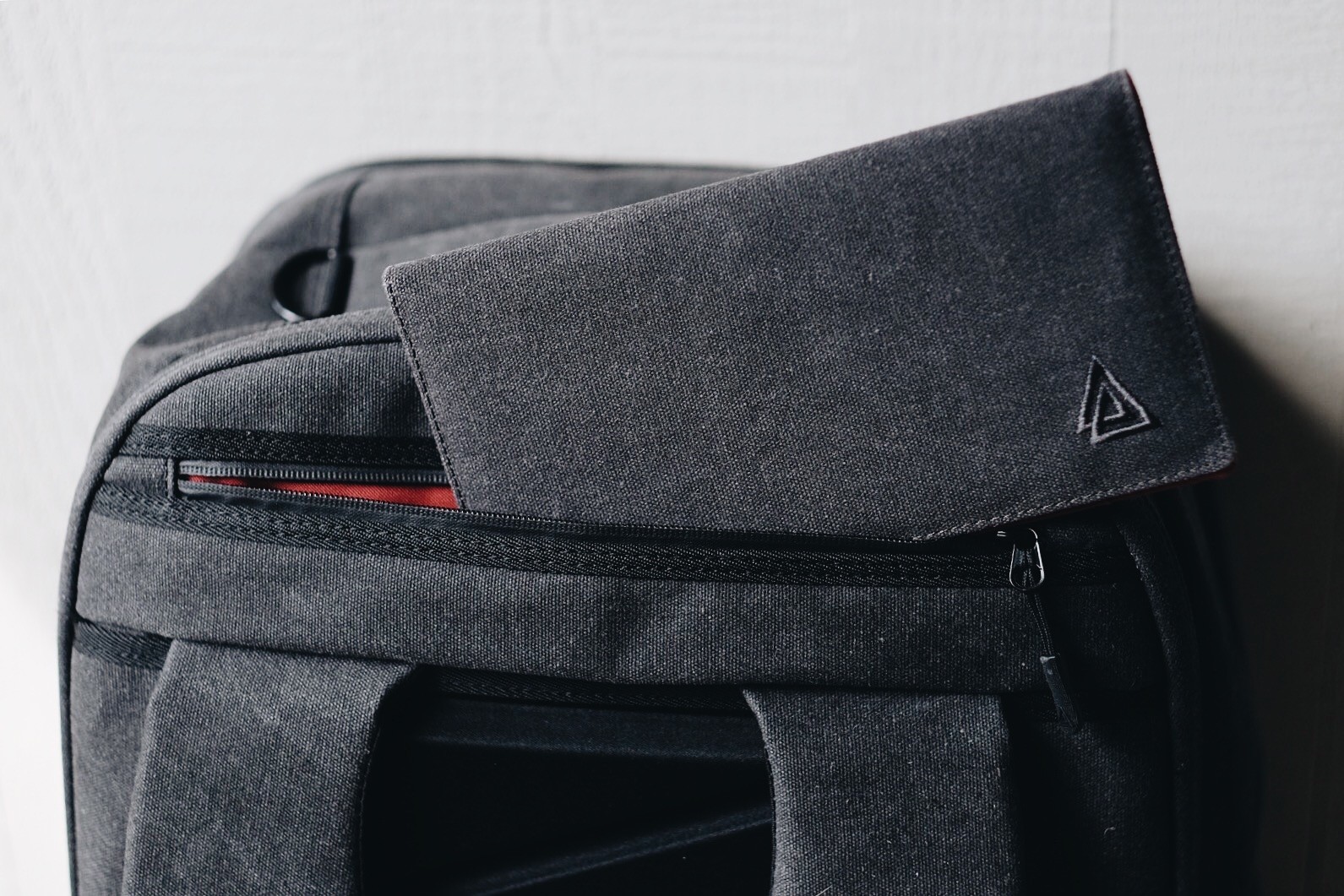 The organizational system of this bag is fascinating to me. There's three compartments on the bag. Close to your back, with a zipper facing your back is a small compartment designed to house the travel wallet included with the bag (which has RFID blocking integrated), and other important items. I found this pocket awesome for moving through security — it would easily swallow up my iPhone, wallet, and Apple Watch.
Moving one compartment away from your back is the media and laptop compartment. This is perhaps the best organized media compartment I have seen in bags like this. Offering pen slots, open pockets which fit Field Notes like a glove. There's a small zipper storage section for earbuds and other miscellany
as well.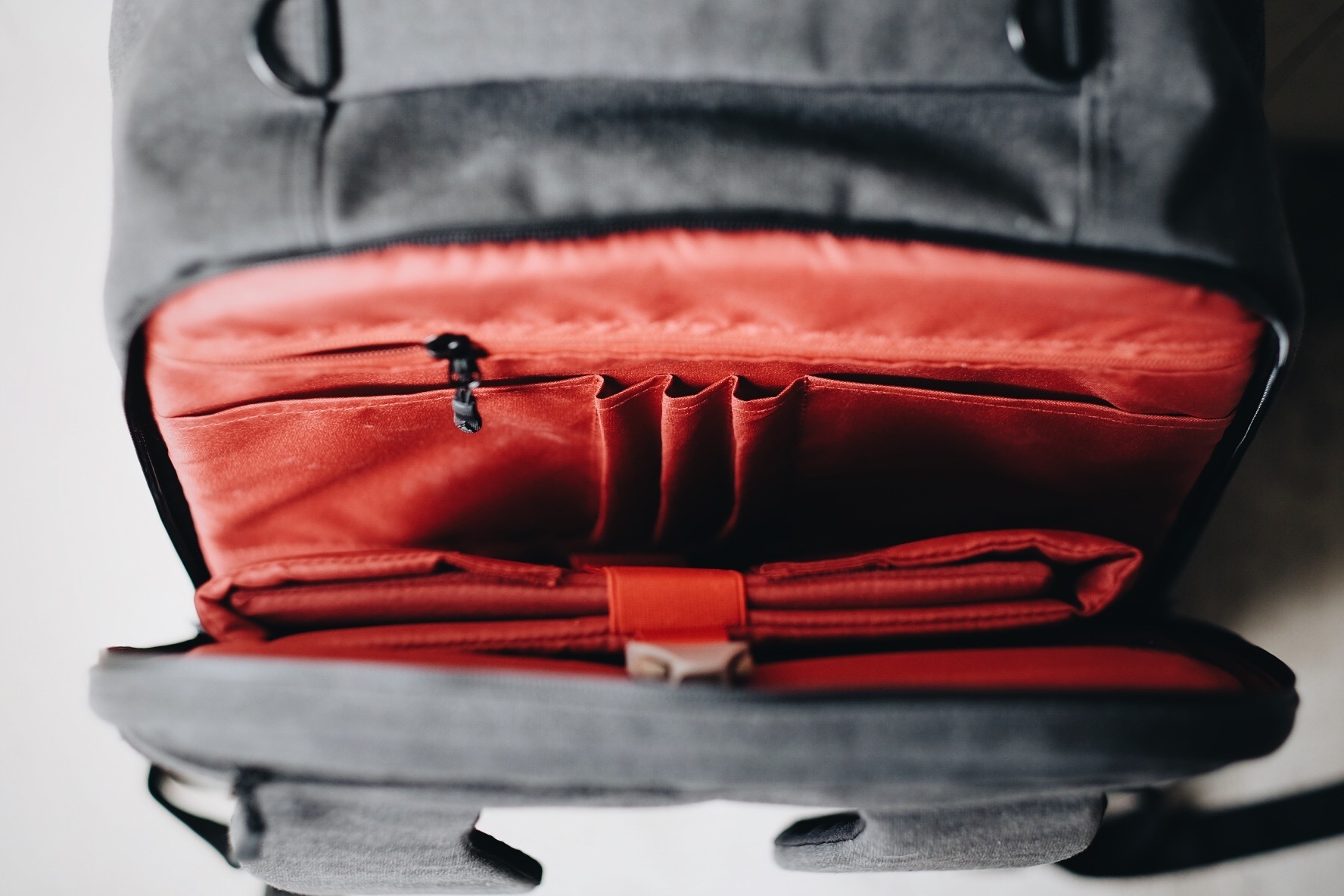 The most interesting part though is the laptop protection. It's removable, and I assume TSA friendly for non-TSA Pre-check travelers. There's a large elastic velcro strap to secure your device inside the padding. But the coolest part is that the entire sleeve is resizable so that you can make it fit your specific device easily. That's a really great touch as I often watch my smaller devices swim around in such areas, or spend considerable time getting my larger devices jammed in. I love this part of the bag.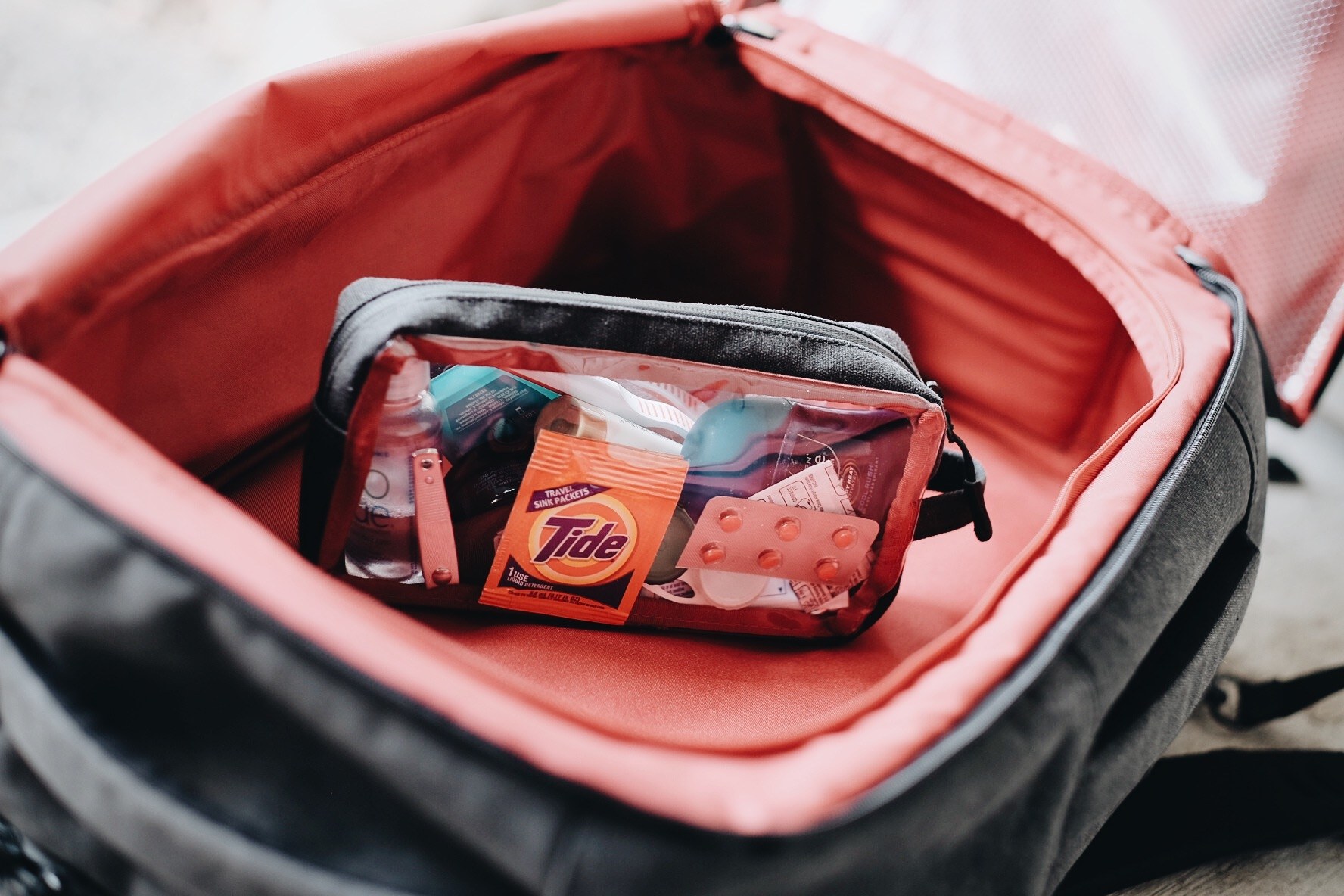 The last section is the large cavern. It unzips to fully open and lay flat — this is exactly how I like to pack. On the flap itself is a clear pocket which does a great job of holding toiletries in the included toiletries bag (I'll circle back to this). The main compartment is cordoned off with a thin layer of nylon, you have to unzip that nylon and open it to get to a large empty area.
At first this division annoyed me, but then I realized that I could fully open this section of the bag while it was standing and not worry about any of my clothing spilling out. This quickly became a very nice touch for using the bag while traveling. I was able to put a soda, and other small goods in this main section, while keeping this clothing cover in place and thus not disrupting my packed goods.
And that toiletries bag I mentioned — I really like it. My GR1 Field Pocket is my normal toiletries bag, but I'll be switching to this one. It is lighter, and perhaps a bit smaller, but it is sized incredibly well. It is too thin to hold my electric razor, but it holds my other goods so well that I was very happy to use it. It's just a great size and shape.
Looks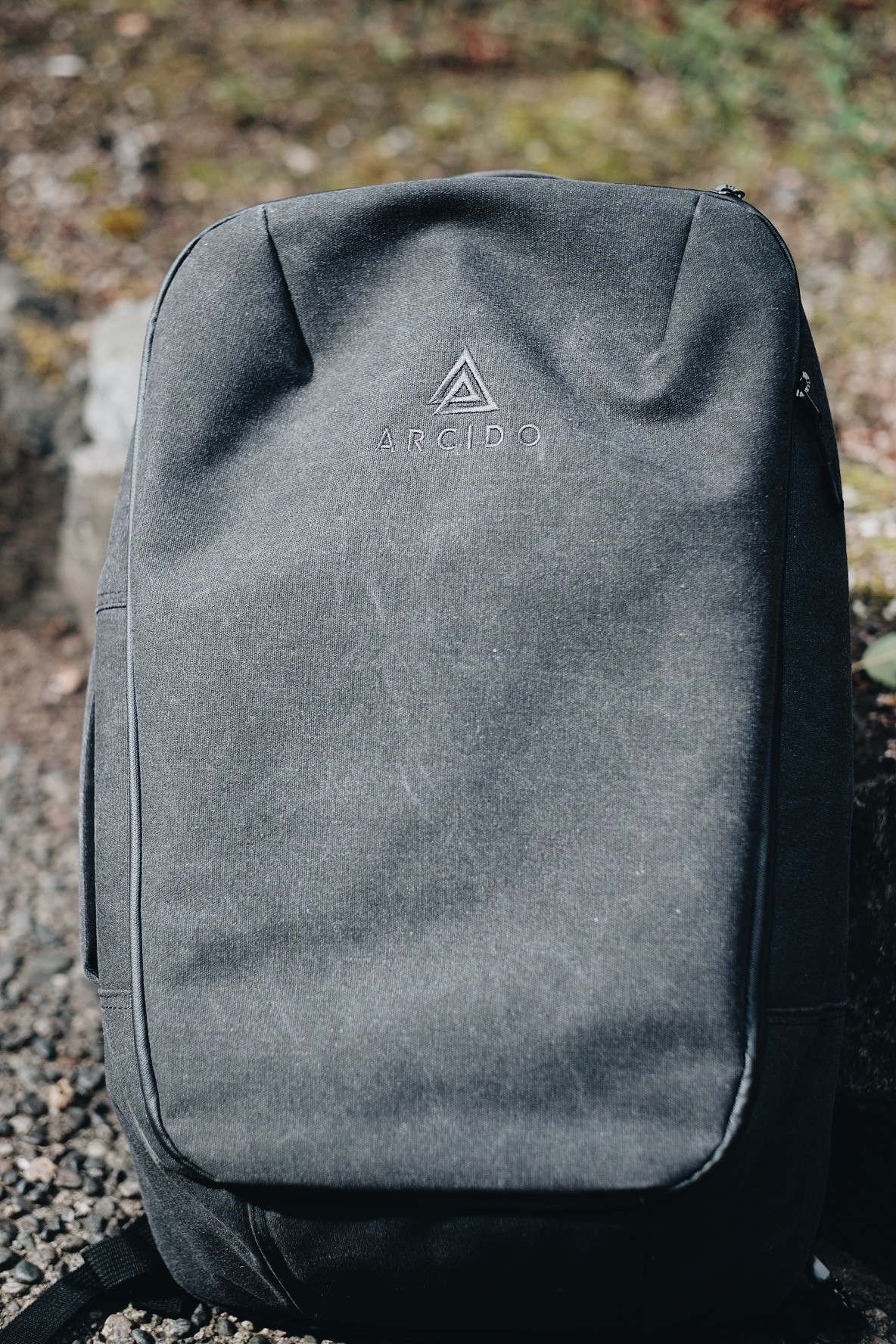 The looks are what initially drew me to this bag, but are also one of the most contentious parts of the bag for me. The important part about this bag is that you simply cannot say that it is yet another black travel backpack. Far from it.
The exterior of the bag is a dark gray canvas which somewhat reminds me of my Ona Bowery waxed canvas camera bag. The texture is rougher than the Ona, but there is a similarity which I love. It feels like a bag which will nicely patina and show others how much you travel.
The looks of the fabrics, the zipper pulls, and the tactile response I get from the fabric is outstanding.
There is a but here though. The shape of the bag is very odd. It tapers from narrow at the bottom to a bit bulbous at the top. I find this both interesting and very odd. I remain unable to tell if I like the look of the shape of the bag because it is interesting, or if I don't care for it. Practically the shape has little bearing on the utility of the bag, so if you like the look, then there's no further concerns.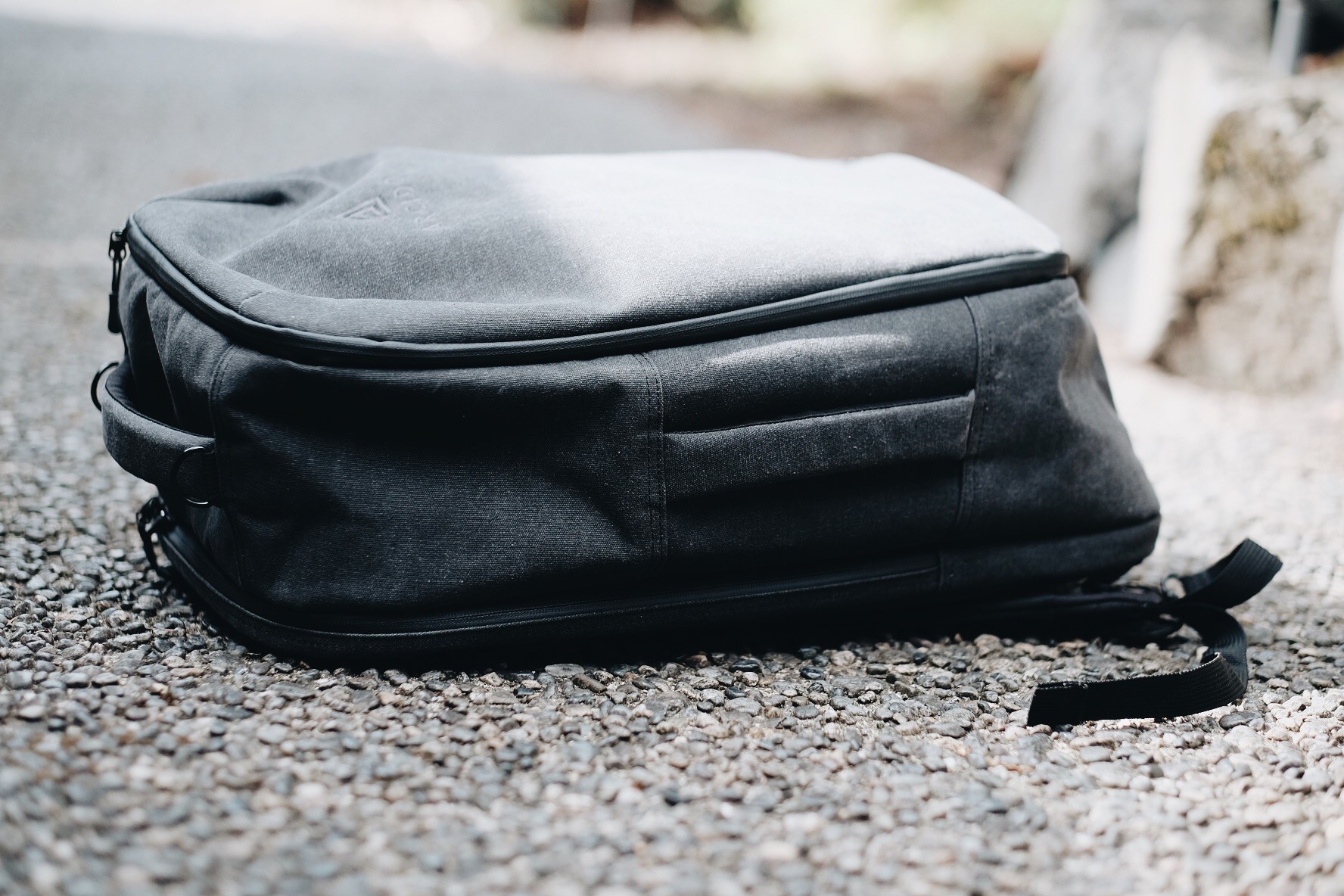 Lastly, my largest complaint about the bag is that it just looks huge. More than a couple people remarked to me how large the bag looked — as if they were surprised I would need or want such a large bag. That look is a concious decision given the shape of the bag and the look of the non-black fabric. I've never heard similar comments on my GR2, so I was surprised to hear them while wearing this bag.
Overall
This isn't a bag for me, as it is simply too large for my needs, but that's the only reason it isn't for me. I can see it appealing to a lot of people. It is one of the better travel backpacks I have tested for carrying lots of tech gear with you — besting even a GR2 in tech organization. However, there's no way to compress stuff, so the main compartment becomes a mosh pit for your clothing unless you pack more stuff.
If I traveled with the bag again, I would absolutely use packing cubes, or stuffing the main compartment full. That's why this bag is simply too big for me — I already packed three times the amount of clothes I would have otherwise, and I still have more than 50% of the bag to spare. To some people that's going to be a huge plus, and I agree: this is what most people want from a travel bag.
If you are not as light of a packer as I am, and you simply hate the look of most backpacks, this should be a serious consideration for you. The materials are great, and the bag has a ton of room in it.
You can back the bag on Kickstarter, here.
Thanks again to my wife, Erin Brooks, for the photographic help.