Editor's note: these shirts were sent to me at no cost for the purposes of reviewing.
It's been a while since I reviewed undershirts — the regular ones, not fancy merino undershirts — but I received some NVSBL undershirts to test and then I took my damn sweet time testing them. There's two types of people who wear undershirts: those who want their undershirt to be seen and those who don't want it to be seen. I don't understand the former group — but the latter group is doing it right.
Ideally your undershirt should be doing at least these things for you:
Be Comfortable
Be Unseen
Staying Put
This is where regular undershirts fall down — they are typically seen (more on this in a bit) and rarely stay put, though they are comfortable.
Let's see how NVSBL shirts compare.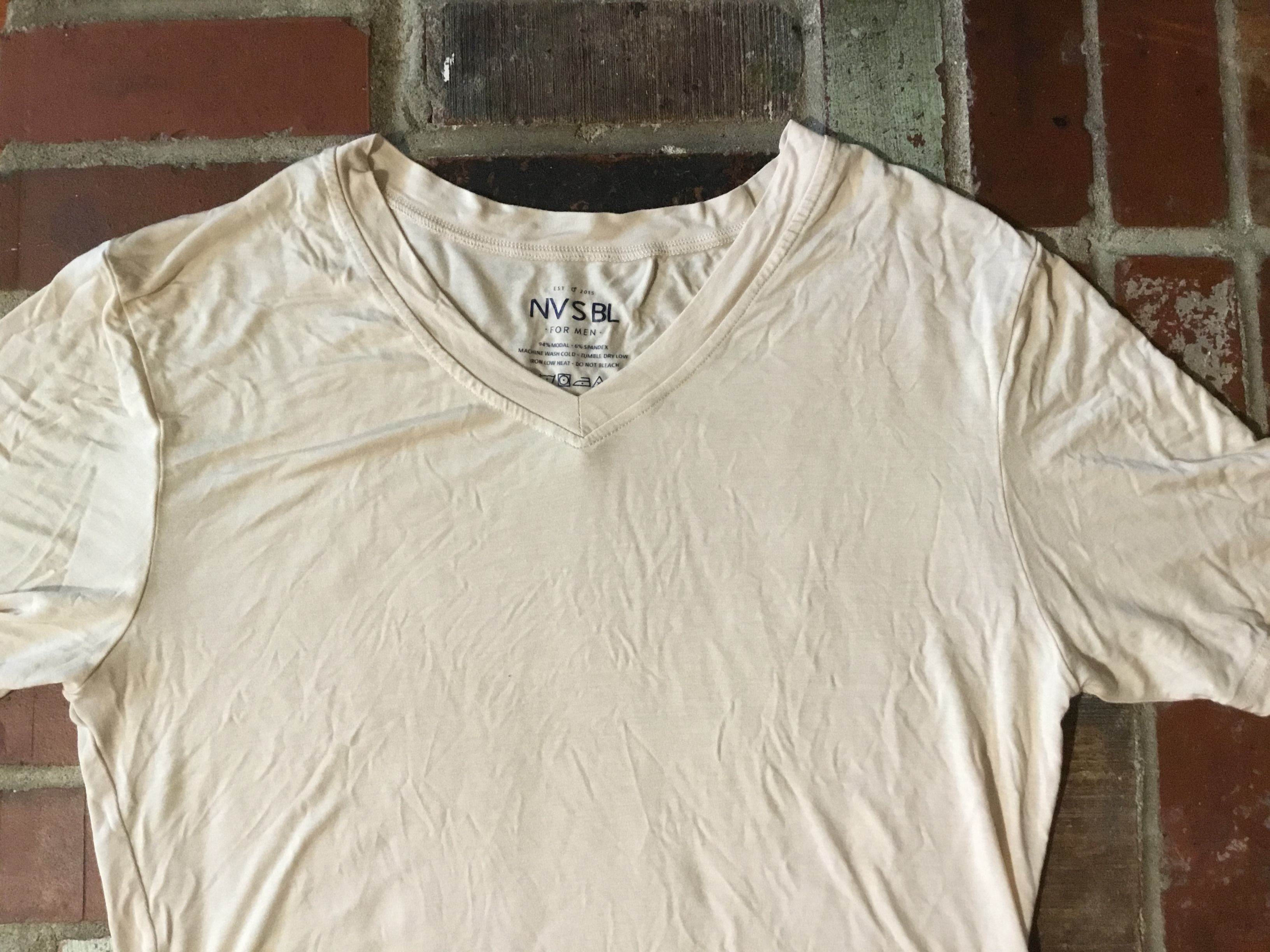 Comfort
The more I dive into clothing and fabrics, the more apparent it is that what truly makes something comfortable is its ability to stretch and breathe. NVSBL makes their shirts out of a modal fabric and spandex.
Which means the shirt resists odors, handles sweat well, and stretches with your body. The primary reason wearing a form-fitting undershirt is uncomfortable is because it restricts your movement — NVSBL undershirts most certainly are not restrictive.
These are supremely comfortable undershirts. The fabric is some of the softest I've touched, and even after washing they feel like new. I am struck by how soft they are every time I pick one up.
Unseen
Undershirts should not be seen, but this goes beyond the neck line. A v-neck is the best undershirt because it allows you to wear your dress shirt with the top button undone, and still not be seen. But that's only one aspect, the far more important aspect is how it effects the fit of your dress shirt.
An ill fitting undershirt will make your nicely tailored dress shirt look frumpy, and out of sorts. not only do you want an undershirt to be hidden at the neck line, but at the arm pits, and waist too. This means it needs to be close fitting.
NVSBL, like some of the other undershirts I have tested, are form fitting. You won't be wearing this shirt by itself, unless you are sporting a body with much different characteristics than mine. However, this shirt (as the name suggests) disappears when you put on your dress shirt.
Right Where You Left It
Lastly, you need your undershirt to stay put. It's the layer between you and your dress shirt, and an unruly undershirt means that your dress shirt is going to come untucked — a lot. So you want your undershirt to act like your skin and remain in place.
To that end, the NVSBL undershirts also work extremely well. The additional length in the body of the shirt helps to keep things in place, no matter what you are doing.
Color
Most men's undershirts are white. That's the classic look, and while some people will choose a black or grey undershirt — white is easily the most common. NVSBL shirts are tan, and blend fairly well with my skin tone. However they only offer one skin tone so if you are particularly pale, more tan, or just not a white male, these shirts will just look like an odd coloring choice for you.
However, if they are close to your skin tone, they really will be invisible — this is especially true when you wear a white shirt. Ideally your undershirt would be the same tone as your skin, so that anything showing through your dress shirt remains the same color and you cannot make out the outline of an undershirt.
For me, NVSBL nails this, but that's not going to be the case for any non-white person. My hope is that they offer more color choices soon.
Versus Underfit
The reigning champ for undershirts is Underfit, but how does NVSBL compare? On paper these shirts are almost identical, where NVSBL uses Modal and Spandex, Underfit uses PreModal and Lycra — the differences are subtle. They both have deep v-cuts, with Underfit being slightly deeper. Both are very comfortable.
Underfit comes in classic white, NVSBL comes in tan.
Which one? What I can say is that NVSBL is a smoother material and is my preferred shirt. However, Underfit is almost $10 cheaper per shirt with very little difference in comfort and fit.
Update: I grabbed the Australian pricing and not the US pricing. These are actually $26.95 and therefore only two dollars more. I've updated the review to reflect this.
If you truly don't care about price (and the color works for you), I'd buy NVSBL, otherwise I would stick with Underfit.
I'd pick the NVSBL hands down given the negligible difference in price.
Wrap
These are easily the best undershirts I have tested. However, the coloring of them won't work for a lot of people and they are also the most expensive undershirts I've tested. They will last, so you won't be buying new ones all the time, but they are pricey, but not when compared to like shirts.
They are, however, the shirt I grab when I put on my suit.