(Note: I received these items in exchange for a review. And all photography is courteous of Erin Brooks.)
I've been on quite a kick looking for the perfect iPad stand. I've had my woes with a great many stands so far, so when Yohann reached out to me asking to send over stands for my iPad Pro. I gladly accepted and they quickly sent me a 12.9″ stand and 9.7″ stand.
This is a rather unique stand in that it is one piece of wood which offers three positions for the iPad. A near vertical position, and desk angle, and a looking down at the iPad angle. It also weighs only what the wood itself weighs. From looking at the stand it is hard to believe the claims listed on the site, but I can tell you it lives up to all of its promises.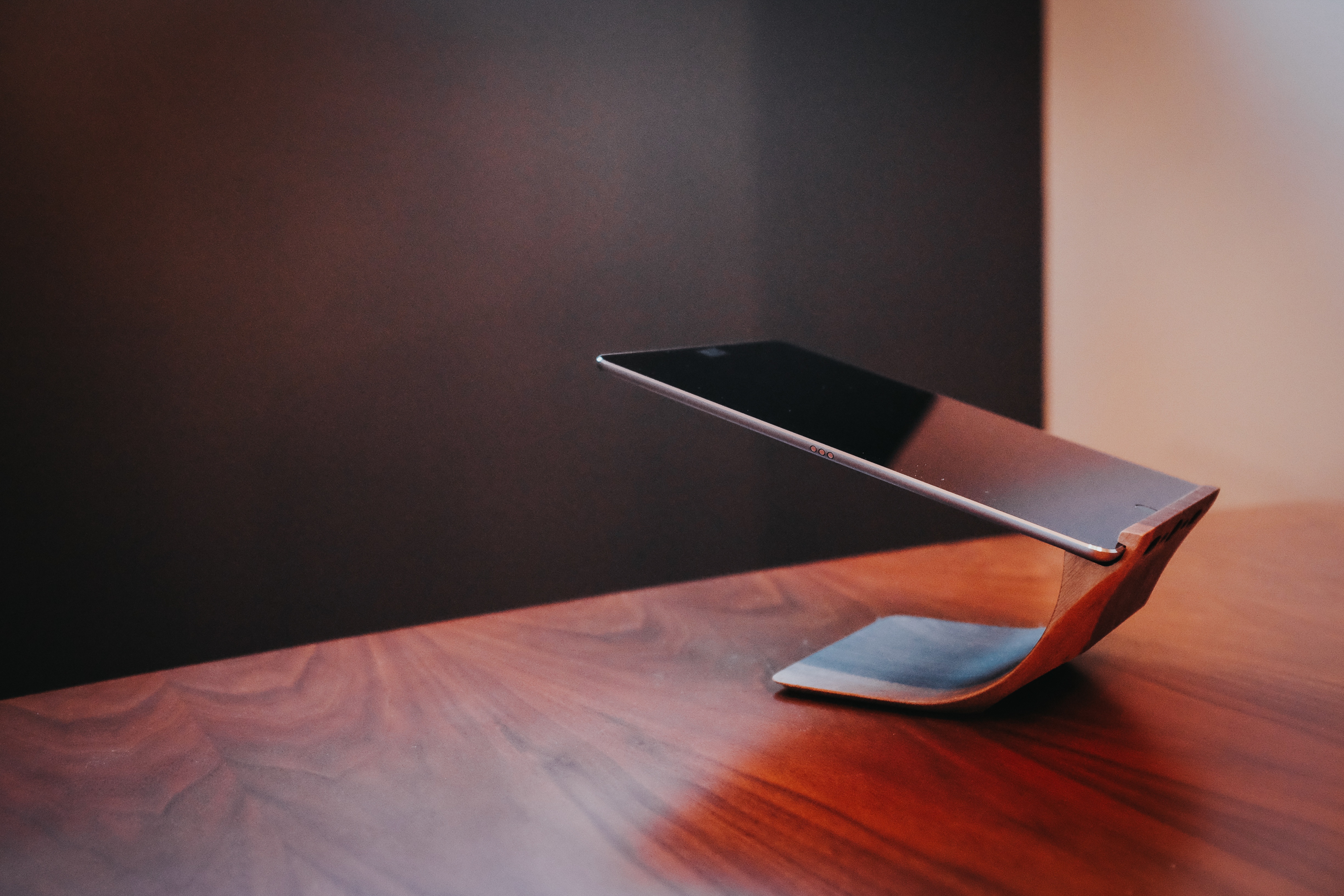 This may be the best stand I've tested for the iPad.
Angles
I noted above that the iPad can be held at three angles in this stand (technically I guess you could double this if you counted portrait and landscape separately, but lets be adults about this). The most used angle is what I consider the default state of this stand, and it's a much greater angle than most of the stands I have tested.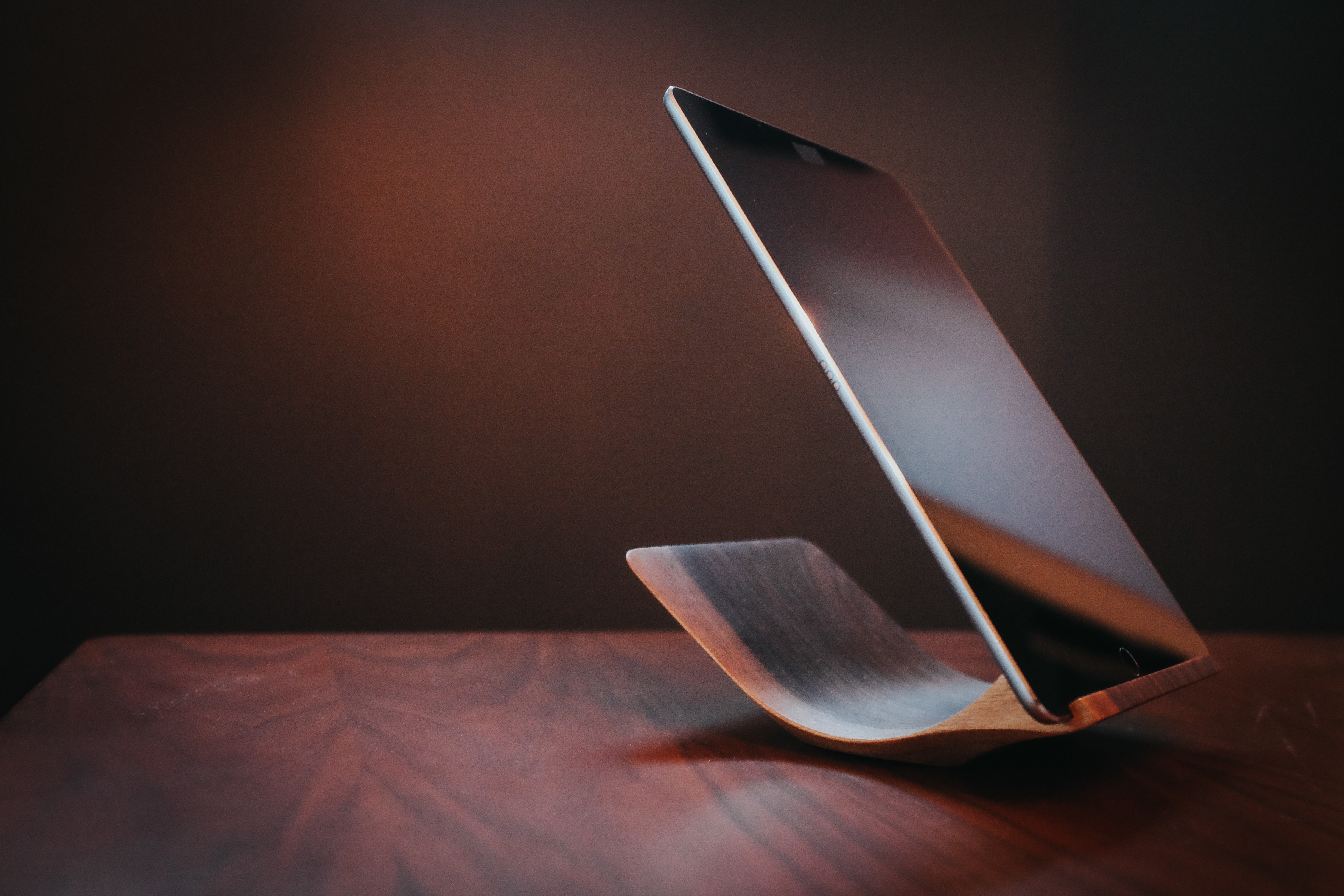 This is both a blessing and a curse. I've found that the angle provided is far too great to use this stand on top of a box to bring the height of the iPad up, but so too is the angle on the Compass stand (though only slightly). This is going to be dependent on your height, of course, but overall this is a stand made to sit on a desk/table/counter and be looked down towards.
To that end, this is the best angle I've used on any stand. This stand needs absolutely no angle adjustments to feel perfectly comfortable while you are working with an iPad at a desk or table. In fact it has become my go to stand for my 9.7″ iPad Pro, especially when I am out of my office, say working while waiting for water to boil in the kitchen.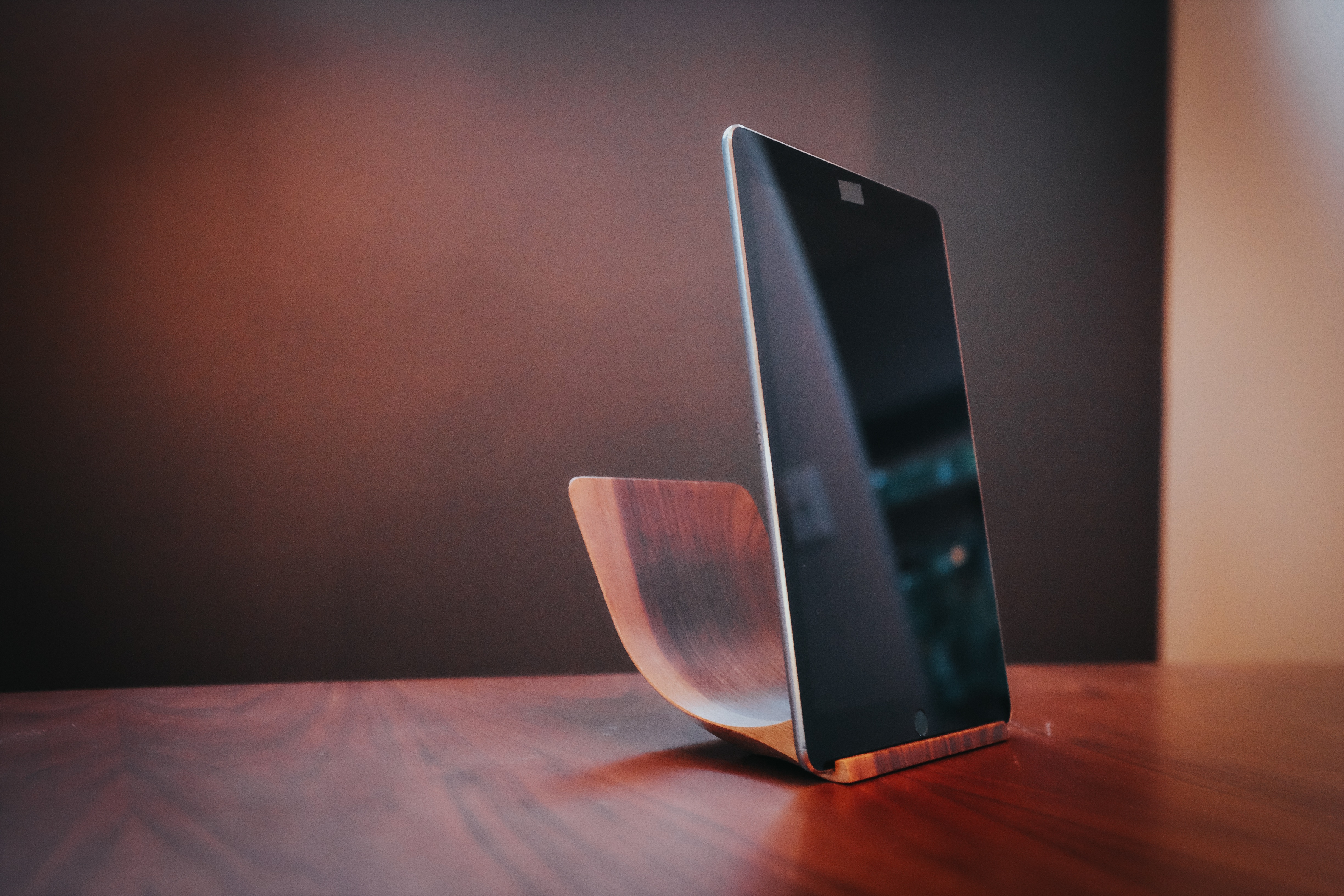 The other two angles are what I would consider specialty angles. The near vertical angle is one I have yet to find a good use for, but I suspect that there are people who have long wanted that angle for their iPad. If you could get your iPad high enough, it would be great for ergonomic reasons.
The most extreme angle positions the iPad in a near flat angle, while also moving it the highest off the surface of all the angles. At first I thought this was really bizarre, but I think I have cracked it — it's the perfect angle when your iPad is on a counter and you are standing, looking down at the device. I suspect this would be a great angle if you are presenting, but far more useful is that it makes great sense in the kitchen.
Not only does it provide an excellent angle for reading recipes, but your iPad is a good amount off the counter in the rare case you might spill something.
Overall, even if I just used the standard angle, I would be more than happy with that.
Stability
Whenever I get a new stand my first test is to see how hard I can tap the top corners of the iPad before something bad happens. Secondly, how hard I can slam the keys on my keyboard before stuff starts to shake like a scene from a bad movie.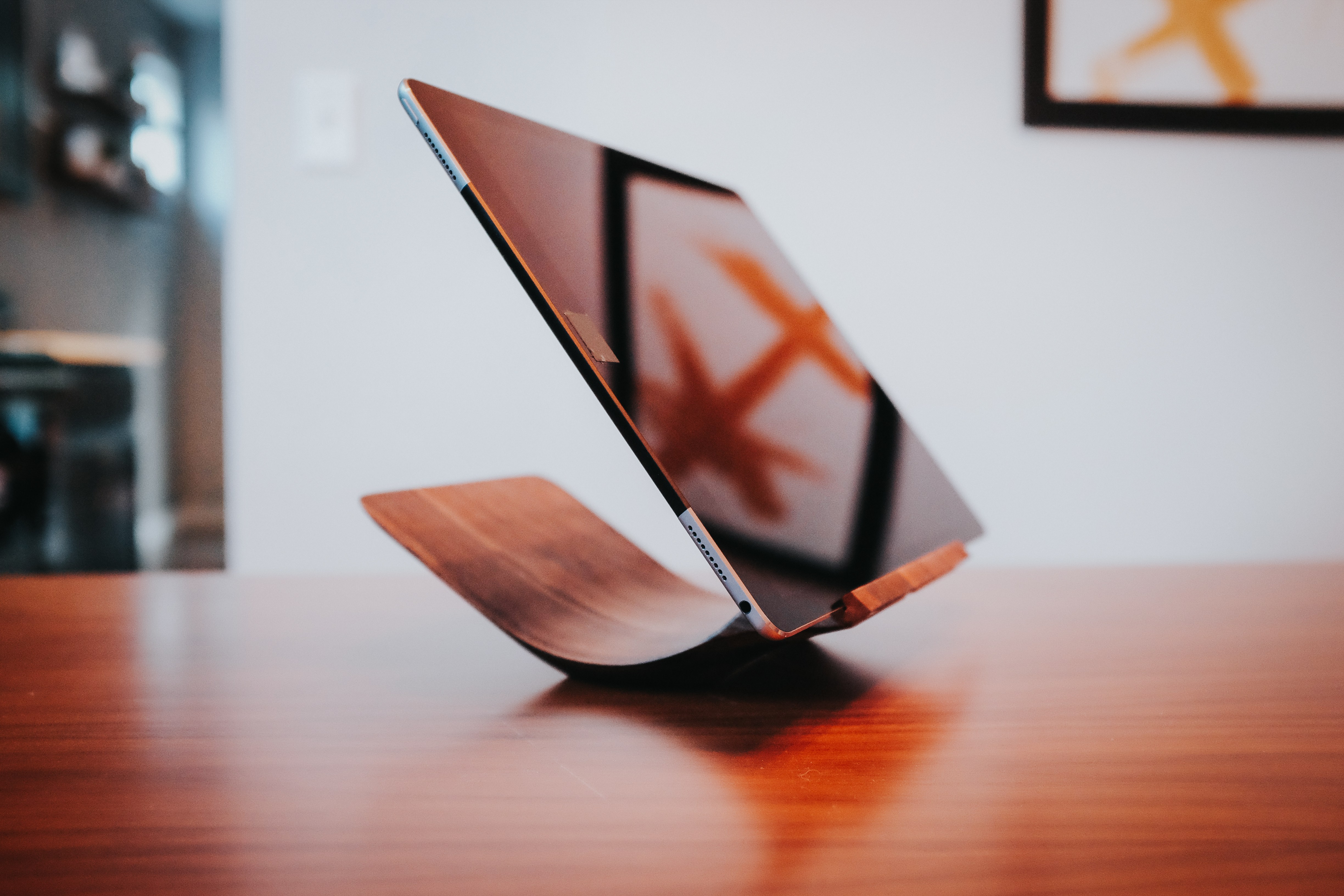 This is also one of the most stable stands I have tested. In landscape it takes far more force than I would ever expect to use in order to tip the stand to the next further angle and there is zero vibratory issues from my typing. (My comments are reflective of both the 9.7″ stand and 12.9″ since they both have the same performance and are tailored for each device.)
Where things change is when you move to portrait in the stand (which is supports really well). Now, every stand I have tested in portrait has faired very poorly — you can usually place your iPad in portrait, but tapping the top corners is risky. With the Yohann stand that's just not the case.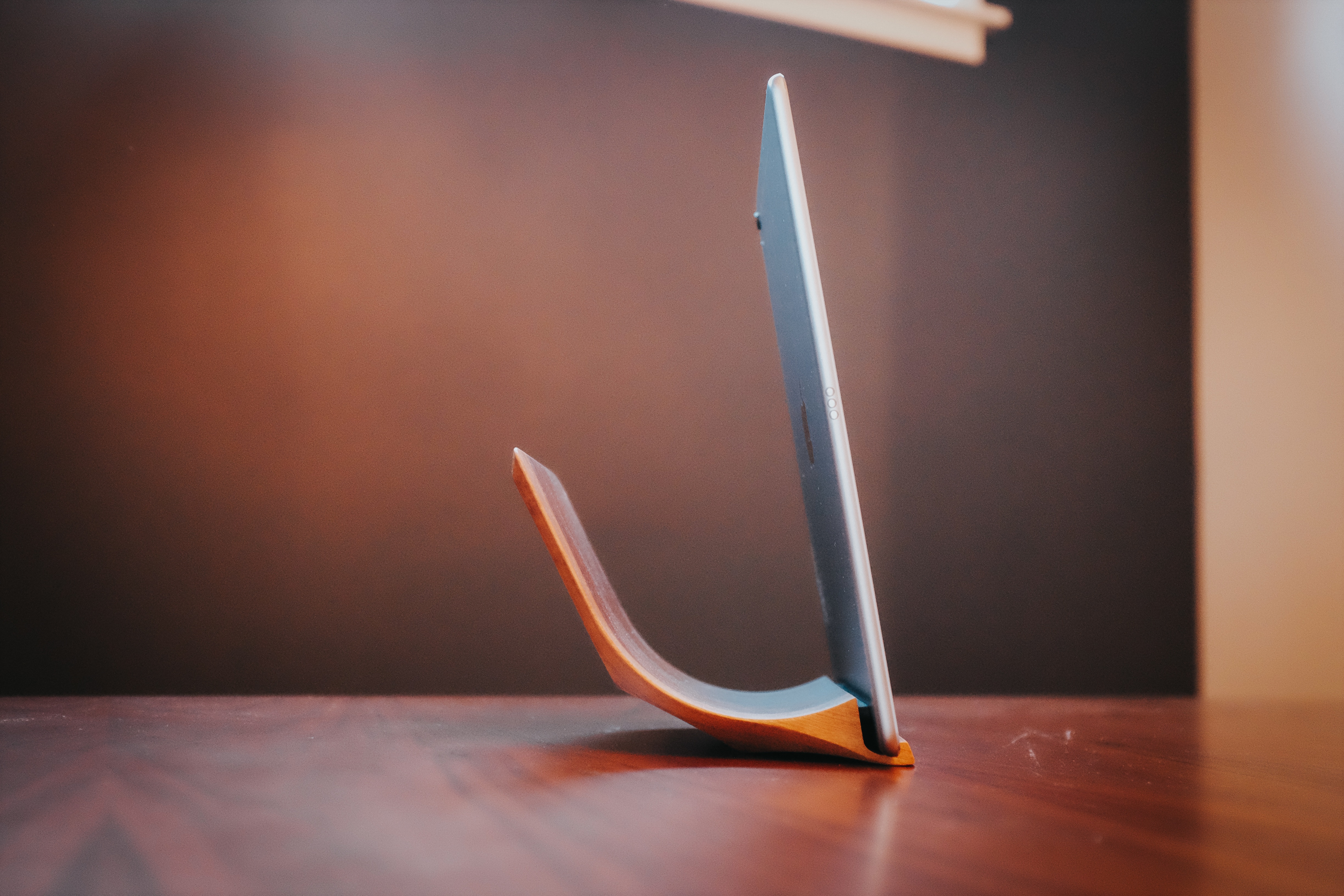 While you cannot exert full force, I find the stand more than useable with the iPad placed in portrait no matter which angle is being used.
The biggest knock against the stability of this stand is the lack of any rubber feet. Because of this the stand has a tendency to slide around any smooth surface it is on. I am also no sure it would be possible to apply rubbery feet to the stand without negatively effecting the mechanics of it.
In practice this is really only an issue if you tend to jab your finger at the screen when you want to tap something. For the most part I never was affected by it sliding when I was working with my iPad in the stand.
Adjustments
One thing which really sets this stand apart is that you can adjust the angle without removing your iPad, or any of the other bullshit you tend to find in most stands. Just rock the iPad and stand forwards or backwards to shift things. Couldn't be easier.
Downsides
I mentioned the overall lack of grip, which is a rather minor downside, and how the angle isn't useful if you are a weirdo who tries to lift their iPads up higher like me. Those are hardly downsides, but rather trade offs. I think the biggest downside of this stand is that you will want to take it with you, but it's not that easy to transport.
The 9.7″ model I could see slipping in a bag, but not the 12.9″ model — it's far too large and the curve makes it overly bulky. I don't know how you would make this stand fold down, but even without changing it, you could take it with you, but you likely are served by better options. It's a bulk thing.
Small Touches
The Yohann has some really great small touches which are worth pointing out. The first is the packaging, simple yet straightforward and well done. They both have ports at the bottom to let the lightning cable slide through when in portrait, so you don't have to use the iPad upside down. The next are stand specific, so let's break them apart.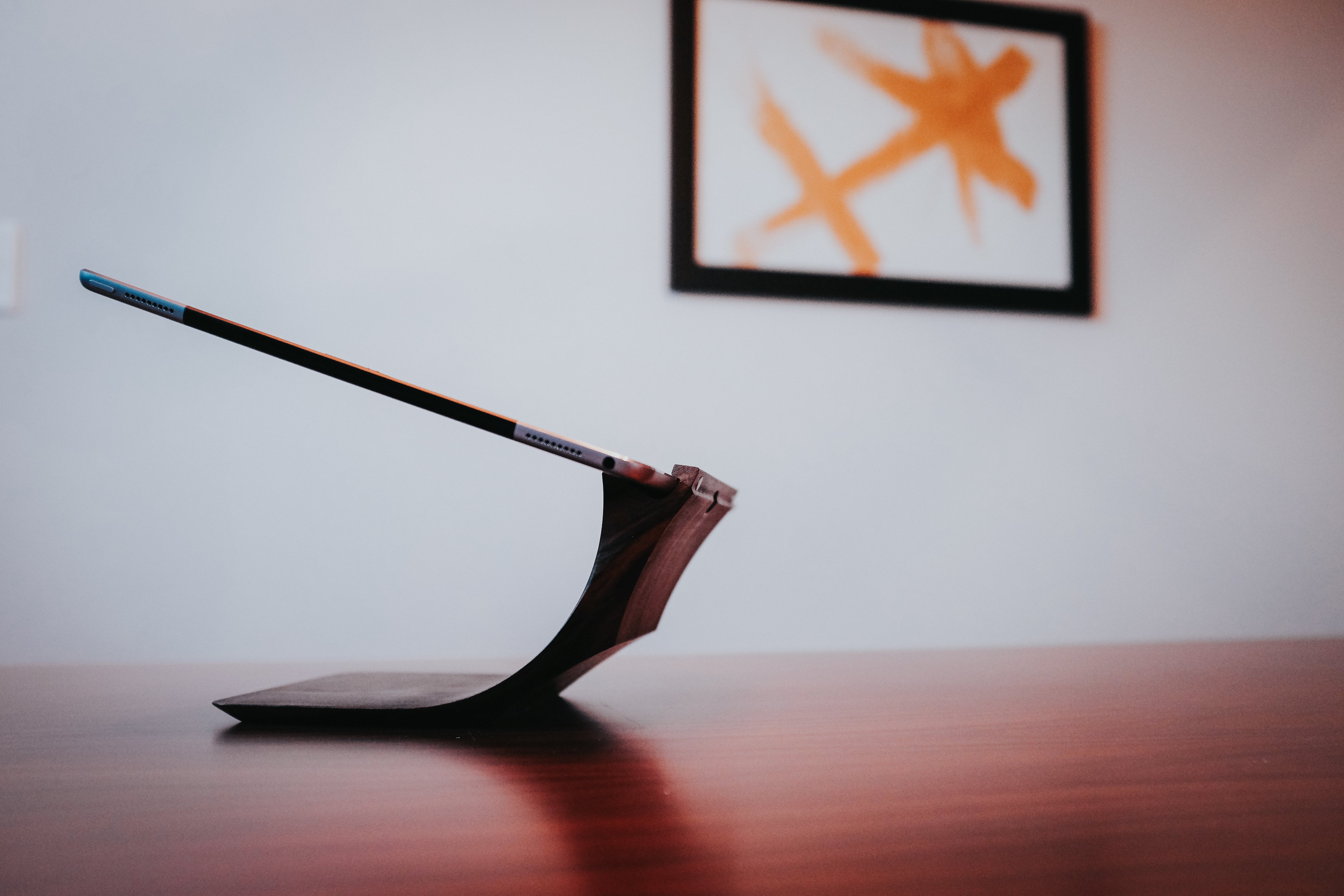 The 12.9″ iPad Pro stand has some really nice Pencil accommodations. A hole drilled just behind where the iPad rests acts as a sheath to almost the entire Pencil (it leaves just the chrome ring and cap sticking out, and is lined with soft stuff). You can also magnetically attach the Pencil to the bottom of the front lip on the stand where two strong magnets really hold it in place. Overall: really nice touches for Pencil docking.
The 9.7″ stand doesn't have Pencil accommodations (it's designed for all 9.7″ iPad models, more or less), but it does have two things the larger stand doesn't. There's two additional holes at the bottom of the stand to accommodate the speakers on your iPad and prevent them from being muffled. Additionally the stand has a rubber insert which can be swapped around to accommodate the many different iPads it can hold (from iPad 2 on up).
Overall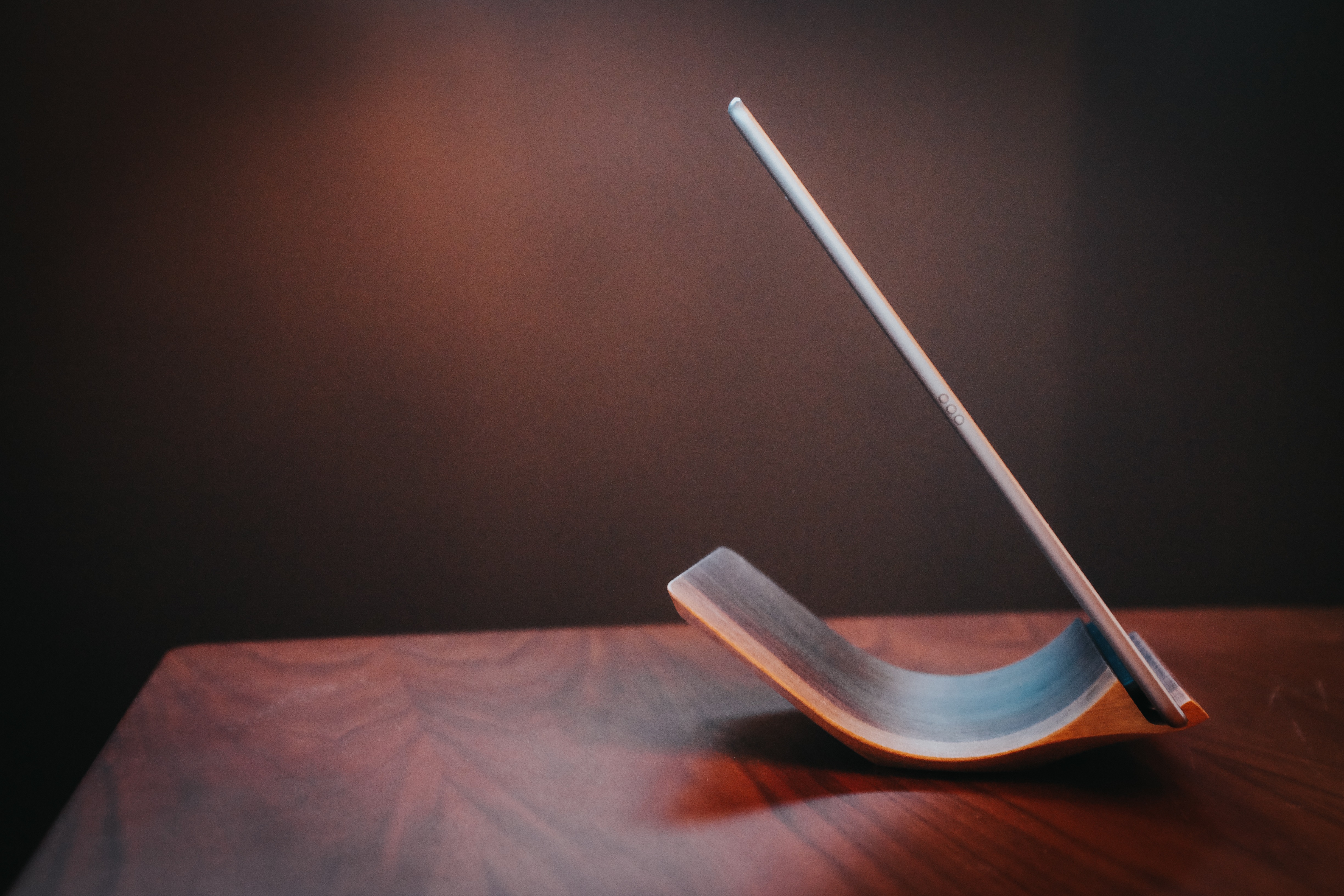 These are classy stands, and I really like them. They get two thumbs up from me, both style and functionality are top notch. These are among the pricier stands I have seen, but they justify that price. They are cleverly designed, simple to use, and they look gorgeous (they have non-wood versions of the stand too, which look stellar).