Another in my wallet search. IMPORTANT, these wallets were provided to me in exchange for a review and help me please, because I just saw they sell backpacks.
Ok, so to recap where I am: the EZGO was too bulky but otherwise great, the Slimfold wasn't limiting enough, but otherwise great, and the Magpul was bad, and otherwise bad. Today, we talk about Flowfold. I received two of their minimalist wallets, one with white sailcloth, and another in a different material ((They do not specify what it is.)) colored aquamarine.
They both are pretty similar so I am going to write the bulk of this referring to either wallet (I tested them both) and then will highlight the differences at the end.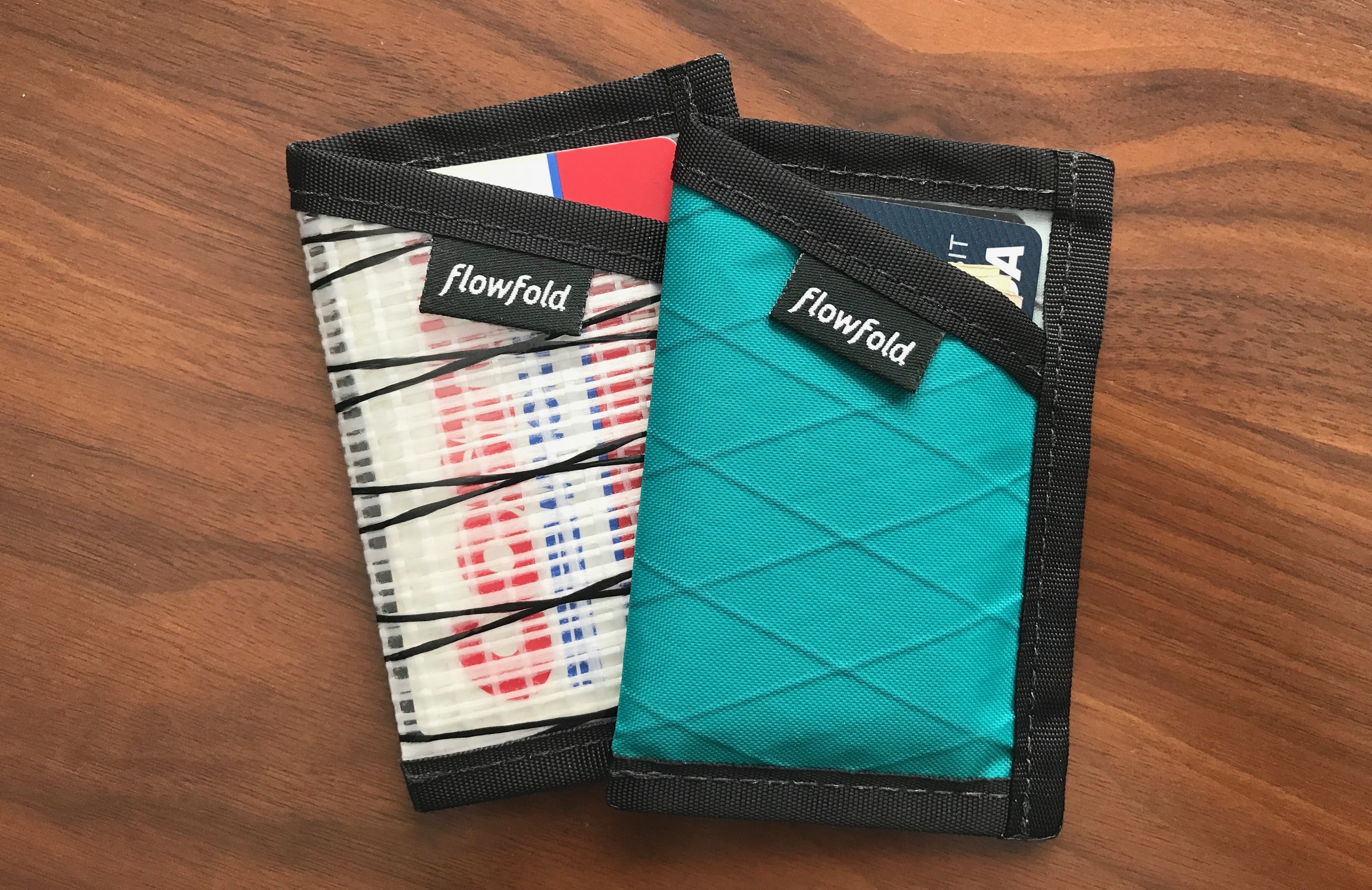 These are about as simple as you get: take a high quality material, fold it, and sew two sides of it together — that's what you get here. By no means is this bad (the front of the wallet material is angled thus allowing you to easily remove your cards), but it is abundantly simple.
When I received both these wallets I was underwhelmed and thought I wasn't going to like them. After just one day of usage, I started to really like them, and after weeks now, I love them. They are near perfect wallets for me.
Capacity
Flowfold says these wallets can hold about 6-8 cards and a few folded dollar bills. In practice this seems accurate, thus allowing the wallet to hold quite a lot in a small package, but the more you put in it, the more difficult it is to use — so you are better off in the 2-4 card range.
Almost as importantly is how well it holds my standard 3 cards, and a single bill. With most wallets it's an either or: either a lot, or a few only, where none excel at scaling, or doing something they weren't designed for. Some work fine with any amount of shit in them, but then they are bulkier wallets when empty. Flowfold strikes the right balance. Are three cards and one bill loose in the wallet? Absolutely. But the more important question is: have you had anything fall out of the wallet even slightly? Nope, not once, and I have not even been remotely careful.
The added benefit to carrying half the capacity of the wallet is that it is pretty easy to get any one of the three cards out of the wallet.
This wallet is the perfect capacity for my usage.
Limitations
It's one pocket. It's hard to put too many bills or receipts in before you start smashing the edges of those items while taking cards in and out. You also have to know the order of your cards, otherwise you are going to get frustrated.
One pocket is the price you pay for a minimal wallet.
Sailcloth versus non-Sailcloth
There are two versions of the minimalist wallet: sail cloth and not-sail cloth. They sent me both and while I thought I would prefer the sail cloth more, I quite like the non-sail cloth in the aquamarine colorway.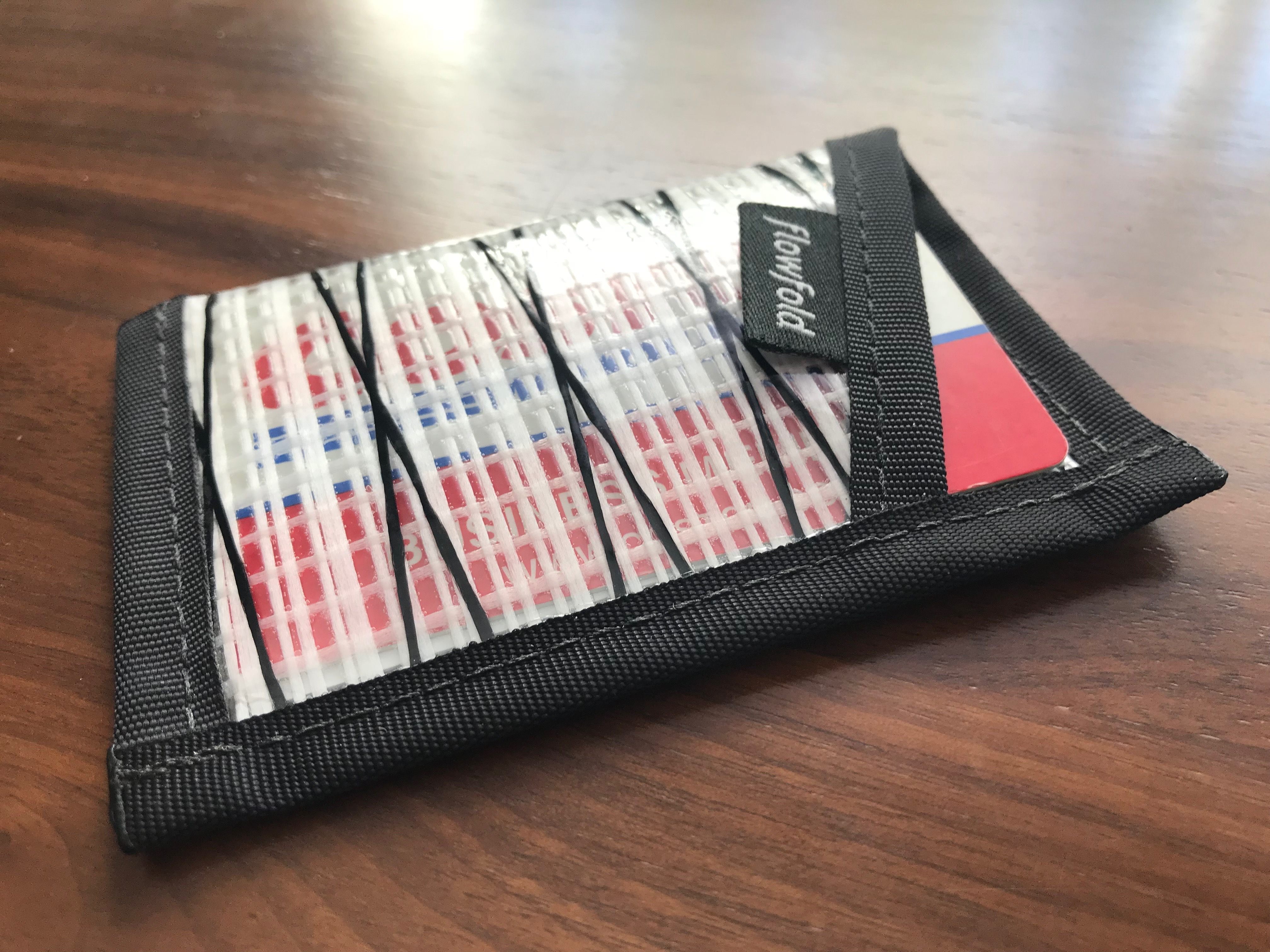 The sail cloth is much less bendable, and a tad thicker, which makes the wallet feel bigger than it is. Otherwise they are identical wallets.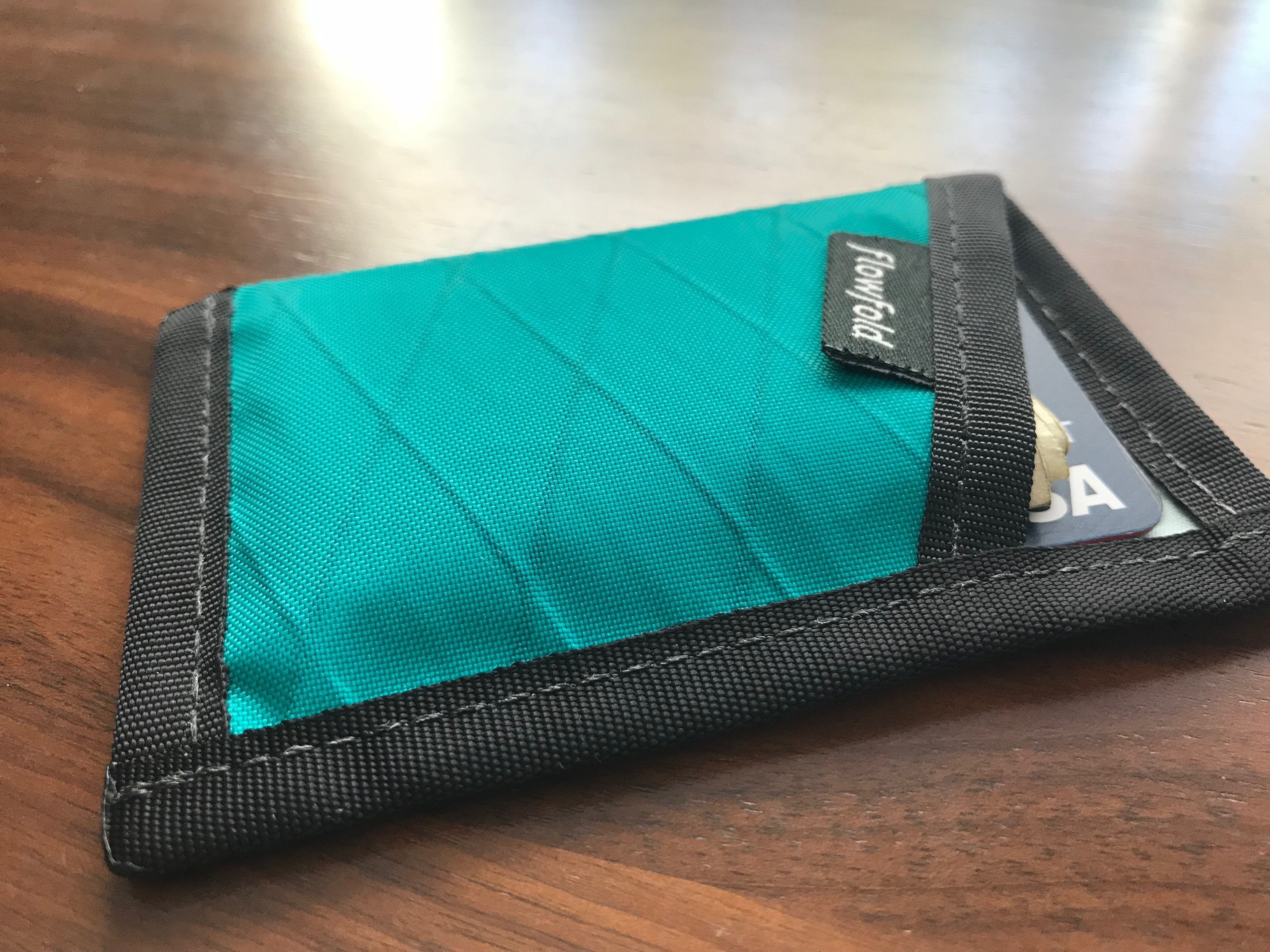 Recommended
I'm not sure if this is the end of my search, but I've yet to find another wallet which I think would serve me better than this. It is so light I forget it is in my pocket, and yet it keeps all my shit together where it should be. It completely disappears in my pocket, and yet it is very easy to use and add extras to when traveling. I won't be storing receipts in it, but one bill and a few cards is a perfect fit.
I highly recommend this wallet, and at $12 it seems like a no-brainer to me.