One question I am often asked: "I want a bag that is like the GR1, but lighter and cheaper, do you know of any?" My answer is always: "Sorry, no, but let me know if you find something."
The reality is most people use a backpack to go to and from work, but want it to be able to pull double duty for travel or day hikes as needed. That last bit rules out a lot of the bags you see coming out of Kickstarter — most of those bags are not even close to being comparable to a GR1 — but the GR1 is still heavy and expensive for most.
In my search for something different I found the Mystery Ranch Urban Assault pack. It's made with the same philosophy as all other Mystery Ranch packs ((They are known because something something Navy Seals.)) and importantly it contains the company's well known Y-zipper opening. It's also 21L, so it sits at a sweet spot for EDC use, and at $139 it is in that price range people are typically willing to pay for an excellent and versatile backpack to take into the office and on the occasional hike or flight.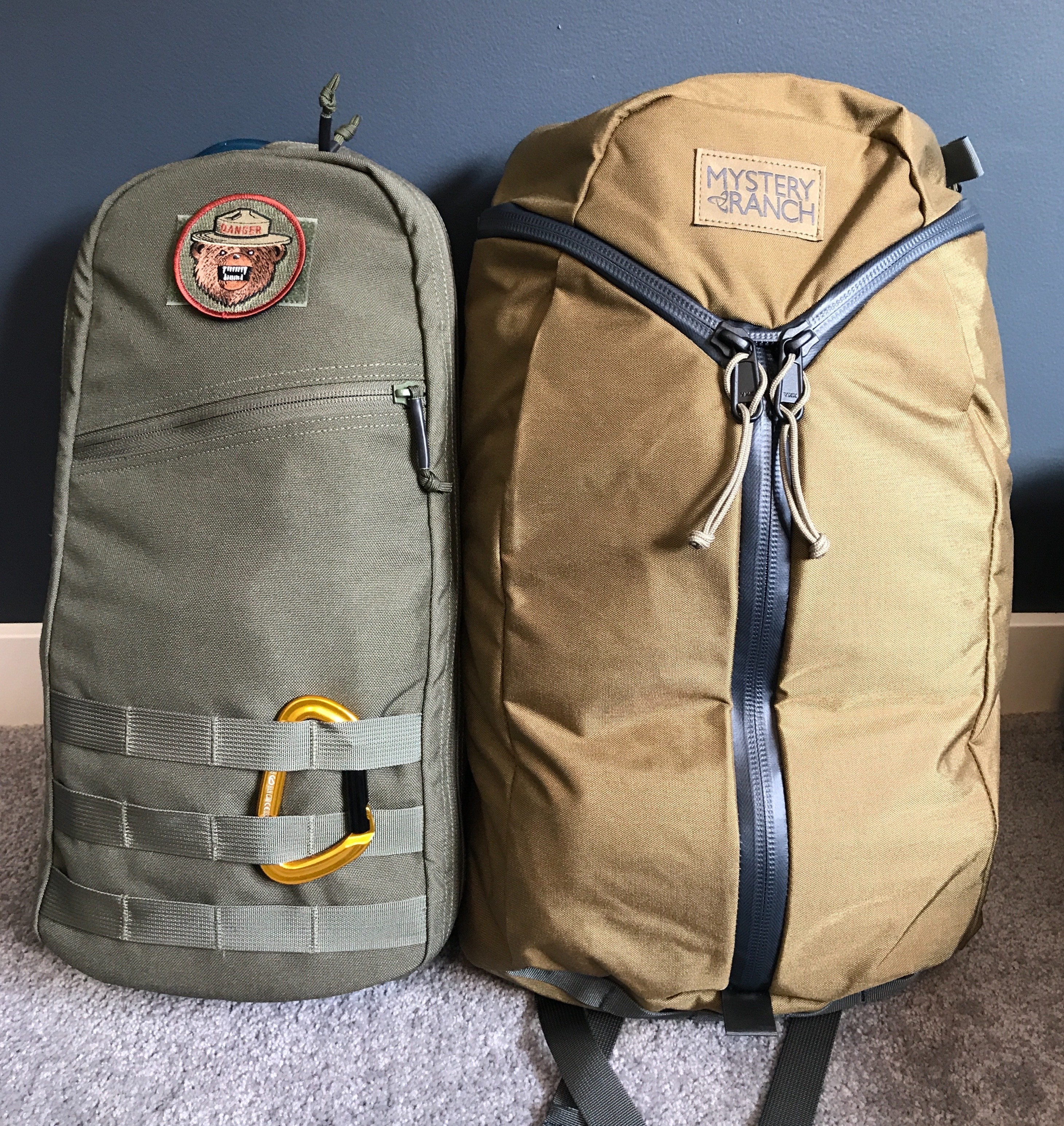 It's important to note that this bag isn't a GORUCK quality bag at a lower price — it's an all around cheaper bag, but that doesn't make it a bad, or lesser, option — it's made for something entirely different. Where a GORUCK is made to last through a war, the Urban Assault is made to last for what you are far more likely to use it for: the office. Hence the "urban" in the name — it's made for what most people are going to use it for: to carry a laptop and other shit to your office. Basically, it's made to be used to be used like you have used a backpack throughout your life.
So to test it, I beat the shit out of it, instead of taking it to and from Starbucks.
I took it on ruck marches through the woods. I took it camping and let kids drag it around to move it, and stand on it, and general fuckery. I took it on a family trip to the coast, where it was bombarded with sand, and sparks from a bonfire that got a little too big. ((If there is such a thing with bonfires.))
I never test a bag like this, but I wanted to know how it would hold up. I wanted to know if it could leave the office. Because any bag can go to the office, but being a solid pack for a day hike, or a plane flight, that's a bigger task. So can this bag do all this?
It can.
The worst damage the bag suffered is that it now smells (strongly) of a bonfire — to some this might be a plus. I've yet to try and clean it, as I am unable to easily remove the frame sheet (despite there being an opening to do so), so I will likely spray it with Febreeze and call it a day.
The entire back of the bag is mesh, which is very common, but always worries me when you are using a bag in sand and dirt. Will all that grit embed itself forever in the bag?
This is hard to test, and that's why I beat this bag, I wanted to know if it would come clean. And I never cleaned it throughout the entire test. While the mesh back got dirty, it usually came clean enough with a few pats from the palm of my hand. Even sand wouldn't stick in that mesh.
I figured this bag would be good for the office, but look unlike most office bags. This bag is perfect for the person who wants one great backpack which can do everything, but is mostly going to take it and from the office. This bag can do a lot.
Modifications
Twenty minutes after I opened the bag, I cut the damned metal zipper pull tabs off and replaced them with my favorite GORUCK style zipper pulls, using the cord on the pulls as the core of the new pulls. This immediately took the bag from jingly metal, to dead silent. A big improvement.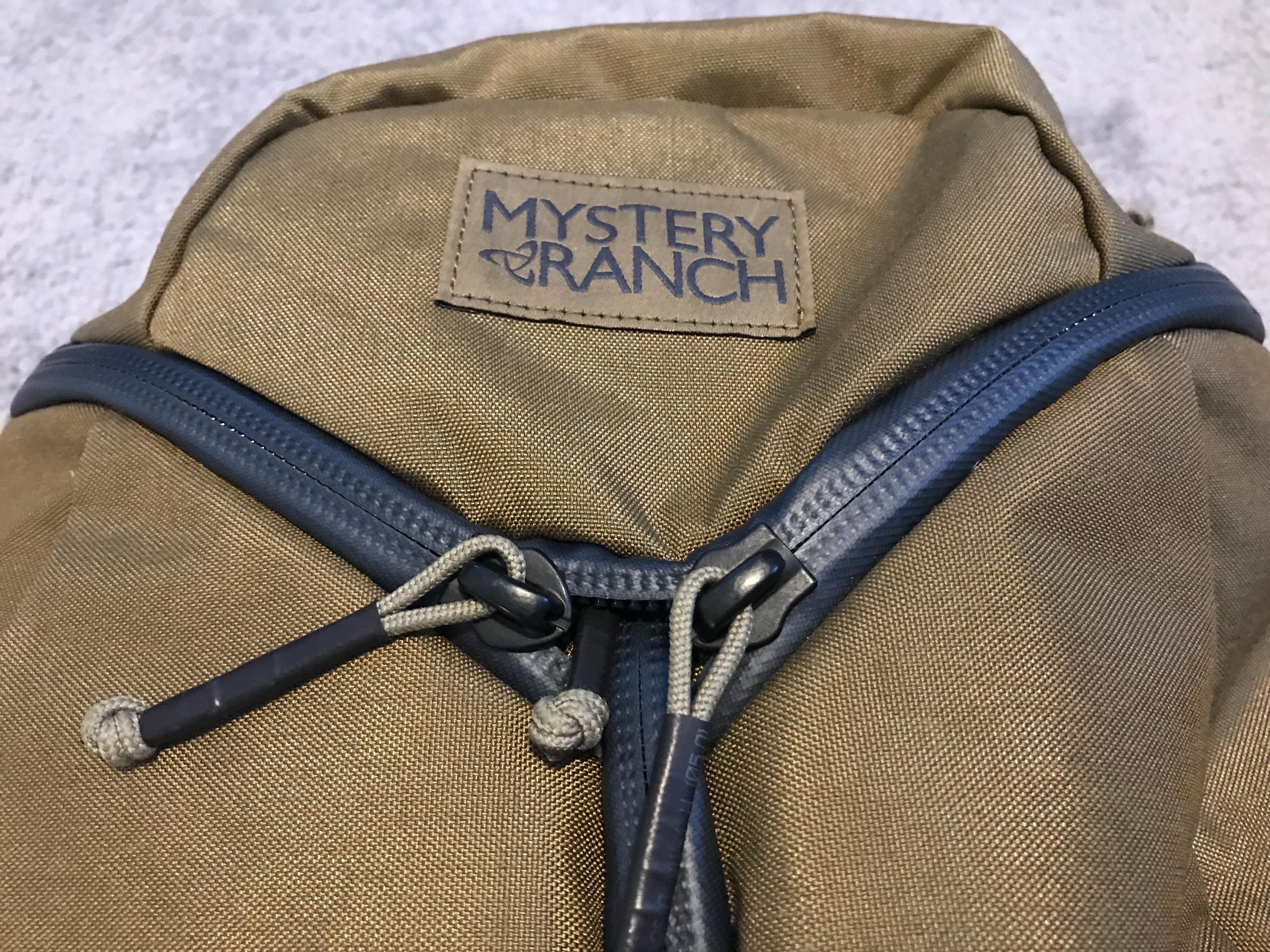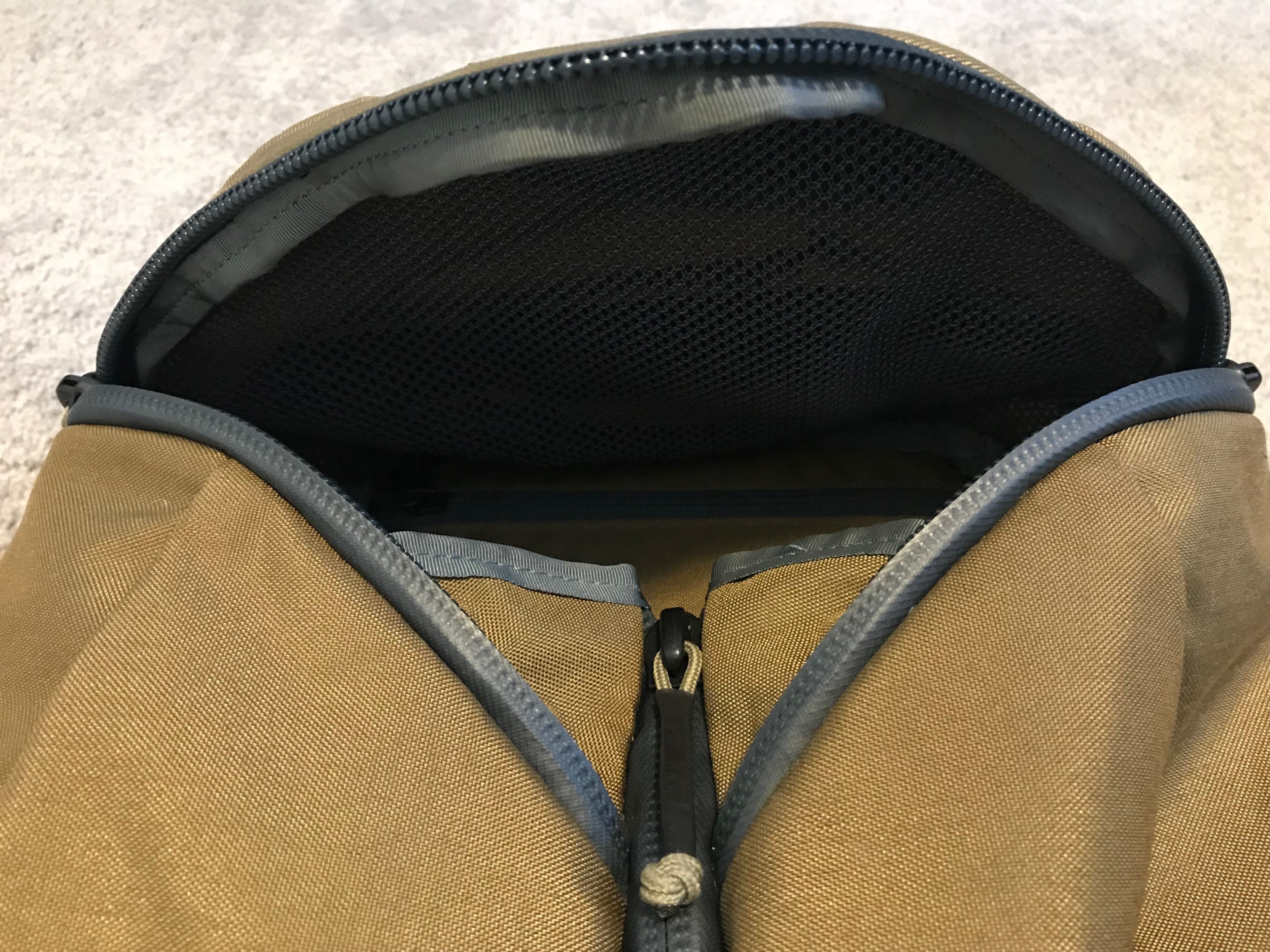 The only other modifications I need with this bag, is to shorten, or find some way to secure, the extra cord for the shoulder strap adjustments. I toyed with cutting them off, but have yet to address this. With the length they are, they become annoying when doing a fast hike in the woods — constantly slapping against your arms and body. I have no clue why these straps are so long.
Tradeoffs
The first thing to note is that this is not a GR1, so what you don't get is a bag meant for "anything you can throw at it", but what you do get is a fraction of the price. The material isn't as good ((That's subjective as fuck, so a complete opinion call by me.)) as what GORUCK uses, but it is by no means a bad or weak material. For most use, the 500D this bag is made out is not only great, but it's likely better, as it is smoother to the touch, and not likely to fail.
The single biggest trade off is the straps. No bag has yet to compare to the straps on a GORUCK, but that isn't to say these straps are uncomfortable. They are narrow, but sculpted, with soft padding.
For an average day's use, the straps will feel just fine, but for a hike, they won't be ideal. To test it I loaded the bag up with 10lbs and hiked with it for a few miles. Then I repeated the same weight, and trail, with the GORUCK Bullet Ruck (due to the similar strap size), and even without a sternum strap on the GORUCK, it was much more comfortable. With the Urban Assault I needed to make constant micro-adjustments during my hike to keep it comfortable.
While the laptop compartment is padded, but not reassuringly padded, I might add a laptop sleeve if that's what I was carrying. There's also no hydration hose pass through, which can be annoying when out hiking.
Overall
There's a difference between a $139 and $295 backpack, and it's shown both in durability and the ability to wear a backpack for a long time comfortably.
I really like the Urban Assault, I found the Y-zipper to be awesome in practice. It made for a safe opening on the beach to quickly stash something without anything else falling out, and easy packing and unpacking when fully splayed open. The best part of this bag is the Y-zipper system — it's really nice, and I'd love to use it on more bags.
I now, though, have an answer for people when they ask me for a bag that's really good, for a lot less money than a GR1: the Mystery Ranch Urban Assault. It's really good, and that's before you know how much it costs.
It's has just enough styling that it nods to a more tactical look, without shouting it. The bag is perfect for those who don't like the heft of a GORUCK, but want something almost as versatile.