Earlier this year I worked to purge most of my pockets knives, and now with exception to only waiting to be sold, I am down to only three pocket knives. I've had this setup for a couple months now and could not be happier with it.
Here's what I kept, and why.
Chris Reeve Knives, Small Sebenza 21
This is not only my all time favorite pocket knife, but quite possibly the best knife I own. It's by far my preferred knife to carry and if I had to pick only one knife, this is the knife I would choose. It's showing a lot of wear, especially after breaking off the tiniest bit of the tip, but even still it's an amazing blade. Love it.
This is a premium knife, which has a very straightforward look to it. It's not flashy, but it also isn't a run of the mill blade. More than all that, the fit and finish on the blade is absolutely superb and it's one of the few framelock knives you can get made for a lefty — which is huge if you are left handed.
To Be Determined
Originally I was going to keep the Spyderco Sage 2, which is an excellent knife, but the issue is: it's a right handed knife. I am now exploring a couple other options. It is going to come down to the Spyderco Paramilitary 2 (left handed model) or the Benchmade Griptillian.
A keen reader might note those are both larger EDC blades, which is intentional. For now I have ordered the Lefty Para 2. My goal is a larger knife which will be good when I am outdoors, but still small enough I can carry it should I not be able to carry the Sebenza for any reason.
More to come. Stay tuned.
Victoronix Cadet Alox
The Cadet is my dad knife. Going to a BBQ, or out to a kids party? Grab the Cadet and know that no one will ever think twice about it. It's a great performing knife, but like every Swiss Army knife, it needs a lot more frequent sharpening (though it sharpens fast). Great little knife for those times when you need something more subtle and very inexpensive should it get lost.
This is a classic, and there are good reasons people carry one of these in addition to another knife — I don't — but I understand why.
Why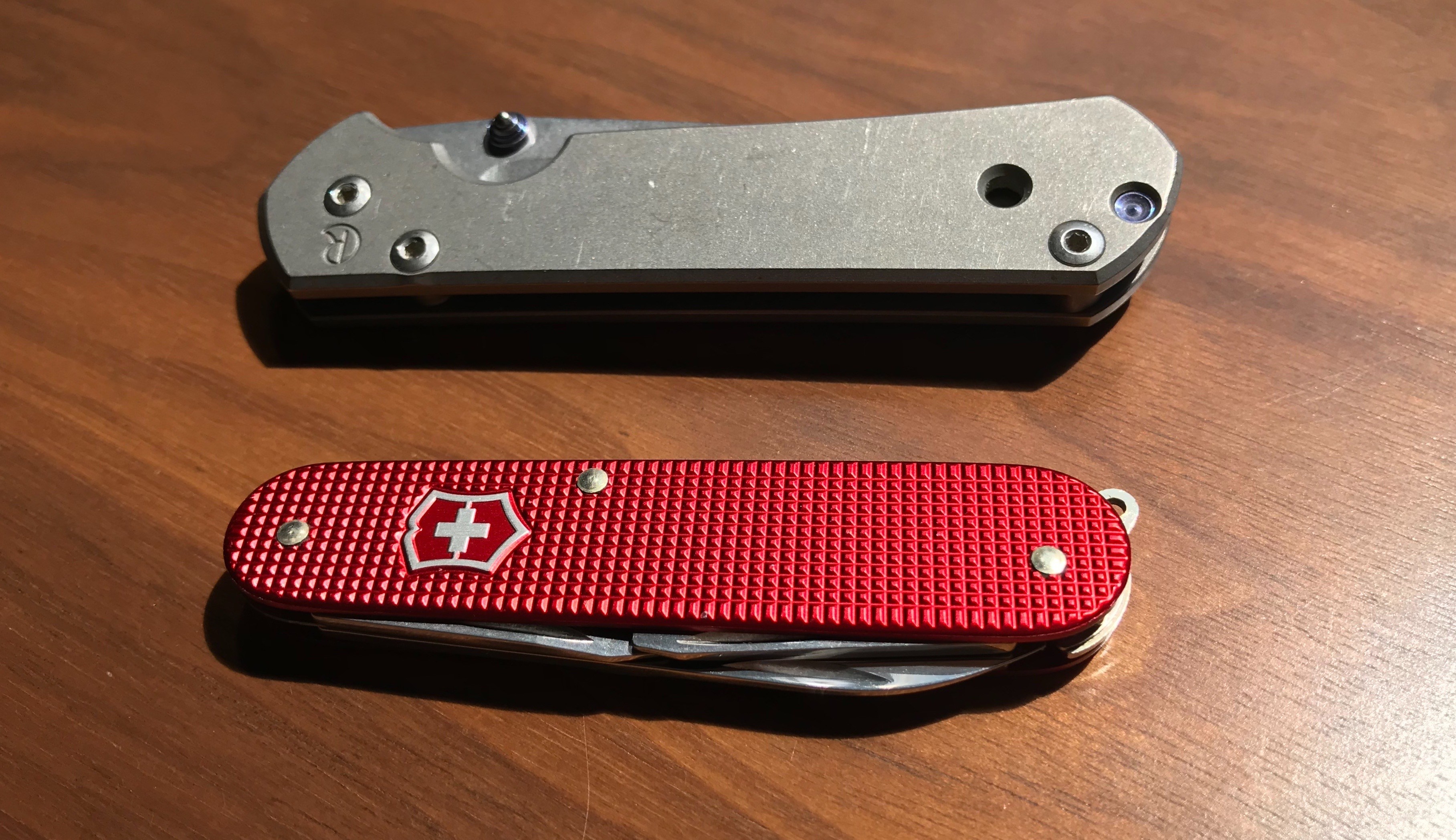 The big question I've been getting is why would I streamline down. Most people who are knife people have a collection of knives, they don't whittle (sorry) away until they have just a few. But that's what I am trying to do in everything: I want the best one or two items and that's it. The more I have, the more likely it is that something is sitting there wasting space, or that I am using something which is not the best. I don't mind buying new things to try them out and see if they are better, but I won't keep it if it's not better.
Why would I want stuff sitting around and wasting space, or to use something inferior just because I own it?
So I decided to refine my collection to just these three, and these three only. I'm quite happy with the result, and even more happy with only using knives I love. ((This is the reason I tend to sell a lot of bags off too, it's not that they are bad, it's that I prefer something else over them.))