This is a highly touted knife, and one which I always stayed away from for two reasons:
It's large.
I thought it was right hand only.
When I found out that they made a left handed model (though only with black scales and in S30V steel), and coupled with my desire for a larger backup blade, I snagged one. I fully understand now why this knife is so well loved by everyone — it's a fantastic knife.
But, I doubt I'll keep it. Let's dive into this knife…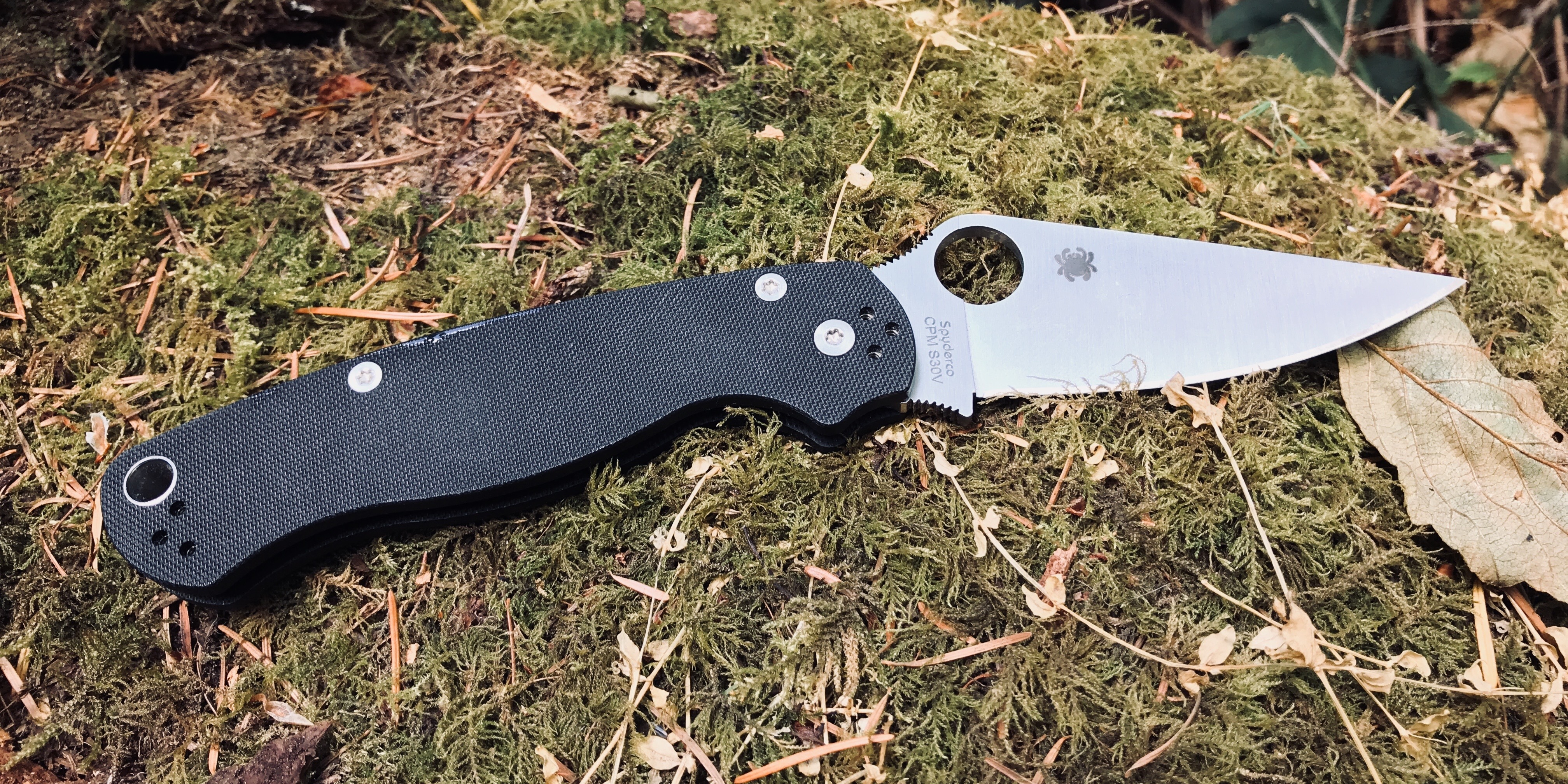 Size
One of the things I want in my second knife is something hard use, something large. Something I can take hiking and negate the need for a larger fixed blade knife. Something for the yard. If the Small Sebenza is my everyday knife, and the Swiss Army Cadet my small knife, I want something that feels substantial.
By all accounts the PM2 checks this box. The handle has room for your entire hand, the blade is longer than the Small Sebenza and everything is beefier feeling.
Except, it's not actually that much larger. From a raw specs point of view, this is larger than the Small Sebenza in blade length by about half an inch and by miles in overall length. And it's true, from a handle perspective, this is a larger knife. However, from a blade perspective it's not even a half an inch longer (on the cutting edge). For all intents and purposes, it's the same size blade. I know this will upset many people, but aligning the start of the two cutting edges, shows a knife that is not really all that larger. And that's surprising for how much larger the knife feels in hand. This is also problematic, because for as much more handle as you are carrying, you are not gaining that much more blade.


Small Sebenza on top of the PM2, cutting edges aligned.
Use
The actual size, dimensionally, is less important than what the blade is like to use, so perhaps it acts like a much larger blade in use. But, when using the PM2, the blade feels the same as my smaller knives, and a lot of this has to do with the handle size. The handle balances the slightly longer cutting edge so nicely, that you feel as though you have just as much control of the blade as you do on a smaller knife, even though it is a touch longer. Which is really great.
Where this knife really shines is in the handle. The textured G10 scales are awesome, and incredibly grippy. The knife can easily be held in my entire hand, while also allowing it to be choked up on in the forward finger choil.
The classic Spyderco blade shape is not as good as the leaf shape used on the Sage series of Spyderco knifes, but overall it's a very good all around knife. My biggest concern is how thin the tip is. I am very prone to snapping knife tips, and I suspect it is only a matter of time before this happens here — there's just not a ton of blade steel at the tip. And S30V and higher steels are more prone to snapping.
For EDC work, the blade is a bit big, but for work out in the woods, it's a very nice size. The blade shape also lends itself more to hard use in the woods, than it does slaying Amazon boxes in the garage. This is in line with my expectations for the knife, however I had hoped it handled like an even larger blade in use. I suspect I need to get an even larger blade to feel this…
Carry
For me, this is where the PM2 falls down. This is a great knife, but it's not at all easy to carry. The body is large, and thick. The grippiness of the scales, works against you when trying to pull the knife out of your pocket — it lifts my entire pant leg before it releases. While the knife blade deploys quickly, it can't be pulled out of my pocket — any pocket — quickly.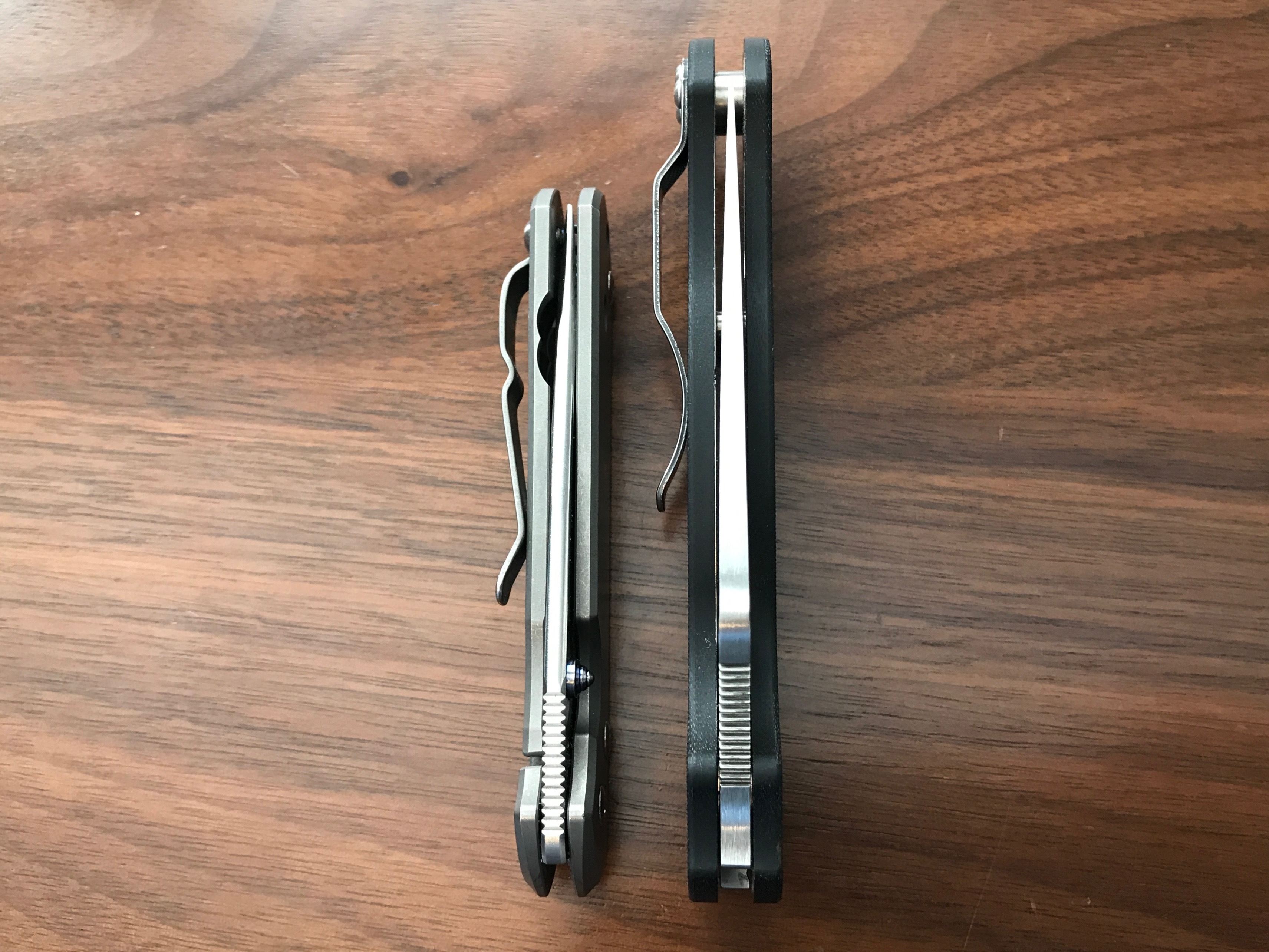 Spyderco wisely allows the pocket clip to be put on any of the four corners, but the scales are simply to grippy to allow the knife to easily be deployed. And, if that weren't bad enough, the knife is so large you can't carry it loose in your pocket — as there is no comfortable way to do this.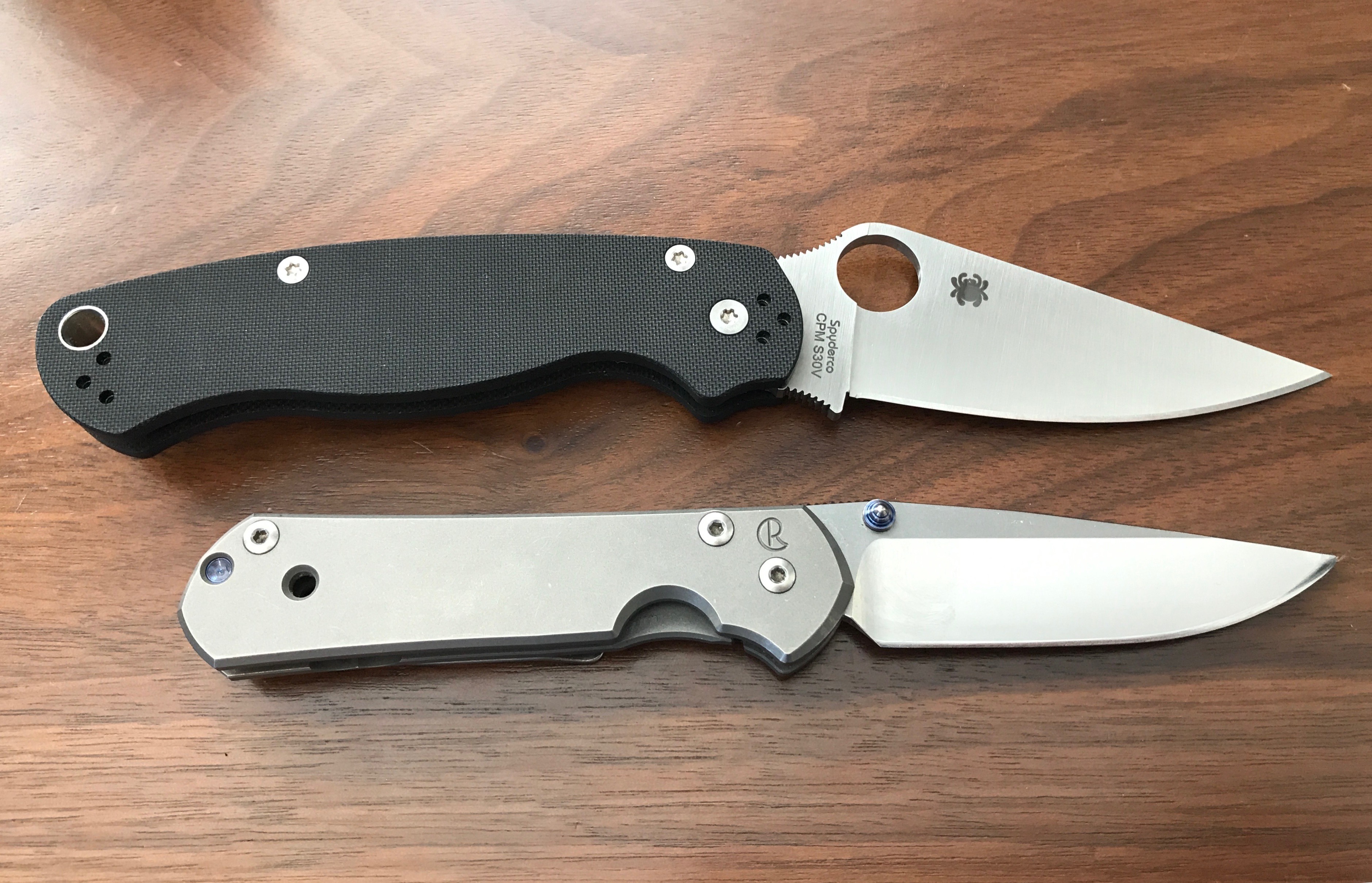 Even when hiking, in hiking pants, this is not a good knife to carry. It's one thing if the knife is so much larger, or better, than something smaller, but in this case I don't think that holds true. This knife is simply not easy to carry. While a fantastic knife to use, a little harder use than most knives, if you can't carry it, then why carry it? Most knives spend the majority of their time in your pocket, and this is not a knife I want in my pocket.
Sum
This is, as anyone can tell you, a fantastic knife. If you are right handed there's an amazing array of colors and steel choices out there to be had. But for lefties there's one option. It's a large, hard use knife. I question the strength of the tip on it, but even working it hard I didn't break it, so perhaps that's unwarranted.
What I cannot question is how hard the knife is to carry. The knife simply carries larger than it warrants, and on top of all of that, the scales make it very hard to use the pocket clip on your pocket.
Overall, I am going to be moving on from this knife. It's a good knife, but it's not good enough for me to keep, or want to keep using. (If you are interested in buying it from me, reach out.)
You can find them here, some will find it meets all their needs, and even their knife of choice when faced with unknown days, but for me it leaves a lot to be desired when carrying it.