Since I posted about my Rucking workouts, I figured I should also post about the gear I use when I ruck. My list is still evolving, but I'll go over what I use now and generally why I have that item.
In My Ruck
Ruck plate. These are made by GORUCK to fit in their bags. I'm using the 20lbs plate now, but likely will go up in weight soon. Overall: it's stellar. Expensive, but takes as little room as it can, and fits like a glove.
Water bladder. I actually did try a ton of water bladders, and GORUCK's Source Bladder pick is my pick as well. For the price and features, it's the best I can find. Also, GORUCK seems to be the best place to find them. If you are in warmer climates, there are better options for insulated bladders and tubes. But I live in Washington, so the Source works really well for me. I use the 3L and fill it up every couple rucks.
Small emergency kit in Echo Field Pocket. I move this from bag to bag, and it's a "no fly" kit so I know to pull it from my bags before flying. Here's what is in it:

Matador pocket blanket. I carry this in case I need to sit down for any reason. Takes up no room.
Black Diamond ION headlamp. It's so tiny. I keep it wrapped up in a rubber band which also holds the Lithium batteries for it. That way they don't corrode in it.
Paracord, 12ft.
Fire Kit: Bic lighter, matches and tinder case, Exotac nanostriker XL
Duct tape.
Pico Pill Pull x2. Each one has two Advil and one of my allergy pills.
Small brass compass.
DMD medium knife sharpener
Signaling mirror and signal guide card
Ziploc bag
1.8" shock cord. I actually use this to thread through the MOLLE on a ruck so that I can hold a jacket on the outside if the inside is full, or the jacket is too gross to put in the bag. Works like I charm, I'll do another post detialing this more.

Small boo-boo first aid kit. Assortment of bandaids, sting ease, ointments.
Gloves. In the summer I use some tactical gloves from Outdoor Research — one pair does well for keeping your hands cool, amazingly. In the winter I wear more normal "soft shell" style gloves. In the summer, I wear the gloves only when I choose a trail with less activity, so that I can move overgrowth away from me. In the cooler weather I've found my hands quickly get very cold and I need gloves to stay comfortable.
Rain jacket: if there's clouds in the sky, I drop a rain jacket in my bag. I use an older REI eVent jacket.
Shemag: like a bandanna, and I use it for anything I might need it for.
Morale Patches: a good way to keep from buying more gear, is to buy more morale patches. They are cheap and take up no room. I've got a nice collection going now to swap out.
Rucksack, more on this in a bit.
Watch: I wear my original Apple Watch about every 5 weeks to see how my pace is. Otherwise, I wear a mechanical watch to track the time and keep pushing.
Tissues
Reflective band: I use this if the trials are too shitty to ruck in the woods, as I don't want to be hit by a car.
Rite in the Rain notebook and pencil. This has nothing to do with Rucking, I just keep these in all my bags.
Aloksak: waterproof (like really waterproof) ziploc type bag for my iPhone. I don't typically use it, but hey, if it is really nasty I have that on hand.
Gaia GPS: I've been using this to record my Rucks. It's out of my way when rucking, but gives me some data after the fact. Pretty neat, works well.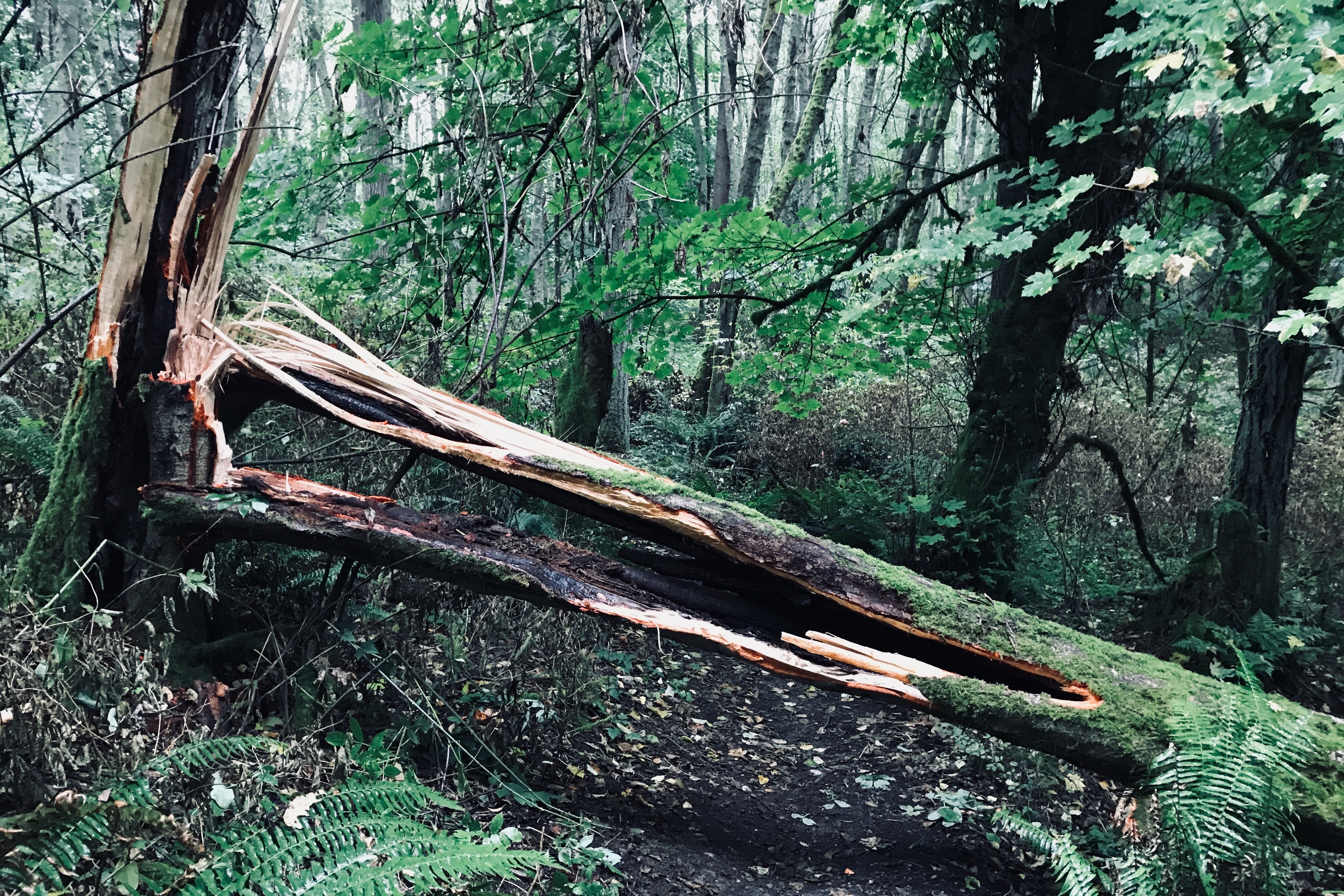 One of the reasons I like to wear gloves, climbing under this sucks more without gloves.
Clothing
Hat: in the summer it keeps the sun off my eyes, in the winter it keeps my head a bit warmer and dry. More than that, if you walk through a cobweb, you don't have to constantly feel like that shit is in your hair. Highly recommend a hat. GORUCK Tachat in the summer, Filson USFS oil-finished tin cloth hat for rain, Outdoor Research merino watchcap for cold.
Pants: I wear Outdoor Research Ferrosi pants. In the summer they were great, and reduced my worry of ticks. So far in the cooler weather they have proven to be plenty warm, even on a ruck in 38° weather, but we will see how that plays out. I pair this with my Arcade Belt.
Shirts: I wear a Smartwool Merino wool T-Shirt, or a Nike Drifit when the wool is dirty. As another layer I wear one of two Outdoor Research 1/4 ZIP shirts, one is the DriRelease Sequence shirt, the other extremely light weight. Both are great to keep me cool, but also warm enough (again, so far).
Shoes: in the rain and muck I wear Vasque Goretex hiking boots that I've had for close to 10 years. I don't love rucking with them, but I have them and am unsure what I actually need as the trails get shittier yet. For dry conditions I wear Salomon Speedcross 4 shoes — I absolutely love these. The grip is insane, and they are very comfortable.
Socks: Darn Touch ankle socks with light cushion.
Which Bag
When I initially started this workout I used my GORUCK GR1. It proved to be fantastic, but being me, I needed to know if there was a better option. I ran through all the other bags I had on hand which were not GORUCK, but seemed as though they may be up to the task, but I hated them all.
I moved on to the GR2 34L I have as I know many people do GORUCK events with these packs and the straps usually haul heavy loads better. It worked ok, but I felt the GR1 was much more comfortable. It didn't feel as bulky on my body, and being just a touch shorter, it didn't work my shirt up my back like the GR2 does.
I also snagged a 10L Bullet Ruck (again) to test out, and it's fantastic. It is small, but sturdy. I worried the smaller straps might suck, and they would have when I was first started out, but they are actually great. It can be a squeeze, but if you want to only take water and weight, it's a damned good setup. (Though you'll be limited to the 10lb, or 20lb ruck plates.)
I am also looking at a few other options to try (but won't likely try them any time soon):
Rucker: a GR1 designed for rucking seems ideal.
GR1 21L: Might get me the best of both worlds between my GR1 and the Bullet Ruck.
Mystery Ranch ASAP: I've been eyeing this bag for a while, and while it certainly can handle the task, I am not sure if it would be better than a GR1 in any way for this task.
Beyond those, I've not been looking at any other options. If you already have a GORUCK, it'll work perfectly, so don't obsess. I could use the GR2 and be perfectly happy, but I have other options.
If I had to pick one, as always, it'd be the GR1. Since I have a Bullet Ruck (again, again) I will be using that for most of my rucking, at least until I up the weight as it is a bit more streamlined.
Still Need
With the change in weather and how long I've been doing this, there's a few things I'd like to add to my kit soon:
Gaiters: my pants around the ankle get trashed during a ruck in wet weather. I've ordered a pair of gaiters to help out.
Cold weather work gloves: I've been rucking trails after storms lately and the amount of downed trees are staggering. I've had to scramble up the hillside, or drag stuff out of the way so I can keep going. My soft shell gloves are quickly getting trashed, and my "tactical" gloves I used in the summer are not warm enough now. I've ordered a new pair to try out.
Heavier Pants: I'm on the fence about this. I don't want something water proof, but perhaps I'll try my Outlier OG Climbers when the weather gets colder. For now, the Ferrosi pants are still working well.
30lb Ruck Plate: I think I am on the cusp of needing more weight, so this is likely my next purchase.
Hiking/trekking poles: I don't need these most of the year, but with the wet ground covered by leaves, the terrain is very slick. I'm going to try using these a couple of times to see if they are worth using, luckily I already have a set.
Too Much / Too Little
The above list might look really big, and truthfully it is, but most of it is stuff I carry anyways. You can strip a lot of stuff out, except the water and weight if you want. However, rucking is about heavy weight, so as long as it fits in the Ruck, I say go for it. It might not add a lot, but it adds something. Also, I've found in the most GORUCK bags, that they carry a bit better if they have more stuff in them. The less things can move around, the most stable everything feels.
To each his own, there's no right or wrong here.