As you know, I am a huge GORUCK nerd, and for a while now I've repeatedly told anyone who would listen "buy a GR1" (if and when they needed a backpack — hell even when they didn't need one). It's the best backpack money can buy. But there are two variants: 26L and 21L. For a very long time GORUCK gave simple guidance about this: under 6 feet tall, get the 21L, 6 feet tall, or taller: get the 26L. I stayed with that advice as well, but the truth is far more complicated, and now GORUCK themselves seems to be downplaying that advice a little more lately, adding in that sometimes you want more or less space. At the bottom of the description they currently state: "When in doubt, go with the 21L."
I didn't have a 21L so I've never been able to do more than heed GORUCK's guidance. Well, I have a 21L GR1 now ((Actually, I've had two, but that's a longer story. Suffice to say, I've tested the hell out of this size of bag.)) , so let's talk about this bag, because my advice has long been: "doesn't matter, get what you think works best for you, probably go by height, just get a GR1."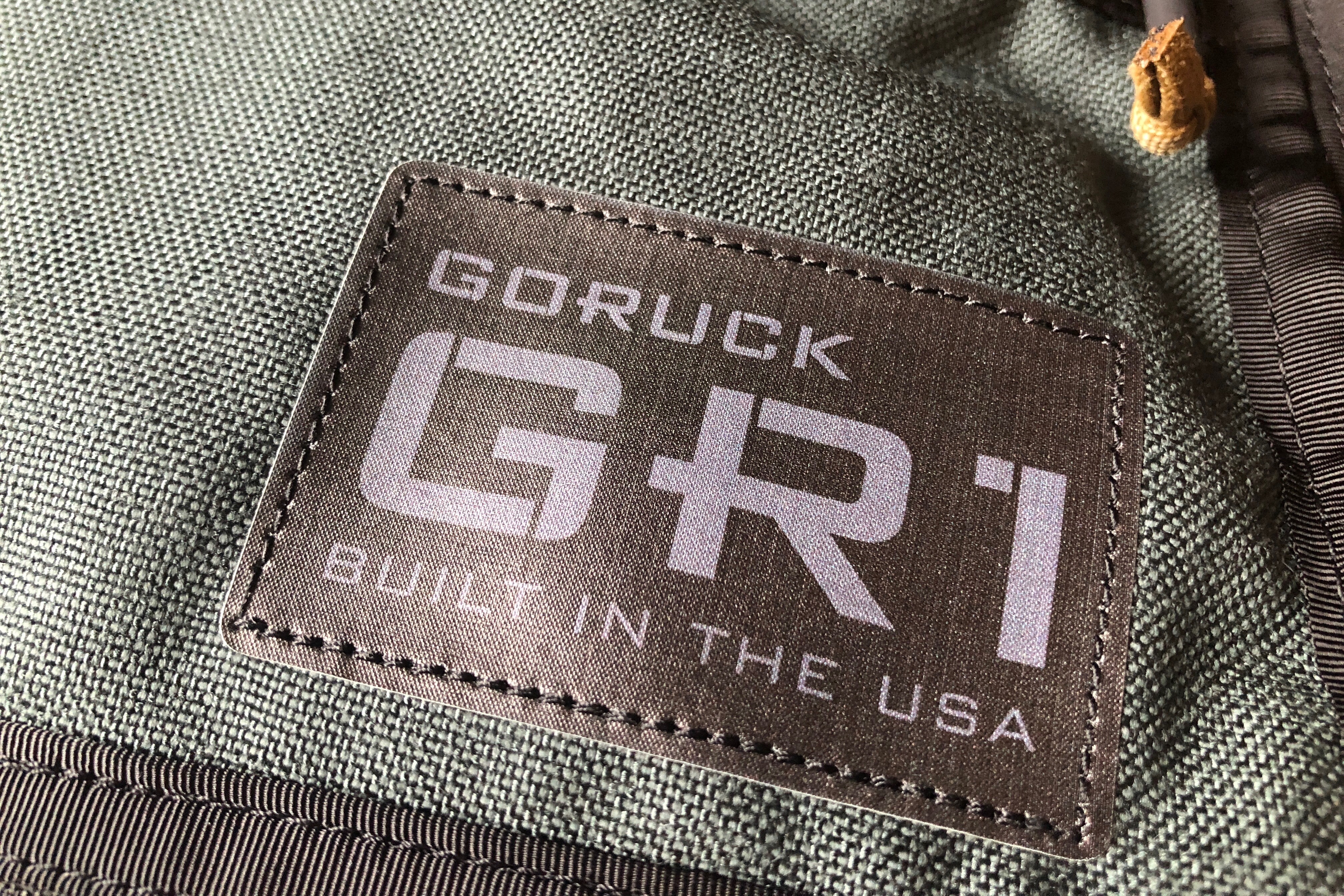 Size
A 21L bag is smaller than what most people are used to. ((For example, take this Jansport, which is wildly popular, it's 25L. Or North Face's popular Recon backpack which is 31L.)) Surprisingly, most of the book bags people are used to carrying are much larger, often because they are wider and deeper than a GR1. What's most surprising to me is that the 21L GR1 doesn't really look smaller than the 26L, but it packs and carries like a much smaller bag.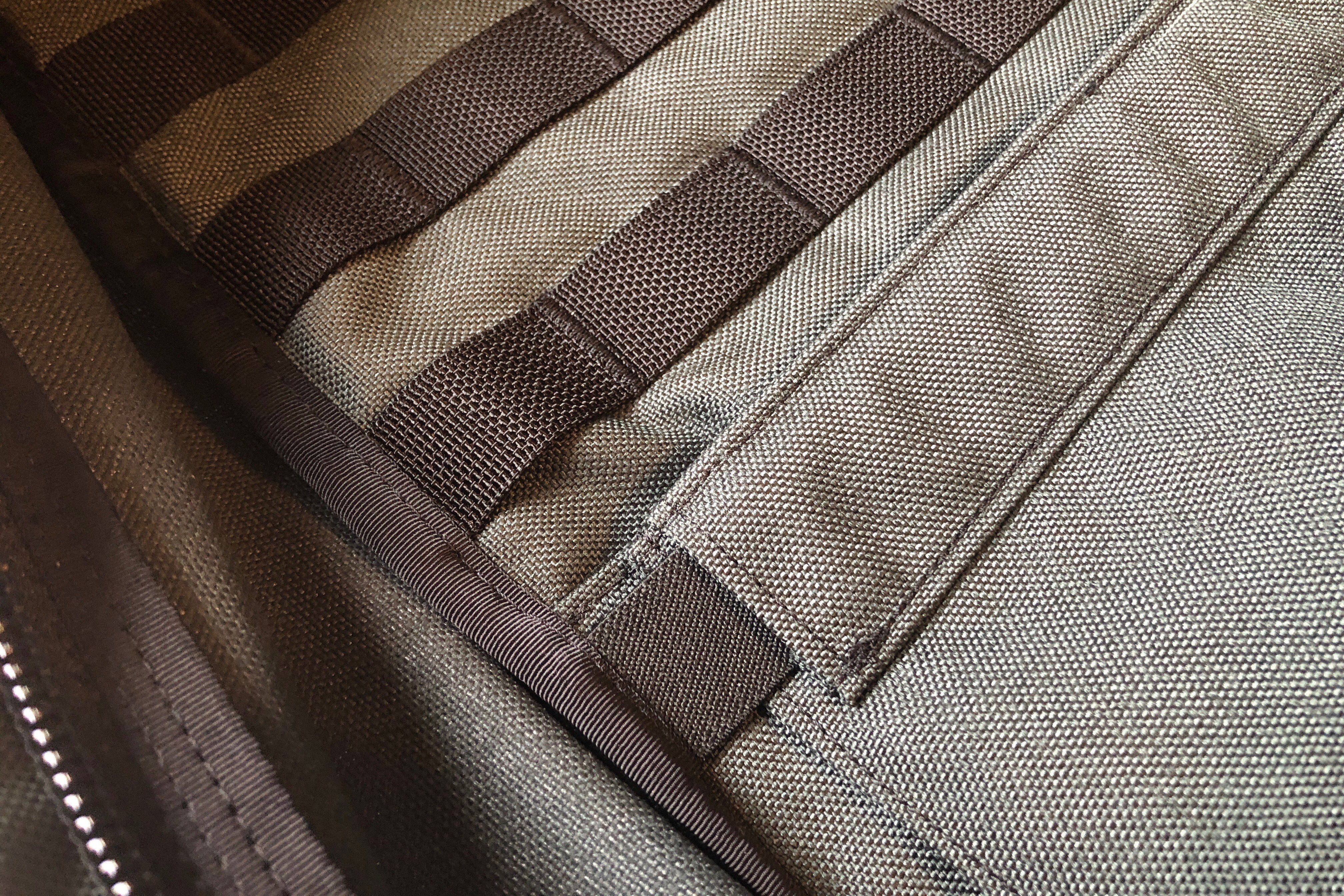 For some reason GORUCK uses thinner elastic webbing for the interior pocket on the 21L.
Whether or not this bag is too small for you will solely depend on how robust of a packer you are. I know people who carry a 34L GR2 to and from work, so it would be no surprise to me if people found the 21L way too small. By the same token, though, I think the 21L is the ideal sized backpack for EDC usage. Not too big, not too small — just right.
And unlike the Echo, it won't look toddler-like on your back, and unlike the Bullet it will hold most laptops.
EDC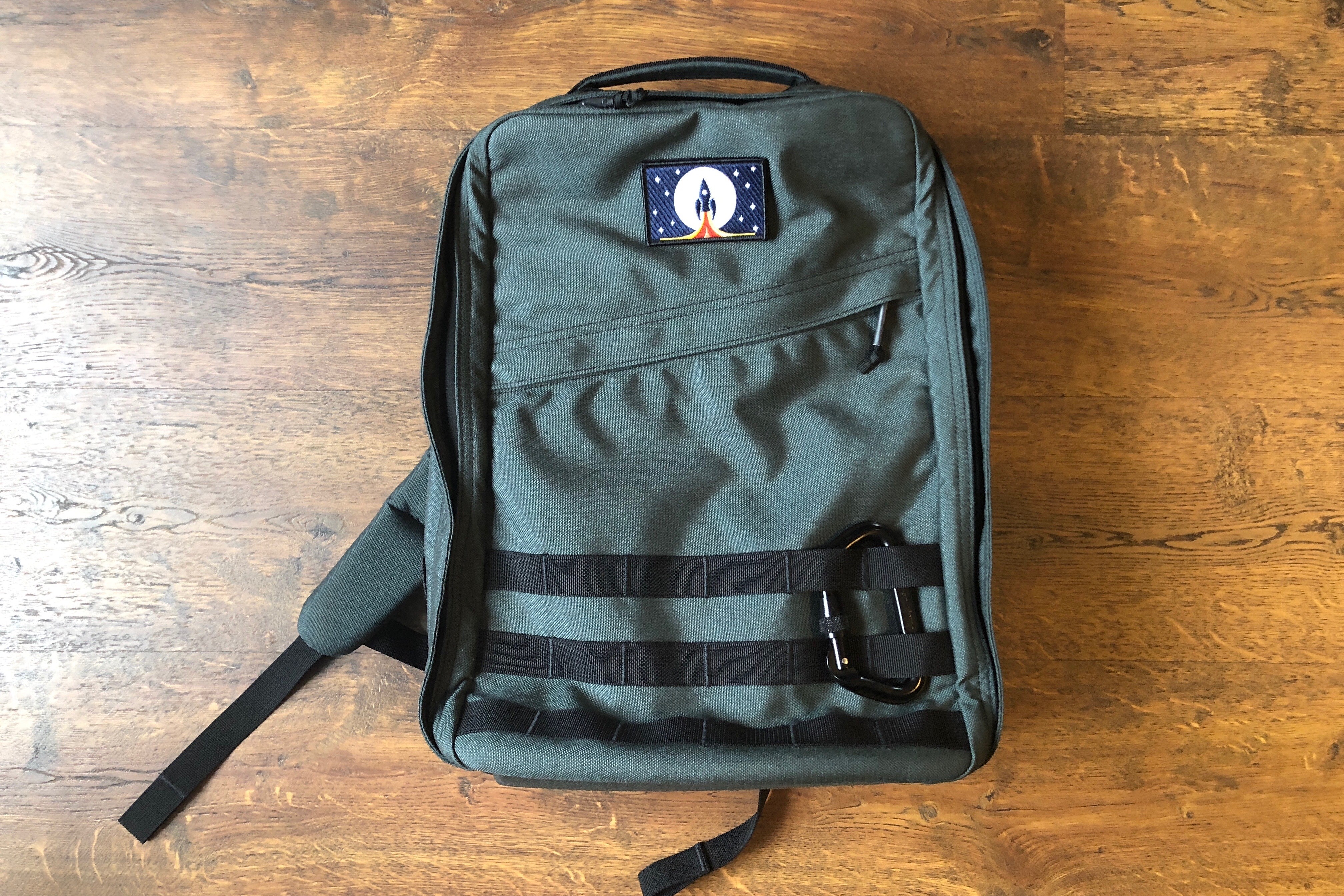 What I mean is that most people will never carry anything over a 15" laptop, and that fits in this bag perfectly. They won't need a ton of crap inside, but still might need room for an extra layer, some water, and some snacks. These fit perfectly in the bag. And as the bag itself becomes a bit smaller, it becomes easier to navigate through crowded areas, and that's a huge win.
An 18L-21L bag is perfect for EDC because it can carry anything and everything you might need on a day to day basis, while also not burdening you with so much extra space that you end up packing it too full. One issue with larger bags, is that it never seems like a big deal to carry just one more thing. Then you end up carrying half your earthly possessions every day — seriously what are people carrying that they need a 34L bag for EDC?
Anyways, I find the 21L GR1 to be the perfect sized backpack for EDC when I am carrying devices. It's a touch too large for just outings with the kids (unless it's cold enough that I need to have room for bulky layers), but as an EDC pack it's ideally sized.
Travel
When I travel by myself, I do so in a 26L GR1, which to most people is crazy and not applicable. So talking about how I can travel easily for a work week in the 21L GR1, which I can, is likely of no use or help to any of you. Instead, I'll talk about what makes this bag a great travel bag for most people — people who carry a bag for stuff, and a roller/duffel bag for clothes, when they travel.
This bag is two inches shorter than the 26L, and those two inches make a world of difference when you slide the 21L GR1 under the seat in front of you on a plane. When you have another bag to pack stuff in, having a small, but capable "personal" item is a must.
While a 26L GR1, or 34L GR2, will fit under the seat in front of you, it will stick out just enough to be annoying on long flights. The 21L hides itself away much nicer.
So most people will find this a better option for carry-on-at-your-feet-bag. While I find this to be a much better option for shorter 1-3 day trips.
Fit
While GORUCK's sizing advice for body frames is still applicable, it's less applicable to taller people. This doesn't look, or feel, too short on my 6'3" frame (and I have a longer torso), which is the reason I can't use an Echo. Even the reason I've stayed away from many smaller sub-20L bags, as they are often too short.
This bag though, feels perfect on my back, but so does the 26L. I notice the difference but am not at all self-conscious about using a smaller bag in this case. That's a huge plus and likely the reason GORUCK seems to be saying the 21L is the default size of the GR1 now.
Get It
If you can't travel completely for a week in a 26L GR1, then I'd probably get the 21L instead, as it will be far better for most activities you'll need it for. Like GORUCK said, the 21L is probably the right bag for most people who don't already know which they want.
I've been extremely happy with mine.
I'll be posting a direct comparison of the two sizes shortly.