Note: this backpack was sent to me for review purposes.
Aer has built a brand around well-designed, purpose-built, bags. From their excellent Travel Pack, to the hybrid EDC-Gym backpacks they are known for. They recently released a new line they are calling "Work Collection" which as the name implies is for those who need a bag for work, not for travel or gym/work. The designs in this collection stand out as they all utilize a coated nylon as a key feature.
The Tech Pack is the largest offering of this collection and is what we'll be talking about today in a brief post as I've only had it a couple of weeks.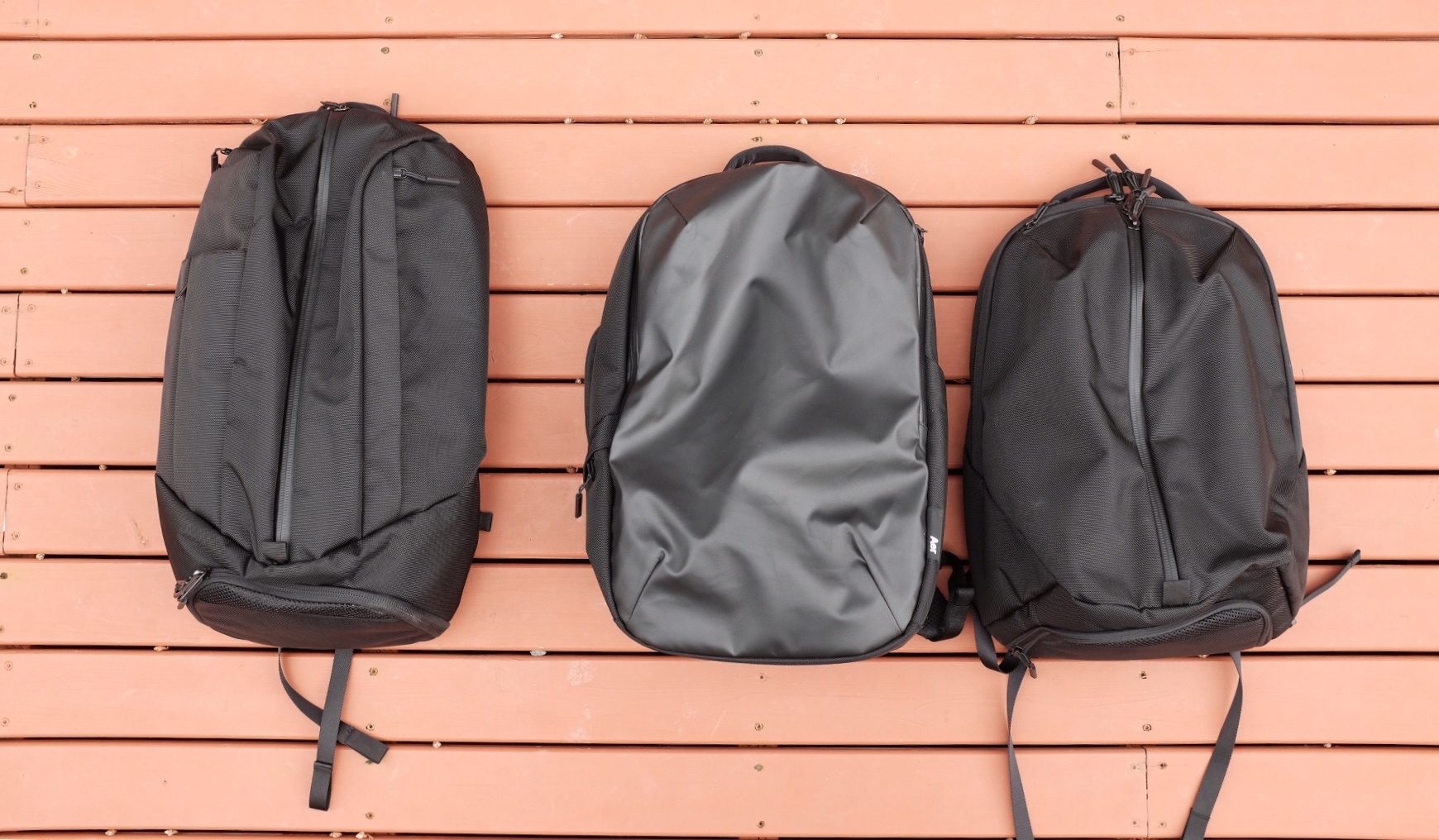 Left to right: Aer Dufflepack 2, Aer Tech Pack, Aer Fit Pack 2.
Size
This bag looks big, but doesn't carry a ton. That's not always a bad thing as the size affords you more organization and a bag which will stand vertically when empty. The downside is that the bag is also fairly deep, which can make it a little more awkward to carry through crowded areas. It looks like a fairly standard size bag, both on and off your back.
Organization
As with most Aer products, this bag is loaded with organizational options. The main front compartment has 9 slots for organizing things — and no matter how crazy I toss the bag around, my stuff stays put. What's also neat is how the front flap folds down, giving you something to work out of if you cannot often fully unpack your bag.
Of all the pockets, the small side zippered pocket is the one I like the least, as I find that even with the bag nearly empty, it's hard to get stuff out of this pocket — yet it would be the natural choice for smaller goods you might want fast access to.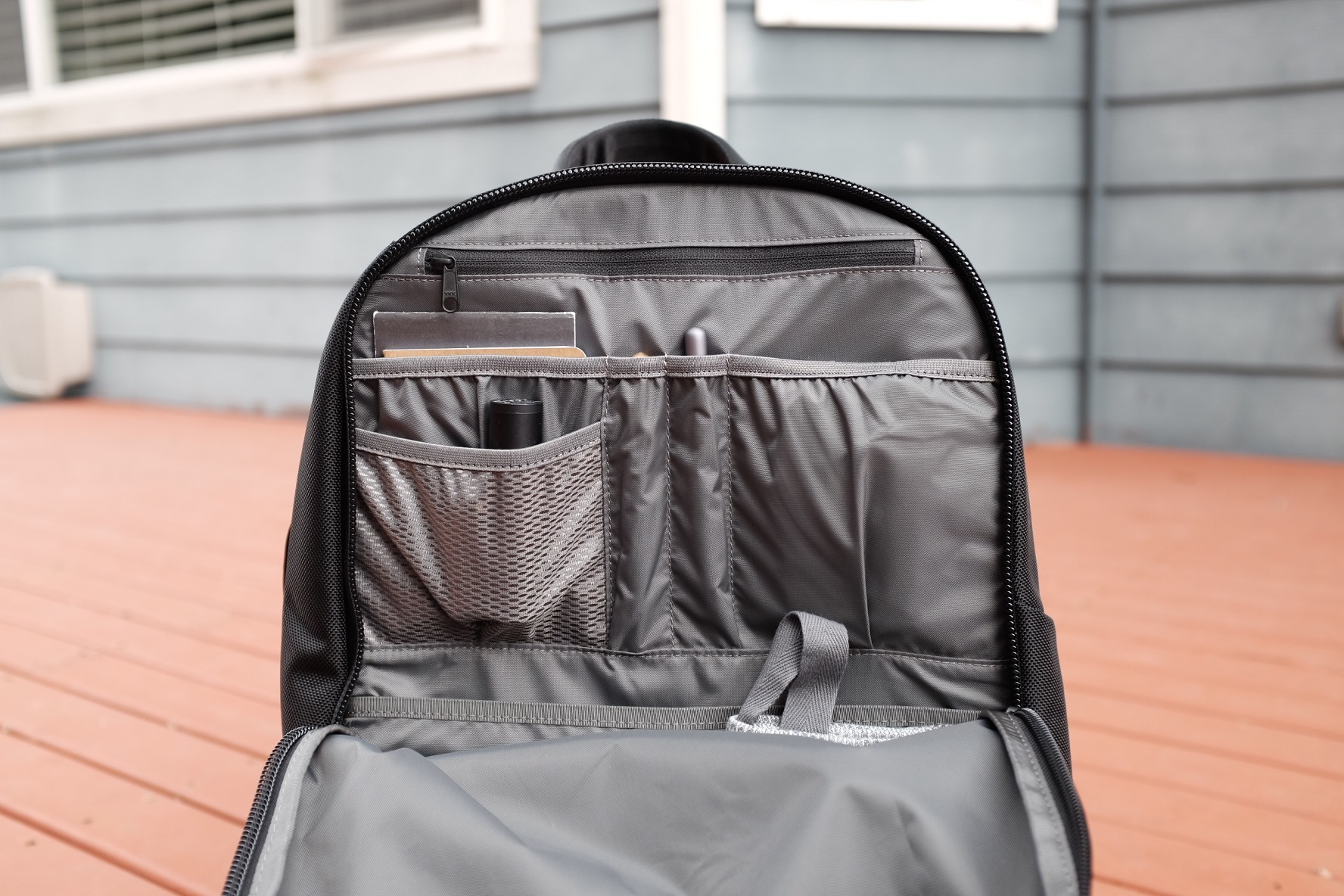 I really think that if you are someone who carries more than one laptop, or perhaps carries a large laptop and a series of iPads (maybe for iOS development/testing purposes) than this bag could easily carry all that without needing extra protective sleeves. The entire bag is well padded and there's basically two laptop sleeves in the bag (assuming you don't drop your bag upside down often).
Water Bottle Pocket
I typically hate water bottle pockets on bags, but I wanted to call this one out, because it might be the best water bottle pocket I've seen yet. When there's nothing in it, it disappears nicely, with no zippers or sag. But it also is big enough to hold a Nalgene, and I don't mean "only when it's full" I mean if securely holds an empty Nalgene — which might be my new test for all future water bottle pockets. Well done.
Straps and Handle's
The grab handles as straps on this bag are supremely nice. The handles are smooth with no seams which will ever dig into your hand, and well padded — great tactile response. The straps are nicely contoured with two layers of foam padding, and a removable chest strap. But what sets these straps apart is that Aer has included elastic strap keepers, which allows you to hide away the excess strap that would otherwise be dangling around — a stellar touch.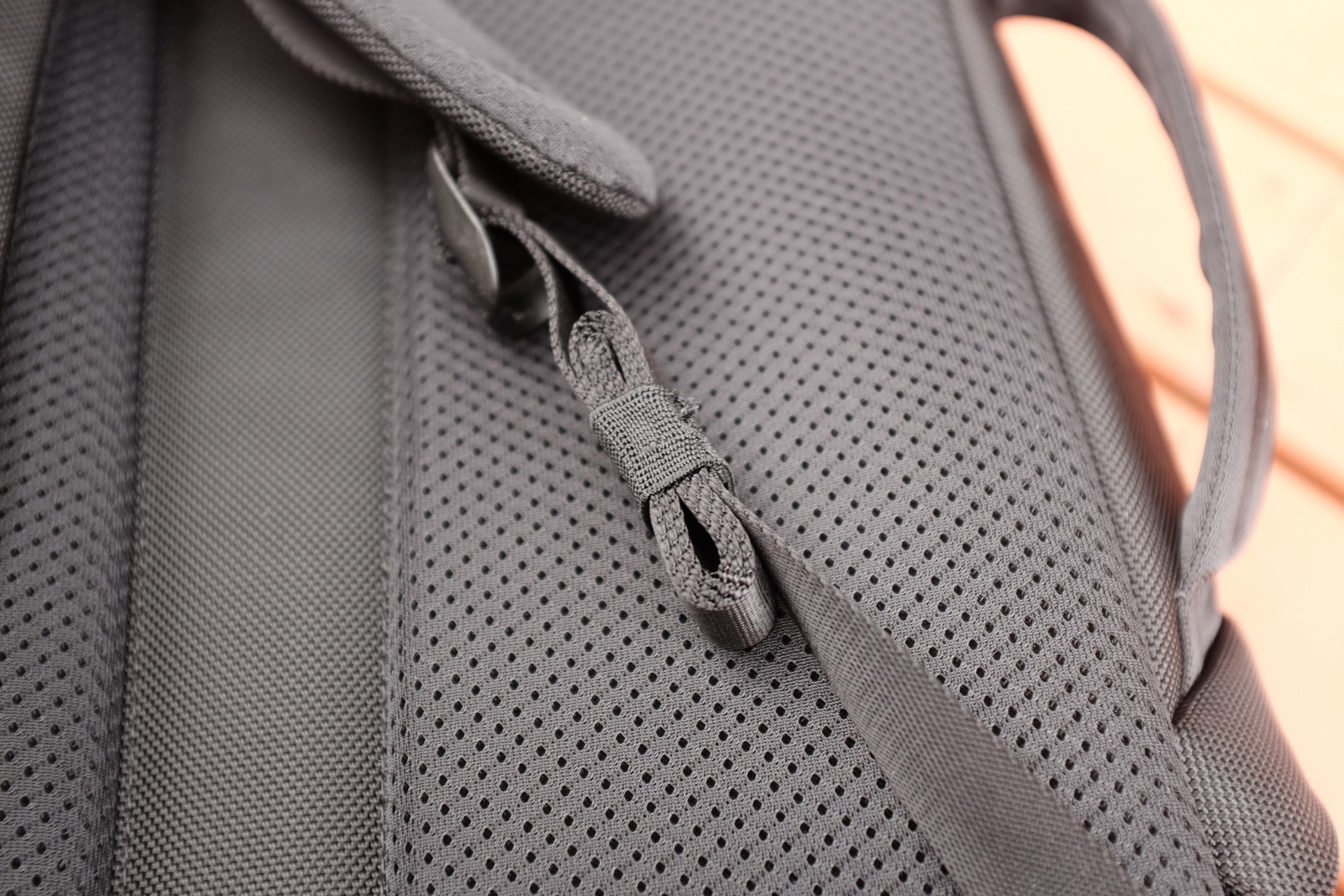 Initial Thoughts
This is a slick looking backpack, and it's ready to go out of the box. No break in required — the first day I got it I loaded it up with my gear and walked 1.2 miles to my Starbucks to work — no issues at all with comfort. I could easily see spending a day around a city with this on my back moving from meeting to meeting.
The style of the bag is nice, I think that in a rainy climate like the greater Seattle area, the coated nylon will fit right in (and it looks neat when it gets some rain drops on it). The strap minders really win me over, it's a such a small touch which pays off in a really big way.
So far, I like this bag. It's too big for someone like me who only carries an iPad, but if you are a laptop+iPad person and you also carry a normal allotment of gear: this bag can easily organize all of that for you.
When you choose a bag there's typically two types: ones that give you a shell, and you add organization how and where you want it, or bags which give you all the organization built in, and you use that. The Aer is the latter, and for many I think this is the preferred way to organize.
I am going to spend more time with this bag, but from a quality perspective this bag is worth every penny. It's well made, and well designed.
(You can check out all of Aer's new work collection here.)