Note this bag was sent to me from Flowfold for the purposes of this review.
Despite my predilection for backpacks, I've always been a huge duffle bag nerd, and so when Flowfold asked if I wanted to try theirs out — I jumped at the chance. I typically use duffle bags in one of two settings: I need to check luggage when I fly, or I am traveling with my kids or wife. Or, I guess, "all of the above".
Why Duffle Bags
One of the big questions I get from people is why I like duffle bags so much when there are so many other options which people find "better". So let me run through a couple quick things:
Duffle bags weigh less, and hold more than a like sized rolling bag.
Duffle bags can be carried, and thus you tend to not over pack, and be more mobile.
It's pretty easy to "live" out of a duffle bag when you get to a hotel — again they take up less space than a rolling bag.
You can compress them when you don't stuff them full, so they take up less physical space. That's not even often the case with backpacks.
After taking quite a few trips with rolling bags with the family, versus with a duffle, I vastly prefer duffle bags for all the reasons above. And for one more reason: at most I can man handle two rolling bags myself. But I can strap a ton of duffle bags and slog along if need be. They also stack easier on carts. It's counter intuitive, but moving around with duffle bags is easier than with rolling bags, and that's why I love them. (It's like plastic grocery bags, you can carry approximately one million of those, but carrying more than four paper grocery bags ain't gonna happen.)
Conductor Limited's Materials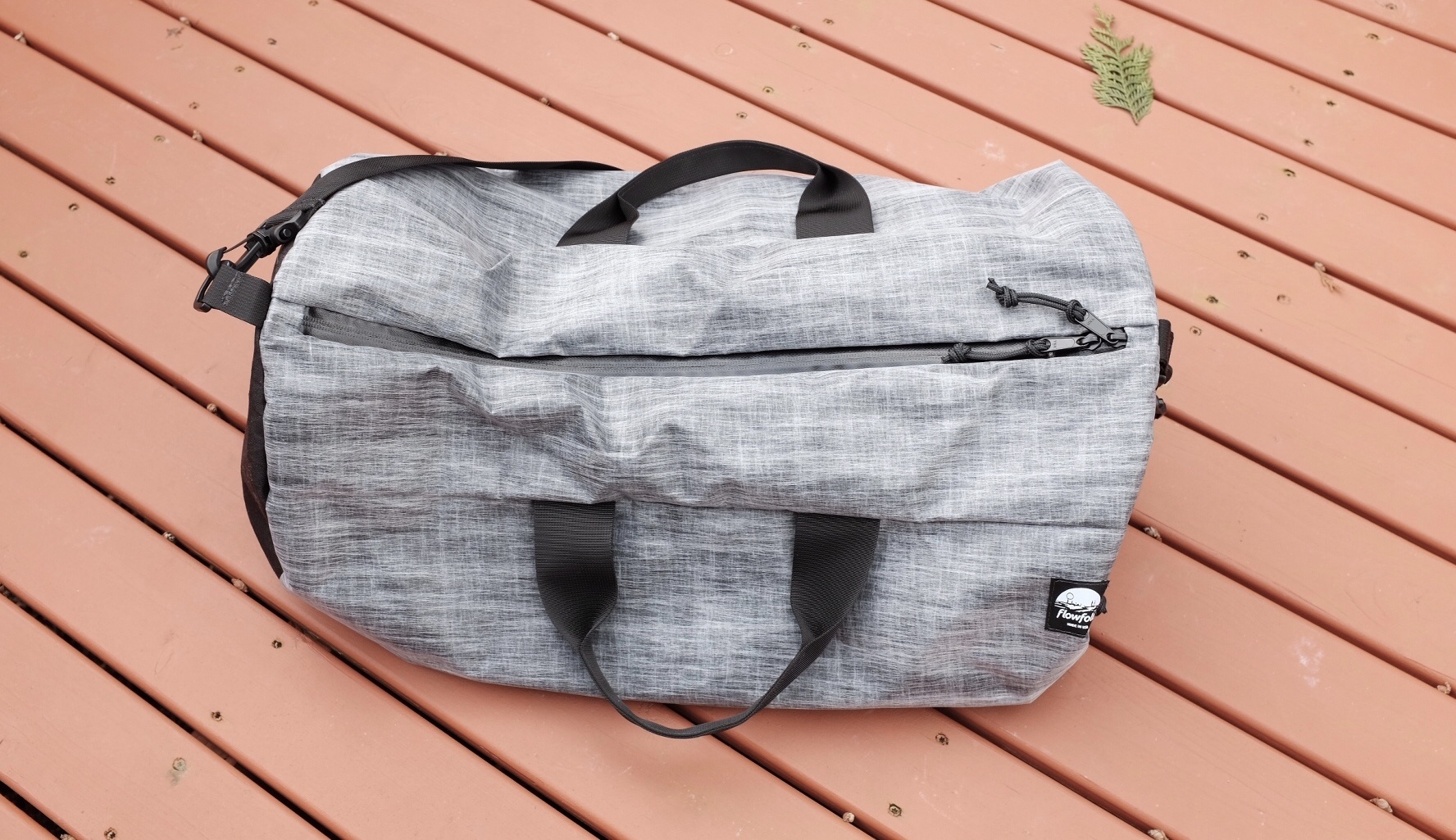 As with most goods from Flowfold, this Conductor Duffle is made from nylon and what looks like an X-pac style material on the bottom. And like with most Flowfold goods, that's as much as I can tell you about it. The bottom is coated on the interior and faced with a softer nylon on the exterior — which means that you can set this bag on a wet/damp surface and not have water permeate your bag — making it ideal for checking.
The top and main sides are made of a lighter weight nylon, and in my case with a heathered grey finish which looks quite nice. The styling is what pulled me to the bag the most, as it looks unique.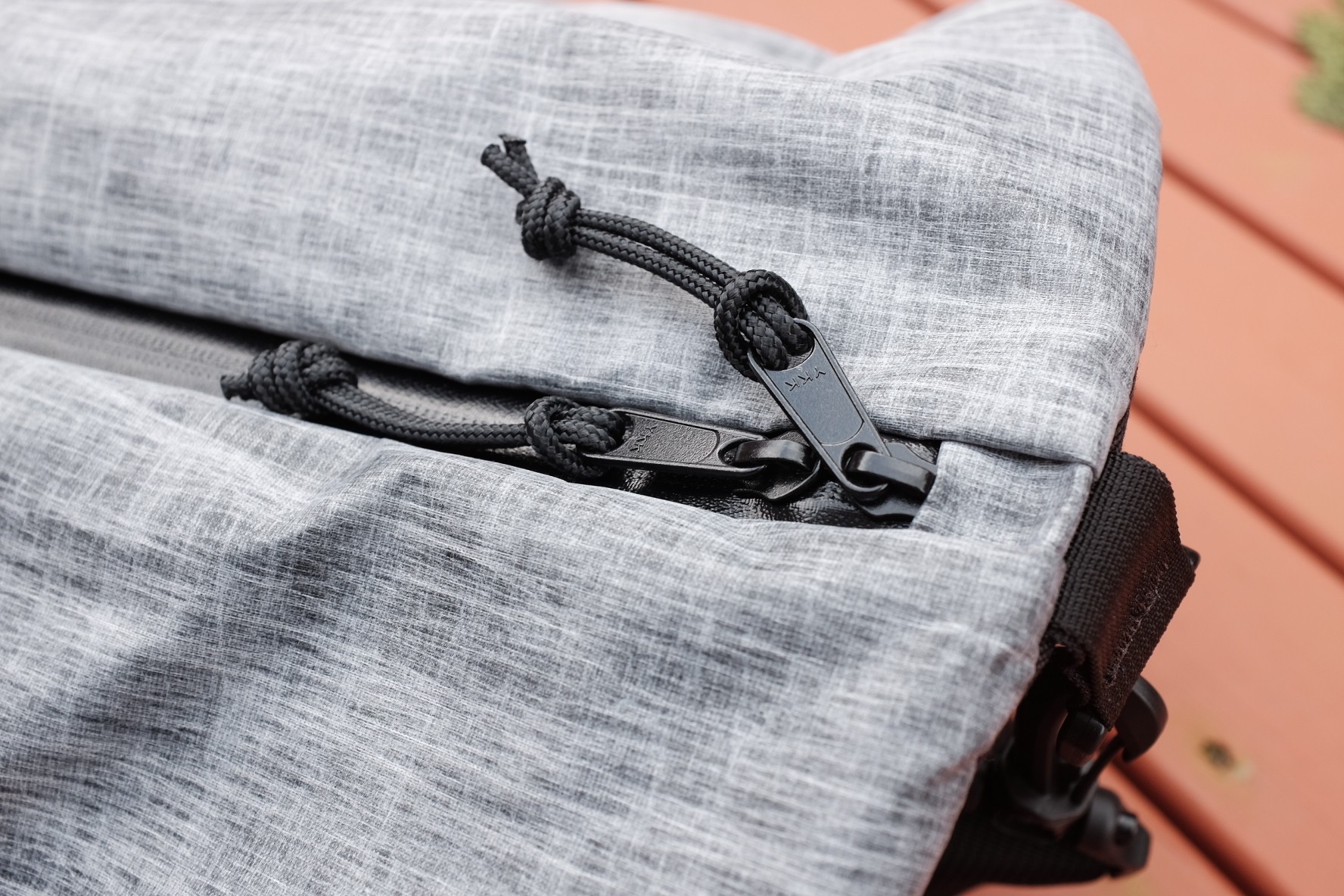 The zipper is a weather resistant zipper, further helping to keep the contents of the bag free from outside moisture. All in all, solid materials with one goal in mind in all the choices: keep the bag light and weather resistant. (One note: the zippers don't have a garage, so there will be moisture that can get through where the two zippers meet.)
Capacity
At 40L this is going to be right at about the max size you could carry on to a plane per most airline guidelines (and even then with duffles you might run into issues with the sizer if the bag looks big). However, because of the design cues this bag doesn't look like a typical 40L bag, it looks smaller.
I typically will pack my kids in a 36L bag when I travel with them, and I'd say this bag packed about the same as that. That's also a testament to the fact that there is really no universal way to calculate how much a bag holds, so everyone does it a little different. I am not sure if it's harder to compress stuff into this bag, it's smaller than the 36L bag, or the 36L is really bigger than stated — because again measuring bag capacity is not consistent.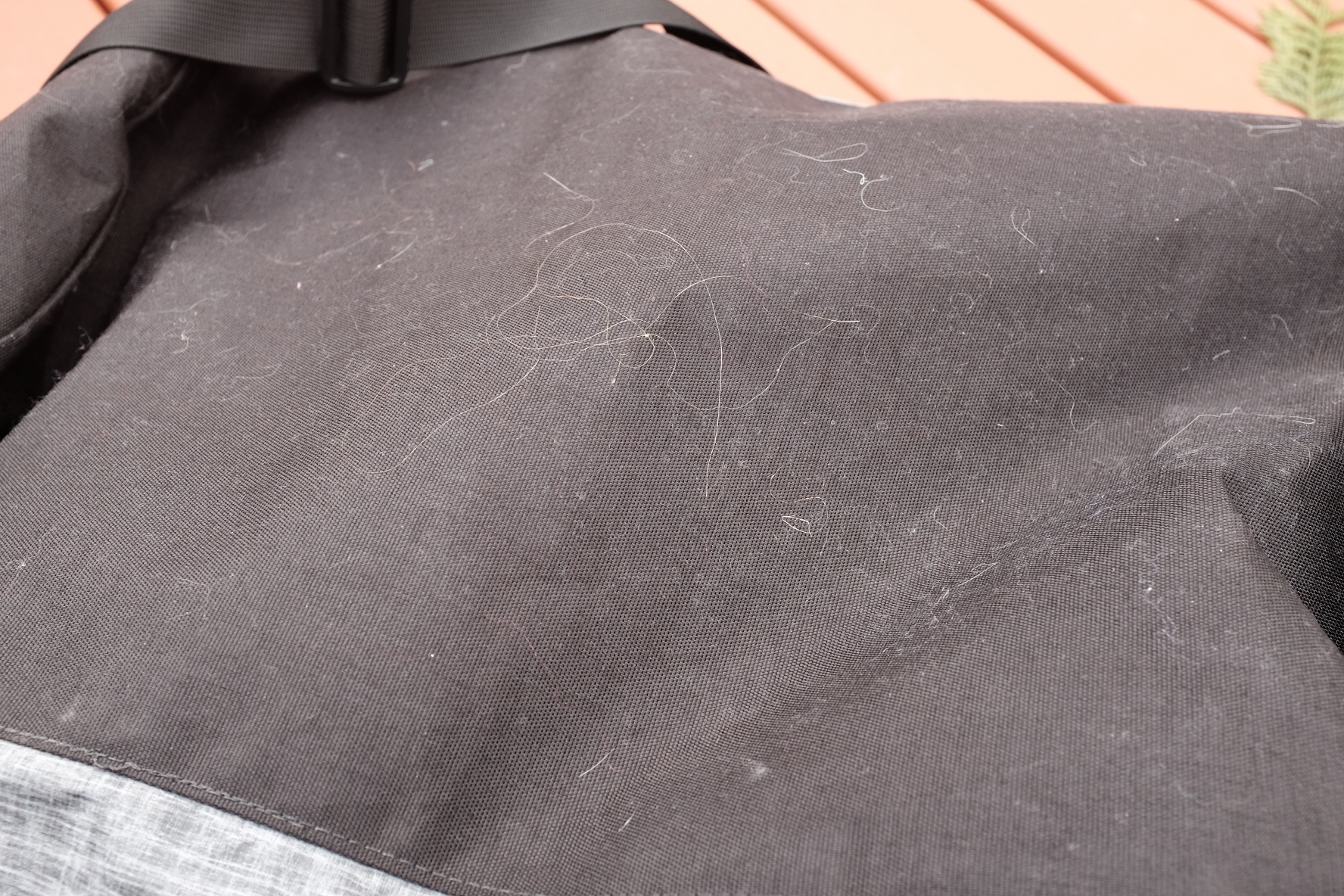 Overall, I have no complaints about the capacity of this bag, and if anything it could be a bit smaller. Though, I do stuff it to the max for both kids when they travel with it.
Use & Carry
There two main issues with duffle bags: how well they shoulder carry, and how easy they are to pack full of stuff. For carrying, I found the shoulder strap to be the bare minimum you would want with no padding. This can be nice in that it is always easy to stash in the bag, but annoying if you have to carry the bag long distances.
Similarly the handles are not padded, but they are folded over so that they are much more comfortable on your hands. It's far better to hand carry this bag, but if you pack too heavy, then you won't want to carry it far. Luckily the shoulder strap could easily be swapped out for another if you wanted. I appreciate the slimmed down nature as it makes for a much lighter bag — I typically don't need to carry bags like this for long periods of time.
When it comes to loading the bag, or any duffle bag, there are two standard types of openings: straight zipper, or a flap. The straight zipper is the most standard, and what this bag has, whereas the flap style has a zipper run in a U-shape and thus allows a larger opening at the top of the bag. Both have trade offs and while a U style zipper is much easier to access the gear with, it adds considerable bulk to the bag. In keeping with the lightweight nature of this bag, the straight zipper is quite fitting and aiding by there being a double zipper setup.
Overall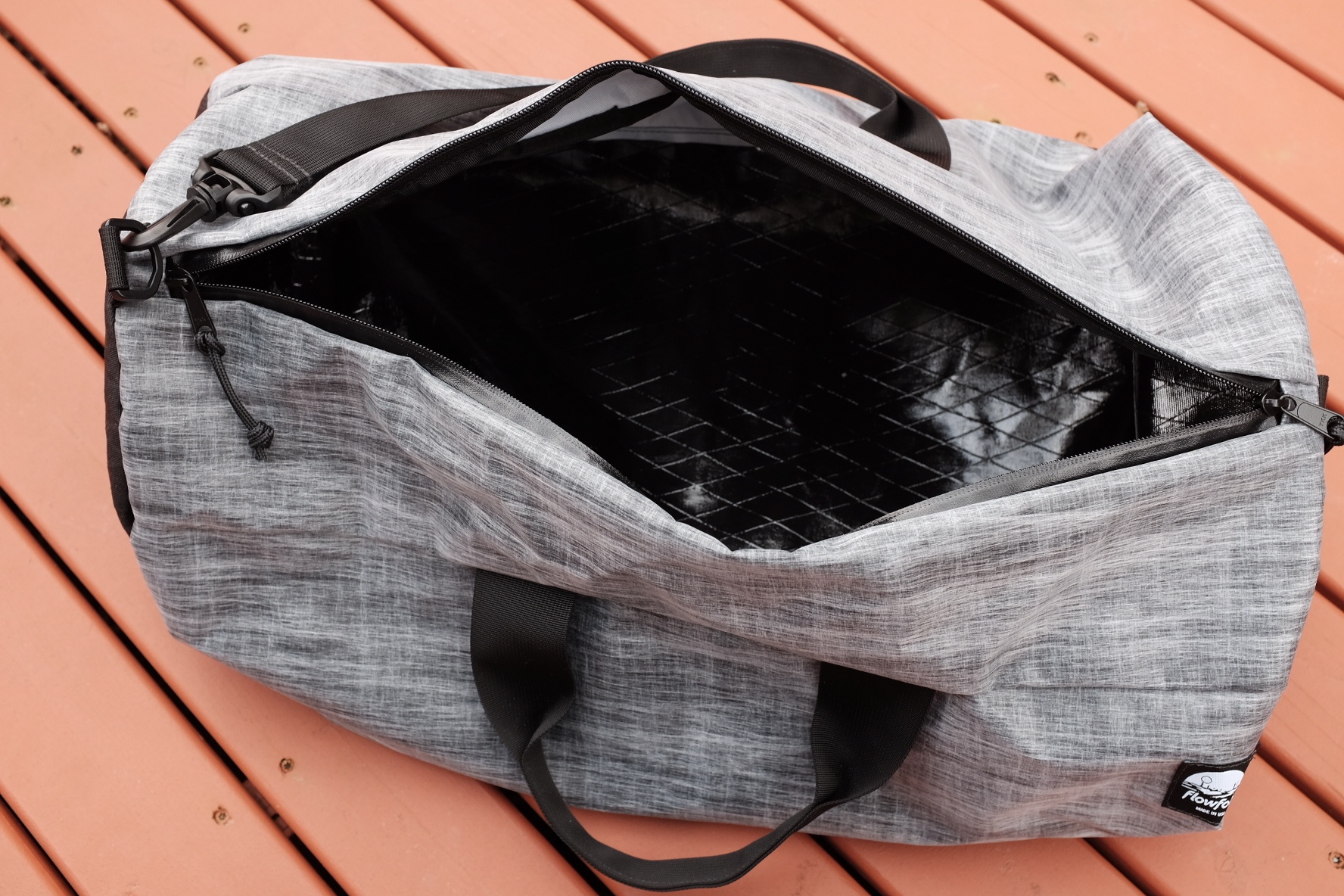 This is far from the most robust bag I've used, but there's something neat about how light this bag is. I could easily fold it up and drop it inside of another bag and use it as a packable, yet durable, emergency bag. Since I prefer to travel fairly light, and without roller bags, this bag will likely fill two roles for me:
It will be what I use to pack stuff for my kids for a weekend away. It's just the right size to keep them from over packing the bag with nonsense, but big enough to hold what they need. It's also got fair amounts of water resistance, which makes loading it in and out of the car less of a worry spot (if I need to set it down on wet ground, I do so without worry my kids clothes are going to be soaked).
I'll pack it inside another bag when we fly somewhere, thus allowing me to fill bags we pack to our destination, but have a backup bag for coming back if we acquire things along the way.
I wasn't sure what to make of this bag at first, but the more I use it, the more I love how it weighs next to nothing when empty. Add to that how easily it packs down, and the bag itself has all sorts of uses — more than most duffle bags.