I've talked a lot about setting up my EDC kits, but one topic I gloss over a lot is my toiletries. Which until my last trip I thought was a refined masterpiece. Turns out, it was far bulkier than I need. And given that I am regularly keeping track of my packing lists now, some things are glaringly obvious.
Need Less than I thought
I originally, for years now, have used a GORUCK Field Pocket in the GR1 size for my toiletries. For a recent trip I needed more space in my bag — every inch counted — and so I slimmed my toiletries down to an Echo Field Pocket I had, but had never found a use for. Thinking I would scrape by, I quickly slimmed down all my stuff and set off, and as typically happens in these scenarios I never once was without something I needed.
Shit.
Whenever this happens it's a clear sign I took a lazy approach instead of thinking things through. So in looking at what I packed I found that while all logical I never use much of it.
Tons of weight
For most people they over pack shoes and clothes, then electronics, then Toiletries. I've made a concerted effort with the first few, but with toiletries I've not given it much thought. But when I repacked my stuff, I realized just how much weight this stuff adds. So I set out to strip the kit down, without shooting myself in the foot.
New Kit
My new kit fits entirely in a GORUCK Echo Field Pocket, which feels a bit like cheating. I still get the great durability and versatility of the field pocket, but in a size and form factor which is much easier to fit in many different bags.
Here's what I'm carrying: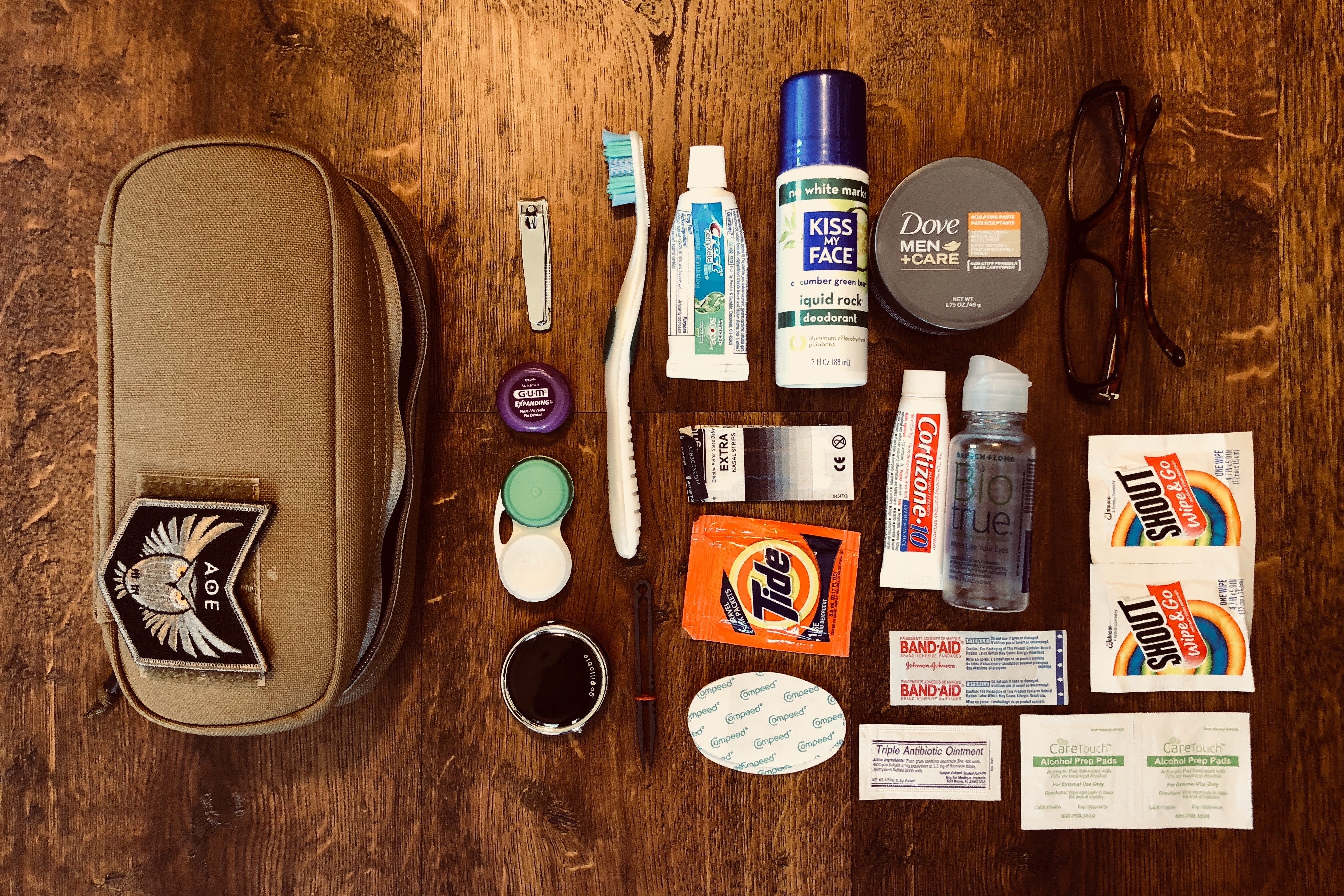 glasses
toothbrush
deodorant
toothpaste
hair goop
cortisone
finger nail clippers
tweezers
band aid
triple antibiotic ointment
breathe right strips (2x)
tide liquid detergent
alcohol prep pads (2x)
shout wipes (2x)
contact solution
contact case
floss
pill case
pill case supplemental (only when traveling with my wife)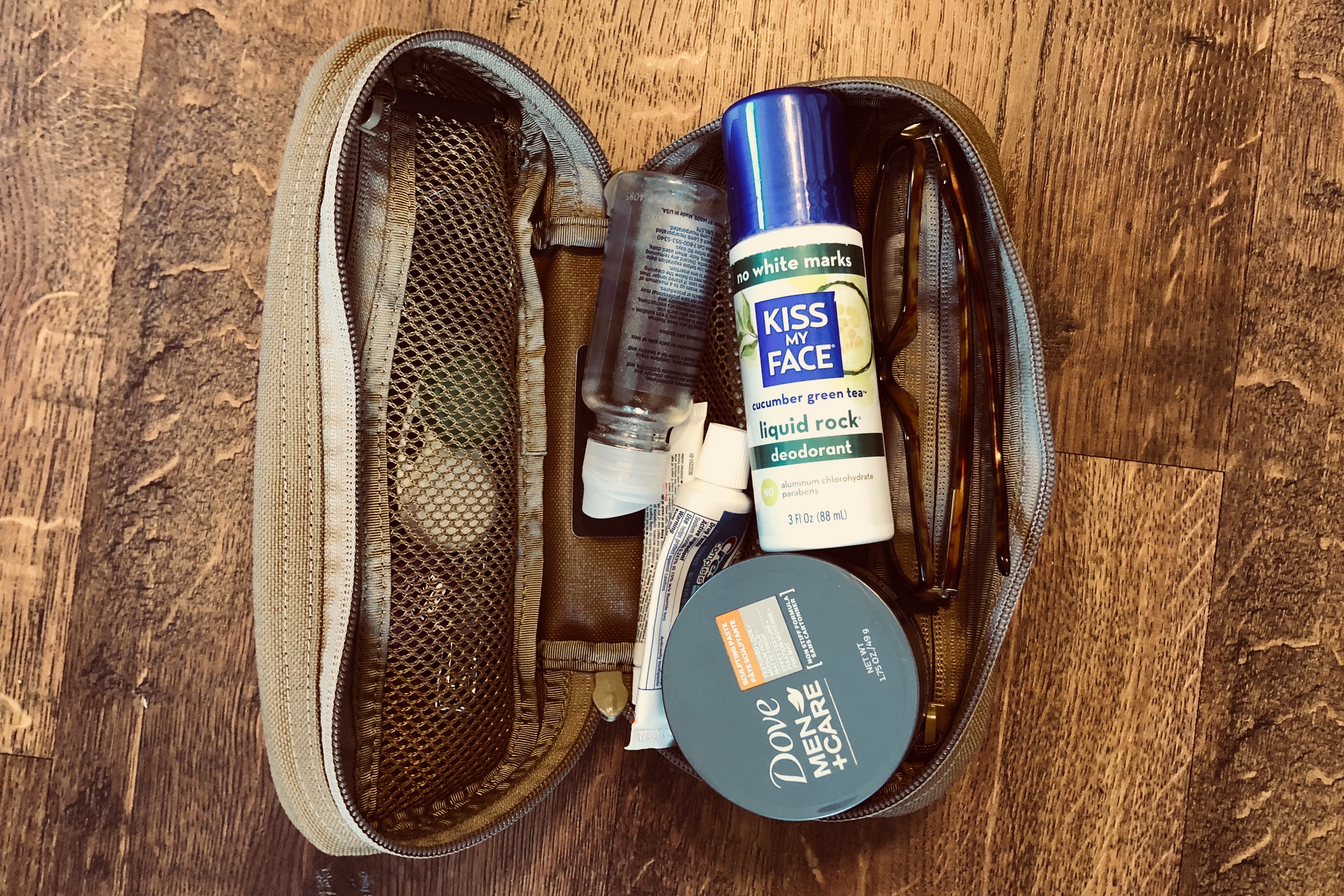 Some notable things I cut out:
hand lotion: I was pretty firm in carrying this, but I've also never gone somewhere where this isn't readily available. So waste to carry unless you have very specific needs.
duplicate items: I used to carry a few extras of each thing, but still most of my travel kit isn't use most of the time so adding extras to things you don't use every trip is madness.
soaps/shampoos: again, I've never been somewhere that this was not provided for me.
nice to haves: there's items you put in your kit that is more for comfort than anything else. Breathe right strips are that for me, because I have nasal issues and need them sometimes, but probably haven't used any in a year. I cut out a ton of items that fall into this category.
item sizes: I also work hard to right size the items I carry. For instance I carry a lot of half tubes of toothpaste because rarely do I need a full tube of travel toothpaste. And then if you can toss it on your last brush of teeth for the trip, that's just perfection.
Travel Durations
My current kit is setup for 2-3 nights of travel, which is my standard travel length. It's also geared towards US travel, because for almost any other duration of a trip, inside the US, I won't pack any more. Instead I'll just source and restock while traveling if I think I need them, and it's not even that hard (most airports will have what you need, for a price, as will hotels).
Traveling outside the US, I'd likely make sure I have a few items like my contact solution in plentiful stock when I travel. Otherwise I never worry beyond that.
Tons of Room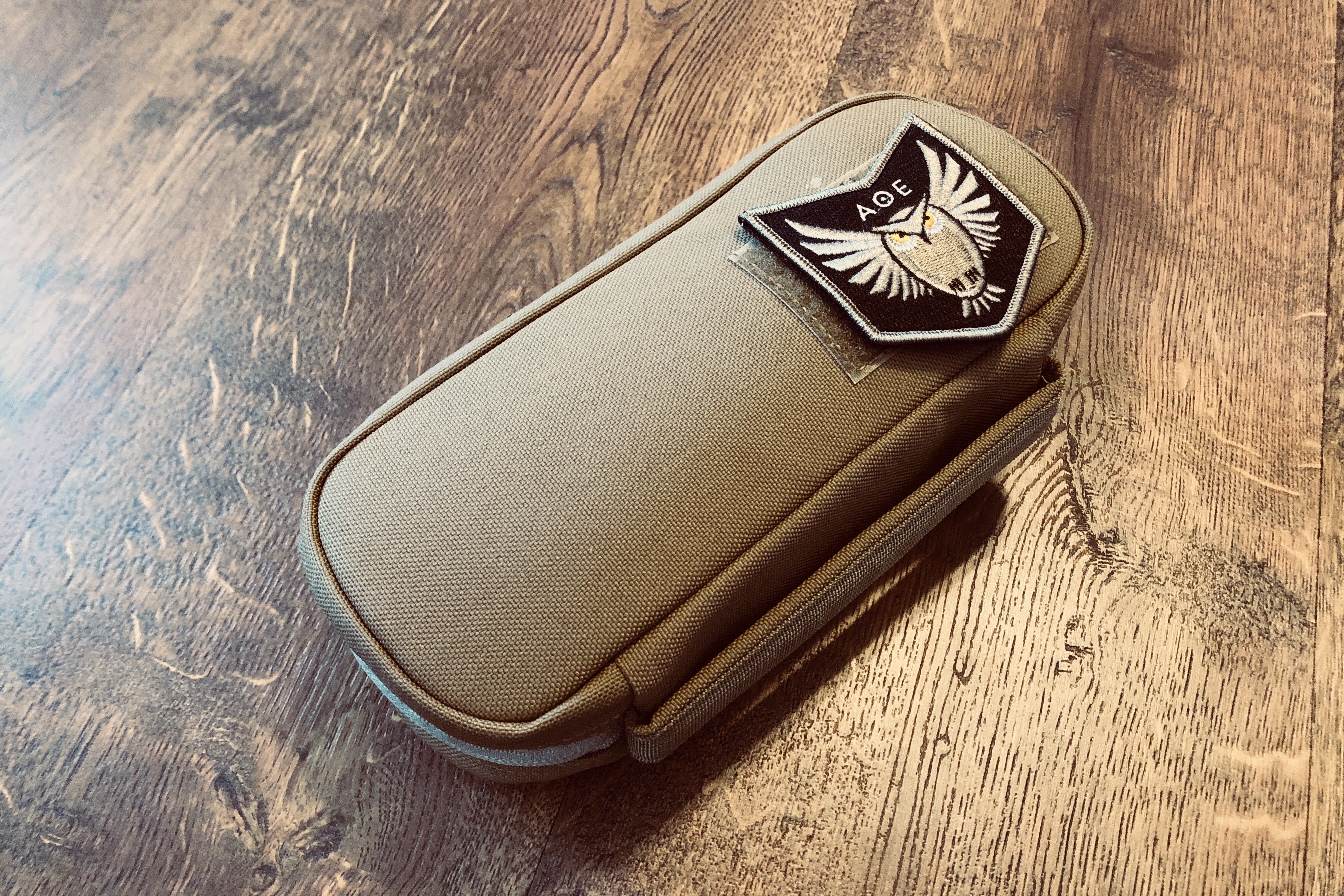 What I didn't realize with my old setup is just how much dead space was in the GR1 Field Pocket, and it all fits well in the Echo Field Pocket. I've yet to have a moment where I felt like I didn't have anything I needed, and I've tested this over 10 trips now. I feel good about it, and I love how compact looking the kit is. I keep it packed and ready to go at all times, further reducing anxiety over forgetting to pack something, all I have to do is grab the kit and I know I have most (if not all) of what I need.