A year ago I was confronted with something I thought would be really fun, but which turned out to be exceedingly frustrating. I needed a backpack for my daughter who was entering kindergarten. I suspect most parents go to Target and let their kid pick something they like, but there's simply no way I was going to buy my daughter something that wasn't high quality.
Since GORUCK no longer makes the Kid Ruck (and they go on EBay for absurd money) I set out researching to find a full-size (all the backpacks she had prior were not full-size, and I define that by "can fit a binder in it"), well made, backpack for my daughter. I hated almost every recommendation that I saw.
And what I found was:
Bulk: most kids backpacks are insanely bulky so that they can accommodate a ton of stuff. That's bad. Bulky backpacks cause the load to pull the wearer backwards. This is especially bad when the kid walks up stairs or is still rather small.
Sizing: many of the bags were simply too fucking big. I get that at some point the kids will need to potentially carry a lot of books, but good lord some of these would fit on my 6'-3" frame just fine and accommodate a weeks worth of my clothes. Given more space, kids will fill the space (well adults too). So a smaller bag is something I value as a way to curb overpacking.
Materials: most kids backpacks are made from some pretty shitty materials, with little thought put in the straps.
Price: they are stupidly cheap, or too expensive for what you get.
As always, I started at what The Wirecutter recommends: LL Bean's Original Book Pack. At about $30 it's not a value price, it's made by a good brand and is very popular. It's ugly, but hey, to each their own. The issue is the depth, at 7.25" deep it is much too deep and will be prone to pulling someone back, or causing issues when navigating in tight areas. (Especially given it lacks a frame sheet.)
Update/Edit: It's been kindly pointed out to me that The Wirecutter actually has two recommendations here. For kindergarten age they recommend the Jr. version of the LL Bean bag which is only 6" deep. The depth difference is important here, and I did originally look at the smaller bag for my kids but forgot about the dual nature of that bag when writing this post. I still don't agree that this is a good buy, but that'll have to be another post.
I ended up only finding one bag I felt was better made, looked better, and had better dimensions: The North Face Mini Berkeley Backpack. At $55 it's a big price jump from the LL Bean, but still less than it costs me to think about backpacks on a typical day. What I liked about it is that the bag was smaller by 1.25" in depth and slightly taller. It's easier for my tall kids to handle that, than it is the depth. And that's a noticeable difference in depth in backpacks at this size. (Think about how much more leverage you get with a 7.25" long wrench than a 6" wrench.) That's what I got for my oldest daughter over a year ago.
But, I had to go through this again for my youngest to get a bag for next year, and with a year experience with that bag under our belts. I started from scratch to rethink the problem. The Mini Berkeley has a few things I wanted to fix:
The light color of the bag means it looks dirty. I sprayed the bag with DWR at the start of the year, I probably should have done it mid-year too.
The straps lack the ability to attach a sternum strap, something my daughter really wants.
When using the backpack for travel, it doesn't hold nearly as much as smaller bags due to the way it loads (semi-top load instead of a full flat panel load).
It lacks protection for gear stored inside the bag.
That said, purely as a book bag, it has been fantastic and my daughter said she wanted to keep it for next year. However for my youngest I needed something else, and I worked for 6 months trying to buy a Kid Ruck on eBay. Giving up on that dream, I narrowed my options down to three bags:
LL Bean's Junior Book Pack
Mini Berkeley (again)
I was leaning towards another Berkeley, but that Bonsai was interesting (though the width worries me), then I found a very gently used GORUCK Echo for sale on Reddit and bought that instead. No, it's not pink, it's black. But I asked my youngest "do you want a backpack like mine?" And after I showed her my GR1, she said yes and then danced off.
Now, I know, you probably are rolling your eyes at me at this point. I bought a GORUCK Echo, a $235 MSRP backpack, for my daughter who is about to go into Jr. Kindergarten. But you don't come here for my rational purchasing decisions, you come to know the best things.
The thing about an Echo, is that the footprint size of the bag is really good. Where most of these kids bags are roughly 16 x 13 x 6-7 inches, the Echo is: 16.5 x 11.5 x 4.25. It is a smaller bag, but that's not the entire story here.
Because the Echo is a full opening clamshell design, the bag itself can act as a compression system. With a dedicated laptop compartment, and (I know this is odd to say about a GORUCK bag) more organization than the other bags — it's actually quite a good kid bag if you can swallow the price. Here's what makes it good:
Size: it's the right size. I wish the straps were less beefy, but they fit my 4 year old well enough that she will be fine. What's key is that it is a shallow bag at just over 4" deep, and thus it keeps the weight close to the body, making it feel lighter and easier to move with. And she can carry more weight than her older sister (this is a hallmark feature of GORUCK bags).
The dedicated laptop compartment means you can stuff the bag full of clothing for a trip, and still have access to your kid's iPad easily. Additionally, you can put folders/artwork in this spot to keep them flat.
The external slash pocket and two internal zipper pockets in addition to the internal pouch is loads more organization than most other kids backpacks.
It will never fail.
It will be water repellant.
Easy to clean.
Versatile, and able to be used by others in the house.
That doesn't mean it's perfect, there's some issues with it:
It's fucking expensive, even with the good deal I got on it, I still paid $150.
The straps are very bulky.
It may quickly become too small as the kid ages and starts carrying more.
It looks like a tactical backpack, not a kids backpack.
I think the trade offs are worth it. What's impressive is that I had both kids pack for a 5 day trip, including iPads and toys, in their backpacks. My youngest was able to bring much more gear because I could compress it down into the GORUCK and know I wouldn't damage the bag, even though the Berkeley my oldest uses is 3 Liters larger, she had to pack fewer items. As for the looks, I'm slowly customizing the bag to make it work for my daughter, to her liking.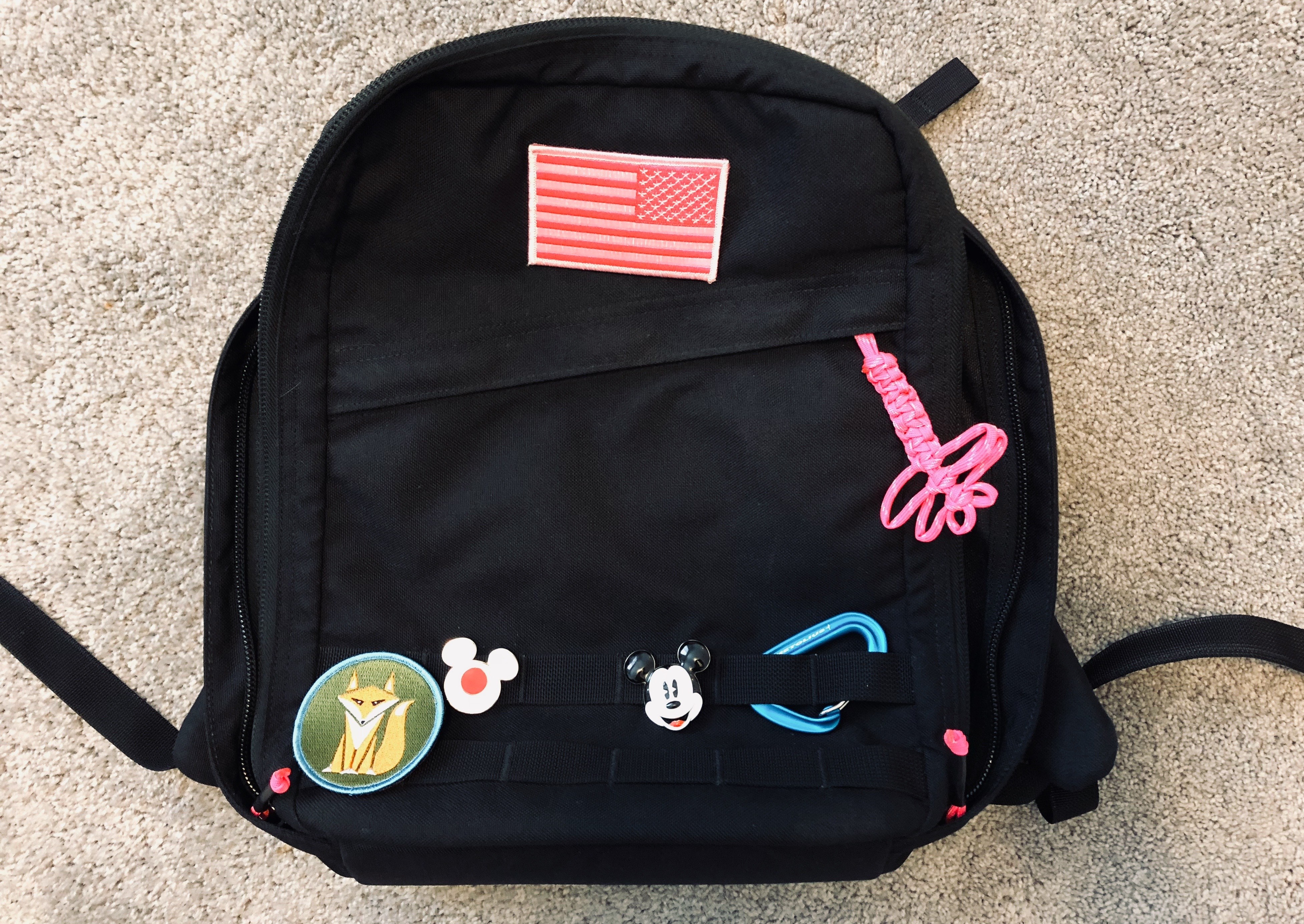 For starters I've replaced all the standard GORUCK zipper pulls with Pink Glow-in-the-Dark Paracord pulls of the same style. I replaced the pull on the slant pocket with a dragonfly paracord pull in pink. I got her a pink flag patch, and added some Mickey Mouse pins to the bag (she loves Mickey). Next up I am going to sew onto the MOLLE a layer of Velcro loop, so she can attach more patches, and to soften the look. It will still be a black bag, but she's so far really liking it. She takes after me I guess (and the carabiner is on there because she compared her bag to mine, and that was what was missing).
Your Search
It's not easy. If you don't get a GORUCK, and you might not want to, then make sure to buy spray on DWR to coat the bag on the outside. I really like the Mini Berkeley and that would be my top pick if you can't find an Echo for a good price. Either way, know that there are no great bags for kids — which is insane since they probably use backpacks more than most people.