Lurk around the knife subreddits enough and you will start to see a ton of custom knives — typically these are one offs which someone made for themselves. One day I saw this knife, which originally was a concept, then it was brought up as potentially a production blade. This knife then made its way to Kickstarter before being available for everyone.
The thing about this knife is that it's not like anything else out there. They label it "microblade" for a reason: the cutting edge is 1.5". That's about half of the length of a standard sized everyday carry knife. Further, the entire package, weighs just one ounce. It is very small.
The WESN Microblade is truly a unique knife.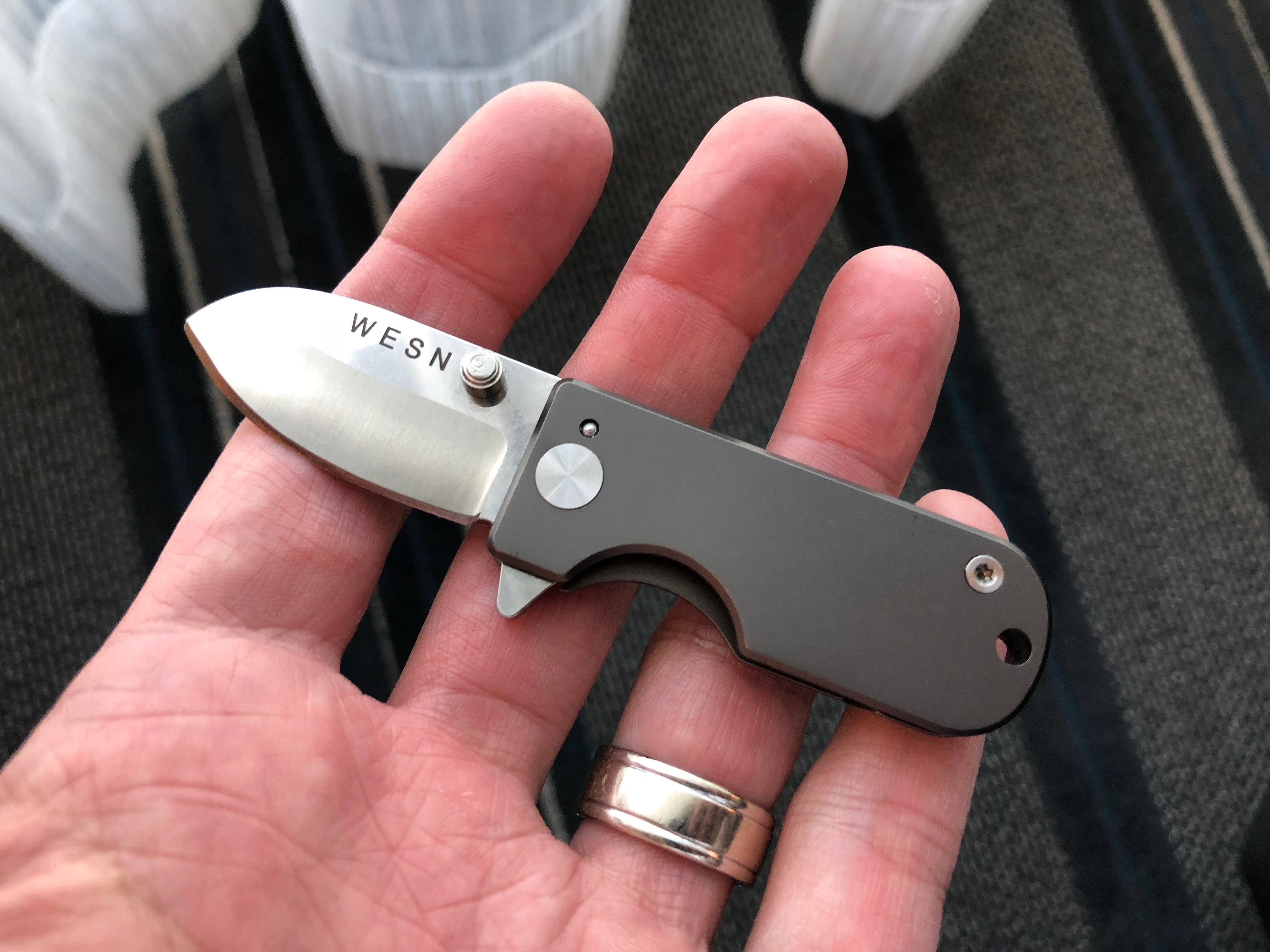 But the appeal of it is that it's not some super slim novelty. It's a real knife made to do real knife things. Effectively it is the same height as my other EDC blades, it's only slightly thinner, but the length has been abruptly cut in half. The handle is titanium, the blade is AUS8 which seems just fine for something this small. I've been testing it for a month now and have many thoughts on this.
The Size
The size of this knife is fantastic. If you take into account what most people use a knife for on a daily basis, anything larger than a utility blade is excess. Opening Amazon boxes, and small chores like that do not require much blade length. I knew right away the blade was not going to be an issue from a length standpoint, and it has yet to be an issue.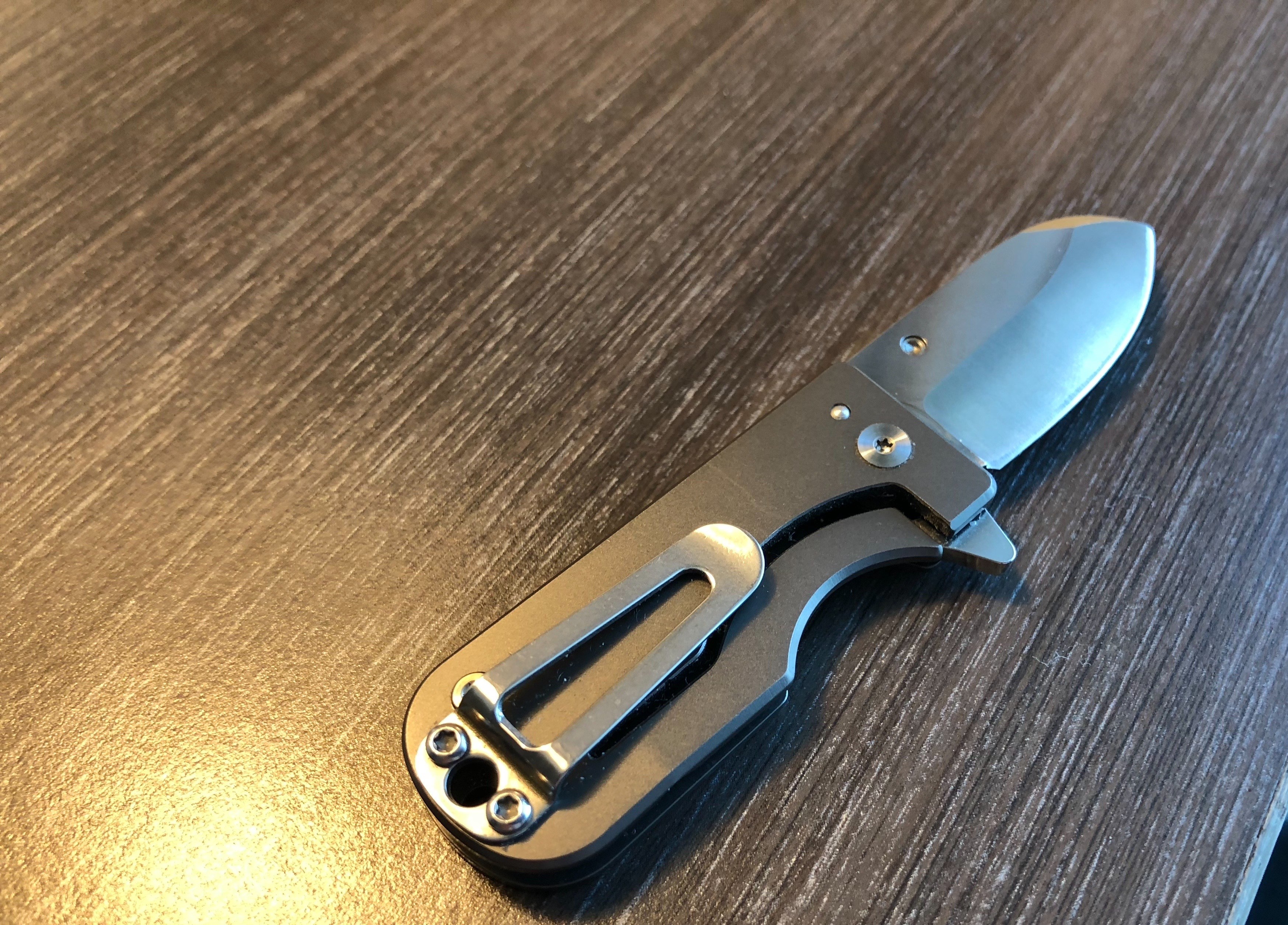 The handle is a little different story, because it too is about 2" long. For me this means my index finger can sit comfortably in the finger grove, and my middle finger wraps around the back of the handle. That's it. A two finger handle. This is mostly fine, but it does make the knife a bit more precarious feeling in hand. I attached a bit of paracord to mine to give my back fingers something to hold on to for a more secure feel, but have since removed it. It wasn't worth the added bulk and it didn't help much — but there is a conscious feeling like the handle is to abrupt.
Overall, the size is useable, not ideal, but far outweighed by how easily this knife disappears in your pocket.
The Usability
Here's the real crux of this knife, it's not something most people are going to want to carry everyday. It's not the one knife. It's a niche knife. I call it a suit knife. Because when I wear a suit I don't want the clean lines to be broken up by a pocket knife — but this knife disappears and actually works.
In many ways this is like the Classic SD Swiss Army knife: a pen knife. But, it's also more versatile than such a knife. If you are someone who sees a knife as a nice to have, and not a necessity, then you are likely going to love the size of this knife.
For knife people, like myself, this is an interesting blade. I really did not love it as part of my EDC setup, but I do love it when I wear a suit. The biggest issue is the blade shape itself. I often found the shape causing the blade to slip out of the cutting line I was drawing it through. I have no doubt it would be great at whittling, but at slicing up boxes, I found this knife tedious to use. While you can certainly cut open boxes, it's not a breeze as it is with many other knives.
The blade shape is perhaps the most annoying part of this knife, as it leads to a finicky blade to control, which is compounded by the lack of grip you have on the knife.
The Rest
Everything else aside, the deal breaker with the knife is the opening action. It has both a thumb stud, and a flipper tab. It's nearly impossible for me to be able to open the knife with the thumb stud. With the flipper a considerable amount of force is required to open the blade — far more than should be. I took apart the knife, lubed it, and assembled it with little to no effect on the opening action. My best case scenario is opening the knife about half way with the flipper tab (as far as I can get it to go), and then opening it the rest of the way with my thumb. It's very frustrating.
And don't even think about a wrist flick on this, you'll impale your foot in a second. The handle is far too short to have a firm grip on the knife.
This is a knife with a ton of promise. The idea and design is excellent, with only slight modifications needed to the overall shape of the blade (sheepsfoot would be great). The actual production execution leaves something to be desired. The grinding is just ok on the blade and the hardware for the opening is bad. I really love the idea of this knife and I hope WESN can come up with a revised version improving the opening action. If they did that, I could see myself using this knife a lot more.
However, given where it is today, and at $50 (not cheap for a knife these days), I cannot recommend it.